Chevrolet/Corvette Technical and Owner Information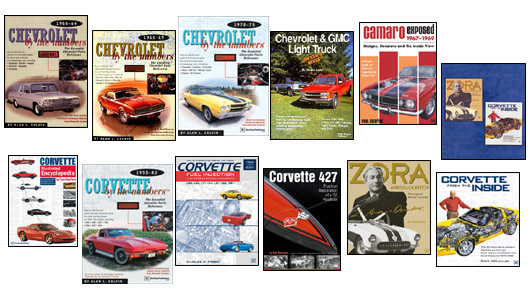 Covers for selected titles shown. Please scroll down for complete list.
Chevy Enthusiast Titles, Chevy Parts Reference and Chevy History organized by Model
Camaro
Chevrolet by the Numbers
Chevy 1955-1959
Chevy 1960-1964
Chevy 1965-1969
Chevy 1970-1975
Chevy Trucks
Corvair
Corvette

Featured

Corvette Illustrated Encyclopedia
The essential reference work for those who have ever had either a passing or a passionate interest in Chevrolet's flagship.

Corvette from the Inside: The Development History as told by Dave McLellan, Corvette's Chief Engineer 1975-1982 tells the Corvette story through the ZR-1 by its former Chief Engineer and Engineering Director, David McLellan.


Videos
Authors Jerry Burton and Dave McLellan were interviewed and featured on the Speed Channel's documentary on the fifty year history of the Corvette.
Corvette
Corvette Engineering Limited Edition Boxed Set
Corvette Illustrated Encyclopedia
Zora Arkus-Duntov: The Legend Behind Corvette
Corvette: The Exotic Experimental Cars
Corvette by the Numbers: 1955-82
Corvette Fuel Injection &
Electronic Engine Management
1982 through 2001
Camaro
Chevy by the Numbers
Chevrolet by the Numbers: 1955-59
Chevrolet by the Numbers: 1960-64
Chevrolet by the Numbers: 1965-69
Chevrolet by the Numbers: 1970-75
Chevy Trucks