Bosch Technical Literature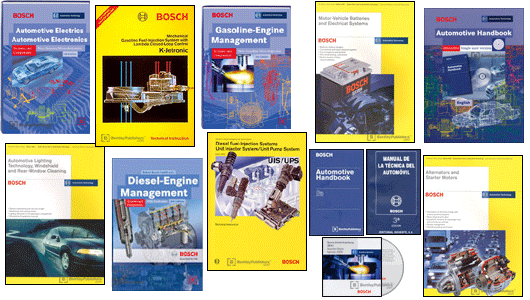 Bosch technical literature includes more than 40 titles clarifying design and theory of operation and engineering of today"s most sophisticated automotive systems.
Covers for selected titles shown. Please scroll down for complete list.
By Category, technical books from Robert Bosch, GmbH
Bosch Handbooks
Bosch Automotive electrics/Automotive electronics
Bosch Diesel-Engine Management
Bosch Gasoline-Engine Management
Bosch Safety, Comfort and Convenience Systems
Bosch GmbH - Multimedia Training on CD-ROM

Bosch Technical Abbreviations
Click to see a list of Bosch Technical abbreviations
Featured
The "Bosch Yellow Jackets" provide a clear and concise overview of the theory of operation, component design, model variations, and technical terminology for the Bosch product line, and give a solid foundation for better diagnostics and servicing.

Emissions-Control Technology for Diesel Engines
Minimizing pollutants and exhaust-gas treatment
Particulate filter
DENOXTRONIC
On-Board Diagnosis (OBD)

Diesel Fuel-Injection System Common Rail
System overview of passenger cars and commercial vehicles
Piezo-inline injectors
DENOXTRONIC
High pressure pumps

Driving Stability Systems
Electronic Stability Program (ESP)
Antilock Braking System (ABS)
Traction Control System (TCS)
Automatic Brake Functions
---
Bosch Technical Abbreviations
A B C D E F G H I J K L M N O P Q R S T U V W X Y Z

Abbreviations
A
ABS: Antilock braking system
ADC: Analog-digital converter
ALE: Address Latch Enable
ALU: Arithmetic logic unit
ASIC: Application-specific integrated circuit
ASR: "Antriebsschlupfregelung",
i.e. traction control
ASSP: Application-specific standard product

B
BKS: "Bauteilkontrollsystem",
i.e. component checking system
( > printed-circuit-board manufacture, production process)

C
CAD: Computer-aided design
CAE: Computer-aided engineering
CAM: Computer-aided manufacturing
CCD: Charged-coupled device
CISC: Complex instruction-set computer
CPU: Central processing unit
(of a > microcontroller)

D
DAC: Digital-analog converter
DMA: Direct-memory access

E
EEPROM: Electrically erasable programmable read-only memory
EMC: Electromagnetic compatibility
EPROM: Erasable programmable read-only memory
ESP: Electronic stability program

F
FET: Field-effect transistor
Flash-EPROM: Flash erasable programmable read-only memory

H
HDL: Hardware Description Language

I
I/O ports: Input/output ports
IC: Integrated circuit
ICT: In-circuit test
( > printed-circuit-board manufacture, production process)

L
LED: Light-emitting diode
LKS: "Lagekontrollsystem",
i.e. position checking system
( > printed-circuit-board manufacture, production process)
LSI: Large-scale integration
LTCC: Low-temperature cofired ceramic

M
MOS: Metal-oxide semiconductor
MSI: Medium-scale integration

P
PC: Personal computer
PROM: Programmable read-only memory

R
RAM: Random-access memory
RISC: Reduced instruction-set computer
ROM: Read-only memory

S
SiO2: Silicon dioxide
SMD: Surface-mounted device
SMT: Surface-mounting technology
SoC: System on a chip
SSI: Small-scale integration

T
TCS: Traction control system

U
UV light: Ultraviolet light

V
VHDL: Visual Hardware Description Language
VLSI: Very-large-scale integration

µC: Microcontroller


Bosch Handbooks
Bosch Kraftfahrtechnisches Taschenbuch: 25. Auflage
Bosch Automotive Electrics/Automotive Electronics
Automotive Lighting Technology, Windshield and Rear-Window Cleaning
Bosch Gasoline-Engine Management
Emissions-control technology for gasoline engines
Bosch Fuel Injection and Engine Management
Bosch Safety, Comfort and Convenience Systems