BMW Technical and Owner Information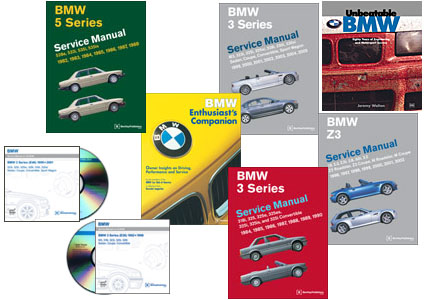 Covers for selected titles shown. Please scroll down for complete list.
BMW Repair Manuals and BMW Enthusiast Books organized by Model
BMW General
BMW Motorcycles: 1923-1998
BMW Racing
BMW 2002: 1968-1976
BMW 3 Series: 1975-2005
BMW 5 Series: 1982-2002
BMW 6 Series: 1977-1989
BMW 7 Series: 1977-2001
BMW X5: 2000-2006
BMW Z3 Series: 1996-2002
BMW Z4 Series: 2003-2005

Featured

BMW 3 Series (E46) Service Manual: 1999-2005

BMW Z3 Service Manual: 1996-2002

This BMW Z3 Repair Manual supersedes our 1996 through 1998 BMW Z3 repair manual with four more model years of coverage and repair information for the Z3 Roadster, Z3 Coupe, M Roadster and M Coupe. With extensive new information as well as revisions throughout, this book is the comprehensive source of service information and technical specifications available for the BMW Z3 Roadster and Coupe.

News
Join in the discussion!
Bentley is now featuring
online discussion forums
where you can communicate directly with the folks who brought you your favorite manual. Ask us questions about our manuals or about your car. We'd like to hear from you. Check it out now at
bentleypublishers.com/tech
.
www.iaibmwsp.org
Bentley Publishers is proud of its collaboration with the International Association of Independent BMW Service Professionals (IAIBMWSP).

Corrections
BMW 3 Series (E36) 1992-1998*
1999.nov.01
BMW 5-Series (E28) 1982-1988
2003.jan.22
BMW 7 Series (E32) 1988-1994
2002.mar.27
BMW Z3 Roadster (E36/7) 1996-1998*
1999.nov.01
( * Note — Applies only to first edition )

BMW Technical Discussion


BMW General
BMW Profiles 9: The Legendary BMW 507
BMW Parts Catalog for Historic Vehicles and Historic Motorcycles: 2003
The Development History of BMW Automobiles: 1918-1932: From Vision to Success
BMW Racing
BMW Alpina Performance Portfolio: 1988-1998
BMW Profiles 6: Formula Racing 1966-2000
BMW 2002
BMW '02 Restoration Guide: 1968-1976
BMW Motorcycles: 1923-1998
BMW Profiles 1: Motorcycles from Munich
BMW Profiles 4: Motorcycles from Berlin
BMW Parts Catalog for Historic Motorcycles: 2003
BMW 3 Series: 1975-2005
BMW 3 Series (E30)
Service Manual:
1984, 1985, 1986, 1987,
1988, 1989, 1990 (paper)
BMW 3 Series (E36)
Service Manual:
1992, 1993, 1994, 1995,
1996, 1997, 1998 (paper)
BMW 3 Series Enthusiast's Companion
BMW 3 Series (E46) Service Manual: 1999, 2000, 2001, 2002,
2003, 2004, 2005 (paper)
BMW 3 Series Gold Portfolio: 1991-1997
BMW E30 - 3 Series Restoration Bible
BMW 5 Series: 1982-2002
BMW 5 Series (E28)
Service Manual:
1982, 1983, 1984, 1985,
1986, 1987, 1988 (paper)
BMW 5 Series (E34)
Service Manual:
1989, 1990, 1991, 1992,
1993, 1994, 1995 (paper)
BMW 5 Series Gold Portfolio: 1981-1987
BMW 5 Series Gold Portfolio: 1988-1995
BMW 6 Series: 1977-1989
BMW 6 Series Enthusiast's Companion
BMW 6 Series Ultimate Portfolio: 1976-1989
BMW 7 Series: 1977-2001
BMW 7 Series (E38) Service Manual:
1995, 1996, 1997, 1998,
1999, 2000, 2001 (paper)
BMW 7 Series (E32) Service Manual:
1988, 1989, 1990, 1991,
1992, 1993, 1994 (paper)
BMW 7 Series Performance Portfolio: 1986-1993
BMW 7 Series Performance Portfolio: 1977-1986
BMW Z3: 1996-2002
BMW Z3 Service Manual:
1996, 1997, 1998, 1999,
2000, 2001, 2002 (paper)
BMW Z3 M Coupes & Roadsters Gold Portfolio: 1996-2002
BMW X5: 2000-2006
BMW X5 (E53)
Service Manual:
2000, 2001, 2002, 2003,
2004, 2005, 2006 (paper)