Audi Technical and Owner Information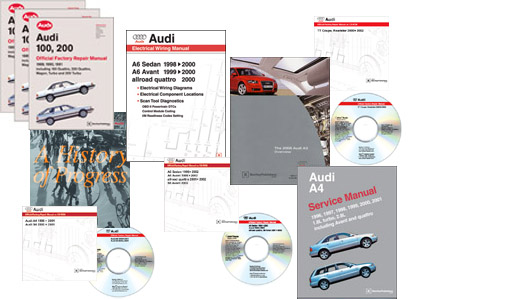 Covers for selected titles shown. Please scroll down for complete list.
Audi Repair Manuals, Audi Owners Manuals, Audi History and Audi Technical Literature organized by model and subject
Professional
eBahn Pro: Audi and Volkswagen

General
Audi Service Training
Audi Video Training: Audi Service Forum Broadcasts on DVD
Audi History
TT
Audi TT Coupe, TT Roadster: 2008
Audi TT Coupe, TT Roadster: 2000-2006
Compact-Size
Audi A3: 2006-2008
Mid-Size
Audi A5, S5: 2008-2009 (B8)
Audi A4 2009 (B8)
Audi A4: 2002-2007 (B6)
Audi S4: 2004-2007 (B6)
Audi RS4: 2007-2008 (B6)
Audi A4: 1996-2001, Audi S4: 2000-2002 (B5)
Audi 90: 1993-1995
Audi 80, 90, Coupé: 1988-1992
Audi Coupé, Quattro: 1981-1987
Audi Cabriolet: 1994-1998
Audi 4000: 1980-1987
Audi Fox: 1973-1979
Audi Super 90: 1970-1972
Full-Size
Audi A6: 2005-2008; A6 Avant 2006; S6 2007-2008 (C6)
Audi A6, S6, RS6: 1998-2004 (C5)
Audi allroad: 1998-2005 (C5)
Audi A6, S6: 1995-1997; Avant: 1995-1998 (C4)
Audi S4: 1992-1994 (C4)
Audi 100: 1992-1997 (C4)
Audi 100, 200: 1989-1991
Audi 5000: 1984-1988
Audi 5000: 1977-1983
Audi 100: 1969-1976

Full-Size Luxury
Audi A8: 2005-2008; A8 L: 2004-2008 (D3)
Audi A8: 1997-2003 (D2)
Audi S8: 2001-2003 (D2)
Audi S8: 2007-2008 (D3)
Audi V8: 1990-1994
Sport Utility Vehicle ("4L" Platform): 2007-2008
Q7: 2007-2008 (4L)
Supercar ("42" Platform)
R8: 2008 (42)


Featured
Audi Service Training information is now available from Bentley Publishers. These Audi Technical Training Self-Study Programs (SSP) contain valuable technical information on Audi technology, ranging from Audi A6 2005 - Vehicle Introduction to How to Read Wiring Diagrams Symbols, Layout and Navigation. They are filled with colorful photos, diagrams, charts and drawings.

Audi A4: 1996 - 2001
A4 Avant: 1998 – 2001
S4: 2000 - 2002
S4 Avant: 2001 - 2002 Official Factory Repair Manual on CD-ROM


Audi: A History of Progress
chronicles the fascinating history of Audi AG, from its beginnings in Germany in 1909 to its unique place in the market today.
News
Join in the discussion!
Bentley is now featuring
online discussion forums
where you can communicate directly with the folks who brought you your favorite manual. Ask us questions about our manuals or about your car. We'd like to hear from you. Check it out now at
BentleyPublishers.com/tech
.
Audi Technical Discussion


Audi A4: 2002-2007, Audi S4: 2004-2007, RS4: 2007 (B6)
Audi Service Forum Broadcasts on DVD
2005-JUN-23
Audi A4 Cabriolet
Design and Function
Technical Service Training
Self-Study Program
Audi A4 2002 Technical Features
Design and Function
Technical Service Training
Self-Study Program
Audi 2004 New Technologies
3.2L V6, 4.2L V8 and DSG
Technical Service Training
Self-Study Program
Audi A4 2002
Body Manual
Technical Service Training
Self-Study Program
Audi A4 2005 - Vehicle Introduction Technical Service Training Self-Study Program
Audi Service Forum Broadcasts on DVD
2005-FEB-24
Audi A4 Avant Owner's Manual: 2002
Audi A4 Avant Owner's Manual: 2003
Audi A4 Avant Owner's Manual: 2004
Audi A4 Avant Owner's Manual: 2005
Audi A4 Cabriolet Owner's Manual: 2003
Audi A4 Cabriolet Owner's Manual: 2004
Audi A4 Cabriolet Owner's Manual: 2005
Audi S4 Avant Owner's Manual: 2006
Audi A4 Avant Owner's Manual: 2006
Audi S4 Avant Owner's Manual: 2005
Audi S4 Cabriolet Owner's Manual: 2005
Audi TT Coupe, TT Roadster: 2000-2006
Audi TT:
2000, 2001, 2002,
2003, 2004, 2005, 2006
Service Manual (paper)
Audi 2004 New Technologies
3.2L V6, 4.2L V8 and DSG
Technical Service Training
Self-Study Program
Audi TT Roadster
Design and Function
Technical Service Training
Self-Study Program
Audi 02E Direct Shift Gearbox
Technical Service Training
Self-Study Program
Audi TT Coupe quattro, Supplement to Owner's Manual: 2000
Audi TT Coupe Owner's Manual: 2000
Audi TT Coupe Owner's Manual: 2002
Audi TT Coupe Owner's Manual: 2003
Audi TT Coupe Owner's Manual: 2004
Audi TT Coupe Owner's Manual: 2005
Audi TT Coupe Owner's Manual: 2006
Audi TT Roadster Owner's Manual: 2002
Audi TT Roadster Owner's Manual: 2003
Audi TT Roadster Owner's Manual: 2004
Audi TT Roadster Owner's Manual: 2005
Audi TT Roadster Owner's Manual: 2006
Audi TT Coupe, TT Roadster: 2008
The 2008 Audi TT Body Technical Service Training Self-Study Program
The 2008 Audi TT Running Gear Technical Service Training Self-Study Program
The 2008 Audi TT Electrical and Infotainment Systems Technical Service Training Self-Study Program
The 2008 Audi TT Vehicle Introduction Technical Service Training Self-Study Program
Audi A4: 1996-2001; Audi S4: 2000-2002
Audi A4 (B5) Service Manual:
1996, 1997, 1998,
1999, 2000, 2001 (paper)
Audi A4 Avant Owner's Manual: 1998
Audi A4 (1.8L) Owner's Manual: 1998
Audi A4 Avant Owner's Manual: 1999
Audi A4 Avant Owner's Manual: 2000
Audi A4 Avant Owner's Manual: 2001
Audi S4 Avant Owner's Manual: 2001
Audi S4 Avant Owner's Manual: 2002
Audi History
Audi quattro
The Evolution of Audi All-Wheel Drive
Technical Service Training
Self-Study Program
Audi A6: 2005-2008 (C6)
The 2006 Audi A6 Avant Technical Service Training Self-Study Program
Audi Service Forum Broadcasts on DVD
2005-AUG-25
Audi A6 2005 - Electrical Systems
Technical Service Training
Self-Study Program
Audi A6 2005 - Running Gear
Technical Service Training
Self-Study Program
Audi A6 2005 - Engines and Transmissions
Technical Service Training
Self-Study Program
Audi A6 2005 - Vehicle Introduction
Technical Service Training
Self-Study Program
Audi A6 Avant Owner's Manual: 2006
Audi A3: 2006-2008
Audi Service Forum Broadcasts on DVD
2005-APR-21
Audi A3 2006 - Electrical System Technical Service Training Self-Study Program
Audi A3 2006 - Vehicle Introduction Technical Service Training Self-Study Program
Audi A3 2006 - Running Gear Technical Service Training Self-Study Program
Audi S4: 1992-1994
Audi
100, A6: 1992-1997
(Including the S4, S6, quattro and wagon)
Repair Manual (paper)
Audi S4 quattro Owner's Manual: 1993
Audi S4 quattro Owner's Manual: 1994
Audi 90: 1993-1995
Audi 80, 90, Coupé: 1988-1992
Audi
80, 90, Coupe Quattro: 1988-1992
Repair Manual (paper)
Audi 80, 80 quattro Owner's Manual: 1988
Audi 90, 90 quattro Owner's Manual: 1988
Audi 80, 80 quattro Owner's Manual: 1989
Audi 90, 90 quattro Owner's Manual: 1989
Audi 80, 80 quattro Owner's Manual: 1990
Audi 90, 90 quattro Owner's Manual: 1990
Audi 80, 80 quattro Owner's Manual: 1991
Audi 90, 90 quattro Owner's Manual: 1991
Audi 90, 90 quattro Owner's Manual: 1992
Audi 80/80 quattro 1992 Owner's Manual
Audi Coupé, Quattro: 1981-1987
Audi 4000S, 4000CS and
Coupe GT (B2):
1984, 1985, 1986, 1987
Repair Manual (paper)
Audi quattro Owner's Manual: 1985
Audi Coupé Owner's Manual: 1985
Audi Coupé Owner's Manual: 1986
Audi Coupé GT Owner's Manual: 1987
Audi 4000: 1980-1987
Audi 4000S, 4000CS and
Coupe GT (B2):
1984, 1985, 1986, 1987
Repair Manual (paper)
Audi 4000 Owner's Manual: 1984
Audi 4000 Quattro Owner's Manual: 1984
Audi 4000 S Owner's Manual: 1985
Audi 4000 S quattro Owner's Manual: 1985
Audi 4000 S Owner's Manual: 1986
Audi 4000 quattro 1986 Owner's Manual
Audi 4000, 4000 quattro Owner's Manual: 1987
Audi Fox: 1973-1979
Audi Fox Service Manual: 1973-1979 (paper)
Audi A6, S6, RS6: 1998-2004
Audi allroad: 1998-2005
Audi A6 (C5) Service Manual:
1998, 1999, 2000, 2001,
2002, 2003, 2004 (paper)
Audi A6 Electrical Wiring Manual
Audi allroad quattro
Design and Function
Technical Service Training
Self-Study Program
Audi 2004 New Technologies
3.2L V6, 4.2L V8 and DSG
Technical Service Training
Self-Study Program
Audi Service Forum Broadcasts on DVD
2005-JUN-23
Audi allroad Owner's Manual: 2001
Audi A6 Avant Owner's Manual: 2000
Audi A6 Avant Owner's Manual: 2001
Audi A6 Avant Owner's Manual: 2002
Audi A6 Avant Owner's Manual: 2003
Audi A6 Avant Owner's Manual: 2004
Audi S6 Avant Owner's Manual: 2002
Audi S6 Avant Owner's Manual: 2003
Audi allroad quattro Owner's Manual: 2002
Audi allroad quattro Owner's Manual: 2003
Audi allroad quattro Owner's Manual: 2004
Audi A6, S6: 1995-1997; Avant: 1995-1998
Audi
100, A6: 1992-1997
(Including the S4, S6, quattro and wagon)
Repair Manual (paper)
Audi S6 quattro wagon supplement to Audi A6, A6 quattro, S6 Owner's Manual: 1995
Audi A6 Wagon, A6 quattro Wagon supplement to Audi 100 Owner's Manual: 1995
Audi S6 quattro wagon, Supplement to Audi A6/A6 quattro Owner's Manual: 1996
Audi A6 wagon, A6 quattro wagon supplement to Audi 100 Owner's Manual: 1997
Audi 100: 1992-1997
Audi
100, A6: 1992-1997
(Including the S4, S6, quattro and wagon)
Repair Manual (paper)
Audi 100 Owner's Manual: (1992) 1993
Audi 100 S wagon, 100 CS quattro wagon supplement to Audi 100 Owner's Manual: 1994
Audi A6 Wagon, A6 quattro Wagon supplement to Audi 100 Owner's Manual: 1995
Audi A6 wagon, A6 quattro wagon supplement to Audi 100 Owner's Manual: 1997
Audi 100, 200: 1989-1991
Audi
100, 200: 1989-1991
Repair Manual (paper)
Audi 100,100 quattro Owner's Manual: 1989
Audi 200, turbo and quattro Owner's Manual: 1989
Audi 200, 200 quattro Owner's Manual: 1990
Audi 200, 200 quattro Owner's Manual: 1991
Audi 5000: 1977-1983
Audi 5000, 5000S: 1977-1983 Repair Manual (paper)
Audi 5000: 1984-1988
Audi 5000S, 5000CS: 1984-1988 Repair Manual (paper)
Audi 5000 S Owner's Manual: 1984
Audi 5000, turbo and turbo quattro Owner's Manual: 1985
Audi 5000 turbo Owner's Manual: 1985
Audi 5000, turbo and quattro Owner's Manual: 1986
Audi 5000 S Owner's Manual: 1986
Audi 5000, turbo and quattro Owner's Manual: 1987
Audi 5000 S Owner's Manual: 1987
Audi 5000 S, 5000 S quattro Owner's Manual: 1988
Audi A8: 1997-2003
Audi S8: 2001-2003
Audi A8: 2004 and later
Audi A8 L: 2004 and later
Audi A8, Audi A8 L Owner's Manual: 2006
Audi A8L
Adaptive Air Suspension
Technical Service Training
Self-Study Program
Audi A8L 2004 Technical Features
Design and Function
Technical Service Training
Self-Study Program
Audi Adaptive Cruise Control in the Audi A8L
Design and Operation
Technical Service Training
Self-Study Program
Audi A8L Electrical Components
Technical Service Training
Self-Study Program
Audi A8L 2005 with 6.0L W12 Engine Technical Service Training Self-Study Program
Audi A8 Infotainment/MMI Owner's Manual: 2006
Audi V8: 1990-1994
Audi V8 quattro Owner's Manual: 1991
Audi V8 quattro Owner's Manual: 1992
Audi V8 Quattro Owner's Manual: 1993
Audi V8 quattro Owner's Manual: 1994
Sport Utility Vehicle ("4L" Platform): 2007-2008
Audi Open Sky and Panorama Sunroof Systems Technical Service Training Self-Study Program
The 2007 Audi Q7 Vehicle Introduction Self-Study Program
The Audi Q7 Running Gear Self-Study Program
The Audi Q7 Power Transmission Self-Study Program
The Audi Q7 Electrical System Self-Study Program