| | |
| --- | --- |
| | Volkswagen Beetle: Portrait of a Legend |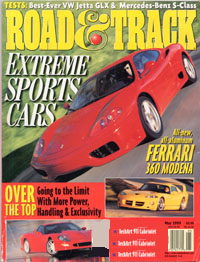 Road & Track - May 1999
An illustrious guide to the world's friendliest car
"Oh, the Beetle!" exclaimed everyone who noticed the review copy of this book on my coffee table. So beloved is that little vehicle, so appealing to such a wide audience, that any book featuring it on the jacket is sure to attract attention. Starting with a handsome cover featuring Beetles old and new and continuing inside with great pictures and a text as simple and straightforward as the car itself, Volkswagen Beetle, Portrait of a Legend is a real pleaser.
Think family album–a loosely chronological assemblage of familiar faces. And right there with them is a Beetle, a sort of beloved family pet. In one photo the mother of four gazes down affectionately–at her VW. Another reveals a bride and groom being nosed out of their wedding photo by a flower-bedecked Beetle.
Strangely enough, the world's friendliest car was the brainstorm of a madman: Adolf Hitler announced in 1934 that his country needed a People's Car. Something affordable. Something that would help unite citizens and industry in the German cause. The result turned out to be costlier than the people could afford, and, as Germany's factories geared up for war, fewer than 700 Beetles had been produced before 1945.
A better destiny than Nazi mascot was in store for the Beetle, and in Baaske's "Resurrection" chapter, a single photograph spells it out: A line of Beetles is glimpsed through a bombed-out wall of Volkswagen's Wolfsburg factory; above, grinning Allied occupation soldiers stand on what is left of the building's second story. The message is clear that, despite the rugged circumstances, and with the help of the victors, the Beetle was to play a major role in raising a new Germany from the ruins of the old. According to this author, by the mid-Sixties Volkswagens had become West Germany's chief export.
Baaske contents himself with a couple of expository paragraphs at the beginning of each of the book's nine sections. After that, well-observed captions augment well-chosen photos: The words describing a snowy day from the Fifties point out that a Beetle's bundled-up driver isn't much better off than a pedestrian, because heaters weren't standard at the time. A São Paulo, Brazil, late-Sixties' traffic jam involving mostly VWs prompts Baaske to note that four out of five vehicles registered there at the time were Beetles.
Many of the photos are from Volkswagen's archives; whether Nazi-mandated propaganda stills or factory shots proving German's robust, industrious work ethic, they are surprisingly engaging. The few ad agency shots in the book tend to be of VW's "Aren't-we-having-fun?" variety, and pictures from private collections don't always feature Beetles front and center: In a photo of an old man dozing on a Frankfurt park bench, the string of Beetles parked curbside is mere backdrop.
In 60 years of production, the original Beetle had plenty of time to win fans. This book will delight every one of them.
–Beverly S. Narkiewicz