| | |
| --- | --- |
| | BMW Profiles 9: The Legendary BMW 507 |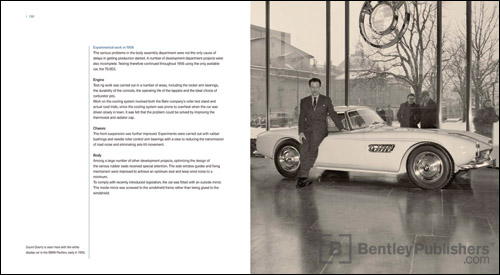 Count Goertz is seen here with the white display car in the BMW Pavilion, early in 1956.
Excerpted from BMW Profiles 9: The legendary BMW 507, pages 150?151
(BentleyPublishers.com watermark not printed on actual product.)
Experimental work in 1956
The serious problems in the body assembly department were not the only cause of delays in getting production started. A number of development department projects were also incomplete. Testing therefore continued throughout 1956 using the only available car, the 70.003.
Engine
Test rig work was carried out in a number of areas, including the rocker arm bearings, the durability of the conrods, the operating life of the tappets and the ideal choice of carburetor jets. Work on the cooling system involved both the Behr company's roller test stand and actual road trials, since the cooling system was prone to overheat when the car was driven slowly in town. It was felt that the problem could be solved by improving the thermostat and radiator cap.
Chassis
The front suspension was further improved. Experiments were carried out with rubber bushings and needle roller control arm bearings with a view to reducing the transmission of road noise and eliminating axle tilt movement.
Body
Among a large number of other development projects, optimizing the design of the various rubber seals received special attention. The side window guides and fixing mechanism were improved to achieve an optimum seal and keep wind noise to a minimum. To comply with recently introduced legislation, the car was fitted with an outside mirror. The inside mirror was screwed to the windshield frame rather than being glued to the windshield.