| | |
| --- | --- |
| | Small Wonder: The Amazing Story of the Volkswagen Beetle |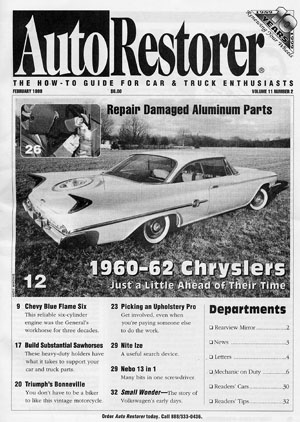 Auto Restorer - February 1999
This book first came to my attention nearly 20 years ago when I was working at Volkswagen of America. "You'll need to know the company's history," a supervisor told me as he handed me a copy of Small Wonder. "So, read this."
Although it was considered a "business book" at the time and therefore kept in that section of the bookstores, Small Wonder still managed to sell some one million copies. It's been out of circulation for a while, but interest inthe New Beetle has prompted Robert Bentley, Inc. to put it back on the presses.
Two things about this book should be cleared up right away.
First, it's not a restoration guide. All you'll find along those lines is a section that tells you how to identify one year's Beetle from another.
And, second, this book originally was published in 1970, so it concentrates on the early days of the VW, both in Germany and the U.S.
But for fans of the real Beetle, the '30's through the '60's are the important part of the company's history anyway.
Author Walter Henry Nelson was given access to VW archives in both countries and his in-depth reporting reflects the wealth of material that was made available to him.
From the early days on Ferdinand Porsche's drawing board through the construction of the Wolfsburg plant under Adolph Hitler, the postwar redevelopment and the Beetle boom in America, it all makes for fascinating reading. There's even a section on "Volkslore" that goes into the many tales associated with this early import.
The 380-page softcover book also has a number of vintage black-and-white photos.
-Ted Kade