Porsche 911 (964):
Enthusiast's Companion:
1989, 1990, 1991, 1992, 1993, 1994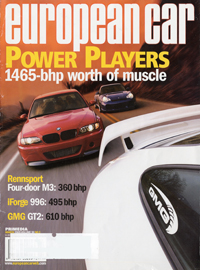 European Car - March 2005
"Porsche 911 (964), Enthusiast"s Companion: Carrera 2 Carrera 4 and Turbo 1989-1994" by Adrian Streather
Softbound,
Published by Bentley Publishers (800) 423-4595 www.bentleypublishers.com
At first glance, the sheer size of Adrian Streather's leviathan suggests the author has compiled the definitive account of the renowned Porsche 911 and all its renderings. Alas, "Porsche 911, Enthusiast's Companion" covers only one model, the 964, produced from 1989-1994. But cover it, it does.
Subtitled "Auftragsnummer 964" (Deutsche for "project number 964"), the book gives an excellent overview of the model, including a variety of lesser-known derivatives. It then moves on to the particulars, from potential purchase and care to performance enhancements and the racing of this distinctive 911.
Residing in Switzerland, Streather added a rarely discussed topic-proper winter storage. From removal of the battery to using an old blanket under the car as a moisture barrier, this section is invaluable to any Porsche owner living in a wet and chilly climate zone.
Following chapters give information about the 964's engine and engine management systems, normally aspirated versus Turbo, maintenance aspects and performance expectations. The author discusses the characteristics of the 964 Carrera 4"s awd system. Through exploded drawings and photographs, Streather weathers the inner workings of the mystery Tiptronic transmission. Not an easy feat.
Beyond the chapters describing the car's components, there is a troubleshooting segment covering a variety of basic problems. These cars, however, are such complicated creatures; no book can be expected to hold the answer to every failure. Streather, at least, presents enough on potential troubles that a 964 owner can communicate his sorrows to his professional Porsche mechanic.
If the book shines in any particular place it is with the last chapters "Performance" and "On the Racetrack :" Throughout these pages it is clear Streather is not simply regurgitating stats and data, but actually submitting trial and error information from club racers and 964 enthusiasts. Here we learn of high-speed tricks proven to be valuable and a number that fall short of expectations.
While one assumes a book of this size must be incredibly complete, this 600-plus page tome is not packed with as much detailed information as expected. Much of the material is taken from factory manuals. This isn't particularly bad as most workshop books could benefit from Streather"s additional notes, warnings and highlights.
Still, if all the publications with 911 in their title came as close to complete as Adrian Streather's "Porsche 911," I could certainly do without the innumerable volumes on the subject that fill my cubbyhole office. If you are a 911 fanatic, this book is a good addition to your bookshelf. If you own, or plan to own a 964, then "Porsche 911" is a must-have. I can only hope Mr. Streather has gotten the 964 out of his system and is focusing his energies on another 911 model. If he has, I will be the first to clear another spot on my bookshelf.
—Frank Macomber