Porsche 911 (964):
Enthusiast's Companion:
1989, 1990, 1991, 1992, 1993, 1994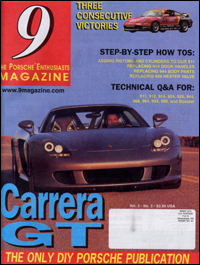 9 Magazine - Vol. 3 - No. 2
Porsche 911 Enthusiast's Companion review from 9 Magazine, Vol. 3 - No. 2
Porsche 911 Enthusiast's Companion.
by Adrian Streather
Bentley Publishers
www.BentleyPublishers.com
"When the good folks at Bentley Publishers told me they were sending over a copy of a new book I didn't take much reservation about seeing it. Then it came. The box was a bit heavy for a book, but this wasn't just any book. Inside was the "Porsche 911 Enthusiast's Companion for the Carrera 2, Carrera 4 and Turbo for 1989-1994" by Adrian Streather.
The guys at Bentley should reconsider calling this the 954 Bible, with its 640 pages, and thousands of photos and clear illustrations. The book is much more than just a look at the 964, this is the ultimate DIY guide for the 964 owner.
The first chapter in the book is a look at the differences in the model years and various special versions of the car. There is a page devoted to each of the six years of the 964 with original selling prices, options lists, and unique features of each year.
Second chapter is your typical buyers guide but a few pages on how to make your ownership of a 964 the best it can be.
Streather then dives into all aspects of the 964. The engine, and not just a bunch of stats on horsepower, but very technical information. Like oil cooler thermostat part numbers, or vibration damper runout. A few pages cover just about every aspect of the 964 engine, even the Turbo engine.
The next several chapters cover the engine management, drivetrain, suspension, body, and HAVC. Over 200 pages to be exact of indepth information on each one of the main systems of the car. You will understand more about your car than your local mechanic.
Chapter 9 brings you to the part of the book I like most, troubleshooting problems with the above systems. Now that you understand how each system works, the troubleshooting becomes almost childs play. Basic understanding of each system, makes repairing your 964 much easier.
He wraps things up with a look at perfomance modifications for the 964 and a look at the 964 on the track.
Adrian Streather brings to the 964 owner the ultimate guide to buyer, ownership, repairing, and enjoying their 964."