Porsche 911 (964):
Enthusiast's Companion:
1989, 1990, 1991, 1992, 1993, 1994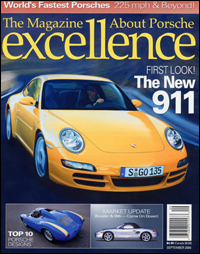 excellence ? September 2004
Porsche 911 Enthusiast's Companion (964-based Models)
"The 964, first of the truly modern 911s, has a spotty reputation due to early problems with leaking cylinder heads, dodgy dual-mass flywheels, and decaying distributor belts. The 993's ravishing good looks also helped overshadow the 964. But now that most of the problem areas have been fixed?and with 964s trading in the "enthusiast" price range?there is renewed excitement for the 964.
Enthusiast Companion author Adrian Streather is a moderator and contributor to various online forums, where he seems to eat, sleep, and breathe 964s. And he's taken all the elements 964 owners care about and compiled them into a single book covering purchasing, maintenance, upgrades, and technical information.
The book starts with a model overview and then discusses buying and owning a 964, from initial pre-purchase inspection to service and detailing. Next comes an overview of 964 engine variants, including Turbos. Fuel supply, engine management (DME and CIS), exhaust systems, and engine electrics are covered after that. Transmissions, differentials, AWD, and theory of operation for traction control get their own chapter while suspension, brakes, ABS, wheels, and tires follow. The body is discussed in the seventh chapter, with sections on both the exterior and interior. The subjects of HVAC and other electrical systems appear in yet another chapter.
As good?and exhaustive?as the material is so far, the book really shines in the later chapters. Useful troubleshooting guides discuss a wide range of problems from simple topics like the battery to complex ones like ABS. Streather includes a DIY guide with nearly 30 documented procedures, ranging from valve adjustments to engine removal and installation. Most are well-written, but a few?such as the brake-pad replacement procedure?are oddly left wanting. There's a chapter on performance upgrades to address common engine, transmission, body, suspension, and brake upgrades. The final chapter covers the 964 models on-track with a brief overview of the factory race cars as well as several examples of 964 "track junkies" with their cars.
Auftragsnummer 964 (Project/Order Number 964) contains a tremendous amount of information and is well-written with fine attention to detail. It's the kind of book that deserves to get a lot of greasy thumbprints from real use. If you own a 964 or are considering purchasing one, it's a great choice."?Karl Glynn