| | |
| --- | --- |
| | Porsche: Excellence Was Expected |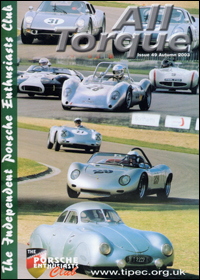 All Torque - Autumn 2003
All Torque is published by The Independent Porsche Enthusiast's Club
Porsche - Excellence Was Expected
Back in the seventies, when there was rather more money rolling around in the White coffers, I miffed my first wife by buying a very expensive book [it was about $65.00] titled Porsche - Excellence Was Expected. The Complete History of The Sports and Racing Cars, written by automotive historian, author and photographer, Karl Ludvigsen. Sixty-five bucks was about £30, which in those less inflationary times represented, I suppose, a complete outfit for the tribe, so her being miffed was probably justified. Anyway, after the divorce I got to keep the book, then lost it, and subsequently bought a used copy in 2001 for £156. It's called inflation...
I'm telling you this because at $65 it proved a steal and later, for £156, it was a bargain that, I've never regretted. Everyone said it was the only Porsche book to have if you only have one. That first edition was of epic proportions; nearly 1000 pages, over 100 colour photos, about 750 B&W photos. It contained valuable and hitherto unpublished information about the marque, the founding of a great dynasty, the uphill challenges Porsche faced after so much destruction, plus reams and reams of awesome racing material and pictures to die for. It was [and remains] the definitive authority on Porsche cars to 1977. Period. But with so many collectables [old cars especially spring to mind], there's that ache to add a bit, even if it's only upgrading the light bulbs, and so it is with Porsche - Excellence Was Expected, the sequel.
Porsche history didn't suddenly end in 1977, and Ludvigsen was never content to rest on his laurels. Now he's surpassed all expectations with a fully updated edition, slightly re-titled as Porsche - Excellence Was Expected - The Comprehensive History of the Company, its Cars and its Racing Heritage. In showbiz terms this is a blockbuster. It is changed out of all recognition by augmented and edited versions of the 32 chapters contained in the '77 edition, plus adding 29 chapters that cover Porsche's history to 2002.
So now we have the rest of Porsche's illustrious history; the 956, 962, 951, 959, 964, and 993s, the sometime controversial water-cooled revolution plus the Porsche Cup racers, the innumerable victories in Le Mans, IMSA, ALMS, privateers and factory entries alike. The depth is awesome, the cover definitive. This is history that Ludvigsen has spent a lifetime in researching and he has outdone himself. Like it"s predecessor, it now is the only book to have if you only have one. But, for the record, one book has become books, plural, being a three-volume set consisting of 1674 pages, 1629 B&W photographs and 151 colour photographs and illustrations. At $239.95 [about £158,00] the set may seem expensive, but think of it as an investment in knowledge, and as an heirloom to leave to your grandchildren. I've bought mine. Information from www.BentleyPublishers.com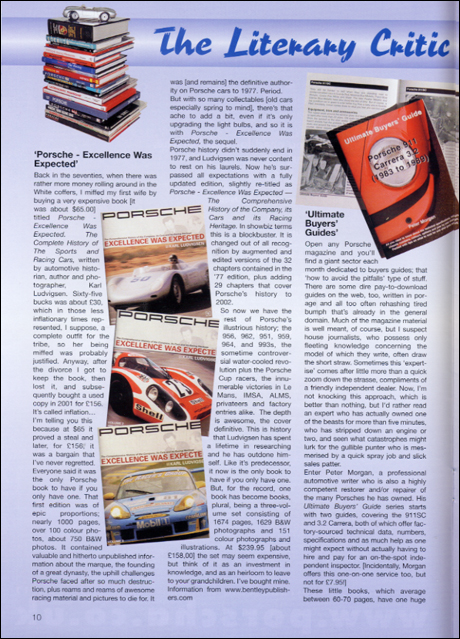 Review of Porsche: Excellence Was Expected from All Torque - Autumn 2003