| | |
| --- | --- |
| | Porsche: Excellence Was Expected |
Road & Track - May 2004
Porsche - Excellence Was Expected review from Road & Track, May 2004
PORSCHE - EXCELLENCE WAS EXPECTED
by Karl Ludvigsen
Bentley Publishers
1734 Massachusetts Ave.
Cambridge, Mass. 02138
(800) 423-4595;
www.BentleyPublishers.com
$239.95
9 1/2 x 10 1/2 in., 1574 pp.
"WHEN THE FIRST EDITION OF THIS TOME appeared in 1977, Porsche aficionados quickly embraced it as their bible. At almost 900 pages, it chronicled the entire history of this vaunted marque up to the time of the book's publication. But, of course, the folks in Zuffenhausen continued to make history?and cars?leaving a 25-year historical void that needed to be filled. And who better to fill it than a man who has authored more than three dozen books on cars and racing drivers, Karl Ludvigsen himself.
Extending from where the 1977 edition leaves off, the latest version covers Porsche's history from its genesis through 2003, and includes 32 chapters from the first edition plus an additional 29 chapters that comprise a three-volume, hardcover set weighing 22 lb. There are 1478 black-and-white photographs (748 of them new), 151 color photos as well as 50 new color illustrations of Porsche production and racing cars. And, of course, there are enough data and trivia to keep the most inquisitive Porsche pusher busy for months.
It is beyond the scope of this brief review to list the contents of all 61 chapters so I'll cite one of the most useful sections of this work: Appendix 2, which lists Porsche type numbers beginning with Number 7, the 1930 Wanderer, Ferdinand Porsche's first design, and ending with 980310, the 2004 Carrera GT.
As a reference source and as a historical treatise, Ludvigsen's latest effort is the definitive work dealing with one of the greatest automotive marques in the world. And a "must have" for all who are fascinated by fast cars and the men who build (and race) them."?Joe Rusz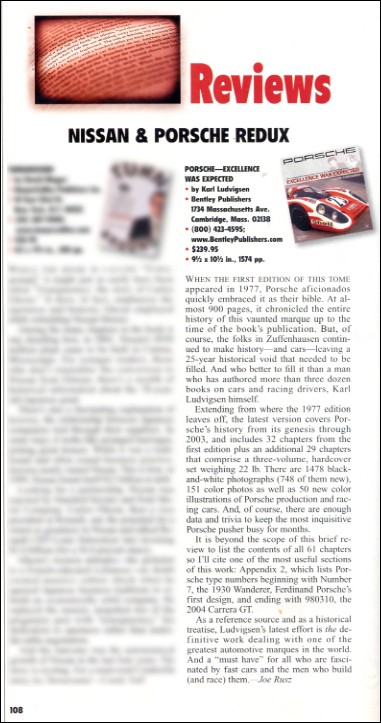 Review of Porsche: Excellence Was Expected from Road & Track - May 2004