| | |
| --- | --- |
| | Porsche: Excellence Was Expected |
Purely Porsche
Book review
Without doubt, this is the definitive work on the history of Porsche. Author Karl Ludvigsen presents the inner workings, masterpieces and failures of the independent car maker with a disproportionately powerful influence on the entire automotive industry. Remarkable both for its breadth of coverage and its technical depth, Excellence Was Expected covers every Porsche road and racing car from the company's beginnings through the development of the 2009 Panamera.
The latest revision, in 2008, incorporates five new chapters and 230 new images. Including all of the current models, there is also comment on Porsche's remarkable financial trades in 2008.
A must-have for any Porsche enthusiast...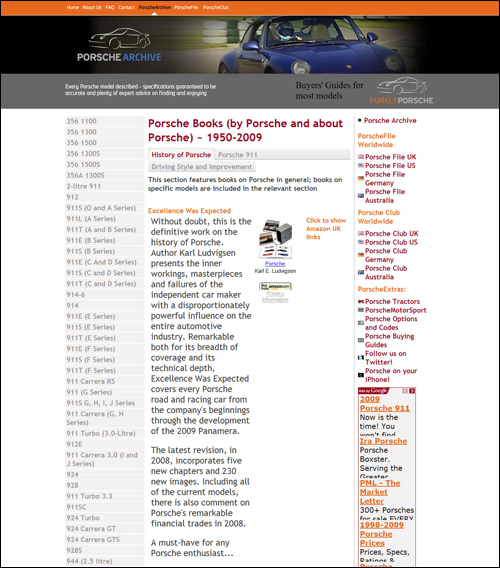 Review of Porsche: Excellence Was Expected from
http://www.porschearchive.com/render.cfm?source=47500~Books%20(by%20Porsche%20and%20about%20Porsche)~1950-2009