| | |
| --- | --- |
| | |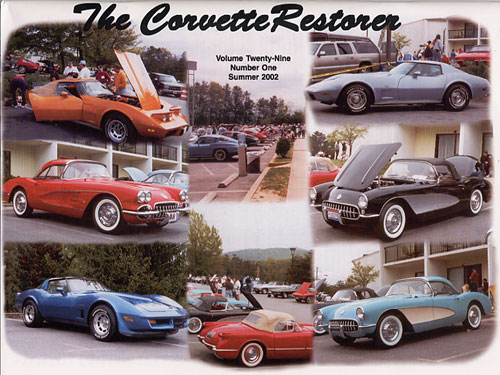 The Corvette Restorer - Summer 2002
Think how you feel when a person you're sure you know like the back of your hand reveals a side you've never seen before: Part shock, right? Part disbelief? Part guilt for being so inattentive?
Genuine Vetteophiles ? which is to say the entire NCCC membership -- will get that feeling as they read a pair of splendid new Corvette books -- Jerry Burton's Zora, a biography of Zora Arkus-Duntov, and Dave McLellan's Corvette from the Inside.
A lot of us knew Zora pretty well. Dave, too. But hardly any of us knew the burdens they carried as they fought the good fight inside General Motors on behalf of the Corvette. Now, at last, we do.
Duntov had long since retired as Corvette's chief engineer when I turned up in 1979 as a wet-behind-the-ears recruit to the Chevrolet public relations staff. He was the white-haired old man with the piercing blue eyes and heavy accent who rushed past me once in a while to visit my boss, Chevy's then PR director Jim Williams. Zora always rushed.
Meanwhile, McLellan, who succeeded Zora January 1, 1975, was a precocious young engineer for whom the word ?erudite? must have been invented. The kid and his predecessor seemed as un-alike as the rebellious ?70s were the ?50s. Except the rebel was not the fashionably bell-bottomed McLellan. It was Duntov, bowed but not broken, ever the renegade, an old soldier who was not about to fade away. Duntov fought the system. McLellan worked it. That, I knew in '79.
I came to know more over the years. I watched Zora become a god to Corvette aficianodos. I like to think I helped Dave make his mark on the Corvettes of the ?80s and ?90s and on the Corvette scene.
And now I'm embarrassed to say I'm finally getting to know them.
You should read Jerry Burton's Zora for the picture it paints of the man. You should read Dave McLellan's Corvette from the Inside, for what you'll learn about the car and the car company.
Jerry touches on Zora's love affair with mid-engine Corvette architecture, for example, and his near apoplexy when the concept was abandoned. Dave spells out in detail the design and engineering underpinnings of a mid-engine package. And then he tells you why the marketers had apoplexy at the very thought of it.
Of the two, Zora is the storybook. Dave's is more a reference work. Vetteophiles will want them both. Normal people who happen to be students of product and management issues inside the Chevrolet of the last half of the 20th Century will also find Dave's book a must-read. What car nuts of every ilk will especially like about Dave's book are the many delicious sidebars that put the larger story into perspective. They tend to be technical. Commit them to memory and you can hold your own with even gifted gearheads .
Among them:
· Aerodynamic mysteries and Jim Hall's Chaparral program.
· The sports car gospel according to Zora, as presented to SAE in '53.
· The Rochester fuel injection story.
· The beauty of Corvette's independent rear suspension.
· The gross-vs-net horsepower issue
· Why those ?Audi Beats Corvette? adds of the late ?70s were pulled.
· The glass spring and why anisotropic is good.
· How catalytic converters work.
· How the F-14A Tomcat affected C4 design.
· The technology of digital instrumentation.
· The score sheet from that late '84
Ferrari/Porsche/ Lamborghini/ Corvette shootout.
· Pieces on ABS, traction control, active suspension.
· That nasty rumor about LT5 engines overheating.
· A recap of the clandestine Fort Stockton 1990 world record run.
· A primer on why convertibles shake.
· Where the book ?All Corvettes are Red? went wrong.
Dave devotes his first 16 chapters to all manner of Corvette events and circumstances ? from minuscule to momentous. He says, for instance, that the war between Duntov and design chief Bill Mitchel over the split rear window '63 could have been avoided had someone just moved the rear view mirror slightly to the right.
Nothing if not a diplomat during his GM years, Dave now minces fewer words. He says while Ed Cole's motives in protecting the Corvette weren't what people thought they were, GM engineering ?fell into chaos? when he retired in '75, leaving Corvette even more of an orphan. He says five years later, GM's top engineering executive eyed a chassis for the proposed next-generation Corvette and asked him: ?Can you fit a four-cylinder engine??
?I remember being dumbstruck,? Dave says. ?I could tell he was so deadly serious that a flippant answer was out of the question. The right answer, of course, was: ?Absolutely not! You should retire the Corvette with grace and dignity before subjecting it to the indignity of a four-cylinder engine.'?
Predictably, Dave gets into the whys and wherefores of Corvette's triumphant return to world performance leadership. In 1980, power-robbing anti-pollution controls had reduced Vettes sold in California to 180-horsepower wimps. Just 10 years later, the 375-hp ZR-1 was King of the Hill. On the way March 1, 1990 to a new world open-class 24-Hour speed record, it averaged an astounding 175.885 miles an hour. And in another 10 years, a totally redesigned pushrod V8 in the C5 was pulling 400 hp.
The '84 car was hardly in production before Dave's team borrowed a page out of Zora's book and went racing again. Privateers with testing contracts formed a juggernaut so powerful (19 wins in 19 races over three years) that SCCA invited them to leave its Escort Endurance Series. With nowhere to go, Dave gave the green light and enormous engineering support to the $1 million Corvette Challenge race series of '88 and ?89.
Two chapters plus Dave's introduction to the book are devoted to the crowning achievement of the McLellan era -- the ZR-1 supercar.
But Chapter 17 may be the one most loaded with food for thought. Here's where Dave makes the case for the Corvette of tomorrow ? a car he believes already exists. Coincidentally it's the car Zora would have built 25 years ago had he been permitted -- a swoopy mid-engine carbon fiber creation from the fertile brain of Florida financier/entrepreneur Warren Mosler. It's called the MT900.
He likes its looks. But even more, he likes the Mosler design and materials application process. If you view Corvette as a window into the soul of General Motors ? for better or worse a rolling manifestation of prevailing thought and behavior -- is such a car in the cards?
Dave would say one thing we've learned over and over again in the last 50 years with the Corvette: Anything's possible.