| | |
| --- | --- |
| | |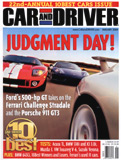 Car and Driver - January 2004
The Steering Column
Csaba Csere
Car books for the long winter
When I was a teenager during the Johnson administration, books about cars, racing, and the auto industry were few and far between. These days, however, there are more offerings than any one person?at least a gainfully employed person?can possibly read. I've skimmed several of them in the past year and below are four that are worth your time during the long nights of the upcoming winter months.
Corvette From the Inside: The 50 Year Development History. By Dave McLellan. Cambridge, Mass.: Bentley Publishers, 2002.
Books by retired auto-company executives often present a sanitized history, but Dave McLellan, who was chief engineer of the Corvette from 1975 to 1992, tells the story of Chevy's sports car, warts and all. He is particularly frank about the bureaucratic turf battles that engulfed every proposed change, dooming several mid-engine proposals and sometimes even threatening the very existence of the car.
McLellan is an engineer, first and foremost, and he is best at relating the various technical decisions that were made under his watch. He also includes sidebars that cover many aspects of automotive design, including the areas of suspension, engine, structure, and aerodynamic technology.
One of these vignettes was written by Reeves Callaway, who contrives to blame Car and Driver for the failure of three engines in two of his Callaway Corvettes that were tested here in 1986. With two of those engines expiring when my foot was on the throttle, I can assure Callaway we were all profoundly disappointed that the car we had committed to tout on our cover had proved to be so fragile and undeveloped.
For Corvette fans, and for anyone who wants to understand the march of automotive technology over the past 50 years, McLellan's book is a great addition.