| | |
| --- | --- |
| | |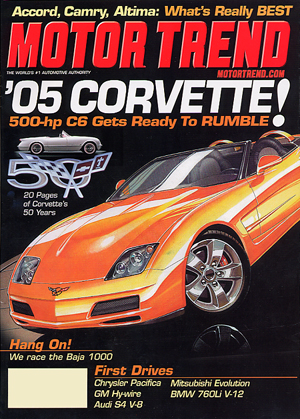 Motor Trend April 2003

Corvette Required Reading
A few choice works that speak volumes about America's longest-running sports car

Wander through the transportation section of a bookstore or a peruse a catalog from an automotive-enthusiast bookseller, and you'll find no shortage of titles covering Chevrolet's two-seat icon. But here are a few extraordinary titles no Corvette fan's bookshelves should be without.
Corvette from the Inside: The 50-Year Development History by Dave Mclellan
One could search high and low and not find a more credible source for telling the story of the Corvette's evolution from Blue Flame Six to Z06 than Dave McLellan, the car's chief engineer from 1975 to 1992. Where his immediate predecessor, Zora Arkus-Duntov, was, at times, idealistic and single-minded about the path the Corvette should take, McLellan proved skillful in navigating the Corvette's evolution through General Motors often Byzantine corporate structure. Though McLellan's stewardship began in the dark days following the 1973-1974 energy crisis and ended subsequent to the introductions of highly regarded ZR-1 and LTq 40th Anniversary models, the author takes us inside the workings of GM for a complete picture, from the first Motorama car of 1952 to an exciting vision of what future Corvettes might become.

Zora Arksu-Duntov: The Legend Behind Corvette by Jerry Burton
Burton's comprehensive tome on the life and times of arguably the most fascinating personality associated with the Corvette is a must-read. The founding editor and current editorial director of Corvette Quarterly magazine spent five years interviewing the associates, friends, and family members of Mr. Arkus-Duntov to bring to life the personal side of this one-of-a-kind engineer, race driver, risk taker, man about town, and corporate mover and shaker. Burton takes the reader from Zora's early boyhood in revolutionary Russia, through the harrowing times in Nazi Germany, escapades at speed on the great racetracks of Europe, hot-rod parts manufacturing in the United States, and finally the immigrant Jew's determined rise to respectability at General Motors. This book is captivating glimpse behind the scenes of the onetime director of high performance for Chevrolet, Corvette's first chief engineer, and , above all, indefatigable champion of GMs two-seater.