| | |
| --- | --- |
| | |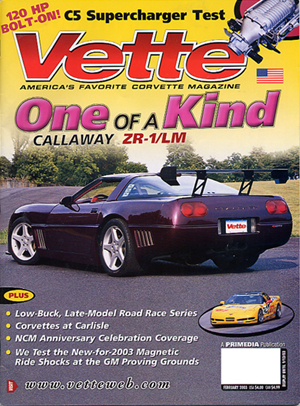 Vette Magazine, February 2002

Reviewing Stand

Zora Arkus-Duntov: The Legend Behind Corvette by Jerry Burton,

Corvette Fro mthe Inside by Dave McLellan

As the Corvette"s year-long 50th Anniversary celebration begins, the market is being inundated with all manner of Corvette-related products ranging from apparel to signs, pins, decals, and trinkets; to books and, of course, GM"s 50th Anniversary Special Edition Corvette coupes and convertibles. As could be expected, the quality ranges from mediocre to marvelous.

Two newly released books rank amongst the best new Corvette merchandise available, and neither is specifically 50th Anniversary related. Both books, Zora Arkus-Duntov: The Legend Behind the Corvette and Corvette From the Inside, transcend the anniversary, yet con-tribute to understanding the Corvette"s place in history as an American icon as it nears the big Five-Oh.

The books approach the Corvette, its history, and its place in history from entirely different perspectives. Jerry Burton"s book is exactly what the title describes, and more-an in-depth biography of Zora Arkus-Duntov, the first official Chief Engineer (and for many years prior, the unofficial chief engineer) of the Corvette, and traces his life with major emphasis on the period from 1953 through his mandatory retirement on his 65th birthday, December 25, 1974. Corvette From the Inside is subtitled "The 50 Year Development History As Told By Dave McLellan, Corvette"s Chief Engineer ; 1975-1992," and that subtitle is an apt, one sentence description of McLellan"s book. It could be accurate to describe the McLellan treatise as a biography of the Corvette, from its conception, through the present day, with an informed look at what may be coming for Corvette in the next few years.

Author Jerry Burton (editorial director of Corvette Quarterly) begins Zora...with a pro-logue, the grand opening of the National Corvette Museum on Labor Day weekend 1994 and the presence of an elderly immigrant without whom the car being feted would have been a minor footnote in the his-tory of General Motors rather than an American cultural icon. It then shifts back in time to Brussels and a pair of university stu-dents from Russia, Rachel Rogan and Yakov Myselvich "Jacques" Arkus, and the birth of their son, Zachary Yakovlovich on December 25, 1909. "Zachary" soon became "Zora." "Yakovlovich" translates to "Jacob"s son," reflecting the Jewish ancestry of both parents, a fact of vital import in later decades.

The book follows the Arkus family"s return to Russia in 1910, their employment by the government and their anti-czarist polit-ical activism, the birth of a second son, Yura, in 1917, and the effects of both anti-Semitism and the Russian revolution on the family and their way of life.

It continues with the Arkus" divorce and Rachel"s remarriage to Josef Duntov. Ultimately, both Zora and Yura respected Duntov enough to add his surname to theirs, hence "Arkus-Duntov." The Duntovs moved to Germany in 1926, followed a year later by Zora, where he studied electrical and mechan-ical engineering, and graduated from the University of Charlottenburg in 1934. Zora"s deepening passion for motorcycles and cars, racing, even aircraft-essentially anything powered by an internal combustion engine would last a lifetime. After graduation, Zora made a number of influential contacts, and met a lovely teenage blonde named Elfriede "Elfi" Wolff, the eldest daughter from a well-to-do German Jewish family. After fleeing Nazi Germany in the late "30s, Zora and Elf, married in France in 1939 and in 1940 escaped the worsening situation in Europe, ending up in New York.

There are detailed chapters on the Ardun overhead valve cylinder head conversion for flathead Fords, Zora"s time working for Sydney Allard on Allard"s Ardun-powered, British-built sports racers, and his career as a race driver, including competing at Le Mans, first in a "works" Allard and later as a class-winning team driver for Porsche. The majority of the book, and well over half its 24 chapters, covers Zora"s 22-plus years (from May 1, 1953 to his mandatory retirement in late 1974) at General Motors, most of which was involved in varying degrees with the Corvette. The final two chapters cover his post-GM years, which included acting as a consultant for former GM exec. John Z. DeLorean on the DMC-12 sports car project and varied aftermarket projects and ventures.

Author Burton, who knew Zora well, con-ducted intensive interviews with him before his death (as well as with many of his friends, colleagues, and his widow, Elfi). He delves into Zora"s psyche, and offers possible reasons for Zora"s intensely competitive nature, his need for control, risk taking and an attitude that life offered few if any second chances, as well as his almost serial philandering through-out most of his married life. The book is loaded with rare photographs, some dating back to Zora"s childhood, and this adds a great deal to Burton"s portrait of Duntov.

Zora... paints a picture of a brilliant, talented, and highly complex man, and it isn"t always a pretty picture. Zora, the man, comes through often as vain and self-centered, inflex-ible and either unwilling or unable to compromise, and indifferent to the feelings of oth-ers. At the same time, he appears to have been worldly, warm and charming, gracious and polite; in other words a mass of contradictions.

I never met Zora; I am fortunate enough to have become acquainted with Dave McLellan on a somewhat superficial level and thoroughly enjoy that handful of opportunities I have to chat with him for a few minutes during Corvette events each year. My perception of him is of a devout and devoted family man, and an incredibly intelli-gent and articulate individual. I"ve never felt like I was in the company of a massive ego; if anything, I"ve gotten the feeling that Dave is at times a little bemused by the attention, the respect, the adulation he receives from the Corvette community.

It"s a given that McLellan would have quite a story to tell-he went to work as an engineer at General Motors in 1959, succeeded Zora Arkus-Duntov as only the second-ever Chief Engineer of the Corvette at the start of 1975. He can rightly be called the father of the ZR-I as well as the entire C4 family, and directed the early development work that led up to the C5. As Dave says in his prologue, "...I had been ideally situated to watch some of the industry"s most momentous changes. I"d also had a chance to watch some of the General"s giants in action, including Bill Mitchell, Ed Cole, and Zora Arkus-Duntov." Corvette From the Inside is definitely not an, "I did this..." sort of book; it is not ego-driven nor is it Dave McLellan"s autobiography. He assembled the book from notes written in a stream of conscious-ness style, which meant concentrating on a period of time or a specific topic. This in turn led to a book that progresses in a circular manner rather than the more standard linear (year-by-year) flow of most books.

This book is NOT a "coffee table" book (there are more than enough of those-large photos, minimal information, and often rife with inaccuracies). The first three chapters cover the Corvette"s history and development through 1967, a period that is, coincidentally, very extensively covered in Zora... One chapter is devoted to mid-engine prototypes (an abiding passion of Duntov"s) then moves on to a chapter on the Third-Gens, which McLellan inherited roughly halfway through their 15-year production run.

The chapters on the development of the C4, which include two on the ZR-1, one aptly titled "BALANCING PERFORMANCE WITH ECONOMY AND EMISSION CONTROL" (remember, McLellan became Chief Engineer at the time that both stringent emissions standards and government-mandated "safety" standards sucked horsepower out of the cars and concurrently added hundreds of pounds of weight), and one devoted to turning the old small-block V-8 into a modern engine - the carbureted "old" 350 was updated into the L98 and the LTI/LT4 during the McLellan era.

The final chapters trace the development of the C5, which was well underway before McLellan retired, one on understanding the past so as to better build for the tomorrow, and a finale that looks at the Corvettes of the future. This includes cars like the Mosler MT900, John Lingenfelter"s twin turbo C5s, the possibilities of the well-over 7.0L LS1-derived V-8s, and how to best harness that kind of power.

I expected that Dave McLellan had an extraordinary story to tell; I was very pleasantly surprised at how extraordinarily well he tells that story. The book is great and highly informative reading, with engineering concepts explained in a way that the average layman enthusiast will easily understand. Another surprise for me, in addition to being well written, was that all the very well executed line draw-ings are Dave"s work.

I was-and am-very impressed with Corvette From the Inside and highly recommend it to all Corvette enthusiasts.