BMW 5 Series (E34)
Service Manual:
1989, 1990, 1991, 1992,
1993, 1994, 1995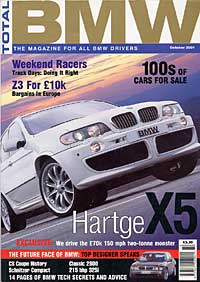 Total BMW-October 2001
Meeting the Need

You want a factory-style technical manual for your new 3-Series. Where do you go?
A Statistic: seven years ago, the number of books available about BMWs amounted to not much over 20. Today, that figure exceeds 100. This puts BMW up with Ferrari, Jaguar, MG and Porsche as one of the marque leaders in the publishing world and currently there's no sign of a slowdown.
Many of them fall within the traditional ranges of histories, road test collections and the like. Not that we'd knock such books. They have their uses and from the best of them even the most avid BMW devotee can learn something new. But reliable technical literature? Now that is far more of a challenge to produce and, consequently, is thin on the ground.
Workshop and servicing manuals aren't hard to find, but many of the books covering more recent BMW models here in the UK tend to be servicing and maintenance guides rather than full workshop manuals. Those wanting a comprehensive factory-style manual need to look elsewhere.
This is where the American firm Bentley Publishers comes in. Located in an impressive Victorian house near Harvard University, it's brought out manuals on the 3-Series E30 and E36 models, the 5-Series E28 and E34, the 7-Series E32, and the Z3 Roadster over the past few years. There are more on the way, including one on the 3-Series E46 range, covering 1999-2001 cars.
The essential strength of these manuals, corroborated by the unfailingly glowing reviews they're given, is that they do the job 100 per cent right. Ranging from 450 to 800-plus pages and with close to a 1000 photos and diagrams, they're light years ahead of other manuals we've seen.
Just when you get to the instruction you need, those ones will often tell you what's to be done without explaining how to do it or, worse, simply advise you to consult a specialist. With professional charges as high as they are, surely the point of purchasing a manual is to avoid consuting a specialist, or are we missing something?
Each vehicle that comes into Bentley's workshops is disassembled down to the very smallest component. Then its technical writers amass a minutely detailed text which will allow the owner or mechanic to carry out every task from the most elementary to the most complex.
These manuals aren't produced in the fastest time possible then presented to an unsuspecting public as the real thing. Take our word for it, they are the real thing.
The company has vast experience of producing these books and an enviable pedigree - its manuals are even used by technicians in Audi and Volkswagen dealerships. The books also cover Porsche and Saab, all of them equally thorough and used within the industry as well as by private owners.
Michael Bentley, president of the company and the son of its founder, is all too aware on the increasing need for such guidance, as cars become ever more complicated and mechanical and electronic access more challenging.
It's in order to meet this need that he makes a point of employing only those who can most scrupulously analyse, photograph and write about the cars. A manual that tries to cut corners can wind up costing its owner more then he would have spent if he'd gone to a specialist in the first place.
Nor does Bentley's range of BMW books stop with the manuals. Their Enthusiast's Companion series, blending history with technical analysis, includes lengthy volumes on both the 3- and 6-Series cars, together with the more general BMW Enthusiast's Companion, an enormous compilation of technical, driving and buying guidance culled from the BMW Car Club of America's magazine Roundel. Also worthy of note is the definitive racing history of the marque, Jeremy Walton's award winning 528-page Unbeatable BMW.
The company also publishes books on a diverse range of other automotive subjects, ranging from the story of German motor racing under the Third Reich to a stunning guide for watercooled VWs. From reprints of race driving books by the likes of Denis Jenkinson and Paul Frère, to the bestselling A French Kiss with Death - the story of Steve McQueen and the making of the movie Le Mans.
It's for its manuals, however, that Bentley is most widely renowned. Given current BMW labour charges, they cost you less than one hour's work. More important, they're compiled with an uncompromising attention to detail which will enable all but the most obtuse and cackhanded to use them with confidence. BMW enthusiasts owe Bentley a debt of gratitude.
If you have difficulty obtaining the Robert Bentley manuals locally, they can be purchased through out Total BMW/Bookspeed service, along with all other BMW books. See the advertisement in this issue for a full listing of titles, contents and UK prices, or telephone 020 8994 7054.
Alternatively, the entire Bentley Publishers range can be found on its website, www.BentleyPublishers.com, or you could telephone Bentley on 001 617 547 4170.