| | |
| --- | --- |
| | |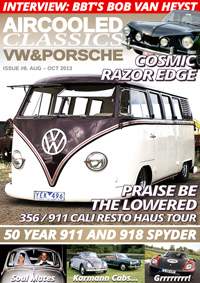 Aircooled Classics Issue #8 / August - October 2013
Book Worm book review
It's a fair bet that most historical books that describe anything to do with Volkswagen will concentrate on the model of automobile that started the phenomenon, and the subsequent models that continued the success story we're all so familiar with, or at least we think we are...
Karl Ludvigsen, motoring historian and author of so many books published about the motoring industry and models of car (particularly Porsche sports cars), took an entirely different path when he researched material for his epic tale Battle for the Beetle. We're often led to believe that the British rescued the Wolfsburg factory under the guidance of the late Major Ivan Hirst (who underplayed his role in its revival later on in life and seemed embarrassed by all the fuss and attention he was to receive from both the public and Volkswagen), and that given first dibs of the strange little car the British motoring industry wanted only to see its quick demise, believing it to be an inferior product. Truth or legend? Perhaps a bit of both? Given WWII was barely a memory and Europe was in emotional tatters, anti-German sentiment couldn't have helped. For most, that's the end of the story. However, as Ludvigsen's exhaustive research was to uncover, the legend maybe flawed.
No historical book on the subject matter would be complete without mention of Ferdinand Porsche, the car's creator, and Ludvigsen doesn't disappoint. But he also uncovers what many would regard as sinister activities outside of the Beetle's design remit and its humble factory beginnings. Mention Wolfsburg and you immediately think of the automotive factory that has grown exponentially with vehicle demand, not the source of the weapons of mass destruction of the wartime period that rained down on Britain's south coast and its capital. There is much to learn from this book.
Now released in paperback form, the Battle for the Beetle is a must-read for followers of the greatest little car of all time.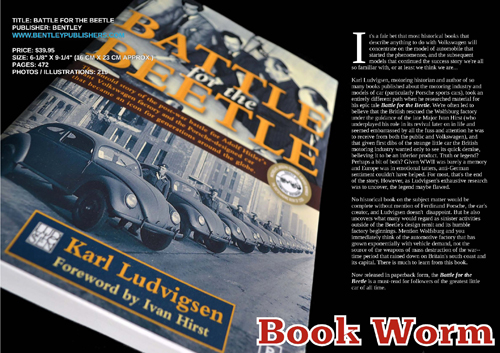 Article from and courtesy of Aircooled Classics, Issue #8 / August - October 2013