| | |
| --- | --- |
| | |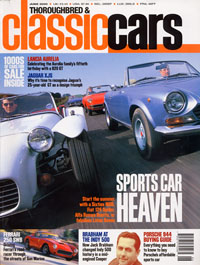 Thoroughbred & Classic Cars - June 2000
Karl Ludvigsen's account of the Beetle reveals an enormous amount of untold material, much of which gives a new insight into VW history.
Technical and historical facts blend political, industrial and social machinations, both before and after the war, together with interviews and extracts from archives.
This presents the reader with a well-balanced view into the problems faced by those charged with putting Volkswagen back on its feet after the war, and the frustrations of opposition within the motor industry and bureaurocracy at high levels.
The innovation of Ferdinand Porsche's design, the construction of the factory and its use during the war, followed by four years under the stewardship of Ivan Hurst, and the subsequent milestones to high-volume production, make this a book to appeal to both car enthusiasts and social historians alike.
With some 460 pages, including 36 pages of end notes, this is a serious tome, well researched and well written (apart from a few typographical errors), and well worth the money. ★★★★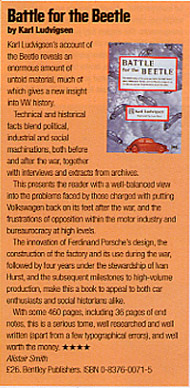 Article from and courtesy of Thoroughbred & Classic Cars - June 2000