| | |
| --- | --- |
| | |
Classic & Sports Car Magazine - June 2000
This book looks dull, but it must be the most comprehensive examination of the origins of the people's car ever. The astonishing drama of production being kick-started post-war in a bombed-out factory, by a British army major, is well known, but Ludvigsen has cast his net further, to include the knee-jerk reactions of the Americans and British to this funny little car. He deals with the behind-the-scenes politics too, in this impeccably researched hadback; the endnotes, bibliography and index span 48 pages, nearly one-ninth of this 448-page volume.
Much more than just a book on Volkswagens, it's a human-interest story, and the account of the late Ivan Hirst and his team reviving Beetle production and the obstacles put in their way makes for gripping reading. There's a wealth of new information, including the fascinating revelations that, far from being uninterested in Volkswagen as previously recorded, Ford proposed that it be merged with its existing German operations. But the executive charged with making this possible bailed at the eleventh hour. Far from being a dry account of the Beetle's embryonic years, this effort follows the enduring Veedub's impact on the automotive world and the cars it influenced - Chevy Corvair, Hino Contessa and innumerable Renaults among them. The author reveals why the car's design wasn't intrinsically changed during its lifetime and brings things up to date with the launch of the new Beetle in 1998.
Even if you don't have the slightest interest in VWs you'll find this hardback of interest. The layout is uninspiring and picture reproduction poor, but it's the words that count. Highly recommended.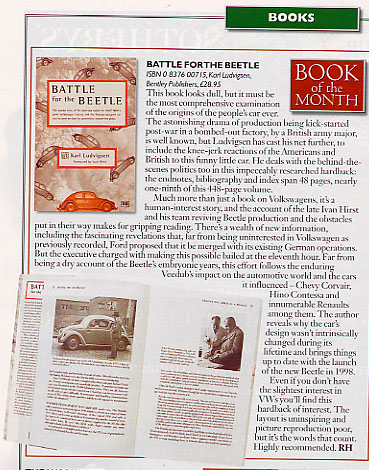 Article from and courtesy of Classic & Sports Car - June 2000