New Softcover Format

Porsche 911 Carrera (Type 964):
1989, 1990, 1991, 1992, 1993, 1994
Technical Data-Without Guesswork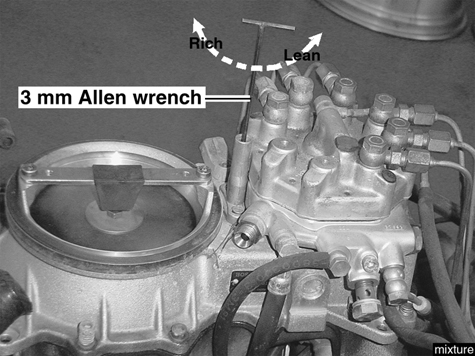 Idle mixture
Adjust idle mixture (%CO) with 3 mm Allen wrench.
Turn screw clockwise to richen mixture.
Turn screw counterclockwise to lean mixture.
Adjust mixture with engine not running in order to avoid bending sensor plate arm.
Make small adjustments. Remove tool before starting engine. Raise engine speed a few times before rechecking mixture.
When finished, check sensor duty cycle using Bosch Hammer (Porsche tester 9288) at diagnostic plug.
---
Oxygen sensor
Duty cycle.....20% - 80%
---
25 CIS Fuel Injection
page 25-9