| | |
| --- | --- |
| | Porsche - Origin of the Species |

Rainy Day Magazine - June 3, 2013
Summer Reading List
Summer will soon be upon us. For many of readers, that means vacations and road trips. To make your travels more enjoyable, we have put together some recommendations which we hope you will find entertaining...
If we HAD to sit quietly AND enjoy ourselves, this is what we would do: we would get Karl Ludvigsen's latest book Porsche: Origin of The Species, take a week off, and flip through it at a leisurely pace. We guarantee that no Porsche-philes will have a better time doing anything else.
We looked at Ludvigsen's three-volume set, Porsche: Excellence Was Expected, in 2009. Because of its breadth of coverage and its technical depth, the set is considered by most Porche enthusiasts the definitive work on Porsche history. This new book, Porsche: Origin of the Species, has a different focus. Actually, the book has a singular focus. All 356 pages, with over 400 photos and illustrations, are devoted to the Porsche 356 (356 pages, Porsche 356, geddit?).
Of course, in talking about the Porsche 356, Mr. Ludvigsen interweaves all kinds of interesting Porsche history, twists and turns, and other stories in a way unique to a historian who truly loves his subject. For anyone who is interested in how Porsche evolved to it present form, Porsche: Origin of the Species is a must-read.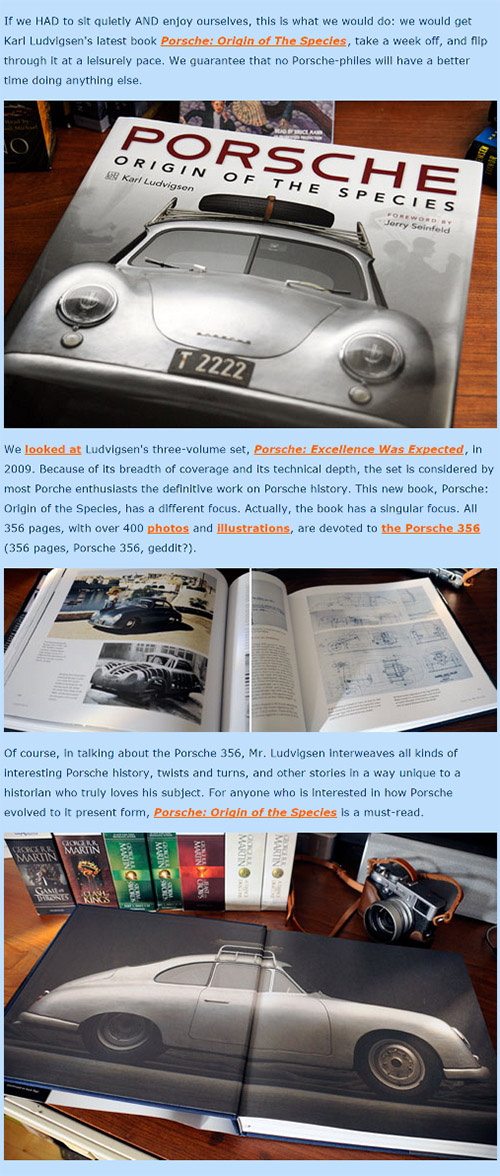 Review from and courtesy of Rainy Day Magazine - June 3, 2013
http://www.rainydaymagazine.com/RDM2013/Home/June/Week1/RDMHomeJun0313.htm