| | |
| --- | --- |
| | Porsche - Origin of the Species |
Ferdinand: The Cult of Porsche - April 24, 2013
Bentley Publishers has very kindly sent a review copy of Karl Ludvigsen's latest book, Porsche: Origin of the Species.
A bigger review will follow once I've read a bit more, but an hour of leafing last night and this morning reveals a wealth of previously unseen images: photographs, blueprints and scans of archive documents. All fascinating material, and hats off to Karl for maintaining such detailed and diligent research standards.
Chapters include a section devoted to Otto Mathé, previous owner of 356/2-040. This illustrious car is now owned by Seinfeld, and inspired the creation of this reference work. Mathé's story - the one-armed ice racer who towed his competition car behind one of the earliest Porsches - will surely inspire the Porsche-curious to connect with the marque and its heritage.
Other contributors include renowned CA Porsche mechanic, Adrian Gang, on the importance of 'missing link' early Porsches, and noted artist and collector, Miles Collier, on the importance of bringing much-enjoyed classics back to rude health, without damaging the fabric added by years of faithful devotion.
First impressions of Origin of the Species mark it as a must-have book for enthusiasts. RRP on the work is about $120, but Amazon resellers have new copies on sale at £58. There is no doubt that anyone interested in the early years of Porsche would consider this to be excellent value for money.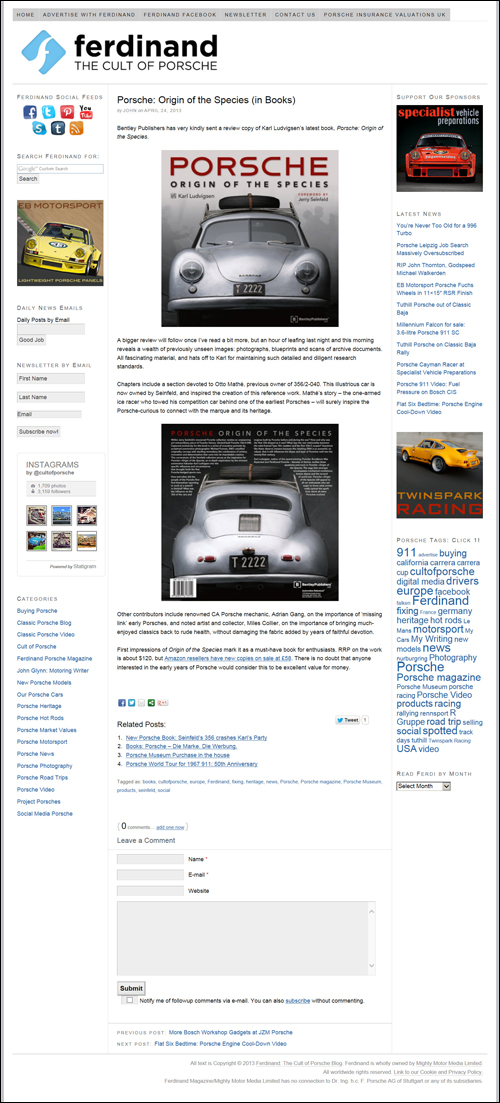 Article from and courtesy of http://www.ferdinandmagazine.com/porsche-origin-of-the-species-in-books