| | |
| --- | --- |
| | Porsche - Origin of the Species |
VSCC Bulletin - No. 278, Winter 2012
Many readers will be familiar with Karl Ludvigsen, perhaps as a Club member seen in recent years on the Tour of Norfolk in an 800 Series Cord and, more recently, in a rather elegant Talbot Lago T120 Coupé, but, more likely as a motoring historian and almost certainly as an author. Karl's specialities include the history of Porsche and, back in Bulletin 265, his book "Ferdinand Porsche - Genesis of Genius", also published by Bentley Publishers, was reviewed and highly recommended. This latest work almost follows on from that earlier work, which was awarded the Cugnot Award in 2009 as the best automotive history book published in the previous year. 'Genesis' described Porsche's work before he made cars under his own name whereas 'Origin of the Species' is a thorough examination of the cars that led to the Porsche 356 including the pre-war Volkswagen based designs of the 1930s, three seater, sports car versions of the Auto Union Grand Prix car and the intriguing Type 114, a mid-engined coupé powered by a 1500cc, 72 degree V10, using roller bearings on a Hirth-type assembled crankshaft, this mechanical complexity to be clothed in an aluminium alloy body that clearly incorporated some of the ideas that would later result in the 356. Of these designs, only the VW based sports cars actually made it the prototype stage or beyond but the original drawings of the Type 114 Porsche and the Type 52 Auto Union are a truly fascinating insight into what might have been and will be of immense interest to the engineers amongst readers. What did see the light of day was a VW based design of streamlined coupé, the Type 60K 10 using an almost standard floorpan and suspension with a mildly tuned engine but clothed in an aluminium body by Reutter of Stuttgart. This would result in a top speed of 94.5 mph at 3500 rpm and the intention was to enter a team in the proposed Berlin-Rome road race but, before the three cars were completed, war intervened and the race never happened.
Much changed for Porsche during the war including a move, with most of the family, to Gmünd in Carinthia. Ferry Porsche, now taking more control from his father, moved two thirds of the machine tools from Zuffenhausen, one third to Gmünd and one third stored nearby, and also moved one of the Type 60K 10 coupés there. At the war's end the whole family and, indeed, all those working at Gmünd, went through a very difficult time but, by July 1946 Ferry Porsche was back on site and working on new designs. Then, with help from Nuvolari, he signed a contract to design a Grand Prix Car for Cisitalia, the Type 360, which was followed by a sports car design, which proved to be an important stepping stone in Porsche's progress towards the 356.
And so the team at Gmünd moved inexorably towards the first production Porsche via Volkswagen based sports cars and the whole process is described in detail and illustrated using original drawings and contemporary photographs.
One visitor who called at Gmünd and tried the first 356 was well known VSCC member, David Scott-Moncrieff, who found himself "...absolutely shattered by the roadholding." Of the 50 or so cars apparently built in Austria only the first Roadster and the first Coupé were actually completed there the rest being completed and trimmed by other companies from panels made at Gmünd.
The author has done a fantastic job of bringing much new information together and presenting it in an informative and entertaining way that makes this a most enjoyable book to read. That, together with detailed research that has clearly gone into its production make this a most important work and, once again, Karl Ludvigsen has produced a book that must be in the running for another Cugnot award and will certainly become one of the 'standard' works on Porsche. Bentley Publishers also deserve credit for the high quality of production, a book to give pleasure for many a year. Highly recommended.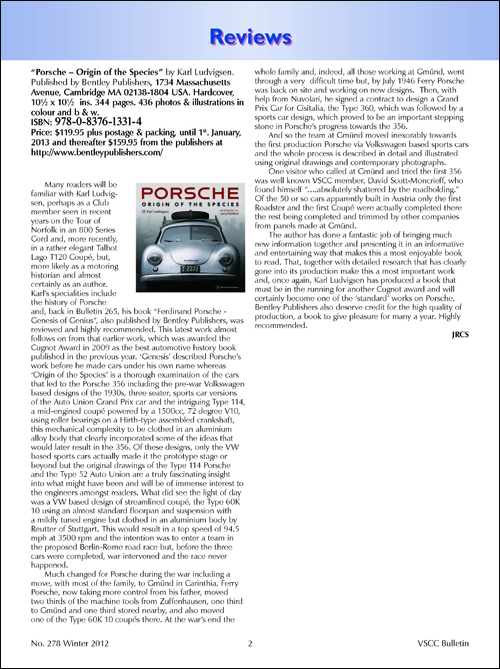 Article from and courtesy of The Vintage Sports-Car Club (VSCC) Bulletin - No. 278, Winter 2012