| | |
| --- | --- |
| | Mercedes-Benz E-Class (W124) Owner's Bible |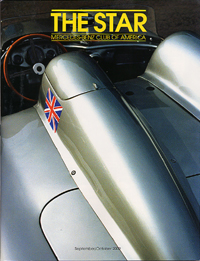 The Star
- September/October 2002
Book Review
Mercedes-Benz E-Class (W124) Owner's Bible 1986-1995
"A practical down-to-earth ownership guide for all W124 drivers
The early 1980's were a tough time for automakers. Pounded by demands for low emission and improved fuel economy, engineers sacrificed performance and drivability. Amid this largely dismal automotive landscape, Mercedes-Benz introduced the 300E to the US market in 1986. Powered by a silky smooth 177-hp six, the W124-chassis four-door sedan was both quick (0-60 in 7.5 seconds) and fast (135-mph top speed).
The 300E was perhaps the first new automobile design that met the challenges of the modern world head-on, and it was a huge success. Mercedes-Benz soon realized that it had a hit and introduced variations including larger engines and diesels plus a coupe, convertible, station wagon, and even the 500E factory hot-rod. During the car's ten-year production life, more that to million W124 E-class vehicles were built.
The E-class remains very popular today, and many are still owned by their original buyers. But the E-class is a complicated car with a myriad of high-technology systems, and the newest of these highly charismatic cars is getting close to 10 years old. That's why Stu Ritter's new book, Mercedes-Benz E-Class Owner's Bible 1986-1995, is so timely.
Readers will no doubt recognize Stu as the technical editor of this very magazine and know that he is a long-time Mercedes-Benz technician and repair shop owner. This is a man whose bead and butter has come largely from keeping 300Es and other W124 models on the road. No car lasts forever, by religiously following Ritter's advice and maintenance tips, the 300E has a better chance than most cars do.
This $39.95 book covers every facet of W124 ownership. Its 320 pages tell the prospective buyer what to look for in a used 300E, and its 350 black and white illustrations help explain how every part of the car works. For the most part this is not a casual read, although the chapters about Mercedes-Benz heritage and the development of the E-Class are quite interesting. But even if you don't turn the wrenches yourself, Stu Ritters explanations will help you understand what your technician is telling you. Think of this book as a cross between a shop manual and a loving tribute to the W124 E-Class, and you pretty well understand what Ritter has achieved. Anyone who owns or wishes to own a 300E or one of its variants should make sure that Mercedes-Benz E-Class (W124) Owners Bible 1986-1995 has a place on their bookshelf."
?Kevin Clemens, Contributing Editor