| | |
| --- | --- |
| | Mercedes-Benz E-Class (W124) Owner's Bible |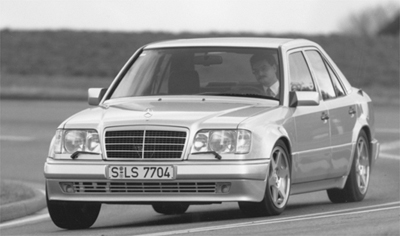 The 500E [E500 above] 32-valve 5.0 liter V-8 made 315 hp, went zero to sixty in less than six seconds and had a top speed of 150 mph (electronically limited).
The sport suspension package was telegraphed by flared fenders, 8 inch wheels, and 225/55-16 ZR tires.
Almost every option was standard equipment including a Sportline interior with four leather bucket seats. The 500E was fitted with a self-leveling rear suspension, ASR traction control, and dual airbags. Priced at $79,200 with an added $2,600 gas guzzler tax, the 500E was the ultra-high-performance 4-door sedan.
Chapter 1: Introduction to the E-Class
page 21