Hemmings Sports & Exotic Car columns by Karl Ludvigsen
Karl Ludvigsen with his 1953 Riley 2.5L that was specially modified as a two-seater sports car in Scotland by Dennis Ramsay.
(click to enlarge)
Return to Karl Ludvigsen main page
---
Motor Memories
This is the last of the more than 70 columns that I've written for Hemmings Sports & Exotic Car since its launch. I've hugely enjoyed sharing some thoughts and experiences with you as well as my more than 50 articles about interesting auto designs from Abarths to Yamahas. Now however I'm giving up monthly deadlines to concentrate on books. Two Porsche-related books will be out this year. My next projects are a history of supercharging and an update of my Corvette book.
A lot of my columns have been quite personal, so I thought I'd sign off with some snapshots of experiences I've found especially interesting, enjoyable and perhaps even significant-in no particular order.
Twice racing the turbocharged and space-framed Group 5 Zakspeed Capris at Hockenheim.
Lunching with Ed Cole and executives after Ed's historic debate with Ralph Nader on the Phil Donahue show.
Being the first outsider to see a test of the phenomenal Astro-Spiral stunt on a Buffal, New York airfield. Used in the Bond film The Man With the Golden Gun, you can see it on YouTube. One of my greatest-ever stories as a freelancer.
Wringing out my Lancia Stratos on the twisty mountainous roads of the Italian Dolomites.
Joining Henry Ford II and colleagues for drinks in the bar of Berlin's Hotel Adlon.
Being turned loose at Riverside in the Chevy-powered Formula 1 Scarab built to compete in free-formula races. It stars in Bruce Kessler's great short film Sound of Speed.
Several long and friendly interviews with Ferry Porsche in his private office on Stuttgart's Robert Bosch Strasse.
Spreading my legs to fit into the cockpit of the 1955 Grand Prix W196 Mercedes-Benz that I drove on the factory's track in 1961, a beautifully balanced racer.
Associating personally and professionally with GM Styling vice president Bill Mitchell, a genius of design and salesmanship for whom the word "charismatic" could have been created.
Passengering German ace Klaus Ludwig around the Nürburgring in a Ford Granada.
The amazing "secret day" in Modena when I had a private preview of the coming Lamborghini Urraco and a look at the hitherto-hidden innards of Ferrari's 312B flat-opposed twelve.
Being first out of the gate among my peers not only to grasp the engineering and implications of Felix Wankel's rotary engine but also to explain it to the readers of Sports Cars Illustrated.
Driving the prototype diesel-powered VW Golf that I called "the car of the future", filing stories on it that helped get it into production.
The friendship with Emerson Fittipaldi and his wife Maria-Helena that led to great inside stories as well as a book and enjoyable meetings from Sao Paulo to Goodwood.
Riding with Rudolf Uhlenhaut at Hockenheim in the Wankel-powered C111 and taking a few flat-out laps myself, later also in the four-rotor 1970 version.
The Road Research Report that we did on a Ferrari 250GT short-wheelbase Berlinetta at Car and Driver. My wife called it "instant car".
Getting to know Zora Arkus-Duntov well enough to enjoy his company and confidences and score the first-ever test drive and story about his four-wheel-drive CERV-2 sports-racer.
The happy relationship with L. Scott Bailey and his wife Peggy that led to many pieces in their Automobile Quarterly and my books on Porsche and the Corvette. It continues with both of us living in England.
Carrying out the research for Mazda on European luxury cars that contributed to the design of their Xedos 6, a car I liked so much I drove one for 17 years.
Storming the back roads around Stuttgart in a rally-prepared Porsche 911.
Being chosen by Volkswagen to carry out branding and market positioning research and recommendations on their new acquisitions Bugatti, Lamborghini and Bentley.
Tackling Continental Divide Raceway in the Chevy-powered Bocar of Denver's Bob Carnes, the car that taught me what throttle steering was all about. I drove my 300SL differently afterward.
Getting to know Rodolfo Mailander at Daimler-Benz in 1958, three years after he gave up photojournalism. We became warm friends and colleagues, leading to my acquisition of Rudy's archive and numerous books and articles.
Playing a key role in designing the Du Pont Halon 1301 on-board fire extinguishers that were widely used at Indy, in the Can-Am series and drag racing.
Hanging out with Malcolm Bricklin and his team as they segued from Pininfarina and Bertone sports cars to the Zastava Yugo adventure. We scoured the globe for more imports and styled and engineered an unique sports car for Zastava.
Working closely with John DeLorean during his consulting years and the natal phases of his sports-car project. He gave me excellent advice at a crucial crossroads.
Discovering the delightful VW-powered Puma sports car and its makers during a late-1960s visit to Brazil and-to their astonishment-making it world-famous.
Writing Triumph, Jaguar and Land Rover brochures for old friend John Dugdale at British Leyland in New Jersey and creating the decision-making parameters for the "Astromotive Computer" that matched astrological profiles to BL products at motor shows.
Last but by no means least, lapping Riverside on a sunny Monday in Chris Amon's March 707 Can-Am car. That Chaparral power was really something! Then riding in the March with Chris-awesome!
- Karl Ludvigsen
---
Soft Spot for Saab
"Bellowing deep in its metallic bowels, the hard, sharp little airplane hove up off the runway and balanced tentatively near the treetops as it tucked its wheels away. Then it nosed up and assaulted the low-lying clouds with a vertiginous vertical climb that left the mind behind with its sudden violence."
In this melodramatic manner I opened my article in Sports Cars Illustrated of May 1960 about my trip to Sweden in November of 1959. This was my first overseas junket in my new role as editor of SCI, courtesy of Saab. I knew it would be cold so a gloried in my big black greatcoat, just right for the trip. Of course I forgot it at Idlewild Airport, as it was then. But Saab's welcome was warm, including the double-delta-winged Draken demonstration described above. Sensational.
The air show was above the runway at Linköping, where Saab spent two years carving from solid rock the underground factory where they produced the supersonic Draken. They let us poke around these masterworks on their subterranean production line, the air in which was changed eight times an hour. Linköping was pressing the panels for the new 95 station wagon that was the point of our visit.
This visit was the second time I'd met Rolf Mellde, Saab's chief engineer. Deep-voiced and determined, the handsome Mellde had accompanied the first Sonett roadster, his creation, to New York in 1956 when I was SCI's technical editor and he was in charge of Saab testing. The monocoque-framed Sonett appeared at New York's Coliseum that year to launch the Saab brand in America.
Mellde was a keen rallyist who first took two Saabs to Monte Carlo in 1950, both finishing that demanding rally. In 1959 we journalists were given rides in rally-tuned Saabs by both Mellde and team driver Tom Trana. Over the loose forest roads Rolf drove with determination, thrusting through corners, while Trana in contrast had the 93 dancing lightly with mere touches on the wheel. Both were fast but in contrasting ways.
Thereafter I often saw Mellde when he came to Detroit for the annual SAE meeting. He briefed me on his hopes and dreams for the completely new 99 that he was developing with the help of Standard-Triumph, which initially made its overhead-cam slant-four. Using the styling ideas of Sixten Sason, who had conceived the first Saab, the 99 was both handsome and satisfyingly Saab-esque.
On the February 1969 press junket to introduce the 99 I covered the new model in depth, because US p.r. chief Len Lonnegren and I were planning a special marketing booklet that would explain the peculiarities of this unusual car to Americans-especially the troubling fact that it was costly for its size and power. Called Karl Ludvigsen answers your questions about SAAB cars, it was produced by my business, the Mobility Systems Company. Karen Spencer designed it, using special photography by Irv Dolin. Among the booklet's questions and answers were:
Can we be comfortable in a SAAB?
Isn't the new SAAB too expensive to be an "economy car"?
Will my family be safe in a SAAB?
Doesn't a small car like the SAAB feel "funny" on the road?
How can a little country like Sweden build such a good car?
Lonnegren told me that his dealers found the booklet really useful in explaining the unusual Saab proposition.
As for the 99, the ambitious Rolf Mellde rightly believed that he had created a car with the potential for immense pan-European market appeal. Just enough bigger and better than Europe's basic models, it had an upmarket character that was attractive to many. Mellde invested in his 99 the attributes needed to create the breakthrough model that would give Saab the higher volumes it needed to support its long-term sustainability.
To achieve higher sales at the right price, however, the factory would have to be expensively tooled to reach increased volumes and to reduce the 99's production cost. My friend Rolf lobbied hard with Saab's owners-the Wallenberg dynasty-and company chief Tryggve Holm but they balked at spending the money. This was the last straw for Mellde, who left to join Volvo.
The mortifying struggle for survival that Saab is experiencing as I write this can be traced back to this failure by its owners to back the transformational 99. This must be seen in retrospect as the moment at which Saab elected to be a regional rather than global player. When the decision was taken Sweden's Wallenbergs were acting as marriage broker at the wedding of Saab with truck-maker Scania, creating Saab-Scania in 1970. A new and more boring badge replaced the classic Saab emblem with its distinctive front view of an airplane, a badge that vividly reminded us of Saab's aeronautical origins.
Saab's origin as the offspring of an aviation company, a designer and maker of front-line supersonic jets, gave it a heady reputation. It was ideal for a maker of upscale cars whose aerodynamics and interiors could only be seen by potential customers to benefit from the know-how of an airplane maker. Sadly during its ownership of Saab GM thought it more important to stress its independence from the aircraft company, thus wasting their brand's unique selling proposition. This was but one of the many false turnings that led Saab down a dead-end street.
- Karl Ludvigsen
---
A Wave to Dave
So overarching are the many contributions of David E. Davis, Jr. to all aspects of auto journalism in America that his career, which ended on March 27 this year in Ypsilanti, Michigan, is all but impossible to encapsulate. Dave was 80. I've lost one of the few people whose life has paralleled mine in surprising ways over more than half a century.
Dave said that we first met in the R. Gordon book shop next to the St. Regis Hotel in New York. If I remember the story he used to tell, I pulled up outside in my 300SL Gullwing, a car that always makes an impact. It featured too in our lives in Detroit, where we were both based in the mid-1960s. Davis was coming off a car-selling career and making his mark as a Chevrolet copywriter at Campbell-Ewald.
Dave wrote amusingly about my 1960-61 stint as editor of SCI-C/D, saying that my baptismal editorial served notice that "automotive enthusiasm was serious business and readers were on notice that they'd better get their act together." Darned right! Later as C/D editor himself Dave proved that a salty dose of irreverence, patterned after the style of Britain's CAR, was just what enthusiasts wanted.
In 1964 GM - whom I'd joined in 1962 - moved me to New York, as press chief of its Overseas Operations Division. This was an extremely interesting and rewarding job that made few demands on my automotive enthusiasm. With Dave's connivance I filled that gap by becoming technical editor of his Car and Driver. I did so as "Eric Nielssen", who wrote regular columns and technical think pieces for C/D. Later when David and I got together we talked about Eric: "That guy was pretty good, wasn't he?"
Big changes came for both of us in 1967. I left General Motors to take up free-lance writing and Dave took the brave step of setting up The Davis Group, Inc. at 4 Park Avenue as an advertising and promotional company. When Chevy's Friends magazine joined his client list I became a contributor to Friends and writer of various papers for Chevrolet.
For Johnson's Wax, sponsor of the Can-Am series, The Davis Group organized "Expert Driver Seminars" at the races in 1968. I came on board-billed as "the country's top technical journalist"-to help organize the seminars and moderate discussions among drivers like Mark Donohue, Dan Gurney, John Surtees, Stirling Moss and Bruce McLaren. Subscribing race fans had access to drivers on the practice day, coffee and auto writers on race morning and a buffet supper for $50 a head. Sounds cheap today but in those days it cost me $74.55 to fly to Detroit and back to confer with Donohue. These were enjoyable events which I remember with great affection.
I handled another rewarding project for The Davis Group. Somehow Dave wangled from Chevrolet a Nova coupe and the assignment to make it ride and handle like a European car. He subcontracted the job to me and I in turn enlisted the help of car builder Eno DePasquale's EDP Enterprises. We set to work on spring rates, damper designs and settings and anti-roll bars to come up with a remarkably good chassis setup, if I do say so myself.
To assess the Nova's handling I used the 400-foot traffic circle in Pelham Bay's parkways that I'd featured in the Car and Driver Road Research Report. One sunny day I was driving home, mulling my findings, when I was pulled over by a cop riding a motorcycle.
"You must have a lot on your mind," he said with a smile.
"Why do you say that, officer?"
"Well," he replied, "it isn't often that somebody passes me!"
After I moved to England in 1980 I kept in touch with D.E.D., Jr. and his wife Jeannie, who made frequent trips to my part of the world. When we dined at London's posh Boulestin restaurant they arrived with two freshly shot pheasants in hand. Another great dinner with the Davises in Geneva at motor-show time sticks in the mind.
Our professional contacts continued as well. From 1987 through 1992 Dave and I were panelists in a series of wide-ranging seminars arranged in Detroit by Ogilvy & Mather for the benefit of their clients at Ford. Briefly Davis was editorial director of Motor Trend, which he had ridiculed in 1978 as "that famed snapper-wrapper". He gave me an entrée to MT that was only moderately productive.
More fertile was our mutual stint during 2006-08 at Winding Road, a really terrific web magazine. Dave came on board as a friend of the publisher to shape up the monthly, which he did with his usual panache. I was over the moon to be a contributor to this pioneering internet effort and dismayed when both David and I were excess to requirements when Winding Road was wound down.
When I was given a Lifetime Achievement Award by the IAMA in 2008 I asked David to represent me at the festivities in Detroit. They turned out to be less than festive; "I raced home and had a glass of Irish whiskey," Dave reported. But I was thrilled that he agreed to be my stand-in. When it came to making the most of public appearances, Dave Davis was the best of the best. I'll always think of him that way.
- Karl Ludvigsen
---
New Renaults in the Camargue
I no longer have my handsome white Air France carry-on bag. I doubt that many of my fellow passengers still have theirs. In fact I guess I'm one of the few survivors of the gang of American press people who flew to France in 1961 to try out a new Renault.
It was the style in those days to take pictures of such distinguished groups of passengers so I have photographic evidence of our gallant cadre. Some came all the way from California. Dennis Shattuck was the editor of Car Life, newly under the wing of Bond Parkhurst Publishing. John R. Bond himself was with us, editor and publisher of Road & Track, while his inimitable European correspondent Henry Manney III joined us in France.
Another West Coast arrival was author and journalist Griff Borgeson. This was the bearded Griff's first trip to Europe. It was destined to have a profound influence on his life. He soon scratched his itch to be a permanent European resident. His first stop was Turin, where he and his wife Jasmine mined Italian auto stories and history until they tired of the turbulence of life in Italy and moved to Southern France. That's where Borgeson ended his days.
Walt Woron also joined us from California. Joint founding editor of Motor Trend, Walt was one of the nicest people you could ever hope to meet. It's entirely coincidental, I'm sure, that when Walt ended his career by setting up shop in public relations, Renault became one of his major clients.
Then there were the New Yorkers. Most glamorous by far was Diana Bartley. Petite and elegant, Diana jointly edited Auto Age with Harvey Janes in the mid-1950s. They launched me on my career as a professional journalist while I was still studying industrial design at Pratt Institute. Superb researcher and writer Bartley became automotive editor at Esquire and a contributor to my Car and Driver.
Jack Steele was with us, industry journalist who was one of the founding members of the international Motor Press Association. Also on board was Larry Sanders, an editor at Mechanix Illustrated. An urbane, witty and silver-haired WWII veteran, he wasn't yet the Lawrence Sanders that he became in 1970 with publication of his debut novel The Anderson Tapes. Larry ultimately had some 30 best-sellers to his name.
This was the motley crew that passed through immigration at Paris's Orly Airport on June 25, 1961, clutching their Air France bags, before boarding a chartered Aeromaritime puddle-jumper for the flight to the Mediterranean. Our goal was the Camargue region, an unique ecosystem in the sprawling delta of the Rhône River. There we were welcomed by the genial Robert Sicot, already a legendary Renault press chief whose passion for the best included bringing his own bartender to car launches.
With its rolling countryside and marshlands in a varied ecology, home to unique breeds of birds and steer, the Camargue was the perfect region to launch a new utility model intended to appeal to the landed classes, the Renault 4. Hugely significant in the company's annals, this was its first front-drive car, aimed squarely at the Citroën 2CV category. Like the bigger Citroëns its four-cylinder engine was behind the front axle and the transaxle out in front.
We had great fun bombing around the winding roads of the Camargue, making the most of the 4's 32 SAE horses from its 747 cc. For the power-crazed an 845 cc version was optional. Among its novelties was a water-recovery tank for its cooling system to appeal to buyers who were used to the 2CV's air cooling. That included me because I drove a 2CV-see at left-in New York at the time. Thus I had no problem with the push-pull-and-twist shifting of the Renault's three-speed box.
Its five doors and semi-wagon style made the 4 ideal as a load carrier. So did its long-travel springing, which used torsion bars at front and rear. Thanks to the lateral layout of the rear bars and their trailing arms the 4's wheelbase was 94.5 inches on the left side and 96.1 inches on the right. It didn't seem to mind. The 4's concept would spawn more front-drive Renault families including the hugely successful Renault 5.
Renault treated us to warm hospitality in a region that was Spanish-influenced in its cuisine and flamenco dancing. We toured the Camargue's main town of Arles, famed for its magnificent bull ring and Vincent Van Gogh's spirited paintings of 1888-89. We duly reported on a new model that had little significance for the US market but turned out to be a global money-spinner for Renault.
Ultimately the 4 was built not only in France but also in England, Ireland, Australia, Morocco, Slovenia, Portugal and Spain. When Renault finally phased out the 4 in 1994 it had become the best-selling French car ever. Some 100 countries had taken more than eight million of them.
In 1984 the Renault 4 came back into my life. A red one was the chosen transport of my wife-to-be Annette, who used it to get to her teaching assignments around Hertfordshire. Its main failing was in the brake department. Once parking it on a grade, she later found it in the front garden of a house at the bottom of the hill. Seems like the agricultural 4 just couldn't resist another sniff of the soil.
- Karl Ludvigsen
---
Enjoying an Insider's View
I've long had in mind the writing of a book titled Why Cars Are So Bad. Its theme would be the steps and missteps of auto makers that ensure that automobiles don't come out as you might expect them to in a reasonable world. Cars are less bad than they used to be, but if you've seen the industry from the inside as I have you'll be amazed that they ever get around to making any cars at all.
I was reminded of this ambition when I read a new book by Royden "Roy" Axe called A Life in Style, from the presses of ARPublishing. Though not the most professionally produced and edited book ever printed, it provides a fabulous inside view of car making at Rootes, the Rover Group and the international operations of Chrysler when it was acquiring both Simca and Rootes, maker of Hillmans, Sunbeam-Talbots and Humbers.
You've already met Roy Axe if you're a regular reader of Sports & Exotic Car. His was the team that styled the MG EX-E concept car of 1985, a hugely handsome execution that was created to tell the world that some bright and able newcomers in Rover Group's studios were determined to improve the look of the company's cars. Partly inspired by a Ferrari 308GT that Roy owned at the time, it was based on an elegant and ambitious four-wheel-drive chassis concept worked out by Spen King, who has featured in these columns.
Among those who contributed to the EX-E's design under Axe's supervision were Gordon Sked, Richard Hamblin, Gerry McGovern, Richard Woolley and David Saddington. They had to fight every kind of delay, objection and obstruction to get the car to concept stage. When the finished MG created a sensation at the Frankfurt Show all the nay-sayers claimed to have been right all along. "Needless to say," wrote Axe, "a few people who had sat on the sidelines or took a very minor role in promoting the project were quick to associate themselves with the EX-E but that is the way of the world!"
Born in Yorkshire, Roy Axe became car-crazy hanging around his uncle's garage business. With a liking for Rootes products, Roy obtained an apprenticeship at the Coventry company that opened his eyes to the way cars were made.
"I remember working on the Humber Hawk line fitting dash panels into the bodies," Axe relates. "The procedure was to set up a crude wooden bench where the front seats would eventually be. Sitting on this bench, two of us would have the whole dash assembly passed in to us. We would then locate it by banging it into place between the windscreen pillars with our feet and then driving a few metal screws to hold it in. All this does explain why cars in those days lacked a little refinement of build quality!"
In the early 1950s Roy Axe achieved his goal of moving into the Rootes styling department. In the mid-1960s he was given his first project to manage, the design of a coupe version of the four-door Hillman Hunter. This was to be a new version of the Sunbeam Rapier. He succeeded in giving it a fastback but was told he couldn't have a wraparound rear window; it would have to be in three pieces.
Roy made the best of this but was barred from making much-needed changes to the rest of the exterior panels if a good-looking coupe were to be the result. To his credit-and risk at an early stage of his career-he fought hard against the all-powerful body engineers to be released from some of their often arbitrary restrictions. "Everything was an enormous struggle," Axe recalled, "and it seemed to us often so frustrating." In the end he had to go along with the recycling of the Hunter's station-wagon tail-lamps on the Rapier coupe.
By the time he joined the Rover Group in 1982 Roy Axe was a seasoned design leader after a spell in Chrysler's Detroit studios. "On the second day at the new job," he writes, "I was exposed to the Maestro. I thought this design was a disaster. The proportions were bad and the detail awkward and clumsy. The concave sides made the design look weak and the whole thing looked totally dated."
Told he couldn't make any changes to the Maestro because it was already tooled for production, Axe was then exposed to the longer and more upmarket Montego. He was told that in this case he had some time to make improvements. "It is hard to know what to say in circumstances like this," he related, "but my first remarks were that the design should be scrapped and the whole thing done again."
In his book Roy Axe entertainingly and candidly describes these struggles and the subsequent challenges of working with Honda's designers to create the jointly engineered Honda Legend and Rover 800. Hopes were high for new products that would enjoy some of the quality advantages of their Japanese counterparts, "but manufacturing and engineering failed to deliver," Roy wrote ruefully, "although a huge amount of money and effort had been expended." The result was the collapse and sale of Rover for reasons that Roy Axe makes clear in his revelatory book. It appeared last year just before the death of this most likeable and able of designers at the age of 73.
- Karl Ludvigsen
---
Charmed Career of the Chrome Cobra
Before me as I write is an 8 x 10 glossy of the Opel Rekord II introduced at the beginning of 1972. It's a strikingly elegant two-door that could have come from the studios of Pininfarina, so tautly are its surfaces drawn and so finely are its moldings and details executed. Its four-door sedan and station-wagon sisters were similarly classy-easily Europe's most gorgeous series-production cars.
These Opels were the work of Charles Morell Jordan, a Californian who was 44 when his new Rekords were unveiled. Formerly Cadillac's studio chief, he'd been sent to the Opel works in Rüsselsheim, Germany by GM styling boss Bill Mitchell as part of his policy of getting more involved with the designs of GM's overseas models. In addition, running his own styling mini-empire would broaden and deepen Chuck Jordan's experience to prepare him to succeed Mitchell.
During his tour of duty at Opel Jordan completely overhauled the looks of the company's products. He signaled his intentions at 1969's Frankfurt Show with a stunning concept car, the Opel CD. Based on the company's Diplomat running gear, powered by a Chevrolet V8, this was a stunningly low coupe with a swing-up wraparound canopy and under-nose air inlet.
Inspired by Jordan's CD, racer-entrepreneur Erich Bitter created a CD of his own and won GM's approval for the use of Diplomatic underpinnings for a production car. Suavely restyled for series manufacture by Stuttgart's Baur, the Bitter CD was a welcome addition to the world of exotic cars.
First of Jordan's Opels to appear were the new mid-range models of 1970, the mainstream Ascona and the sporty Manta coupe on the same platform. These were sharply chiseled cars that substantially elevated Opel's image. The Manta in particular became a pan-European favorite.
Next came the Rekord, whose beauty and refinement showed that Jordan was winning more of his battles with Opel's conservative engineers. For decades a company in which production demand took priority, Adam Opel AG was being dragged by Jordan to a new appreciation of the value of good looks. As part of this campaign he created a special "skunk works" studio for Tony Lapine, the iconoclastic engineer-designer who would later head Porsche's styling. Lapine designed and built space-framed sports-car and racing-car prototypes.
In 1973 Chuck and his team dropped the third shoe, their new look for the Opel Kadett. Immensely important to GM, this was the new T-Body model that went into production not only in Germany but also in Britain as a Vauxhall, in Japan as an Isuzu and in America and Brazil as the Chevrolet Chevette. Good-looking and easy to build, it was just the car that Chevy needed when the first Energy Crisis hit.
By that time Chuck Jordan was back in the Big PX with overall design responsibility for GM's American vehicle ranges. This positioned him perfectly to take over when Bill Mitchell retired in 1977. Controversially, however, the tall, ambitious and outspoken Jordan had gained a reputation for independence of thought and action that earned him his "Chrome Cobra" nickname. Wanting a quiet life after the bumptious Mitchell's incumbency, GM's directors instead chose the uncontroversial and biddable Irv Rybicki.
This was a crushing disappointment for Jordan. He told me he was taking it philosophically, resigned to playing a waiting game. Chuck finally gained the top job in 1986, after Rybicki's reign had produced cars that GM's competitors lampooned as banal and indistinguishable. Jordan invested GM's models with taste, variety and personality in the few years available to him before his retirement in 1992.
His European stint and his friendship with Sergio Pininfarina brought Ferraris into Jordan's orbit, starting with a 250GT Lusso and continuing with its successors including the Daytona. As just one of his many post-retirement activities he was one of the judges at the concours d'elegance held at Fiorano during Ferrari's 60th-anniversary party in 2008. Although we spoke later, it was the last time I saw him.
I first met Chuck Jordan early in 1956 in Brooklyn, New York where I was a student at Pratt Institute. We had dinner under the elevated line on Myrtle Avenue at the Venice Restaurant, justly famed for its chocolate cheesecake. I'd heard of Jordan, for he was the most prominent graduate of an MIT course in creative engineering that I'd also taken before switching to Pratt.
Joining GM in 1949, Jordan put his creative engineering to work on such projects as a twin-engined bulldozer, a Train of Tomorrow and the 1955 Motorama's l'Universelle, a front-drive predecessor of the modern minivan. He was working on another Motorama car, the Buick Centurion. When he told me that it would have a rear-vision TV system, I had the cheek to ask him if he'd reversed the dashboard image-as he should-so it would picture the view the same way a mirror did.
Chuck Jordan had been sent to recruit me to GM Styling Staff. He was just the right man to do it. Instead of finishing my degree at Pratt I left for Michigan and the spanking-new Warren Tech Center that spring of 1956. It was a move I've never had cause to regret, so I had a lot to think about when I heard that Chuck Jordan left us last December 9th at the age of 83. I realized that I never properly thanked him.
- Karl Ludvigsen
---
Those Electric-Car Competitions
With so much interest in battery-powered cars, we're hearing about "the first electric-car race" here and "the first green car competition" there. Well, the first ones took place quite a while ago. In fact I covered a coast-to-coast electric-car race in 1968 in which Cal Tech narrowly beat MIT. But the first serious electric-vehicle competition of which I'm aware was quite a lot earlier than that-in 1900 to be exact.
During November 6 through 9, 1900 the Automobile Club of Great Britain and Ireland-forerunner of today's RAC-organized a trial for electric cars. They based the trial south-east of London at the Chislehurst Electric Light Station, which received its direct current from generators three miles away at Bromley. The cars were to tackle varying routes in the area during successive days. The same batteries were to be used in all the tests.
When the routes were revealed only two days before the start the entrants cried foul, for they included the most hilly roads in the region. One called it "a prolonged hill-climbing test". Recent rains also made the unpaved roads rough and heavy. Making the best of it, the contestants set out from Chislehurst on Tuesday the 6th to see who could cover the longest distance on that day's prescribed route.
Among the eleven entries was the Powerful, built by Paris-based Louis Kriéger's company. It had 60 Lee-Coll cells giving 250 ampere-hours. This seemed a good formula to cope with the competition, which required an official on-board observer. Also expected to make a good showing were three entries from Luton's E. W. Hart, who was keen to establish a strong position in the then-active market for electric cars.
Built by Wehrlé-Godard, one of Hart's entries was called Le Presque Contente, with a sly dig at Camille Jenatzy's electric record-breaker, Le Jamais Contente, while another was Hart's own creation. He commissioned his third entry from Jakob Lohner of Vienna, for whom Hart was the UK agent. It was powered by 70 Type 30EE Lee-Coll cells weighing a total of 3,970 pounds. The Lohner was in fact the only one of Hart's three entries to appear at Chislehurst.
Hart's Lohner was designed by the precocious Ferdinand Porsche, then only 25. Dubbed La Toujours Contente, it looked much like a battery box on wheels, which is just what it was. A unique feature was the separation of its battery container from the chassis by vertical coil springs, with the aim of protecting its fragile electric cells from harm. Drawing on the ample capacity of 270 ampere-hours, its controller gave four speeds forward, three in reverse, electric braking and battery recuperation on the overrun.
The batteries drove all four wheels through Porsche's ingenious electric-wheel motors, giving a potential 56 horsepower. With these alone weighing a total of 1,280 pounds, the weight of the complete vehicle was more than four tons. Nevertheless Continental's pneumatic tires carried it. The Lohner-Porsche creation had back-to-back seating for four atop its accumulators. Ferdinand Porsche himself was nominated to drive his creation.
The first two cars, Porsche's Lohner and Kriéger's Powerful, started out at 9:45 am. Destined to win the trial, Powerful rolled a proud 59 miles in its first outing, averaging about 10 mph. In La Toujours Contente Porsche had to cry enough with tire failures and fused wiring after 34 miles in a vehicle that in theory should easily have surpassed the magic 100 kilometers or 62 miles.
Louis Kriéger's two-man Powerful had almost as much battery capacity as Porsche's machine and weighed more than a ton less. More importantly it had very large wheels-especially the rear drive wheels-that were kinder to their Michelin tires. La Toujours Contente, in contrast, had to ride on the smaller wheels that were compatible with Porsche's drive system. In a desperate attempt to lighten his vehicle Porsche removed its battery covers and rear seats, only to have to throw blankets and boards over the batteries to satisfy those who thought the naked cells were hazardous to bystanders.
That some other entrants managed only seven miles, and that the event's venue and organization were heavily criticized, were little consolation. Among the shortcomings, said one competitor, was that "there were inches of mud on the floors; rain came through the roof; the sheds were doorless and the cars and attendants were nightly exposed to the full force of wind and rain." This was the last straw for Ferdinand Porsche, who had been driving himself hard to complete Hart's vehicle. His constitution was so weak that he caught a fierce cold during the first day's run.
Porsche heaved himself out of his sickbed on the Wednesday but arrived at Chislehurst too late to start at his prescribed time. "By dint of much doctoring he subsequently recovered," said The Motor-Car Journal, and would have driven the vehicle, but the judges adhered rigidly to the rules." They shrugged off Hart's heated protests. Porsche's lateness meant he couldn't compete officially. Nevertheless La Toujours Contente took part hors concours and "in good style" on the second day of the trials until tire collapses halted it again.
Porsche's creation must have been among the cars which Hart sold off in an auction of the various vehicles which, said St. John Nixon, the man from Luton "had foolishly bought". Both men were more than a century ahead of their time.
- Karl Ludvigsen
---
Meet Mister Mundy
On February 24, 1971 I had an appointment at Brown's Lane in Coventry to be briefed on the Jaguar's all-new V-12 engine. Chief briefer was a man with many stories to tell of his previous experiences at Bentley, Brooklands and Coventry Climax, chief power-unit engineer Wally Hassan. Of most interest to me, however, was his colleague Harry Mundy, Jaguar's chief development engineer for power units. Harry was a close personal friend of long standing.
In 1958 I was in Europe courtesy of the US Army Signal Corps. I used my leave time to go to the races, first of all to the Monaco Grand Prix on May 18, then the Belgian G.P. on June 15. At one of these I met Harry Mundy, who was then technical editor of The Autocar, because by July we were corresponding. He was nice enough to write that "I knew of you because I have always admired your writings and read them with great interest."
Born on January 15, 1916, Harry was then 42 and had been in his post at The Autocar for three years. He was slender with a hawk-like visage, thinning hair and a distinct resemblance to English actor Trevor Howard. In fact Harry's bone-dry delivery and crusty demeanor-offputting to the uninitiated-were not unlike Howard's but we hit it off.
Mundy had a glistening résumé in the field of cars and racing. Born in Coventry, he was educated at the Henry VIII School and Coventry Technical College. After an apprenticeship at Alvis he was worked on details of both engines and gearboxes. In 1936 Harry joined a small design team at British racing-car maker ERA. That took him to the racing shops at Brooklands where Wally Hassan was a leading figure. The two engineers formed a close and life-long friendship.
With ERA struggling, by 1939 Harry Mundy was back in Coventry as a senior designer for Morris Engines. When war broke out the versatile Mundy served the Royal Air Force as an engineer officer. Late in the war Raymond Mays launched his bold effort to create an all-British Formula 1 car with industry backing. In 1946 Mundy came aboard to head the design office that created the elaborate and ambitious supercharged 1½-liter BRM.
Reporting to chief engineer Peter Berthon, Harry tried to restrain his boss's flights of fancy. Deciding on the car's engine configuration, Berthon and his colleagues went for the ultimate. When Mundy proffered the credentials of the V-8, easy to build and develop and compact in the chassis, "they said no, that would be like the 1939 Tripoli-winning Mercedes-Benz. I couldn't see why that was bad!" Instead Berthon and company plunked for a V-16 that gave no end of trouble.
In 1950 Wally Hassan, now technical director of Coventry Climax, thought of Harry when he needed to build up his engineering team. Together the friends designed engines that made history for Coventry Climax. Starting with an ultra-light fire-pump engine, Climax moved up to a single-cam four that powered countless Coopers and Lotuses as well as the Lotus Elite road car.
When the new 2½-liter Formula 1 launched in 1954 the Hassan/Mundy team produced a four-cam V-8, one bank of which became the twin-cam FPF four. Making its debut in 1957 as a 1½-liter |Formula 2 engine, the FPF was gradually enlarged until in 2½-liter form it took Jack Brabham and the Cooper-Climax to the world championships of 1959 and 1960.
Although he launched the FPF's design, by the time of its success Harry Mundy was at The Autocar, sagely commenting on its engineering. He was happy there, especially with the opportunities his job offered for foreign travel. In mid-1962 when I was a GM public relations man Harry spent a week with us in Detroit during which we refreshed our friendship.
Mundy's engineering talents weren't overlooked in these years. Colin Chapman in particular drew on his expertise. When he wanted a twin-cam cylinder head to sit on a new Ford block, Colin called on Mundy, who designed a winner that powered the Lotus Cortina and many other Lotuses.
For the 1962-63 edition of Automobile Year Mundy wrote a fabulous history of Grand Prix engine design. This inspired me to propose that we jointly write a history of the racing engine. I put an outline together which we jointly agreed and we received advances from an esteemed London publisher. It seemed, however, that we each thought the other was doing the writing! Finally we had to admit defeat and return our advances.
After no little difficulty Wally Hassan persuaded Harry to leave the sybaritic life of a motoring journalist and join Jaguar as chief engine development engineer in 1964 to guide the creation of Jaguar's V-12. Mundy played a major role in persuading the company away from an elaborate four-cam design and toward the superb 5.3-liter twelve with a single cam above each bank that was introduced in 1971.
In 1980 Harry Mundy retired from Jaguar. That coincided with my arrival in England so I was able to visit him and Margaret at Kenilworth near Coventry. He stayed active as a consultant, penning his "Trident" engine, a W-12 proposal for the 3.0-liter Formula 1. When Harry died in 1988 British engineering lost one of its key figures, a designer who uniquely married innovation with practicality-when he was given the chance.
- Karl Ludvigsen
---
Europe's Tremendous Twins
"Fiat will attend the 2010 Geneva Show next month with one of the most important technologies released in Europe in the last few years: the first two-cylinder on the Old Continent." That was a breathless report last February about a new engine that's now available in production for the Fiat 500, a vertical twin with turbocharging and a counter-rotating balancing shaft that smoothes the impulses of its two pistons.
Fiat makes major claims for its new twin, which uses its ingenious TwinAir system to control inlet-valve opening for optimum economy. Operating the valves hydraulically, the system is a joint effort between Fiat and Germany's Schaeffler Group, which makes the hardware. The new 900 cc twin is said to give comparable performance to Fiat's 1.4-liter twin-cam four while burning 30 percent less fuel. That's a big bonus in the form of lower carbon dioxide emissions.
The report's reference to "the first two-cylinder on the Old Continent" was made because India is the source of Tata's ultra-low-priced Nano. It also has a twin-cylinder engine, much smaller at 624 cc and delivering 35 horsepower. Industry interest in the twin is rising thanks to its lightness, compactness and much-reduced internal friction.
This is all very well for our environment and welcome improvements in car efficiency. But what about the claim "the first two-cylinder on the Old Continent"? Europe's first ever? Surely not! To sample this statement I pulled out the Swiss Automobil Revue catalogue issue of 1960. By then Europe's post-war auto world would have settled down. Twins would have been history.
Or were they? Far from it, as it turned out. In 1960 no fewer than 23 European makes offered two-cylinder autos. Adding three makers of twins in Japan the global total came to 26. So the Old Continent was doing pretty well as a maker of twins.
None other than Fiat, with its 500, was a powerhouse of twin production then. That's why its relaunch of a two-cylinder engine in the new 500 is especially newsworthy. As its name indicated the 500's capacity was 479 cc, a vertical air-cooled twin in the rear producing 21 horsepower. The little 500 demanded driving skill with its unsynchronized "crash" gearbox.
Others rode piggyback on the 500's successful design. Fiat affiliate Autobianchi produced its charming Bianchina on the 500 platform. Another exploiter of the platform was Moretti, whose production by then was erratic at best. In Austria Steyr-Puch built its 493 cc 500D model based on the 500 but powered by an air-cooled flat twin of its own design in the rear, while in Germany NSU-Fiat also offered a 500 spin-off.
Piggyback was also practiced in France, where Panhard's entire production was two-cylindered. After the war this venerable auto maker cast its lot with a brilliant air-cooled flat twin driving the front wheels in its Dyna, an advanced all-aluminum sedan. The engine had such advanced features as hemi heads and torsion-bar valve springs. In the Panhard PL17 it developed 42 net horsepower from 851 cc and 50 horses in "Tigre" tune.
Panhard components were exploited by French makers of sporting cars Arista and Sera. Most prominent however was DB Deutsch & Bonnet. The 1938 creation of engineers Charles Deutsch and René Bonnet, it produced the DB sports cars that compiled outstanding records in rallying and racing, the latter especially at Le Mans with engines tailored to the 750 cc class. DB also made single-seaters, one of which was supercharged to compete in Formula 1-unsuccessfully-in 1955.
In 1960 France had two other makers of twin-cylinder cars. One was Vespa, which made a tiny auto with a two-stroke engine of 394 cc. Air-cooled, it was based on a prototype designed by Italy's Piaggio. The other of course was Citroën, with its evergreen 2CV. Its air-cooled 424 cc twin was flat-opposed, producing 12½ horsepower to motivate the classic French utility car.
Britain offered a motley array of autos with air-cooled vertical twins. While the 244 cc Frisky was a three-wheeled two-stroke the Fairthorpe Atomota was a proper car-sort of-with a 646 cc BSA twin. Most sporting were the offerings of Berkeley, whose B95 featured a Royal Enfield four-stroke twin of 692 cc.
Numerically Germany had the most twin-cylindered nameplates with a total of seven, including NSU-Fiat. Serious volume producers were BMW with its flat-twin 700 of 697 cc and two makers with vertical twins, Lloyd with its 596 cc 600 model driving the front wheels and NSU mounting its 583 cc engine in the back of its Prinz. All were air-cooled, as was the two-stroke 500 cc twin powering East Germany's staple transport, the famously smoky front-drive Trabant.
Other German twins included Goggomobil's rear-engined T400 with 392 cc; its range also offered engines of 293 and 688 cc. Also in the ultra-small class was FMR's TG500 of 494 cc, based on Messerschmitt's tandem-seated design.
More Europeans were on the twin-cylinder bandwagon. A newcomer was Holland's DAF with its 590 cc flat twin. Poland produced its Mikrus and Syrena. Both were two-strokes, as was Spain's TZ Sider. Rounding out the global production of twins in 1960 were Japan's Subaru, Mitsubishi and Mikasa.
That's a pretty convincing array of two-cylinder-car producers. I welcome Fiat's return, not as a pioneer but as a returnee to an "Old Continent" that led the world by far in the production of twins for many years.
- Karl Ludvigsen
---
Rallying on All Fours
My first Geneva Salon as a freshly minted Ford of Europe vice president was in March of 1980. Ferrari showed its Mondial 8, Fiat its Panda, Renault its sporty Fuego and Lancia its Delta, already judged 1980's Car of the Year. Many of us, however, gravitated to Audi's spacious stand. There several show cars and a cutaway chassis displayed the Ingolstadt's company's innovation for the new decade: the Quattro.
Here was a tremendously controversial new concept that had all of us at Ford speculating about its significance. Four-wheel drive was seen as the province of boxy Jeep-like vehicles of which many were on the market. Only two other companies were making all-wheel-drive passenger cars. One of course was Subaru while the other was American Motors with its Eagle, which had Jeep-type drive lines under Hornet unit bodies.
The Subaru and AMC entries were seen as utility-type vehicles, suitable for mailmen on bad roads or for foremen to drive to constriction sites. But here in the Quattro was a sporty-looking coupe with a turbocharged five-cylinder engine giving 200 horses! What were we to make of it? Was it a bizarre blind alley, adopted to exploit Audi's four-ringed emblem, or an important innovation that would change the industry?
Ferdinand Piëch, Audi's engineering chief, proudly patrolled his stand, openly explaining the background to the Quattro. Inspiration had come during a winter test of new models in Finland in February of 1977. Accompanying the front-drive Audis on ice and snow was a crude-looking VW Iltis, being developed by Audi's parent company for the German army. On the slippery Arctic roads the 4x4 Iltis-German for polecat-drove rings around the Audis. This gave the Audi men an idea.
Testing chief Jörg Bensinger compared notes with his advanced-design colleagues Walter Treser and Karl Bauer. It would be easy enough, they decided, to put the drive system of the Iltis in an Audi 80. Presented with the idea, Piëch gave them the green light but stressed that it would have to be done in secret, a "black project", because Audi had no approval for such a wild idea.
By 1978 they had a prototype using the simple Iltis drive line, which had a fixed drive shaft between the front and rear differentials. This was all right for loose surfaces, but when they demonstrated their car to VW development chief Ernst Fiala in a Vienna parking garage his wife complained that it "hopped" around corners. A differential was needed in the drive between the front and rear wheel pairs. This was cleverly engineered by designer Franz Tengler.
Now they had a car that they could demonstrate to VW chief Toni Schmücker, who would decide whether they'd get the money to develop a production version. With the passage of the seasons, however, no snow or ice was to be seen. On a steep slope at Ingolstadt the fire department hosed the surface down to make a reasonable facsimile. First Schmücker drove a BMW 3-Series which made it a third of the way up. The Audi 80 managed half the grade but the four-wheel-drive prototype easily topped the hill. "Then the investment was approved," said a happy Ferdinand Piëch.
Already under development, a coupe version of the 80 was nominated to carry the 4x4 drive line. Add a turbo-blower to the five-cylinder engine and presto! The Quattro was ready. Walter Treser came up with the "Quadro" name which Piëch changed to "Quattro" to sound more gritty. And the concept did indeed perfectly suit Audi's four-ringed emblem, which was blazoned on the coupe's flanks.
For me and my chief of rallying Peter Ashcroft the Quattro posed a question: could this be a threat to our rally-winning Escort and the new rear-drive version of the latest Escort that we were developing? Our experts pooh-poohed the idea. Four-wheel drive was allowed in rallying; it had been approved earlier because Jeep though it might take part. But we'd concluded that it didn't offer the control options that a rally driver needed. After trying the Ferguson 4x4 system in a Capri Ford judged that it was all right for rallycross but not for rallying.
One of our rally drivers was the talented Finn Hannu Mikkola. We had no objection when Hannu told us he was being asked to test a rally version of the Quattro; we could only learn something. And learn we did. Hannu came back wide-eyed and voluble. The Quattro was awesome, he said, with remarkable grip and traction. This knocked all our calculations into a cocked hat.
Soon we were revising the design of our Group B RS1700T rally car to be able to phase in a four-by-four version alongside the rear-drive model we hoped to be running in 1983. We found a way to homologate the 200-unit production of both versions with a total of around 300 units, but Ford's brass wouldn't wear what we viewed as a common subterfuge in the world of motor sports. The RS1700T was stillborn.
Hannu Mikkola went on to drive for Audi in 1983, winning both the driver and marque world championships. Sweden's Stig Blomqvist did likewise in 1984. From now on rally cars would be four-wheel-driven whenever the rules allowed. Though Audi would capitalize on its Quattro technology, other car makers offered 4x4 models too. In fact it became an important and profitable new option for the industry.
- Karl Ludvigsen
---
The Agnellis
"Do you remember what happened that time we landed here a few years back?" asked my wife Annette as our British Airways flight touched the concrete a few days ago at Catania, an airport on the east coast of Sicily. "It caused quite a stir as I recall." We'd gone into the then-modest terminal and were waiting for our bags when a man broke free from a sinister-looking group and walked toward us, smiling. It was the urbane figure of Umberto Agnelli, 13-years-younger younger brother of Gianni Agnelli, chief of the Fiat empire.
As Agnelli's many swarthy minders looked on in astonishment and some trepidation and to the amazement of other travelers, to whom the Agnellis were at the right hand of God, Umberto engaged us in casual conversation. He was in Sicily for a conference while we were en route to our usual holiday in Taormina.
Umberto was darker and more slender than his older brother and blessed or cursed with large brown eyes that might all too often betray his emotions. Youngest of seven siblings, Umberto lived in the shadow of his silver-haired oldest brother, he of the boldly Roman profile. But I always had a soft spot for Umberto, mainly because we were about the same age.
Although I had met him in the past as a journalist, my first serious contact with Umberto was during my years as an executive vice president of Fiat Motors of North America at the end of the 1970s. Umberto paid us several visits in Montvale, New Jersey, where our headquarters of handsome design measured up to the egos of visitors from the headquarters in Turin. My empire included relations with dealers, customers, the press, government and legal affairs, so there was much to discuss.
Later when I was with Ford of Europe my contacts with the top floor at 10 Via Marconi in Turin were facilitated by my long friendship with Rudy Mailander. A former photojournalist and PR man at Daimler-Benz, Rudy was now the main point of contact between the Agnellis and all international governmental and business bodies. He carried on in this capacity with Umberto after his brother Gianni died.
Later, when I was running a London consulting company, I saw that Umberto had effectively taken over at Fiat Auto after Gianni's death and would thus be an important business target for me. Though Rudy had since retired from Fiat I asked if he wouldn't mind setting up a meeting for me with his former chief. Somewhat to my surprise Mailander demurred. It turned out that before my friend's retirement there'd been talk of arranging an ongoing consulting relationship with Fiat that would have been to his considerable benefit. Umberto, however, scotched the idea.
This didn't surprise me, since I'd been treated in much the same manner by Walter Hayes and Bob Lutz when I left Ford of Europe. But it didn't make me eager to do business with Umberto. I last saw him at a Turin Salon in 2004, making the rounds in the company of Giorgetto Giugiaro. Only weeks later he died suddenly of lung cancer at the age of 69. He was the last Agnelli to lead the company.
I had several opportunities to admire the poise and skill of Gianni Agnelli in my capacity as a journalist in the 1970s. He gave an impressive press briefing to the SAE in Detroit before making a keynote speech and his press conferences before Turin Salons were the stuff of legend. He was a shrewd observer of the automotive scene throughout the world, a role he had taken on when he shook off his youthful playboy persona and began to get to grips with Fiat.
Gianni Agnelli too visited us in Montvale. I remember well a meeting with him in my boss's office to go over some current matters during his stop with us. Although immaculately suited he was oddly booted in what looked like Hushpuppies, a style he adopted after his feet were injured in an auto crash. As usual he wore his wristwatch on the outside of his shirt cuff, a distinctive style that he originated and that was also adopted by my friend Rudy Mailander.
When we launched the Fiat Ritmo in America, named the Strada for US consumption, we pulled out all the stops with a dealer meeting in Las Vegas. As a major coup for us Gianni Agnelli agreed to attend and address the crowd. One way and another I had made my bones in a quiet manner with Agnelli, who referred to me in discussions with Fiat insiders as "that young American". One of the attractions of a post with Fiat in Turin - which I was offered but turned down - would have been the chance to get closer to this most remarkable man.
Both brothers had sons who were seen as potential future leaders of Fiat. Born in 1954, Gianni's son Edoardo was looked to but he went well off the rails, finally ending a troubled life himself in 2000. Thereafter Umberto's son Giovanni Alberto was in the frame but tragically died of cancer in 1997 aged only 33. Immediately the mantle fell on the eldest son of Agnelli sister Margherita, John Elkann, who was named to the Fiat board at the age of 22. He now chairs both Fiat and the Agnellis' private investment group. There's nothing like keeping it in the family!
- Karl Ludvigsen
---
All Gone Ghia
When I first visited Carrozzeria Ghia in 1967 it was in a corporate hiatus but on a binge of fine design. Starting in the 1950s lively English-speaking entrepreneur Luigi Segre forged the first-class links that Ghia had with Chrysler. Ghia not only built Virgil Exner's concept cars but also created cars of its own on Chrysler chassis, leading to a series of ultra-luxury Crown Imperials and the Dual Ghias beloved of Frank Sinatra and his Rat Pack.
After Segre's premature demise in 1963 his widow sold control of Ghia to-of all people-the son of deposed Dominican dictator Raul Trujillo. Needing talent to revive the company, Ghia's manager hired a promising designer from Bertone named Giorgetto Giugiaro. His first efforts were visible at the 1966 Turin Salon in a magnificent new sports Maserati, the Ghibli, and an impressive mid-engined de Tomaso, the backbone-chassis Mangusta that I photographed during my visit..
At a time when mid-engined sports cars for the road were much in the news, the sleek Ford-powered Mangusta made headlines. The Mangusta was a "de Tomaso" because Ghia was bought by American interests that put émigré Argentinean Alejandro de Tomaso in charge. Though mercurial and capricious to a fault, de Tomaso had the style and daring to forge links with Ford's Lee Iacocca. For "Lido" he created a new mid-engined sports car, the Dearborn-engined Pantera designed by Tom Tjaarda.
During February 7 through 9, 1970 I was in Rome and then at Ghia in Turin for the "long-lead" presentation of the Pantera. I helped push the engineless styling model around Rome's "wedding cake" monument to Victor Emmanuel II under the eye of Rick McBride's camera. In preparation for its American launch I wrote the Pantera's press kit.
By 1973 Ford owned most of de Tomaso's enterprises outright, including Ghia. Nominated to head Ford's "Ghia Operations" was Filippo Sapino, who had begun his career with Ghia but sheltered at Pininfarina during the chaotic de Tomaso years. Mild-mannered and thoughtful, the bespectacled Sapino was the antithesis of the excitable Italian and the ideal man to steer Ghia under its new owners.
Ford quickly began exploiting its Ghia brand for the benefit of its production cars. "Ghia" became the top range for the 1974-model Mustang II and also for 1974's European Granada. Meanwhile under its American liaison man Don DeLaRossa Ghia was producing increasingly bizarre concept cars.
When I arrived at Ford of Europe in 1980 I was still dubious about Ghia's work. But its first concept built on our new front-drive Escort chassis, the Avant Garde coupe, was clean-lined and elegant. I learned that Ghia had come under the aegis of a genial Dearborn designer of taste, Don Kopka. Strangely, at that time there was no operating connection between Ford of Europe and its Turin sister. After warm discussions with Kopka we got the green light to start working directly with Ghia on design projects.
During a visit to Turin my boss Bob Lutz and I huddled with Filippo Sapino to see where we had common interests. Filippo always made sure that our visits were on a day when nearby restaurant Tre Colonne was open for lunch, serving the best in Piemontese cuisine. When Sapino said that he was looking for a mid-engined chassis as a basis for some studies, I suggested Britain's Ford-powered AC 3000ME. We got out the Automobil Revue catalogue issue to show him the car and its specification. This resulted in the exciting AC-Ghia sports car (see Sports & Exotic Car of March 2006) and the five-seated Quicksilver.
Two other projects grew out of that meeting. One was the Cockpit, a tandem two-seater intended to show that Ford of Europe was ready if fuel prices skyrocketed. The other was the Barchetta, a delightful roadster based on the Fiesta platform. Lutz and I were adamant that Ghia shouldn't cheat in creating the Barchetta, that it had to have real potential for production. However Sapino requested - and got - my approval to move the position of its radiator.
One of Britain's multitude of kit-car builders soon offered its version of the Barchetta. Ford's own attempt to put it into production as originally conceived foundered under the weight of all the gizmos the American market would need, from crash-safety bolstering to air conditioning. Nevertheless the concept was too appealing to expire completely. In a bowdlerized version the Barchetta was finally introduced by Ford Australia on the Mazda 323 platform as the Capri in 1990 and sold in the US by Mercury.
These memories came flooding back when I heard that Ford was ditching the Ghia name for its upmarket series. The carrozzeria has long since gone to coachbuilder heaven, courtesy of styling chief J. Mays, who preferred a British base for his out-of-the-box thinkers. Now the Ghia name has been dropped from the European Galaxy and S-Max ranges and won't survive the planned facelift of the Mondeo.
One other memory pops up. One of our most important missions at Ford of Europe was readying versions of our Sierra and Scorpio for sale in America through Lincoln-Mercury dealers. What they needed was a brand name that was appropriate to a European product, yet in the Ford family. My recommendation was…Ghia. Instead, the choice was…Merkur. Who's to say that the venture wouldn't have been more successful under the banner of a well-known and respected Italian brand?
- Karl Ludvigsen
---
The Voice of Spen King
At 85 Charles Spencer King was still going strong. He was out for a bike ride when injured by a collision with a van, a mishap that sadly resulted in his death last June 26th. Though best known for his creation of the Range Rover, one of history's most influential and successful vehicles, "Spen" King was the engineer behind such sophisticated Rovers as the 2000 and the SD1 and Triumph sports cars TR6, Stag and TR7.
King had a flair for the exotic. When he joined Rover in 1945 he worked on that company's trend-setting turbine cars. With colleagues he built the Rover-based Marauder sports car and a single-seater, also using Rover components. Its special de Dion rear suspension was a feature of King's mid-engined Rover P6BS prototype, a sports car so good that, fearing its threat, Jaguar's William Lyons demanded - and got - its cancellation.
When I interviewed him in 1972, Spen King had just been made chief engineer of both Triumph and Rover. Plunged into the chaos of the mergers that created British Leyland, he was tasked with making the most of the available material at a time when America was throwing new regulations at the car industry right, left and center. Here's some of our dialogue:
Karl: You came up to your present post through the Rover Company where, as well as in your present work, you've shown a highly individualistic approach to car design. Has a certain atmosphere at Rovers encouraged this?
King: I think so. Different companies have different prime interests. You've got sales-oriented companies or production-oriented companies, and sometimes you get an engineering-oriented company. The Rover Company has always been the latter, I reckon.
Karl: You once built an experimental Rover turbine coupe, a rear-engined four-wheel-drive vehicle, the T3. Was that four-wheel-drive concept-ever considered for other types of cars?
King: The four-wheel-drive concept wasn't, but of course the Rover 2000's de Dion rear suspension was the T3 rear suspension, absolutely. And that suspension layout came out of the racing Rover Special some of us built in 1948-1950. They were direct descendants of one another.
Karl: I suppose such interesting experimental cars are still being built by you today, but we just aren't allowed to see them.
King: We had a period of freedom to have a go at building cars for the sake of learning, but life's a bit harder these days. We don't have the same amount of time that we did then.
Karl: Some of that time has to be spent on meeting our American legal requirements. I imagine the USA is still a significant market for Triumph sports cars.
King: Yes, it's very important to us indeed, and we are taking it seriously. And of course the timing is such that you don't know what the final regulation is going to be until long after you've settled the design! It's a ghastly sort of guessing game. I'm all in favor of making safer motorcars and saving peoples' lives, but being tied down by regulations which we don't know about until long after we're committed makes life extraordinarily difficult. We are really taking gambles the whole time, and big gambles too.
Karl: Do you feel that today's pressures on costs will still allow you to give your cars a reasonable amount of interesting technical content?
King: That brings up something else that needs to be absorbed, and that is a lot more knowledge of how to make simple things work properly. I mean, the beam axle is a thing which is terribly easily done badly! We're learning an awful lot about how to do simple things well, and this mustn't be underrated. What we're tending to do is to have very sophisticated means of obtaining simple solutions. We have computer programs looking at the percentage of critical damping on all the possible modes of misbehavior of a beam axle. This type of thing wasn't even thought of some time ago. As for independent suspension, it's incredibly easy to make that work dreadfully badly too. There's a lot to be said for having a bar between the wheels; it keeps them the right way up!
Karl: As for front-wheel drive, isn't that basically a feature for family cars?
King: I don't think it's a sensible feature in a sports car that's going to be bought by a genuine sports-car buyer, because to me a lot of amusement in really driving a motorcar, particularly on slippery surface, is controlling the car with the throttle, and that's one thing you can't do on a front-wheel-drive car. You lose an awful lot of the fun of driving when you get rid of that. I like to control one end of the car with the right-hand pedal and the other end with the steering wheel!
Karl: Doesn't fashion play a role there also? For example, isn't there pressure to make a mid-engined sports car just because it's the current style?
King: I think it's one of the factors, but I don't like doing things because they're in fashion. I'm a bit bloody-minded about that, really. I'd rather do a thing for genuine reasons and let the fashion follow on than do it because of the fashion. If you do a thing because it's fashionable you're always automatically behind the fashion!
Clearly, Charles Spencer King was our kind of auto engineer.
- Karl Ludvigsen
---
Steaming with Bill Lear
"To Karl Ludvigsen - a writer's writer who understands engineering too - thank God! With my very kindest regards, Bill Lear 8/16/71."
That's the treasured inscription inside my copy of Victor Boesen's lively biography of William Powell Lear. Its title was They Said It Couldn't Be Done, which summed up as well as anyone could the story of Lear's life. It applied to his autopilot, to his eight-track stereo player and, most definitively, to his dream of creating an affordable small jet airplane. "Learjet" became the generic term for a business jet.
I came into Bill's life late in 1970 at the invitation of friend Bill Moore, a super-talented creative artist who had come to Lear's headquarters city of Reno, Nevada to work for Autoweek. Moore joined the Lear operation at the former Stead Air Force Base outside Reno to become its publicity powerhouse, churning out presentations, flyers and promotional material and serving as PR man to the prolific Lear.
When I met him Bill was 68 years old and embarked on the biggest project of his life - creation of a new pollution-free prime mover responding to America's worries about the smog monster. I wrote several articles for Motor Trend and Signature giving the inside story of his quest. As well the two Bills commissioned me to write a company booklet about the steam-power system Lear was developing.
Bill and his vivacious wife Moya made me feel at home in their riverside residence at Verdi (pronounced verd-eye) which was always teeming with friends and family members. Live-in couple Gunnar and Gertrude took care of the amenities with quiet competence, though Lear oversaw his own chili recipe using neck meat with pinto beans and took over behind the counter to grill burgers for the multitudes.
Though avuncular in looks with his stocky build and thick glasses, Lear hadn't lost the sense of fun that caused him to name one of his daughters Shanda. I joined the family for a trip to see the movie Cabaret, after which Bill regaled us with his experiences in the Berlin of the 1920s over dinner at his favorite Chinese restaurant.
Inevitably crackpots were attracted by the scent of Lear riches at Stead. One caller told his secretary he was ringing from 300 million miles out in space. "I hope it's not collect," joked Lear. Another said he had a jet engine capable of unlimited power. "It developed 100 horsepower," Bill said, " and needed a 600-horsepower engine to start it."
Only months before my first visit to Stead, Lear had finally settled on the best expander for his steam system. It was built by a small company in a suburb of Denver that had spun off from Sundstrand, where its founders had been working on steam systems. Bob Barber of Barber-Nichols Engineering created a turbine to take energy from the steam.
Barber-Nichols built a single-stage axial-flow turbine derived from a design used in a World War 2 torpedo motor. Only 5.4 inches in diameter, its single-stage turbine wheel drove a three-stage reduction gearbox. Although initially expected to rev to 46,000 rpm, the turbine wheel was successfully tested for safety at its maximum possible speed of 93,000 rpm.
Bill's team built steam power units for a Chevrolet Monte Carlo - not a success - and for a rapid-transit bus that entered municipal service in San Francisco. In 1972 it covered a total of 3,900 miles with a minimum of problems. "It ran the steep hill routes," recalled a Lear associate, "and was often overloaded because everyone wanted a ride."
"Underscoring its relatively trouble-free time in San Francisco," said the official report, "the steam bus was driven from San Francisco to Reno under its own power on August 31 and September 1, traveling 230 miles over the Sierra Nevada without major problems." Others who drove it at Stead included yours truly, a memorable experience with what Bill Lear rightly enough called "the first new heat engine that's been designed in 40 years."
These promising results hit the buffers when the nation's preoccupations changed from smog to soaring fuel prices. The prototype Lear system's thirst was high. Later, California engineer Jim Crank obtained a spare Lear-bus 240-horsepower turbine and married it with his own boiler to build a car to tackle the speed record for a steamer of 127.659 mph set at Daytona by Fred Marriott in a Stanley in 1906.
Turbine-maker Bob Barber took over the project. In 1985 he personally recorded an average of 146.607 mph at Bonneville. It didn't go into the international record books, however, because his time wasn't officially observed. Thus both speeds were in the sights of an ambitious steam-record-car project launched in Britain early in the 21st century. It too used a turbine expander, a two-stage unit capable of 360 to 400 bhp. At Edwards Air Force Base in August of 2009 the British car set a new official record at 139.843 mph with runs of 136 and 151 mph in two directions.
It was this achievement that started me reminiscing about Bill Lear, because I'm a member of the technical subcommittee that decided it was worthy of receiving the Royal Automobile Club's Simms Medal, "awarded to recognize a genuine contribution to motoring innovation by individuals or small companies that also exemplify the spirit of adventure." We met in June to present the medal to members of the team, whose achievement certainly meets those criteria.
- Karl Ludvigsen
---
Tiny Tornadoes from Turin
In my Abarth file is a treasured letter from that company dated February 6, 1959. It reads as follows:
"We have just finished reading your fascinating article under the above title [as above], which appears in the February 1959 issue of Sports Cars Illustrated.
"We are sure the story you have written together with the selection of photographs will arouse still greater interest in our cars in the States.
"Please accept our warmest congratulations on the superb objective reporting that goes all through the six pages devoted to our cars."
The story in question was the result of a visit that Jesse Alexander and I paid to Abarth in Turin in the late Autumn of 1958. Though the company had just completed a new works on Turin's outskirts, its cars were still being produced at the 1949 factory which I described as follows:
"Hidden on a dusty back street at Via Trecate 10, the original Abarth works looks tiny from the outside but unwinds in chamber after shop devoted to the dissection and creation of Fiat engines and Abarth cars. Bare frames and engines from Fiat are received at the rear, next to the garages housing completed plastic-wrapped Zagato 750 coupes. In a screened corner of the main room within, humble 600 engines are converted to storming 750s at the rate of three a day.
"All work is done to the accompaniment of a muffled snarl from the low test house, where completed 750s are first motored on a dyno stand and then broken in and checked for over four hours. Another small stand is available for experimental work while a brand-new spacious dyno facility has just been added to cope with Abarth's latest twin-cam projects as well as with extensive testing of muffler systems - a development stage usually performed on the Autostrada in the past."
Jesse and I were received and shown around by Renzo Avidano, Abarth's amiable and able chief of staff. I didn't meet Carlo himself. By all accounts he was a demanding martinet both in the factory and at the track. "If there's anything he hates," driver Hans Herrmann said of Abarth, "it's dawdling, disorder and dirt. The factory halls are almost as clean as a pharmacy. He takes care that his cars go to the start sparkling."
Appearances were indeed important to Abarth, whose cars always had a distinct flair. Though Italy's coachbuilders contributed a lot, Carlo himself had the last word on their workings. In fact he was so demanding that some hesitated to work with him, Rocco Motto saying, "A very rough diamond, he was always shouting." Nevertheless Motto was persuaded to build the bodies for the series of Carrera GTLs made for Porsche by Abarth for the 1962 season.
Born in Vienna in 1908 of Italian parents, Karl Abarth became Carlo when, after World War II, he committed himself fully to life in Italy. "I'll live the second phase of my adventurous existence as an Italian," he said. The first phase had indeed been adventurous with a successful career in racing and designing motorcycles, including the innovation of a sidecar that banked with the bike. After the war he became involved with Turin's Cisitalia, some of whose sports-racers he acquired when he set up Abarth & Co. in 1949.
Abarth exploited a novel muffler that engineer Giovanni Savonuzzi had created at Cisitalia. Impressed by the effectiveness of the silencer on an American pistol, Savonuzzi dismantled it and found a fine netting of wire mesh surrounding the barrel. Designing a straight-through muffler on similar lines, the engineer discovered much improved performance. Similar mufflers became Abarth's cash cows.
A new book by Anneliese Abarth, his companion from the 1960s to his death in 1979, reminded me that Abarth's loyalty to Fiats as the basis for most of his competition cars was no accident. Abarth had a contract with Fiat that delivered a financial bonus for every victory by a Fiat-Abarth. A crafty observer of racing classes, he took care to create cars that could deliver those successes in the hands of the many private owners who were the backbone of the Abarth racing effort.
When the formal contract ran out, Anneliese tell us, Fiat's Umberto Agnelli promised an informal continuation of the deal, providing essential support for the Squadra Abarth. In the meantime Carlo Abarth had placed high hopes in a Swiss racer, Peter Schetty, whom he was grooming to be his successor at Abarth & Co. He was deeply disappointed when Schetty bolted to Ferrari. Abarth flirted with the idea of approaching Porsche, but finally sold out to Fiat in 1971.
When rally-mad Fiat ignored Abarth's sports-racers, the founder decided to deny the company that part of his empire. "Not forgetting the cold water Fiat had poured on his efforts," said Anneliese, Abarth "decided that not one single screw from the racing department should fall into their hands." He made a deal with Enzo Osella, a leading Abarth racer, to take over the team.
"During the summer holidays," Anneleise continued, "all the racing cars and their spares, raw materials, drawings and whatever else of use was in the racing department made its way piece by piece in private vehicles to Osella." When Fiat installed its rally cars in September it found not a trace of the racing Abarths that had done so much for its reputation.
- Karl Ludvigsen
---
That Taiwanese Feeling
If you're web-enabled I suggest that you have a look at www.luxgen-motor.com.tw. You'll see an extremely impressive big SUV and on another page an MPV, both products of Luxgen, a "premium automotive brand" whose name stands for "Luxury" and "Genius". Modesty isn't their strong suit.
Not only that, I've just received a news release from Luxgen claiming "a resounding sales success through innovative automobile and IT integration." With just one model, it said, in its home market Luxgen outsold the entire Hyundai range early in 2010! That is indeed pretty darned impressive. And what was that home market? None other than Taiwan, Republic of China.
When I saw this news I realized that only one company could be behind this website and announcement. Indeed, it is none other than my old friend, the Yue Loong Motor Co., Ltd. of Taipei, Taiwan. Yue Loong was the 1953 creation of industrial pioneer Tjing-Ling Yen. Born of a wealthy family in Shanghai, Yen went to Germany to train as an engineer. When the communists took power in China in the 1940s, he and his wife Vivian Wu Yen left the mainland for Taiwan, the last bastion of republican China.
Spotting and seizing opportunities on the underdeveloped 13,885-square-mile island, Yen set up a textile factory in 1951 and in September of 1953 incorporated Yue Loong Motors. In 1956 he unveiled a home-brewed Jeep-like vehicle and in 1957 signed a technical-cooperation agreement with Nissan. Yen established another auto company, China Motor, in 1965 and affiliated it with Mitsubishi in 1970. Such was his rapid expansion that Yen was soon being called "the Henry Ford of Taiwan".
Although he began with technology licensed from Japan, Tjing-Ling Yen had a long-term goal of creating indigenous product lines designed and engineered at his facilities in Taiwan. He sent his engineers abroad to absorb design and production know-how with this end in view. In 1976, however, he was disabled by a head injury. Although he remained the titular head of his enterprises, Yen relinquished decision-making power to his wife Vivian. When her husband died in 1981, at the age of 68 she became CEO of Yue Loong.
Vivian Yen accepted as her divine mission the realization of her husband's dream of a domestic model that would also be exported. "My husband put the country on wheels," she said. "Now I'm putting the country on my own wheels and rolling them to other countries." She approved the spending of some $50 million on Yue Loong's R&D facilities and another $40 million on the first model to bear her company's brand, the Yue Loong Feeling 101. The Korean ideogram of its name translated as "Flying Antelope".
Although it used some Stanza and Sentra parts as well as Nissan engines the medium-sized Feeling was a rakish-looking four-door with such bells and whistles as a heads-up display and a control console suspended from the roof. Launched in 1986, the Feeling had an enthusiastic reception at home and was taken up in some export markets including the Netherlands.
This was only the beginning for Madame Yen. She and her team envisioned a smaller high-volume model that would be sold both at home and abroad, designed from the ground up by her team with the help of a European partner for the engine. This was Project YL-94, as I learned when I visited Taipei and Yue Loong's facilities in the last days of February 1989. I saw Feelings being produced in its newest factory, built down a slope as a series of buildings through which cars and components moved down from one assembly area to the next.
Through an agent, Yue Loong had chosen Ludvigsen Associates to forecast market demand for its YL-94 outside Taiwan, to identify and assess its key competitors and to recommend the best configuration for the car to cope with the environment that we forecast for 1994, when the new model would be launched. This was heady stuff for our consulting team, just the stage at which we liked to get involved with a project. Often we were only approached when it was much too late to be of any help.
We had developed and successfully implemented a graphic positioning technique that had price on its vertical axis and image on the horizontal axis, ranging from "sporty" on the left to "family" on the right. After we conducted the necessary research I went back to Taipei at the end of May, 1989 to present our findings. Later, however, we learned that Madame Yen had been disabused of her ambition. In 1985 she had sold a quarter of the car company to Nissan, with which she decided to partner for the time being. The YL-94 was an immediate casualty.
Restyled the Yulon Group, my Taiwanese friends later strengthened their links with Nissan and added GM to their partnerships. But their founding of the Luxgen marque in 2008 shows that they haven't lost their ambition to expand both domestically and globally. The Luxgen concept is to marry Taiwan's expertise in high-end electronics with passenger cars, for example using cameras round the car to provide "360-degree surround imaging."
Early in 2009, in cooperation with China's Geely, Yulon introduced another brand, Tobe, at the low end of the market. With the Luxgen that's pretty good going for an auto maker that's one of the world's most obscure-for now.
- Karl Ludvigsen
---
Two Liters and Loving It
Big news, folks! I've just bought another car with a two-liter engine!
Well, it's hardly a surprise. It's been an axiom of mine for many years that two liters-122 cubic inches-is just the right size for an automobile engine.
It all began in the mid-1950s with my second car, a Triumph TR2. Crude though it was in many ways, with its dash leatherette peeling away, this Triumph was hugely enjoyable. Its 90 horses at 4,800 rpm were plenty for a light and agile sports car. It had torque too, enough to finish off the gears in my TR2's rear axle.
My next two-liter car was an exotic piece of kit, a Frazer Nash Mille Miglia. I had always loved the superb lines of this sports car, said to have inspired the look of the MGA. This one had been used as a racing car by American Airlines flight engineer Bill Wonder, who had bought a 200S Maserati to replace it. Bill accepted an even swap of my Alfa Romeo Giulietta Spider, which he reckoned would be an easier car to sell.
Frazer Nash used Bristol's two-liter sixes, which were derived from the engine of the pre-war BMW 328. In spite of its long stroke and elaborate pushrod valve gear this was a potent engine, fed by three downdraft Solex carburetors. And it had the greatest sound! There's nothing like an in-like six to make a beautiful noise, as early Jaguar enthusiasts know, and this Frazer Nash was a perfect example. I didn't have it very long because it was my daily driver, not at all suitable when the US Army sent me to Signal Corps School at Fort Monmouth near Red Bank, New Jersey.
The Bristol/Frazer Nash six featured in Cooper chassis during the two-liter years of Formula 2, which was promoted to the World Drivers' Championship in 1952 and '53 when the then-current Formula 1 fell out of favor. Major rivals in that era were Ferrari, whose Alberto Ascari cleaned up with a four-cylinder Type 500 F2, and Maserati with its twin-cam A6GCM six, valiantly raced by fellow Argentineans Juan Fangio and Froilan Gonzalez.
Starting in 1952 Maserati began building sports-racing cars powered by a detuned version of its Formula 2 six. That year a handful of transitional models were made and sold to racers, including Holland's Fritz Koster. I saw the Koster car race and win at Thompson in Connecticut, so when it was advertised for sale in 1964 I moved quickly to acquire it. When the seller reported that "it goes like a raped ape" I knew this was the car I remembered so well.
This was the quintessence of the high-revving straight six, sounding off with a melodic snarl, and potent enough with its two liters to be a serious drive. Sitting in the same seat that had carried Juan Fangio during a test in Holland, I competed with it in Vintage Sports Car Club of America races in the mid-1960s. We were pretty much the Club's quickest car/driver combination at the time.
My next two-liter car was the Escort RS 2000 that was my first company car at Ford of Europe in 1980. This had Ford's "Pinto" overhead-cam four, tuned to 110 bhp. My Ford colleagues thought that this engine was a bit too much for the Escort's unsophisticated chassis, but I found the car delightful, oversteering like mad under power-just the way I like it. I drove the RS 2000 all over Britain and enjoyed every mile.
Post-Ford, my first two-liter road car was a Mazda Xedos 6. You're excused if this doesn't ring a bell because this suave sedan, much like a mini-Jaguar, wasn't sold in the Big PX. If the launch of Mazda's upscale Amati range had gone ahead it might have been, but in the event it was sold only in Europe and Japan.
Powering the Xedos 6 was a magnificent four-cam V6, the same engine used in 2.5-liter form in the Mazda MX-6 and the Ford Probe but sized at 2.0 liters. It's a sweetheart, revving easily to 7,000 and as smooth as the proverbial baby's bottom. It perfectly complements the Xedos 6, which is the car that Ford should have used instead of the Mondeo as the basis for the X-Type Jaguar.
With the Mazda passing 95,000 miles, however, it was time to look for a replacement. For someone in my position it wasn't easy to settle on the right choice. After all, I'm supposed to know something about cars! For some time, however, I've been attracted by the latest Audi TT. In my eyes this is a stunning piece of industrial design as applied to an automobile. The ones I've tried have gone pretty well too.
So yesterday, as I write this, I picked up an Audi TT Coupe 2.0T FSI-to spell out its complete designation-in Dolphin Grey Metallic with red seating and trim. I went for the S-Tronic transmission on the grounds that I no longer need to practice shifting in my daily driver.
So here I am with another two-liter engine, turbocharged this time to 200 horsepower-more than double the power of my TR2 of half a century ago. I can understand the appeal of lots of lazy cubic inches, but for me 122 are enough. Next time I may even downsize!
- Karl Ludvigsen
---
Continental Bites the Dust
Unless an execution is involved, it's not often that you have advance warning of a death. It usually comes as an unwelcome shock. But I've just heard that a treasured old friend will be leaving this world during 2010, at the ripe old age of 86. I refer to GM's assembly plant in Antwerp, Belgium, known for most of its life as GM Continental.
I first became acquainted with Continental in the mid-1960s when I was press officer for GM Overseas Operations in New York. I liaised productively with my counterpart in Antwerp, Paul Stefens, who'd been working there since 1961. GM Continental was an important base for our press activities because it covered the markets of Holland, Belgium and Luxembourg, homes to many important and influential journals and journalists. Europe's "Car of the Year" program was born at Dutch magazine Auto Visie, for example.
GM Continental spearheaded of the American invasion of Europe that had the Old World's auto makers quaking in their boots. Founded in 1924, it was set up to circumvent tariffs on built-up vehicles by assembling them locally from kits of imported parts. Its name showed how important it was to the sales of GM's American cars on the Continent. Its works in central Antwerp assembled its first Chevrolet on April 2, 1925.
"General Motors opened nineteen assembly facilities in fifteen overseas countries between 1923 and 1928," said its chairman Frederic Donner in 1967. "By 1929, over 70 percent of the GM cars and trucks exported from North America were shipped as parts and components for assembly overseas." Even after GM bought Vauxhall (1925) and Opel (1929), GM Continental also assembled those makes locally to take advantage of the lower tariffs on imported parts.
Leaving GM Overseas Operations in 1967, I chose a career as a free-lance journalist and part-time consultant. In the latter capacity I heard from Bryan McGowan, who was now in Antwerp. A friend as well as former GMOO colleague, Bryan thought of me when his boss, the creative and charismatic Bob Price, wanted to investigate some new ideas. In February of 1971 I took advantage of a trip to Amsterdam for a 'Car of the Year' prizegiving to make a visit to Antwerp to see what was up.
Price had several issues on his agenda. One was the rejection of GM's Vauxhall cars by that marque's dealers in the Benelux area. With Vauxhall's quality at a nadir, dealers were simply refusing deliveries and, even worse, defecting to the many Japanese marques that were eagerly prospecting for outlets. How was this to be countered?
Typically Bob Price took a gung-ho approach. He looked to GM South Africa, where the local assembler had created a new marque, the "GM Ranger", by retrimming Opel Rekord models with a distinctive four-headlamp grille. Like his counterparts at GM's Swiss assembly plant, faced with the same problem, Price imported the necessary parts from Africa and began assembling and selling the GM Ranger through his beleaguered Vauxhall dealers.
In a major study for GM Continental I assessed the pros and cons of the Ranger project and made recommendations for future actions to strengthen the marque. Desiring another model to complete his Ranger range, Price was looking at the Torana, a new compact that GM's sister Holden in Australia had just launched. We had a Torana to drive and assess. I concluded that "the good looks of the Torana, with its handsome interior, would make it a highly saleable car in Europe." Especially over the Belgian cobbles, however, its ride needed work.
Looking ahead, Bob Price also felt that GM needed an even smaller range of cars in Europe. He was saw the gap that Fiat's 127 and Ford's Fiesta would soon fill. He commissioned me to carry out a study of "An Ideal GM Small Car". In doing it I was asked to keep an eye on the opportunity offered by Daf, just over the border in Holland, still making its automatic-transmission small cars. Price was hoping that GM could be persuaded to acquire Daf and make it the production base for a European small-car range.
The product problems that Bob Price was facing were soon solved by GM's merging of its Vauxhall and Opel product lines, basing the British cars on German engineering. In fact Price soon found himself promoted to run Vauxhall, which delighted its dealers with the Opel-based Cavalier of 1975. By then, however, GM had withdrawn Vauxhalls from the continental markets.
In 2009 GM Continental, which once assembled 400,000 cars a year, made less than 90,000. The tariff barriers that once supported it had long been erased by the European Union. Though it had great strengths, in its location close to a busy port and its access to a first-class workforce, these weren't enough to sustain the surviving Plant 2. Plant 1 had already been shuttered at the end of the 1980s.
The Antwerp operation had quite a history, Paul Stefens reminded me. "The old Albert Dock plant was bombed during the war by Flying Fortresses led by Clark Gable," he said. "It was a complete wreck afterward." It was amazingly versatile, assembling big American cars next to small Europeans down the same line. But this wasn't enough to keep GM Continental alive. It will be "wound down", said GM, "in the course of 2010." Only the good memories will remain.
- Karl Ludvigsen
---
Little Wheel at Fuller
In 1922 the Fuller Manufacturing Company completed a handsome new pair of four-story factory buildings at the junction of Pitcher and Prouty Streets on the northern periphery of Kalamazoo, Michigan. Located exactly equidistant between Detroit and Chicago by road or rail, Kalamazoo was well placed to serve the motor industry.
Enjoying the backing of local worthies, the Fuller family had been in business in this bucolic Western Michigan city since 1888. By 1903 the Fuller brothers were producing the Michigan automobile. They stopped making cars in 1908, concentrating instead on producing vehicle transmissions.
This decision by the Fullers was in line with trends in the industry, which at the time saw many makers entering the fast-growing market by buying major components from suppliers to produce a vehicle which they assembled rather than manufactured themselves. Concentrating on this through World War I, they emerged with a strong reputation for their heavier-duty gearboxes. In 1923 Fuller phased out passenger-car units to concentrate on transmissions for trucks.
In 1928 a 25-year-old engineer at Cleveland truck maker White Motor decided to stake his fortunes to Fuller, which had just been acquired by Chicago's Unit Corporation. Elliot "Lud" Ludvigsen started as a sales engineer, first in Milwaukee with Unit Drop Forge and then in Kalamazoo with Fuller, where he was named sales manager in 1930. By 1948 Lud Ludvigsen had risen to the presidency of the Fuller Manufacturing Company.
This was the man whose son - namely me - went down to the plant with him on Saturdays when Lud wanted some quiet time to catch up in his office. I'd be looking through the SAE Journal and Automotive Industries, industry bibles which helped hook me on cars. We'd tour the plant, which in my earliest visits still had huge overhead shafts and pulleys driving the machine tools through long belts. It was an exciting place with its own drop-forging presses and foundry. I dug through bins of scrap to find interesting pieces to take home.
Between my third and fourth years of high school I worked at Fuller during the summer. Under the patient Gil Hulme I was given a board in the drafting office, its big windows facing north from the main building. My main activity was inking drawings. The engineers would complete their component and assembly drawings in pencil, but for a permanent record Fuller need ink drawings on vellum. I was good enough at this to make myself useful in this capacity.
Gil welcomed me back in the summer of 1952, in the hiatus between my graduation and starting at MIT in the autumn. This was an exciting time at Fuller. It was offering new-fangled torque converters for some applications. Working with his chief engineer Tom Backus, my father was encouraging the creation of a new kind of heavy-truck transmission which he named the RoadRanger.
To get the many forward speeds that a heavy truck needed, it was usual at the time to have an auxiliary two-speed box, called a "splitter", behind the main transmission. The driver would use the splitter to tease added ratios between the ones in his main gearbox, a feat that required great dexterity in manipulating two levers going up and down the gears. Drivers were proud of their ability to master this.
The RoadRanger did away with all that. It had an auxiliary two-speed box, but with a huge ratio spread that was larger than the full ratio range of the main transmission. Starting up, with the auxiliary in low range, the driver went up through, say, five ratios in his main box. Then with a switch on the shift lever he preselected an upshift of the rear box, which occurred automatically when he went through neutral and back to "first gear", which was now sixth, and so on upward. He reversed the process shifting down.
This required some gizmos of the kind distrusted by truck operators. The shift in the auxiliary box was made by a microswitch triggering a solenoid valve, which controlled a cylinder - could be either vacuum or compressed air - that made the shift. Both auxiliary ratios were synchronized by multiple-disc clutches. Fuller had experimented with Porsche's ring-type synchromesh for this job, but it didn't have the blocking function that this application needed.
The RoadRanger concept revolutionized big-truck driving. When I came back to Fuller in the summer of 1954 we were working on new smaller versions of the RoadRanger. Having learned a bit about machine-tool operation at MIT, I spent part of the summer in the experimental workshop, making parts for the new RoadRanger.
Milling the slots in the main gears of the auxiliary gearbox that took the synchromesh discs, I didn't index them properly. Checking with my boss, we decided that we could salvage the pieces by cutting fresh slots in the remaining metal, leaving the earlier ones in place. Wouldn't you know it? My father showed up for a look at work in progress.
"How come these parts have these extra slots?" he asked my chief.
"You'd better ask your son about that," he replied.
In 1958 Fuller, which in the meantime had acquired some subsidiaries of its own, was bought by Cleveland's Eaton Corp. By 1963 my father had risen to Eaton's presidency and when he retired he was its chairman. Needless to say, he was quite a guy.
- Karl Ludvigsen
---
The Renault that Rumbled
In the 1970s my friend Jean-Claude Maroselli was in charge of product information at the Régie Renault. At the beginning of that decade he was preparing to take early retirement but he deferred that decision when he saw the prototypes of the forthcoming Renault 5. "That car was so fascinating," he told me, "so intriguing in its design, that I just had to stay to see what would become of it!"
Although the 5's positioning in Renault's range between the utilitarian 4 and family-sized 6 seems obvious in retrospect, it came about almost by accident. There was agreement that it should use the 4's platform with its longitudinal front-drive engine and torsion-bar springing. But what sort of car should it be?
The problem was solved when his superiors saw a drawing that Michel Boué, a 36-year-old stylist, made in May of 1968 over a photo of a Renault 4. Boué had sketched it in his own time, just for amusement, to see what could be achieved. In only two days it came to life in a polystyrene-foam model. To their credit, Renault's decision-makers were quick to see that Boué had created a new kind of car that could fit perfectly in Europe's growing "mini" category with a fresh and lively look that was unique.
Boué's conception posed one seemingly insuperable challenge, however. It was a two-door car for a home market that historically preferred-indeed demanded- four doors. Planning chief Bernard Hanon was sanguine, however, pointing out that this would reduce cannibalization of other models by the 5 while giving it a sporty character that would appeal across a wide socio-economic spectrum.
Another challenge was Michel Boué's specification of front and rear bumpers that were smoothly integrated with the body shape. In Yves George's engineering team this was met by Prost-Dame, who conceived bumpers with cores of fiberglass that were dipped in a self-skinning polyurethane foam.
In October of 1975 the 5 was introduced to the US market in an all-singing, all-dancing introduction at the Silverado Country Club in California's Napa Valley. Famed chef Paul Bocuse prepared his signature onion soup and racing driver Marie-Claude Beaumont demonstrated a sports-kit version at Sears Point Raceway. She "really zoomed around it," noted this impressed passenger.
Prominent at Silverado was Bernard Hanon, who had championed the 5 project. I'd been acquainted with Bernard, two years my senior, since my time at Car and Driver in the early 1960s when he was a planner in Renault's New York office. After a spell in academia at Columbia he'd returned to Paris to revolutionize Renault's product-development process. His broad smile, genial demeanor and excellent English earned Bernard the nickname "The American" at Renault.
I'd also become friendly with Pierre Gazarian, the bespectacled Paris-born intellectual and poet who ran advertising and public relations at Renault USA. In these my free-lance years Pierre became a customer for my writing services. I wrote a new brochure for the Renault 12 and a booklet reintroducing the Renault company and its cars to Americans.
When Bernard Hanon came over for visits I'd often huddle with him and Gazarian to discuss current trends. A concern was the failure of the Renault 5-a big hit in Europe-to take off in the US market. Consideration was being given to a relaunch with a model known by name instead of number. What did I think?
I lobbied hard for a name that would suit the little car right down to the ground. It reflected its national origins as well as the car's surprised look with its big US-market headlamps. I suggested that the 5 be renamed the "Frog". In an agreeable parallel with VW's "Rabbit", such cheeky branding would have ensured lasting national notoriety for Renault's likeable minicar. Wimping out, they decided on "Le Car" instead.
I also pressed my Renault friends on the way their brand name was pronounced on radio and television as "Ren-alt" instead of the French "Ren-eau". I argued that if Americans could pronounce "Chevrolet" correctly they could certainly learn to do the same with the much more euphonious and stylish French rendering of "Renault".
My ultimate effort with Renault USA was a project to create a sports car from the 5 platform. The 5's longitudinal engine alignment meant that its chassis suited it uniquely to a long and narrow hood that could reflect the classic image of earlier Renaults. Getting chassis drawings from Paris, I drew and rendered a new body shape that would have created a charming retro-styled Renault sportster.
In 1976 I went so far as to get a quote from Ron Fournier's Race Craft in Royal Oak, Michigan on the construction of a running prototype. Ron's estimate of the cost was $26,269, for which Renault USA would at least have had an intriguing auto-show stand attraction. They weren't inclined to pursue it, however.
One of the ironies of the 5 was that its originator, Michel Boué, was felled by a virulent cancer that killed him in late 1971 just as his brainchild was entering production. Unlike my friend Maroselli, Boué didn't live to see the likeable car's wide acceptance. By the time it was phased out in 1986 the 5's total production came to 5,471,709, one of Europe's outstanding successes. Setting the seal on its reputation, a tubocharged 5 won the Monte Carlo Rally in 1982.
- Karl Ludvigsen
---
Denny
Here we were, Bruce McLaren, Denny Hulme and I, bombing into Manhattan from Kennedy Airport in my BMW 1600. How this came about I have only a dim recollection. I was covering the Can-Am races from 1967 onward, so I must have made plans to meet them when they were coming into New York on their way home to Britain after one of the races.
For Can-Am racing in 1967 Bruce teamed up with fellow New Zealander Denny Hulme, then in the midst of a Formula 1 season in which he became world champion driving for Jack Brabham's team. In the Can-Am he and Bruce were piloting the masterfully designed McLaren M6A, an instant winner. Interested as I was (and still am) in the technology of these cars, I was all over Bruce, Denny and designer Robin Herd to discern their secrets. I was particularly pleased that Denny Hulme, renowned for not suffering fools, gladly or otherwise, seemed to feel I was a journalist worth talking to.
I was reminded of Denny by a fine new book, To Finish First, by Phil Kerr. A friend and early racing rival of Bruce McLaren, Kerr came to Britain in 1959 to work with Jack Brabham, who was driving for the Cooper team. In 1960 Denny Hulme arrived in the UK, funded by the same "Driver to Europe" scheme that had launched McLaren's European career the previous season.
Balding and potato-nosed, with what Kerr described as a "gruff, country-boy exterior", Denny Hulme was the antithesis of the classic hero driver. My first sight of him in 1968 was on the Friday of the first week of qualifying at Indianapolis. Their Goodyear affiliation led Bruce and Denny to be nominated to drive sensational new turbine-powered racing cars entered by Carroll Shelby and designed by British engineer Ken Wallis. By the time I arrived at Indy the four-wheel-drive Shelby-Wallis racers had already been withdrawn.
Though McLaren left the Speedway, Hulme stayed around to drive one of Dan Gurney's Eagles. Opposite Gasoline Alley we sat down together in the track cafeteria, where he gave me chapter and verse about the cars' behavior. It was not at all a smart design, he said, much too heavy. Its brakes were never any good in spite of modifications and its handling was "scary" with suspension so flexible that an inch of front-wheel toe-out went to an inch of toe-in when Denny put the power on.
Hulme told me he was so alienated by the dry, sarcastic style of engineer Wallis that he stopped talking to him, so the Englishman communicated only with Bruce. "We finally decided they were just too scary," Denny told me, "so they withdrew the cars. That turbocar really threw me off my pace!" Also swirling around the Shelby entries were rumors of illegality that turned out to be well founded. Thanks to my good relationship with Denny, however, I had the inside information that I needed on these controversial cars.
Denny drove superbly at Indy in 1968 to place fourth for Dan Gurney. In 1969 he retired with clutch trouble and in 1970 he was back with a papaya-orange entry from McLaren, which built its Offy-powered M15 expressly for Indianapolis. It was equipped with a fire-extinguishing system supplied by my company, Formula 1 Systems. Carrying du Pont FE1301 extinguishant in an aluminum cylinder, the system was actuated by pushing in a knob which pierced a diaphragm that released the pressurized gas. After careful consideration I had chosen this as the method that gave the greatest confidence that the system had been actuated.
Looking at the system's installation in the M15, I saw that the McLaren men had modified its actuation. They'd put in a Bowden cable from a T-handle on the dash that the driver was to pull if he encountered fire. I hadn't been keen on this idea because the flexibility of a cable meant that you couldn't be confident that you'd actuated the system.
As luck would have it, during Indy practice the fuel cap came open, releasing methanol into the M15's bodywork and cockpit. When it caught fire Denny couldn't see the flames because methanol burns invisibly. But he soon felt the heat. Wearing ordinary gloves of leather and fabric instead of Nomex, he felt his fingers curling involuntarily. Nevertheless Denny was just able to grab and tug the T-handle. He brought the car to a stop on the infield grass and baled out.
When I arrived at Indy I heard about the accident and visited Denny at Methodist Hospital. After pulling the handle, Hulme told me, "I felt a cooling rush", but at high speed the FE1301 quickly dissipated and methanol was still flowing. Though suffering burns on his arms and neck as well as hands, Denny recovered well. He bravely resumed command of the team later in 1970 after Bruce McLaren was killed in a testing crash.
Denny Hulme carried on in Formula 1 with McLaren through 1974, then retired. He took up racing at home in New Zealand in 1978 and was engaged in this sport in Australia in 1992 when he suffered a heart attack at the wheel of his BMW M3, pulling neatly off the course and parking. He was found dead at its wheel at the age of only 56. Quite a guy, Denny Hulme. I'm proud that he suffered me gladly.
- Karl Ludvigsen
---
Windows on Volvo's World
As president of a London-based management-consulting company I saw Volvo as a potential customer. I had good contacts with Volvo, not only from my journalistic days but also from my work on MIT's Future of the Automobile project. In the early 1990s I started to pry open doors at Volvo's Gothenburg headquarters. My style was to call on potential clients in a listening mode, trying to draw them out to see what issues were on their minds. With that knowledge we could start to offer solutions.
In 1995 I heard from Jan Blennius that he had something on his mind. Jan was a member of a Volvo product-strategy group whose membership was drawn from key disciplines of product design. I had known its head, Dan Werbin, since he was with Volvo in New Jersey in the 1970s, and another member, engine man Stephen Wallman, from press junkets to Volvo. Both were friends as Blennius was also to become.
Volvo wanted a new perspective, Jan explained. He said that its dominant position in Sweden and the predominantly European focus of many of its activities made it difficult for Volvo to be informed consistently and in depth about global developments and trends that were likely to have an impact on its future strategies. Such trends and developments would-
have major implications for Volvo's current and prospective customers in the transportation and automotive sectors.
influence the financial and strategic decision-making of Volvo and its consequent directions and levels of investment.
impact the world automotive and transportation industries over the forthcoming ten-year period.
The idea, Jan said, was to work with an outside organization like Ludvigsen Associates to anticipate and study such trends and take deep dives into their attributes. We responded with a program that we called "Windows on the World", creating a logo for it that showed exactly that. We mutually decided that a key element of the program would be the conduct of seminars about topics of interest. Though we suggested a range of subjects, the ones we actually studied were proposed by Volvo.
We started with a seminar about luxury cars at the top of the market. To set the right atmosphere we had the Volvo team picked up from Heathrow in stretched Volvos and taken to Le Manoir aux Quat' Saisons, where they were booked to stay. At Great Milton in Oxfordshire, this is French chef Raymond Blanc's magnificently lavish hotel and dining palace in which, I'm obliged to admit, I was a very minor shareholder.
My wife Annette pitched in to help with the organization and handholding of the Volvo delegates. To complement the atmosphere of luxury we had presentations-in our private meeting room-by representatives of specialist dealers and our own staff highlighting market trends. We took the risk of inviting an outside analyst, Prof. Krish Bhaskar, who was very visible at the time. Afterward Dan Werbin took me aside and said, "It's always interesting to meet people like that in person." It wasn't a compliment.
Another Windows on the World seminar focused on four-wheel drive, an attribute that Volvo didn't yet offer. It wanted to get a sense of the direction this apparent fad was taking. Was four-wheel drive a feature that Volvo had to provide? Again we supported the seminar with trend studies and exposure to dealers and marketers. Expert testimony came from Stuart Rolt, whose racing-driver father Tony Rolt had co-founded FF Developments, a leader in 4x4 technology that Stuart headed.
Then we took a look at partnerships with the Japanese. Volvo was in talks with Mitsubishi in particular and wanted to get a sense of the best way to work with the inscrutable Orientals. This seminar was based in Dortmund, a city the Japanese had taken to their hearts, in a Japanese-owned and -operated hotel. We had talks by experts on the subject including a British businessman who had long experience of working with the Japanese.
Our final Windows on the World for Volvo was something of a spectacular. Our theme was mergers and acquisitions in the automotive field. For a business-related seminar we found a sensational venue in the heart of the City, London's banking district, in the avant-garde Lloyd's building designed by Richard Rogers. It helped that the Lloyd's chairman, Sir David Rowland, and his wife Diana were friends and neighbors of ours in Islington.
After arranging a tour of the dramatic Lloyd's building and a meeting room with views over the City, David gave us a keynote talk. We brought in heads of several interesting businesses to provide their views and presented a study of our own on the attitude of investment advisors toward different company structures. We concluded that they didn't like diversified businesses because their share prices fluctuated less. Analysts preferred more narrowly focused companies-like stand-alone auto makers-that offered more chances to make money on their stock's rises and falls.
That was a highlight of a fascinating series of seminars that tested our ability to organize a good program and find experts who could challenge the skills of Volvo's senior strategists. As one of the group's members told us, a valuable feature of the meetings was that it gave them fresh chances to get together and share ideas among themselves. Opening "Windows on the World" for Volvo turned out to be an enjoyable and productive adventure for both sides.
- Karl Ludvigsen
---
Emerson Who?
In Hemmings Sports & Exotic Cars way back in 2006 I described my love affair with Brazil and Brazilians. It began at the end of 1969, when the organizers of Brazil's biennial automobile show invited me and a few other journalists to Sao Paulo to promote their event and display the vitality of Brazil's auto industry and motor sports.
On that first visit I met local racing stars the Fittipaldi brothers, Wilson and his three-years-younger brother Emerson. Their father, a sports broadcaster, was enthusiastically encouraging their racing efforts. Wilson had two disappointing seasons in Europe in 1965 and '66. After some good Formula 2 results, however, he raced in Formula 1 for the Brabham team in 1972 and '73, getting into the points twice. In 1974 he drove the Copersucar-Fittipaldi that he and Emerson had developed but without success.
Meanwhile, of course, Emerson Fittipaldi's career had gone from strength to strength. But when I met him he'd just returned from his first European sortie, which brought successes in Formulas Ford and 3. Late in the 1970 season he was promoted by Lotus to Formula 1. When the Grand Prix circus came to Watkins Glen I naturally met up with Emerson and his charming wife Maria Helena. "It was hard for us to believe that this was the track for the United States Grand Prix," said Fittipaldi of the slippery, gloomy and cold Glen circuit. "There was mud everywhere on the track. They let us have three or four warming-up laps and I could scarcely believe that this was America, so modern and so rich."
Lotus had just lost Jochen Rindt, killed in the new 72 in a practice accident at Monza. At the Glen, Lotus chief Colin Chapman gave Emerson specific instructions. Rindt could be the posthumous world champion if Ferrari-mounted Ickx, in particular, could be denied points. "Colin came to me before the race and told me: 'Emerson, whatever you do you must finish in front of the Ferraris because of the Championship.' For me it was funny. I know my limits. I am not kamikaze. I told him I would do what I could."
With Ickx having fuel-system problems and the BRM of Pedro Rodriguez pitting for more fuel, Fittipaldi was the surprise winner of the Grand Prix. While everyone else was saying, "Emerson who?" I was among the handful at the Glen who had any inkling of the credentials of this brilliant young Brazilian. When he and Maria Helena came through New York on their way home I hosted them for dinner at Le Chanteclair, the restaurant of famous French racer René Dreyfus.
I also drove them to the airport for their departure the next day. On the way we were practically in hysterics as Emerson described the astonishing eight-cylinder VW Beetle that he and Wilson built to race in Brazil in 1969. In one race it outqualified an Ford GT40 and Lola-Chevrolet coupe! On my next trip to Sao Paulo I visited a newspaper office to find photos of this amazing car. I'll describe it in a future issue.
During later visits to Brazil in 1970, '72 and '74 I had great interviews with Emerson about his experiences in Formula 1, visiting him and Maria Helena at the Fittipaldi family hideaway on the beach at Guaruja where he kept in shape with long swims. He also stopped over with us in New York. In 1980 when I came to Britain I visited his Formula 1 factory near Reading and joined the team at Monaco where Keke Rosberg was his other driver and Beatle George Hamilton a close friend. Ultimately this all contributed to the book I wrote about Emerson in 2002. "You made me look good!" he told me. "That wasn't hard!" I answered.
These happenings came to mind after the 2009 Grand Prix at Valencia in Spain, won by Rubens Barrichello driving a Brawn-Mercedes. This, it turns out, was the 100th Formula 1 success by a Brazilian. Emerson started the ball rolling. He hit a dry patch after the Glen, not winning again until 1972's Spanish G. P. He scored five Lotus-mounted wins that year on his way to his first world championship. He won his second championship in 1974 with McLaren. In all he won 14 G. P. races.
In 1975, when Emerson was second in points behind team-mate James Hunt, his countryman Carlos Pace (pronounced pah-chay) gloriously won his home Brazilian G. P. in a Brabham-Ford. This was destined to be Pace's only win in six Formula 1 seasons before his death in a light-plane crash. Next Brazilian to star was Nelson Piquet whose 23 wins came first with a Brabham-Ford in 1980 and last with a Benetton-Ford in 1991, taking three world championships along the way.
Three titles were also taken by the unforgettable Ayrton Senna, with 41 wins the most successful of the Brazilians. A long gap followed his last win in 1993 before Rubens Barrichello could wave the Brazilian flag again at Hockenheim in 2000. He scored ten victories for Ferrari through 2004, paving the way for countryman Felipe Massa, whose first of 11 wins-also for Ferrari-came in 2006. Ironically it was a loose spring from Barrichello's rear suspension that injured Massa in the race at Hungary in 2009.
It all began on October 4, 1970 at Watkins Glen. And I was there!
- Karl Ludvigsen
---
Citibank and Cars
By now you may-or may not-be curious about what a management-consulting company like Ludvigsen Associates does for its customers. Our clients were often auto companies and their suppliers of materials and components. In fact suppliers were good customers for us because they had a lot of curiosity about what the car makers were doing, why they were going it and where they were headed.
One of the most unusual and interesting clients we had was Citibank. This American institution was well-represented in Europe. Its traditional organization was regional. People in the Paris office looked after Renault, those in Frankfurt serviced Daimler-Benz, the Milan office looked after Fiat and so on. In another field, however-I think it was forestry products-Citibank tried creating an industry-dedicated team from selected personnel in its regional offices. The idea was to share information among team members to present a more knowledgeable and supportive front to the bank's clients.
Now, early in 1993, Citibank decided to go and do likewise with automobiles. They created an Auto Team from selected members of their offices throughout Europe who had relationship roles with motor companies and their suppliers. Responsibility for the coordination and oversight of the Auto Team lay with Citibank's regional management based in the UK.
"Through the generation and provision of overall industry and individual company insights," read Citibank's mission statement for the new activity, "the Auto Team will play a critical role in helping to determine an optimal mix and volume of automotive-sector financial services. This will increase the profile and/or minimize the risks in this industry to Citibank."
Citibank's London people had the good sense to realize that it would be useful to have the help and support of an outside organization to assist in the Auto Team's activities. I don't recall how we were spotted by Citibank's radar, but we were. We met with their people in London and soon agreed on a plan of action. Nominally we were to organize four meetings a year for the Auto Team on topics and at locations that we mutually agreed. We kicked it off later in 1993.
We described the aims of the project as follows:
"A. To establish a continuously evolving relationship between Citibank and Ludvigsen which provides automotive industry insights, perspectives and provocation and inspiration of thought for Citibank staff. The relationship will seek to identify and focus upon those issues which will direct strategic financial decision-making in Europe's automotive sector.
"B. To facilitate a change in the culture and attitude considered necessary within Citibank to enable its staff to work more effectively from a broader industry knowledge base. The aim is thus to develop and promote a greater degree of innovative thinking and leadership."
One of our first meetings was Stockholm-based to hear a presentation from bearing-maker SKF. This gave us some insights into the supplier industry while helping Auto Team members get to know each other better-an important aim of the program. We also met at a Heathrow hotel for my presentation based on my studies of the way that consolidation in the European industry had evolved in the past and how it might shape up in the future. It was a fearless forecast that no one else had attempted. My predictions didn't work out in practice but they gave rise to plenty of discussion, which was the main idea.
One meeting was in Frankfurt where some of us had a chance to see the colorful Old Town for the first time. I may well have given my talk on "hiding places" in the car industry-characteristics that auto companies had or could have that allow them to shield from their rivals. This too was guaranteed to give rise to active and ample discussion.
Another meeting was organized in Turin to focus, of course, on Fiat. We met in the company Museum, in one of the original factory buildings in the heart of Turin, to hear a review of Fiat's activities from the company's finance director. A similar visit took us to Stuttgart to be given an insight into the strategies of Daimler-Benz by a senior member of its planning staff. We also toured the factory at Sindelfingen. Asked my impression of the S-Class assembly line by a Citibank colleague, my one-word answer was "leisurely". It was moving with snail-like speed in an atmosphere of funereal calm.
One of our best meetings was based in Barcelona's ultra-hip Arts Hotel on the waterfront. This was appropriate because our theme was car design. I invited a friend, Enrico Fumia, to lecture on the subject of design. Formerly head of design for Pininfarina, where he did the Alfa Romeo 164 and a new generation of Alfa sports cars, Fumia did a fine job of taking the Auto Team behind the scenes of car styling. I gave a talk on the national characteristics of design. We also organized a design clinic in which the Auto Team members rated various car styles just as the public did in the real-life clinics that we conducted for companies like Rolls-Royce and Nissan.
I regret that I can't say whether and in what way the Auto Team activity enhanced Citibank's role in the European industry. However I'm certain that it greatly advanced cooperation and understanding among the team members. And it was a great project for us!
- Karl Ludvigsen
---
Heavy Metal II
Last month I described my adventures in the glamorous world of The Franklin Mint in the creation of an epic series of silver ingots featuring 100 great automobiles. I was engaged for this project by Ken Weaver, who left Franklin part-way through the creation and distribution of the ingots. It didn't take Ken long to pop up again-not a million miles from my home.
In the 1970s I lived in Pelham Manor, New York, the first village you come to when you escape the Bronx to the north-east. Next was New Rochelle and beyond that Larchmont, three miles up the New England Thruway. There the tall, silver-haired Weaver was ensconced, on Symphonette Square, in the offices of The Wittnauer Precious Metals Guild. This was another organization plowing the same furrow as The Franklin Mint. Its address was a reference to the Longines Symphonette Society, which promoted that orchestra's easy-listening classical recordings. Longines and Wittnauer were both upmarket watch brands, joined in those days by a hyphen.
In the spring of 1973 I heard from Ken, who was Wittnauer's vice president of marketing. Aware as he was of the success of our Franklin Mint series, he wanted to do likewise at Wittnauer. Obviously, however, we couldn't be seen to be copying what we'd done for our previous employer. What sort of car-related series could we create?
If I do say so myself, I came up with a dilly. I titled it "Motor Cars That Made History". Each ingot would show not a generic car but a specific automobile that had made its mark on history by its actions, successes, notoriety or significance. To help make the selection I recruited an expert panel. Its members were Charles Betts, who had recommended me to Franklin, Jan Norbye, Daytona Beach's Bill Tuthill and James Bradley, curator of the Detroit Public Library's Automotive History Collection.
Choosing the 36 cars Ken and I had agreed on was a knotty affair. I asked my panelists for their suggestions, which were great, right on target. But the final selection was up to me. It had to have variety and balance while covering the history of the automobile. I'm pretty happy with the final list, which I submitted on September 17, 1973.
The early ones weren't too hard. Included were the Panhard that won the first motor race of 1895 from Paris to Bordeaux and back and the Duryea that won the Chicago Times-Herald Contest later the same year. For 1901 I chose the curved-dash Oldsmobile that Roy Chapin drove from Detroit to New York for the auto show. It took him seven and a half days! The Mercedes that won the Gordon-Bennett Trophy in 1903 was an easy choice.
From 1910 I selected the Gräf & Stift in which Archduke Franz Ferdinand was assassinated and one of the Model AG Renaults that carried French troops to the front to halt a German advance on the Marne River in 1914. Later cars were the Bentley that survived a smash-up to win Le Mans in 1927, the Hispano-Suiza that defeated a Stutz in a match race at Indianapolis in 1928 and the 1933 Citroën that set phenomenal distance records at Montlhéry in 1933. "Petite Rosalie" averaged 58 mph for 186,400 miles.
In 1938 Brooklands was the venue for events to decide the fastest road car in Britain, won by our chosen 1936 Type 135 Delahaye. I picked the first open mid-engined Porsche 356 of 1948 and the 1950 Jaguar XK 120 that Ian Appleyard rallied with immense success. Also figuring were the first Pininfarina-bodied Ferrari of 1952 and the first Austin-Healey of the same year.
Among my final choices were the "James Bond" Aston Martin of 1964 and the Ford GT Mark II that won Le Mans in 1966. We had a pretty good batch of interesting and historic cars about which a lot could be celebrated. While I began the task of providing reference material for Wittnauer's artists a letter and brochure went out in January of 1974 to assess interest; the response was sufficient to warrant launching the series. I had a special interest in its success because, unlike my Franklin Mint deal, I was entitled to royalties on the net revenues.
However, after the first four 1,000-grain ingots went out to their subscribers, invoiced at $18.50 each, the series ground to a halt. Ken Weaver left for happier surroundings, surfacing at The Danbury Mint, and all went quiet on Symphonette Square. Left in the lurch as I was, I brought suit against Wittnauer, which turned out to be owned by a branch of Westinghouse. Reached in 1977, the settlement was a payment plus the presentation to me not only of the rights to the series but also the stamping dies that had had already been made for the first 11 cars.
I tried to make a deal to revive the series but I hadn't done so by the time I went to work for Fiat in 1978. Coming up to 1986 I pitched it to some British mints with an eye on the true centennial of the automobile, again without a result. So I still have two excruciatingly heavy cases of dies following me around. Come to think of it, "Motor Cars That Made History" would be a pretty good idea for a book. Maybe I'll give that a try.
- Karl Ludvigsen
---
Heavy Metal I
Ken Purdy, that great writer on cars and other topics from crossbows to carillons, died by his own hand on Wednesday, June 7, 1972 at the age of 59. This left a gargantuan gap in the lives of his family and friends, for Ken's was an outsized personality. It also left a gap in the plans and projects of people who had been relying on Purdy for his help. One such gap opened up big time at the offices of The Franklin Mint at Franklin Center south of Philadelphia.
In those days Franklin was by far the most successful of the mints enticing enthusiasts to "invest" in their "collectibles". It can be said to have invented the idea of series of coins and ingots on topics of interest that would appeal to collectors who could nurse the fond hope if not certain expectation that their hoards of silver would increase in value.
At the beginning of 1972 Franklin's Ken Weaver began contemplating a series about cars. "We are thinking in the area of 25," he wrote to me that January 18th, "but there is nothing set about the exact number." Thanks to my friend Charles Betts my name had come up as a possible creator/organizer of this series. I responded in the affirmative, but learned in April that they had decided to go with Ken Purdy instead.
The planned collection of ingots expanded. Ken Purdy had completed a selection of 50 cars starting in 1874 that were the "greatest" of the subsequent century. But much was left undone. The Mint still needed descriptive copy for each car. It also needed artwork from which its sculptors could model the ingot images. I had news to this effect from Ken Weaver on July 6, a month after Purdy's death. I replied that I'd be honored to see Kan Purdy's work to completion.
After I returned from a summer in Michigan I was back in touch with Ken Weaver. After some to-ing and fro-ing, by December of 1972 we'd agreed on a plan. For what we called the "Centennial Car Ingot Collection" we were now going to have 100 ingots in honor of 100 years of the automobile. Yours truly would helm the selection of the cars by a panel of experts.
The hook for the series was the putative date of 1875 for the vehicle built in Vienna by prolific inventor Siegfried Marcus. Although the earliest date for this machine has since been established by the superb research of Horst Hardenberg as 1888, at that time the 1875 date seemed valid. At least that's what I said in my briefing papers for The Franklin Mint. This fit nicely with the Mint's plans to roll out its 100 silver ingots in pairs over successive months from the Collection's launch in February of 1973.
I don't recall ever seeing Ken Purdy's list of 50 cars. I first prepared a "long list" of 150 cars. Then I recruited a panel to help winnow them down. It included Phil Hill, who needs no introduction, distinguished historian Nick Georgano, Germany's Günther Molter, enthusiast/author/cartoonist Ralph Stein and former Road & Track editor Tony Hogg.
Sending them my list, I asked them to vote on their 100 cars. This was no easy job, said Phil Hill: "Trying to choose 100 from this bunch is worse than picking the 'best' in a two-pound box of good chocolates!" Finally, however, I got their responses and completed the list. Looking back it shows the great favorites and pioneers with few surprises. Two modern prototypes made it through thanks to their novel power units, the 1950 gas-turbine Rover and the 1970 Mercedes-Benz C111 with its four-rotor Wankel engine.
Choosing the final entry was quite a responsibility but I plunked for the 1975 Volkswagen Golf/Rabbit. "Acclaimed as the car of the future," I wrote on the back of its ingot, "the 1975 Volkswagen Rabbit marked a trend toward the production of smaller, more efficient cars for family transportation." Not a bad call in retrospect.
My work on the project had only begun. Now I had to find a definitive image of each car to guide Franklin's artists and sculptors. Each had to be representative, of a shape to suite a rectangular ingot measuring 56 x 32 mm, with equipment that was valid for its date of manufacture. Not so easy in the case of some of the models. Which body style for the Bugatti Royale, for example? Which Stutz DV32, Delahaye or Hudson to depict? We got there in the end, with the Mint sending me their sketches and drafts for approval. Of course we needed a badge for the back of every ingot as well.
To their credit the Mint did a bang-up job on the sculptured reliefs. The 1886 Daimler was sensational as was the 1903 Cadillac, just to mention two. To house the handsome ingots in four trays they designed a wooden chest patterned after the separate trunks of the cars of the 1920s. I'm sure those who subscribed at $17.50 per ingot are well satisfied with their collections. Not missing a trick, in 1975 The Franklin Mint issued a "Mini-Ingot" version of the Collection, these measuring 16 x 9 mm and costing a mere $2 each.
That was my first adventure in heavy metal. It was not destined to be the last, however.
- Karl Ludvigsen
---
Getting to Know Corvair
For a few months in the summer of 1956 I worked in the Research Studio at GM's Styling Staff. It was headed by Bob McLean, a charismatic and mercurial Californian who doubled as engineer and industrial designer. When I arrived I found a yellow Jaguar D-Type in the studio. Borrowed from racer Jack Ensley, this was the car that Harley Earl threatened to restyle and power with a Chevrolet engine to race at Sebring if Chevy didn't get its act together. Chevy finally did, building the superb Corvette SS, a version of which later raced as the original Sting Ray.
That's where I first saw Bill Mitchell in action. Bill, then director of design under Earl, was overseeing the creation of the SR2 version of the Corvette for racing. He came into our studio to oversee the measurement of the D-Type's headrest to serve as a pattern for the SR2's design. Two years later Bill would be running the place after Earl's retirement.
On one of the desks in the Research Studio I found a binder packed with an array of fascinating studies of small-car designs. This was the work of British-born engineer Maurice Olley, who headed Chevrolet's research activities in the early 1950s. "One of the projects we put to him was the development of the transportation car," said Ed Cole, Chevy's head until 1956, "one that could do for Americans what the Volkswagen was doing for Europeans. It was a simple statement of the problem and the objective. Naturally we analyzed all the available foreign cars and their configurations and we cost-estimated many of them."
Cole and his colleagues were thinking about building just such a car at Chevrolet. "The project started to take definite shape in 1954," he related. "It was accelerated about 1955 and we decided on the basic configuration for the Corvair in the spring of '56." In August of that year a corner of the Research Studio was commandeered for the first scale-model studies of the styling of Chevy's new small car. Soon thereafter I left GM to join Sports Cars Illustrated as technical editor.
In May of 1959 I returned to the Big PX from Germany, mustered out of the U.S. Army Signal Corps. I'd accepted the post of editor of SCI, which I took up in the autumn. I made contact with Stefan Habsburg, fellow MIT man and Research Studio designer, to find out what was happening. Chevy's small car was coming along well, he told me. The experienced Bob Schilling had designed its suspension, he said, which was elegant and independent at all four wheels. "Special builders will love it," Stefan said.
One of my first official acts in my new post at SCI was to go to Detroit in July of 1959 to cover the Corvair's introduction. One stop was downtown at the GM Building where, in Chevrolet's offices, a fabulous exhibition of the available photographs was organized. This was the work of Chevy PR man Myron Scott. A legend in his own time for his invention of the Soap Box Derby, Scotty created brilliant images for the Corvair's launch. One showed a ladle pouring hot aluminum on the engine parts while another was a heat scan from the side that showed the warmth of the engine at the rear. His color images were handsomely backlit to ease selection.
Next stop was GM's Proving Grounds at Milford to the north-west. This was my first of many visits to Milford, a magnificent facility where each GM division had its own facilities to exploit a fabulous array of demanding roads. There I was taken under the wing of Bob Clift, a Chevrolet test driver and tall Chuck Connors lookalike. We worked with a black Corvair four-door; the two-door coupe and other models were still in the offing. After taking pictures of its details, both on the ground and on a lift, we set out for Milford's roads.
Clift, an experienced Corvette racer, showed off the new Chevy's agility. It was impressively stable going in reverse as he demonstrated. Then we tried climbing a soapy inclined plate that had been set up specially for this demonstration. While an Impala couldn't surmount it the Corvair went up as if it wasn't there.
Above all I was interested in the Corvair's handling. How well had Chevrolet's engineers coped with the challenge of a car with 62 percent of its weight on the rear wheels? As I said in my column of December 2006, I was pretty sure Chevy would have come up with some clever gizmos to prevent heavy terminal oversteer. However when I tried the car on the truck loop's big turning circle I discovered that this wasn't the case. A drastic differential in tire pressures from front to rear was the main palliative technique. In the event it wasn't enough.
Overall, however, the Corvair-now celebrating its 50th birthday-was a remarkable achievement. In my SCI story I said, "It looks as if Ed Cole threw up his hands and said, 'Okay, okay, I've had enough. Let's build this car that all the critics and magazines have been asking for and then see how they like it.'" I called The Corvair "the most profoundly revolutionary car, within the framework of the U.S. automotive industry, ever offered by a major manufacturer." Still true.
- Karl Ludvigsen
---
Riley and his Volvos
This month I'm granting space in my column to Rick Hayden, member of the Society of Automotive Historians, to recall the remarkable career of Art Riley, who upset many applecarts by racing the Volvo PV444, a car that Helmer Petterson designed for Volvo that turned out to be as much racing car as family sedan. Over to you, Rick.
Long Island garage owner and master mechanic Art Riley was granted one of the country's early Volvo franchises in 1957. He'd been impressed by the performance of the Swedish product, which exhibited the staid body lines of a 1939 Ford. "As soon as I drove one I knew it was faster than a Porsche or MG," said Riley. "They'd made a sports car out of a sedan."
At the age of 43, when most drivers think of retiring, Art Riley ran his first race at Lime Rock, Connecticut. Art and co-driver Bill Rutan won Lime Rock's first endurance race, the 1957 Little Le Mans, a ten-hour grind for small sedans. They teamed in Art's PV444 and 544 models to win the event three times in its first five years. Riley later brought newscaster Walter Cronkite onto the Volvo team with marked success, Cronkite being the only finisher of the five-car team one year.
Always a private entrant with little or no factory support, Art was easy on the machinery and usually faster than the factory cars. "I didn't 'race'," said Riley. "If I wanted to race, I would have bought a real race car; I competed in the cars that I was selling in order to promote the product. I never had the suspensions the other guys had or really tried to reduce the weight, because I wanted the car to be as close as possible to what I sold."
"Art Riley put us on the map," said retired Volvo executive Denis Nash. The company capitalized on Riley's successes by slanting their advertising to the sporting aspects of their family car. Nash continued, "and we took his dealership away." He was referring to Volvo's action in the 1970s based on its desire to move more product in Long Island's North Shore market, which a small dealership like Riley's couldn't handle. "I would have done the same thing," admitted Art, who added that he shed no tears when his successor failed within a few short years. Art continued in the repair business, operating a small shop in Glen Cove where he twisted wrenches into his nineties.
Riley was a prolific competitor in the 1960s, driving far and wide to SCCA Regional, National and Divisional events and FIA International races as well. Art and his red Volvo P1800 came within a hair of the 1963 SCCA F-Production National Championship and won the New York Regional Championship that same year. The 1964 season saw Art compete with the red GT in no less than twenty events from coast to coast, flying out in friend Don Yenko's private plane to Riverside, California to contest F-Production at the first American Road Race of Champions, only to crash out due to a disintegrating brake puck while running third and closing on the leader.
For a December "vacation" Art drove his Volvo to Florida and shipped it to the Bahamas to compete in the Nassau Speed Weeks, racing among the Shelby Cobras and Corvette Grand Sports while collecting silver in the under-2-liter category. Rallies also provided opportunities to promote the product. Riley and Cronkite garnered valuable press for Volvo in the grueling Trans-Canada rally. Art also flew the Volvo flag in endurance races, competing at Sebring, Daytona and the 12-hour events at Marlboro as well as long-distance contests at Watkins Glen, Bridgehampton and Elkhart Lake.
Young Art Riley suffered serious damage to his feet at the age of four. While he was sitting on a Manhattan street-corner curb in 1919, a solid-rubber-tired truck cut the corner too close and crushed his feet. Though doctors wanted to amputate both at the ankle, a compassionate surgeon managed to save much of the left foot. It remained contorted and disfigured, with a few toes sewed back on at odd angles. Too badly damaged, the right foot was amputated at the arch, leaving Art with just the stump of a heel. He kept this handicap to himself, wearing heavy lace-up work boots for support, walking with only a slight limp and later mastering the deft "heel-and-toe" downshifting technique of the skilled road racer with only a heel and no toes.
Respected by his fellow competitors, Art was invited by the Road Racing Driver's Club (RRDC) to join their ranks, one of the very few primarily single-marque competitors to be so honored. Art became a frequent driving instructor at RRDC advanced driving schools. A staunch supporter of his home New York Region of the SCCA and the Long Island Sports Car Association (LISCA), Riley was an early investor in and supporter of the now-defunct Bridgehampton race circuit.
Writing of those halcyon years of the 1950s and '60s, racing driver and noted automotive journalist Denise McCluggage, in her book By Brooks Too Broad For Leaping reminded us that Art Riley was "The King of the Volvo Drivers." And so will he be long remembered. Arthur Francis Riley passed away peacefully on May 2nd at his home in Kings Park, Long Island at the age of 93.
- Karl Ludvigsen
---
Roads Not Taken IV
After about a year of working for Ford of Europe in Britain I traveled back to the States on business early in 1982 to see my Ford colleagues in Dearborn. On the agenda were issues of both motor sports and governmental affairs. After a while I realized I was getting homesick for London! I'd really taken to the city with its theater, opera, dance, concerts, restaurants-and women. I was separated at the time and living in London, commuting out to Ford in Essex, so life was pretty good.
At Ford of Europe my tectonic plates shifted when Bob Lutz went back to the States to head Ford's international business. The European chairman, to whom I reported, became the former president Ed Blanch. Ed and I were oil and water, he a clean-desk man and me the opposite. I couldn't help remembering a conversation I witnessed between Lutz and Henry Ford II. "How's Ed Blanch getting on?" Ford asked. "Oh, just fine, Mr. Ford," said the loyal Lutz. "Well," Ford shook his head, "we didn't know what the hell to do with Ed in the States so we sent him over to Europe!"
I could see hard times ahead. Ed Blanch was paranoid. Knowing that Bob Lutz and I were friends as well as colleagues, he was convinced that I was calling Bob to feed him tales of Blanch misdemeanors. Later Lutz was able to tell Blanch that in fact I'd never called him. After the first business trip I took with Ed Blanch I updated my résumé. I started to think in terms of finding a way to stay in England, with or without Ford. Without was starting to look more likely.
On Friday, February 11, 1983 Blanch asked to see me. Referring to a single sheet of foolscap on his pristine desk, he told me that Ford of Europe needed to have one less vice president, one less member of the senior bonus roll. (Such were the problems of Ford in Dearborn during my time with them that no bonuses were being paid.) Ford wasn't obliged to find me a place back in the States, though I was technically on "home office" status, because I'd been hired straight into Ford of Europe. Nevertheless, said Blanch, he thought Walter Hayes might have something in mind for me. I should go see him.
The roads ahead were starting to appear. The following week I was in Dearborn to see Hayes. In charge of Public Affairs at Ford, the wily and charismatic Hayes had once thought of me as a possible successor. Now, he said, he had in mind a spot for me in product communications. That wasn't deeply attractive. I'd lived and worked in Detroit with GM; London it wasn't.
An alternative was to find a job in Europe, ideally in or near London. Though I had a bullet-proof public-affairs résumé, it didn't easily read across to British jobs. My friend Bert Young, an experienced headhunter, pointed out that they didn't pay anything like what I'd been earning. I could do better elsewhere in Europe, Bert said, but that didn't appeal to me. Nor were there obvious opportunities with Britain's auto makers. Yet I wanted to take advantage of what I'd learned at both Fiat and Ford about corporate life and lore.
I was on the brink of deciding to set up a management-consulting business in London. There was one biggish snag, however. I needed a permit to work in Britain. Ford had obtained one on the basis that I had special skills that couldn't be found in a British employee. Had I continued with Ford for four full years I would have been home free as a British resident. But I was a year short! I explored ways of keeping a link with Ford, even offering to take a step down to run the motor-sports operation, but without success.
I explored my options. I could be the UK representative of a foreign company. I still had a business in New York, Motortext Consultants Inc., which could employ me. Retired GM Styling chief Bill Mitchell said I could represent his industrial-design company in Europe, while I was starting to make connections with Malcolm Bricklin's new car-importing company, International Automobile Importers. Would my connections with them get me a work permit?
There was an alternative. If I invested £150,000 in my business, I'd be home and dry. But how could I invest as much as that in a start-up consulting company-even if I had it? Thinking-cap time. When I left the States Ford had put my household goods in storage on Long Island. Included was my complete automotive library. When I told Ford that I wanted to separate from the company in the UK, the agreement was that they would ship over my "household goods". To their credit they never blinked at the shipping cost of what amounted to a container-load of books and files.
When the shipment arrived I had it valued by expert Kenneth Ball of Autobooks. To my delight he found it-without prompting-easily worth £150,000. That was my entrée to a work permit; thanks to good work by my attorney I didn't have to restart the clock so by 1984 I had residency. The library was installed at 105-106 New Bond Street. Ludvigsen Associates Limited was born.
- Karl Ludvigsen
---
Issigonis and the Mini
"The cutest girls drive Minis." This struck me when I first lived in London in 1980. Whizzing hither and yon, from Islington to Chelsea, great-looking ladies clearly preferred Minis. Indeed, I later met and married a former Mini driver-although by then she'd graduated to a Renault 4.
I introduced the BMC Mini and its creator to America in the June 1960 issue of Sports Cars Illustrated. About the car I said, "This little automobile is so satisfying and delivers so much fun per cubic foot that it makes you wonder why cars have to be any bigger." The inimitable Dennis May penned our magazine's profile of its creator, Alec Issigonis, saying that "he smokes cigarettes fast and much, talks in staccato rushes but quietly and with invariable courtesy, has a love of paradox and can be epigrammatical without having to reach for his shafts."
May it was who met my flight at Heathrow on a 1961 visit. We piled into his Mini, which he commenced to fling along highways and byways, carving Mini-sized third lanes wherever possible-and impossible. I leaned over to Dennis and shouted, "Is this legal?!" It was obvious that the appearance of the Mini on Britain's roads created a whole new style of motoring.
My 1980 arrival in Britain was to take up a vice-presidency at Ford of Europe. We were preparing the Escort Mark III for launch. I soon discovered deep concern about this on the part of Ford of Britain. Ford's UK arm was acknowledged as master of fleet-car sales. Fleets accounted for a substantial chunk of its business, so it was essential that our new Escort find favor with hard-bitten British fleet buyers. Such purchasers, I soon learned, were ultra-wary about the Mark III because it had dreaded front-wheel drive, an amenity they'd come to loathe as a result of their servicing and reliability disasters with front drive BMC-style. Somehow we convinced them that we were doing it differently.
In a previous Big Three career, with General Motors in the 1960s, I found the ideas of Alec Issigonis being treated with more respect. On a European visit GM's chairman, James Roche, was intrigued by the newly launched Austin 1800. Here was a car, thought Roche, that packaged an amazing amount of space in a vehicle of modest dimensions. On his return he asked styling chief Bill Mitchell to see what kind of car he could conjure up with similar packaging. Bill never received an assignment he liked less; this wasn't his kind of automobile at all. He let the idea quietly expire.
As a Yank I'm disinclined to treat the Mini with quite the reverence that it commands in the UK. Yes, it certainly inspired other designers to look at front-wheel drive in a new way, but the configuration that everyone eventually copied was created at Turin, not Cowley or Longbridge. It was the work of Dante Giacosa in the Autobianchi Primula, this being the first modern front-drive car with the engine and gearbox placed transversely and in line with each other instead of the engine-above-gearbox package favored by Issigonis. So when I'm told that the Mini is the "most technically significant car in the history of the British motor industry" my skepticism kicks in.
In fact a good case can be made that the original Austin Seven was Britain's "most technically significant car". Such was its novelty and efficiency that it acquired license builders in America, France and Germany and inspired car makers in Japan. Though it was introduced in 1922, the Seven was considered by Austin for production after World War II.
I'm a huge fan of an earlier Issigonis design, the Morris Minor. It's one of the British motor industry's great tragedies that between Nuffield management's dislike of the Minor-Lord Nuffield likened its looks to a "poached egg"-and its creator's lack of interest in improving this superb little car it suffered from a serious lack of TLC. The same could be said of the Austin/Morris 1100, an excellent small car that found Transatlantic friends as the automatic-transmission Austin America. Packed with positive attributes, the 1100's many virtues would have flourished had its few faults been dealt with.
Alec Issigonis's genius as an innovator was beyond question. If he had the faculty of convincing others of the applicability of that genius to automobiles large as well as small, that was their problem, not his. Great focus and drive were with him all his life, as Dennis May wrote: "Perhaps incapable of true relaxation, Issigonis seemingly isn't happy unless he's as busy as a valve spring. He is an habitual worrier and practically never gets BMC business off his mind." Here was the secret of the engineer's success: a steadfast commitment to the achievement of his goals in his manner, untrammeled by peripheral considerations. No conventional manager could aspire to be his equal.
Although its subject was the offspring of a Greek father and German mother, Alec Issigonis's is a very British story. It's told in fascinating detail in a recent book by Jonathan Wood subtitled "The Man Who Made the Mini". Like the author's superb earlier work about car making in Britain, Wheels of Misfortune, it illuminates afresh the victories and defeats of a great national motor industry in a manner that should be of profound interest to all in the UK and many abroad.
- Karl Ludvigsen
---
Roads Not Taken III
John DeLorean! The most charismatic man in the American auto industry was starting his own car company and I had a chance to get in on the ground floor. Was this a road I should take?
Based on my experience with Fiat Motors of North America in the late 1970s I'd told John that an auto company's communications with its audiences-advertising and public relations-should ideally be under a single manager, not split as they usually are, in order to gain greater coordinated impact. To my considerable surprise in 1979 John offered me that very job with the DeLorean Motor Company.
Of course I had questions. To whom would I report? John said that he was bringing in Bill Haddad, a prominent investigative journalist and well-placed Washington insider from the Kennedy years, as his vice president for planning and communications. I would be working under Haddad, he explained, but that shouldn't be seen as a constraint.
Where would I be based? Haddad was with John in their Park Avenue penthouse suite of offices. That would be ideal for communications but another man with whom I'd be working, head of sales Dick Brown, was ensconced in California from which he showed no signs of moving. And the DMC factory was in Belfast, Northern Ireland. I thought this was a less-than-optimum command structure for a new auto company.
While I was considering this another road presented itself. At home I was still on the mailing list for Ford's press releases. I opened one which announced that Walter Hayes, legendary British head of public affairs for Ford of Europe, was transferring to Dearborn. I realized that this would create a vacuum at Brentwood in Essex where Ford's European operations were headquartered.
I had a first-class contact at Ford of Europe. Its chairman, Bob Lutz, had been a colleague at GM Overseas Operation in New York in the 1960s. I'd kept in touch with Bob through his later moves to Opel, GM France, BMW and then Ford. Thanks to my spell with Fiat I had the credentials to be taken seriously by Ford. I wrote to Bob, pointing out that a friend of his had experience in the areas that Hayes was covering at Brentwood.
Soon I had a call from Lutz. He was coming to Detroit in January of 1980, he said. Could I meet him there for a talk? I flew to the wintry city where we had dinner at the Hyatt across Southfield Expressway from the Ford headquarters. Lutz said that when Walter Hayes heard of my availability he said, "Why, he's the American equivalent of Paul Frère." Although a typical Hayes exaggeration this was at least a positive view from someone whose approval was essential. With the distinct feeling that a job offer would be forthcoming I flew back to New York.
I had to let DeLorean know I was having talks with Ford about a job in England. "You don't want to be going over there," he said. "When the next war starts that's the first place the bombs will be falling!" Pretty soon the offer arrived for a senior post in public-affairs product communications with Ford of Europe. I had to decide which road to take.
I bounced my options off some friends and colleagues. Pelham Manor, New York neighbor Harry Newton said, "Well, Karl, you can be sure there'll always be a Ford Motor Company." I also spoke to retired GM styling chief Bill Mitchell, a mentor with whom I'd stayed in touch. He left me in no doubt about his views. "If you go to work for that son of a bitch DeLorean," he snorted, "I'll never speak to you again."
I pushed the Ford button and the wheels started turning at Brentwood. I called John to tell him of my decision and described the job I'd accepted. "Why, that's not good enough for you, Karl," he said. "You've been around, you've paid your dues. Tell them that isn't good enough and that they should offer you something more in keeping with your experience and ability."
Here was surprising guidance from the man who still wanted me to join his team. Was John right? What would happen if I now told Ford that I was having second thoughts? I decided to find out. I took a deep breath, called Bob Lutz and said that after all I wasn't happy with the offer, that it would take rather more to get me to join Ford of Europe. Bob sounded frosty-cool at this news but said that he'd discuss it and get back to me.
Soon I heard from Ford's personnel people. The Hayes empire would be divided up into two vice-presidencies, they said. One would be public relations. The other would be governmental affairs and motor sports. That was to be mine, at a senior salary level. It encompassed our political assessment and lobbying throughout Europe and our development, entry and sale of competition cars and parts from two independent operations in Britain and Germany.
That's the job for which I reported for duty at Brentwood in mid-February of 1980. Astonishingly DeLorean hadn't given up. He'd bid to double Ford's salary offer. But by then I was committed to the Ford road-thanks to the best possible advice from the remarkable man who wanted me to work for him.
- Karl Ludvigsen
---
Roads Not Taken II
When I left GM and went free-lance in 1967 I had another iron in the fire. With a Ferrari-obsessed colleague I'd started a company, Formula 1 Enterprises, to import and distribute car equipment, mainly from Italy where Ferrari racing director Eugenio Dragoni had excellent contacts. We were the first to import Gianpiero Moretti's Momo steering wheels. We had Sebring mirrors-also used on the G. P. Ferraris-Campagnolo road wheels, Zagato seats and other goodies.
To the end of the 1960s I tried to balance an involvement with Formula 1 with my writing, which was tricky to say the least. I even took on the management of Chevrolet's road-test cars in the New York area. For this I established another entity, Mobility Systems Company, which had a contract with Chevy's ad agency Campbell-Ewald. I think this was the very beginning of the subcontracting of such services, which is now commonplace in the car industry.
In all this I had the help of Judy Stropus, famed as a racing timer and scorer while also a first-class legal secretary. In fact we continued to work together during my free-lance years, Judy coming to my house once a week to deal with correspondence. Meanwhile we set up another company, Autosphere, to wholesale less-exotic car accessories. When the economy turned down at the end of the 1960s both companies started hurting.
Yet another string to our bow was Formula 1 Systems, which developed and sold advanced du Pont Freon fire-extinguishing systems. This was right up my street because I'd been active in the field, forming the Motor Racing Safety Society. My ideas were incorporated in some of the first fire bottles for drag racing. But I was spinning my wheels, not doing justice to either of my careers, so I resigned from these companies and concentrated on writing.
Though I'd settled happily into free-lancing, in the 1970s some other roads seemed inviting. One was an idea of my own. I was all too aware that the effects of weather on all forms of transport were costly in terms of their effects on safety, timekeeping and equipment. My thought was to establish the Transportation Weather Institute to carry out independent study in this field to mitigate weather's impact on all forms of transportation to the extent possible. I bounced the notion off my former GM colleague George Rowe, who was a planner and forecaster at Eastern Airlines, but we never made headway with it. Still a good idea!
I kept in touch with many old friends at GM, among whom was Corvette chief engineer Zora Arkus-Duntov. He contacted me with surprising news. He foresaw an opportunity to move to Opel in Germany to take up a high engineering post at that GM subsidiary. He had in mind bringing along a side-kick, namely me, to work with him. This would have been exciting-a real change of scene-but the post never materialized for Zora.
Out of the blue in 1978 I was contacted by Fiat Motors of North America, importer of Fiats and Lancias. They were looking for an Executive Vice President for Corporate Affairs to take charge of relations with the press, governments, dealers and customers. Legal affairs were also in the portfolio. I hit it off with FMNA's CEO, Claudio Ferrari-no relation to Enzo-so I decided to return to the industry in an interesting capacity.
I recall sitting down with the personnel lady to review the perks and benefits. "These are the various holidays," she said, taking me through the calendar.
"You mean these are days that I don't have to work but I still get paid?" I said in wonderment. "How long has this been going on?" There's no such thing as holidays in the life of a free-lance writer.
I added Volvo's Bill Baker to our strength to handle p. r. and Tony Ciminera to look after dealers, customers and clubs-a super team. This was the first time in my life that I had a crew to manage; it was a revelation to discover that I didn't have to do everything myself. We did some good work, including providing a security blanket for Ferrari fanatics when FMNA took over importation and distribution of the Maranello product line.
Lancia was struggling, however, and with the failure in the marketplace of the Strada, with which we'd hoped to wean our dealers away from sports cars, Fiat wasn't doing much better in 1979. When Claudio Ferrari wanted to slim down his staff I told him I was the supernumerary, not my people. From headquarters in Turin came an offer from Fiat to work in their press operations. This was an inviting road; I could have part of my salary paid in Switzerland, they said. But I was pretty sure an American wouldn't be able to progress very far in hyper-Italian Fiat.
Anyway I was weighing an intriguing proposition from John DeLorean. In my free-lance years I'd been an advisor to John, writing the brochure for his consulting company and setting up meetings with the Italian stylists he was assessing for his DMC-12. Now he was in New York, where we met from time to time. John picked up on something I'd said to offer me a sensational position with his DeLorean Motor Company. At the end of 1979 I was giving serious consideration to taking this adventurous road.
- Karl Ludvigsen
---
Roads Not Taken I
When I arrived as a freshman at MIT in 1952 I parked my MG TC in a spot at the end of the dormitory. I didn't realize that this was the parking area for members of a fraternity, Delta Psi, better known as the Number 6 Club. One of its members, Henrik Bull, put a note on the car suggesting that I call in to talk about cars. I did so and met some fellow enthusiasts. I'd missed rush week for the fraternities so the upshot was that I pledged belatedly for Delta Psi and became a frat boy at MIT.
This was a turning point. If I'd stayed in the dorm I would have hunkered down and concentrated on my studies instead of relishing the social life-girls!-of a Boston college fraternity. Preserving my previous good study habits I'd have graduated from MIT as a mechanical engineer and gone on to a career as…who knows?
At Number 6 I met Stefan Habsburg, a real car enthusiast. We were both interested in design in general, the result being that we kicked around the idea of starting a magazine called Function, dealing with all aspects of industrial design, a profession in which we were both interested. When Stefan was hired away from MIT to work at GM Styling Staff this idea fell by the wayside. So did classmate Albert Hahn's idea of an editorial job for me at Scientific American.
A year or so later I found myself at GM, in the summer of 1956, in the Research Studio with Habsburg. At the age of 22 I was set fair to begin a career as a designer at GM, where the potential not only seemed but also was unlimited. Burning a hole in my pocket, however, was an offer from editor John Christy to join Sports Cars Illustrated as its technical editor. This was hugely appealing, involving as it did the whole world of cars. I jumped ship and returned to New York to join SCI.
I had no choice in my next assignment, which was bring drafted by the US Army. There I had the option of an officer's commission, which I rejected because it meant staying in for three instead of two years. Another decision loomed when I completed my training as a radio repairman. Finishing first in my class I had the choice of assignments in White Sands, the Far East and Europe. I picked Europe, which turned out to be Germany.
Coming out of the Army, my first thought was to return to Pratt Institute to get a degree by topping up my mixed bag of credits from four years of college. To my immense surprise, however, my father said he saw no reason why I should do that. "Your career seems pretty well launched to me," he said. "You don't really need to go back to school." So I accepted an offer to rejoin SCI, this time as its editor.
As I've mentioned before the two years at SCI and then Car and Driver ended when I decided to accept an offer to rejoin General Motors, this time in public relations. The alternative Ziff-David offered was to move up to the post of publisher of the magazine. This meant more to do with advertising, which wasn't my bag. After two years in Detroit working with Bill Mitchell I accepted a transfer to New York as press officer at GM Overseas Operations.
While in New York several opportunities surfaced. In Europe with the Army I'd met Harry Mundy, ace engine designer, in his capacity as technical editor of Britain's The Autocar. In 1964 Harry decided to return to industry with Jaguar, where he helped create their new V-12 engine. Mundy said that he had me in mind as his successor at The Autocar. While this had considerable appeal, I was reluctant to take up the post while I was still hopeful of a future at GM.
The same applied to another offer that was considerably more interesting. I was contacted by Mercedes-Benz North America about joining them in charge of public relations. Here was an important post in a company that I greatly respected and about which I was knowledgeable. A high point was being interviewed for the job by Heinz Hoppe, the company's dynamic head of export operations. Here again, however, I was still hoping for a future at GM.
In 1967, when I had the chance to join GM Styling, I took the decision to leave GM instead. This surprised some people because I was one of the youngest executives on the senior bonus roll. I was offered a post in a new public affairs department within PR, which bid fair to offer high visibility among the company's senior nabobs and consequent promotion. But when I thought about what those people did all day, I decided that it wasn't for me.
My reasoning in casting my lot with a free-lance career was that I had some ability to describe technical and scientific matters in ways that people could understand. I set this against the certainty that the next twenty years, in the heart of my career, would bring dramatic new technological developments that would need explaining. While it didn't work out exactly that way, my forecast turned out to be sound enough. I just go so involved with cars that I had few chances to diversify.
- Karl Ludvigsen
---
Starting with Sting Ray
How was I to know what would happen after I wrote a story on the racing Corvette Sting Ray? When I watched it compete at Bridgehamprton late in 1960 I was stunned by the looks and performance of this silver racer. "If it had a three-pointed star on its nose," I thought, "people would be falling over themselves to praise it." Fielded by GM Styling chief Bill Mitchell with Dean Bedford, Jr. as team manager and Dr. Dick Thompson as driver, the Sting Ray easily clinched the SCCA C-Modified title in 1960.
I gave the Sting Ray feature treatment, with cutaway by Clarence LaTourette, in the March 1961 issue of Sports Cars Illustrated-our last under that title. We were the only magazine to tell the Sting Ray story. This was the last thing on my mind later that year when I was invited to lunch by Warren Jollymore, who ran GM's New York public relations office. Jolly was the quintessential PR man. A genial, avuncular character, he was exemplary of the many professionals who peopled GM's Public Relations Staff in those days.
After he joined GM in 1953 Jolly had served in the PR trenches with the colorful creator of the styling profession at GM, Harley Earl. He recalled one field trip he'd made with Earl. "Now Jolly," Earl cautioned, "I don't want to make too much of a fuss on this trip. I'd like to keep it low-key." When GM's DC-3 landed it disgorged the extremely tall Earl, wearing a broad-brimmed sombrero and an outfit somewhere between crimson and orange. "Low-key" wasn't in Earl's lexicon.
Jollymore had startling news. Bill Mitchell was putting pressure on the P. R. Staff to hire someone who had some gasoline in his blood to work with him and his people. "You have a lot of guys who can mix martinis and throw parties," Bill said to fellow GM Vice President Tony DeLorenzo, "but nobody my guys and I can talk to, nobody on my wave length." When DeLorenzo asked Mitchell for for-instances, he mentioned Wally Parks, hot-rodder extraordinaire and NHRA founder, and yours truly.
The Sting Ray story had made a good impression, Warren Jollymore told me. Mitchell was aware that I'd worked for Styling for a few months in the supper of 1956. In fact I'd fibbed to their personnel people. I told them that I was going back to university whereas actually I was joining SCI as technical editor. There was a saying that GM never hired anybody twice, but it looked like they were willing to make an exception in my case-in spite of my little white lie.
Her was an interesting opportunity. I hugely enjoyed editing Car and Driver, but a certain amount of repetition was setting in. Ahead in 1961 another Le Mans, another Monaco G. P. and another Geneva Show. At GM I would be working for DeLorenzo's P. R. Staff but on assignment to Mitchell and Styling. I decided to give it a try. Jollymore arranged for me to be hired into the New York office and then transferred to Detroit so that GM could pick up my moving expenses.
With the deal came two offices-one on the GM Building and the other at Styling in top managers' row, complete with electrically operated drapes. I didn't kid myself that this, the most stunning office imaginable, was really mine. But there was a certain amount of job flexibility in being between offices.
I got off to the worst possible start. Joe Callahan, ace reporter for Automotive News, said he'd like to interview some of Styling's people to prepare a major profile on this organization that was leading the industry with great-looking cars. I set up the interviews and Joe got some good copy on Bill's studio chiefs which he published in the first of a multi-part series.
Bill Mitchell called me into his office, pointed to the issue and said, "This is exactly the kind of thing"-was I about to be praised?-"that I don't want." For perfectly good reasons, not least their exposure to the appeals of competitors, Bill didn't want chapter and verse published about his key people. I reported back to my boss Tom Groehn, who had been with GM since 1943. Tom went to bat for me, asking Joe Callahan to come in to try to persuade him to spike his later installments. Nothing doing, said Joe. This guy Ludvigsen set up the interviews and that was that.
This was an eye-opener for me. Suddenly journalists were no longer my pals, my colleagues. They weren't going to help me out of tough spots. Indeed, we were going to be at odds on many matters. I had to check more carefully before opening our doors to reporters, making sure that what we were releasing would be of real benefit to Mitchell, Styling and GM.
Somehow Bill and I got past this awkward initiation. In fact we worked well together for the next three years. Sensationally, as well, one of the perks of my job was the chance to demonstrate the Sting Ray to visiting dignitaries. Mitchell liked to show them that Styling Staff was more than renderings and clay models, that it believed in dynamic machinery as well. A few fast laps of the Saarinen-designed lake at the Tech Center usually did the job.
- Karl Ludvigsen
---
Farewell Phil
"Now I really feel like the world champion!" That was Phil Hill's pleasing comment when he sat down to lunch in Bill Mitchell's executive dining room in GM's Styling Staff late in 1961. Enzo Ferrari cheated Phil of the adulation that was his due by withdrawing his team from the U. S. Grand Prix at Watkins Glen after the Californian had clinched the championship at Monza. At the time Enzo was being henpecked by his wife Laura about expenses. He saw this as a saving that would placate her.
A tremendous racing enthusiast, Bill Mitchell extended to Hill an invitation to lunch at Styling Staff. This was always a special occasion with eight top people from Styling joining Bill and his honored guest around a circular table that has a built-in lazy susan which each diner can rotate electrically to bring condiments to his place by the press of a button.
At the time I was a freshly minted member of GM's Public Relations Staff, assigned to Styling and other Tech Center Staffs. I'd just arrived from Car and Driver, where it had been my very great pleasure to follow the progress of the 1961 season through our reports and photos from Jesse Alexander. In our January 1962 issue-my last-we published an interview I conducted with Phil about his season.
The interview turned out to be controversial, because Phil was critical of his team-mate Ricardo Rodriguez. "He's damn brave, that's all I can say," he said. "I know he's a skilled driver, but to do the things he's doing you've got to be 'way out and if he lives I'll be surprised." Phil also hinted that Rodriguez had contributed to the crash at Monza in 1961 that killed Wolfgang von Trips and 14 spectators. Hill's remark foreshadowed Ricardo's death in a Lotus only a year later when trying to seize the pole in his home-town Mexican Grand Prix.
My journalistic contacts in Europe came in handy when we organized the lunch for Phil at Styling. The great German photographer Julius Weitmann sent some of his stunning images of Hill in sports and G. P. Ferraris. These were vastly enlarged by Styling's experts and displayed not only in the dining room but also in the building's entrance atrium next to a checkered-flag motif with a bold number 1 in red. Mitchell's silver Stingray racer completed a striking ensemble.
It was an honor and a pleasure for us to break bread with America's newly minted champion, then at the peak of his powers. Much was made at the time of his downbeat look after the Italian G. P. that saw the death of his team-mate von Trips, rival for the championship. "There weren't any tears at Monza," Phil told me. "I felt sad, but there weren't any tears. After all, how would you feel if you'd been through this plenty of times before? Would you burst into tears? That was just something for the press to say, that's all."
In 1958 I followed Hill as a young reporter in Europe, courtesy of the U. S. Army. This was a big year for Phil with his win at Le Mans, his bravura performance in the 500 Miles of Monza driving a rampaging 4.1-liter single-seater Ferrari against the Indy cars, plus his end-of-season Grand Prix rides that helped secure the world championship for Britain's Mike Hawthorn.
Later in the early years of the Can-Am series I reported on Hill's drives in Jim Hall's revolutionary Chaparral 2E. In 1966 Jim Hall campaigned the Chaparral 2D coupe in international sports-car races with Phil and Jo Bonnier as drivers. Their first European appearance was at the daunting Nürburgring for the 1,000-kilometer race.
As usual the laid-back Texans arrived at the German track with their race car on a trailer behind a pickup truck and went about their business with a lethargic casualness that frustrated the impatient Hill. "Don't you guys realize this is the god-damn Nürburgring?" exclaimed the man who five years earlier was the first to lap its 14.2 miles in less than nine minutes. Hill and Bonnier went on to win sensationally with their automatic-transmission car.
When I was with Fiat in 1978 I accompanied a Road & Track team to Italy to drive and photograph some of our historic cars. Their team numbered editor Tony Hogg, photographer John Lamm and Phil Hill. Phil was both congenial and professional as we inspected various vintage Fiats and Lancias. That October we also did some driving around northern Italy that included a stop at a roadside restaurant, Café Milano, where Hill had dined in May of 1958. Both he and the proprietor were delighted to find Phil's "best wishes" inscribed in the visitors' book.
My last personal contact with Phil was in 1997 when I asked him to write a foreword to my book about Stirling Moss. In it Hill recalled "that cold, blustery Easter Monday in the spring of 1950 when I first saw him race his Cooper at Goodwood." Phil was then in England to attend service schools for British-car mechanics. Did the talented Californian come a long way from those years? Did he represent to the world the very best of American talent and sportsmanship? You better believe it! And, as Phil would often add for emphasis, "You know what I mean?"
Phil Hill left us on August 28, 2008.
- Karl Ludvigsen
---
How Junior Grew and Grew
In 1956 Count Giovanni Lurani-Cernuschi had an idea. "Johnny" Lurani, as the tall, elegant Italian was known to his friends around the world, was passionate about cars and motor sports. For more than 30 years he'd raced and broken records in Europe and abroad. Now he was the publisher-editor of an auto magazine and an FIA motorcycle-racing official. Perceiving a need, his idea was to create a new class of racing cars.
In those days Formula 1 was for 2.5-liter engines, supported by Formula 2 for cars with 1.5-liter engines. Below that was a mish-mash of various national racing categories like the old Formula 3 for 500 cc cars, popular in Britain, and Italy's 750 cc single-seater class. Could there be a more useful bottom rung on the single-seater road-racing ladder?
To meet this need Johnny Lurani took an initiative that led to a conclave of Italy's sporting commission on November 30, 1956 at which two ideas for a "starter formula" were reviewed. One was for an Italian version of American midget racing. Although it didn't fly, its proposed name "Junior" appealed. The other, put forward by the magazine Auto Italiana, required the use of many production-car parts and set a top engine-size limit of 1,100 cc.
Based on the latter proposal, rules were drawn up for an Italian "Formula Junior". The limit of 1,100 cc was adopted with a sliding scale of minimum weights that let smaller-engined cars weigh less. With both Lurani and Auto Italiana behind the initiative Italy's builders got busy, most using the Fiat 1100 pushrod four.
The first Formula Junior race took place on April 20, 1958 at Frascati, followed by a race five days later at Monza. Roberto Lippi won both in a Stanguellini. Lippi won again at Vallelunga on May 1st and a fourth time, leading a field of twenty, in a race before the 500 Miles of Monza on June 29th. Winning a few more races, Lippi and Stanguellini were dominant in the first Formula Junior mini-season whose Golden Jubilee we are celebrating this year.
Attending the 500 Miles of Monza in 1958, I saw and photographed these first Formula Juniors. After a visit to Vittorio Stanguellini's shop in Modena I filed a story to Sports Cars Illustrated on the new formula and its leading exponent. This appeared over six precious pages in the May 1959 issue of SCI, complete with a superb Clarence LaTourette cutaway of the Stanguellini. By then the formula had been officially adopted by the FIA.
That issue appeared about the same time I was mustered out of the Army and returned to New York where I became SCI's editor. I was heartily in favor of Formula Junior, which I saw as offering tremendous fun at moderate cost, and started promoting it heavily in my pages.
Our next big blast for the formula was in our March 1960 issue. "Is it dangerous?" I asked rhetorically, "Not by any normal standards. Does it feel 'different'? Not from any good racing sports car. Is it difficult to drive? Quite the contrary. Is it fun? Formula Junior is a four-alarm ball-at least from the driver's seat of a Taraschi."
I proceeded to give my impressions of a wet drive in the cramped cockpit of a Fiat-powered Taraschi, which I found "a heart-warming kind of car to drive". This was the beginning of a fruitful relationship with Great Neck, New York's Martin Biener. Backed by the family's Pontiac dealership, Marty Biener was selling Fiats, Lancias and Alfa Romeos. Though he missed out on the Stanguellinis, which Alfred Momo was importing, and the Oscas brought in by Luigi Chinetti, Marty locked up all the other Italian Junior builders.
Happily Marty Biener had no objection to promoting his cars through our pages. We featured three of them on our September 1960 cover using Irv Dolin's striking overhead shot. Inside my lead story described my drives in Volpini, Wainer and Dagrada Juniors-the first two at Lime Rock and the last at Bridgehampton. I liked the front-engined Volpini, built on the Stanguellini pattern, with more room in it than the rear-engined Wainer-both with modified Fiat fours.
The Dagrada was seriously exciting with 100 horsepower from its much-modified Lancia Appia vee-four. Its engine, I said, "winds with a sharp, crackling rasp that can be heard and recognized all the way around a race track." With no power at all below 4,500 rpm, above that it "comes wildly, violently alive", I discovered. And this at Bridgehampton, one of my favorite tracks.
We kept the fire burning under the Juniors, in June 1960 publishing a test of the Lotus that was to dominate the class and highlighting home-built cars in July 1960. We'd become Car and Driver in August 1961 when we featured California's Dolphin Junior on the cover with an ingenious split view that showed it both clothed and naked. Cutaways inside revealed the Lola, Bourgeault and rear-engined Dagrada Juniors as well as the Dolphin.
In 1961 Harry Morrow's Formula Junior Guide listed an astonishing 64 builders of Juniors in eight countries-and he missed quite a few. The hugely successful formula was in effect through 1963, after which it was replaced by Formula 3 for one-liter cars. Junior though the category was, it made a big contribution to the sport and to the early careers of many racing champions.
- Karl Ludvigsen
---
Tatra Tales
Journalist Gordon Wilkins wrote that "although it has an impressive performance, it produces in the driver the uneasy exhilaration which may be got from shampooing a lion." Consumer advocate Ralph Nader called it the only car that was less safe than the much-oft unjustly-maligned Corvair. The German Army was said to have barred its officers from driving it, lest their numbers be diminished even more rapidly than World War II was already managing.
How are we to evaluate these harsh estimations of the Type 87 Tatra? I found a good assessment to be 14 years of ownership of just such a car. Why did I buy a Tatra T87 from the Honda dealer to whom it had been traded for two motorcycles? I'd always nursed a passion for the innovative experiments of the 1930s with streamlined rear-engined cars. Burney, Stout, Tjaarda, Porsche, Fuller, Bel Geddes, Ledwinka and Schjolin were only the best-known of the many adventurous designers and engineers who saw the future of the automobile in rear engines and advanced aerodynamics.
Ledwinka was 59 when the T87 was introduced at the Prague Auto Salon in the autumn of 1937. Engineer Erich Übelacker worked under Ledwinka to create the astonishingly aerodynamic forms of the T87 and its predecessor the T77 (He had a hankering for sevens.). Before he left to join Steyr in 1936, Übelacker completed the upgrading of the first model to the T77a and the design and initial proving of the T87.
Tatra's T87 was enthusiastically welcomed by the German high command as a big, fast, comfortable courier that seemed tailor-made for the four-lane Autobahns that Fritz Todt's engineers were building throughout the Greater Reich. Todt himself owned and was driven in one, according to Tatra historians Ivan Margolius and John G. Henry. It was one of the more expensive cars of the day, selling in Germany for RM8,450. A 2½-liter 6-cylinder Opel Kapitän was less than half as costly at RM3,975.
Shorter and lighter than the more cumbersome T77, the T87 was the first Tatra to combine air cooling with a chain-driven single overhead camshaft for each cylinder bank, opening vee-inclined valves through rocker arms. Each aluminum cylinder head was individually cast. Built like a light-aircraft engine, it looked like one when the big rear deck was unlocked and lifted. From its 3.0 liters it developed 74 bhp at 3,500 rpm.
Modest though this power seems today, its V-8 was capable of speeding the T87 to 96 mph with standard tires and 103 mph with special high-speed tires. This was because the T87 not only looked aerodynamic, it was aerodynamic. A measurement of a drag coefficient of 0.24 made contemporaneously on a one-fifth-scale model seemed too low to be true and indeed was. When an actual T87-Hans Ledwinka's personal car-was tested in the big Volkswagen wind tunnel in 1979 it was found to have a coefficient of drag of Cd=0.36, still a stunningly low figure for the years in which it was built. Most cars then had a Cd well over 0.50.
Tatra's production of cars and trucks was integrated into those of the Third Reich's wartime vehicle sector, the rugged and fast T87 being seen as an useful addition to Germany's military capability. Among other applications the Luftwaffe was assigned one as an experimental vehicle. A military police unit that served in Italy and Yugoslavia maintained a fleet of T87s. Production of the T87 continued through the war, without interruption, to 1950. In all, 3,056 were made.
Made in 1947, my Type 87 was externally indistinguishable from the original of a decade earlier, apart from some ex post facto bumpers. It was said to have been resident in the United States for many years after being imported by the novelist John Steinbeck. Later owned by a motorcycle enthusiast who had no difficulty coping with an engine overhaul, it had clearly been driven far and fast.
Piloting the T87 produces a concatenation of impressions. Contrary to popular opinion there is some vision through the rear louvers-though an outside mirror is essential. Its rack-and-pinion steering is sublime-light, direct, precise as a fine machine tool. Yet its gear shift is redolent of an earlier era with its long, deliberate travel, distinctly notchy gate and absence of constant-mesh gearing in first and reverse.
The T87's performance is impressive. First and second gears are relatively short, well suited to hilly terrain. Sixty miles per hour is easily exceeded in third. The big Tatra cruises comfortably at any reasonable highway speed. And its top-speed claim was reinforced by the timing of a rebuilt T87 at a two-way average of 102 mph in Australia. The same car accelerated from rest to 50 mph in only 10 seconds, better than the 18 seconds recorded by Vauxhall's test of a war-weary vehicle.
Handling? Damped in rebound only-and firmly-the T87 copes brilliantly with a wide range of surfaces. Wet roads want watching but with sensible driving the Tatra is a pleasure to handle. And I experienced it at its worst: a rear-tire blowout at speed on the Connecticut Thruway! Substantial yaw angles were reached but, thanks to the T87's high polar moment of inertia and quick steering, I managed to gather it up and come safely to rest. So, I have shampooed the lion and lived to tell of it.
- Karl Ludvigsen
---
The Hubris Hazard
I've just come back from the Goodwood Festival of Speed. It lived up to its name with exciting machinery and the world's best drivers. Not so festive, however, was the experience of Mike O'Driscoll, the newly minted managing director of Jaguar Land Rover, the former Ford property recently sold by the Blue Oval to Tata of India.
Jaguar had a good idea. O'Driscoll would drive up the gentle slope of the Goodwood hillclimb in a historic bronze-hued XK120 coupe, the second right-hand-drive coupe produced. Fitted with a special Le Mans fuel tank, in August of 1952 it was driven on the banked track at Montlhéry in France at speeds of better than 100 mph by Stirling Moss among others to set nine speed records including four international marks. Still wearing the dust from its exploits, Jaguar LWK707 was a star of the subsequent London show and later at Paris.
Now XK120 coupe LWK707 is in the body shop for major repairs. On his first practice run up the Goodwood hill O'Driscoll left the road and hit something solid. He was evacuated to hospital for a checkup while the poor Jaguar, severely shunted for the first time in its 57 years, was hauled away in abject humiliation.
This reminded me of a much less public but no less mortifying incident on my own turf. When I was with Fiat Motors of North America in the late 1970s we imported two Fiat 131 Abarth rally cars to compete in SCCA national rallies with Alitalia backing. To celebrate this initiative with our staff at Fiat's posh Montvale, New Jersey headquarters we brought one car and its experienced rally driver to the site to give rides on the roadways around the building.
I made one point absolutely clear: no one on our staff would drive the precious race-prepared Fiat. Rides only were allowed. But for our service manager the temptation was too great. Somehow he wangled his way into the driver's seat. You guessed it-he crashed it. Just what we didn't need: repairs before we even started the campaign.
In my Ford days I had an unhappy experience of my own. A tradition in Germany was-and may still be-an "Academic" race meeting at Hockenheim at the end of the season. It was customary for interested executives of the auto companies to drive their race machinery at the track in a series of laps that were timed but without acknowledging a "winner" as such.
At the end of the 1980 and '81 seasons Bob Lutz and I took part in the "Academic". The cars were Ford's sensational Turbo Capris, prepared by Zakspeed. They had turbocharged Cosworth-based four-cylinder engines set into a tubular aluminum chassis clad in Capri-like bodywork with suitable wings and spoilers. Ultra-light with some 500 horsepower, these were serious racing machines.
Nineteen-eighty went well. The Zakspeed guys were happy with the way I put the pedal down in the 1.4-liter version of the Capri and improved my lap times at Hockenheim. Nineteen-eighty-one was another story. The Capri had a hand wheel that controlled the boost. When I started out I was so preoccupied with driving the car that I didn't spot that the boost was excessive. Had I done so I could have dialed back the pressure-but I didn't.
The result was one fried Turbo Capri four. When I okayed Zakspeed's invoice for the repairs I said that at those prices they really should give me the destroyed engine to display in my office. I wasn't entirely kidding. The day at Hockenheim didn't get a lot better. I stepped into one of our race-prepared Escorts, only to have flames burst from the hood. Not my fault this time, but not a lot of fun.
I wasn't the only executive to come unstuck in the "Academic" races. All the top men at Porsche rate themselves good drivers, which accounts for the excellence of their cars. In 1990 Porsche's board member for engineering was especially enthusiastic driver Ulrich Bez. He arranged a private test session to warm up for the "Academic". Hitting a wall, he cracked a vertebra. Bez chaired his next board-level product meeting at Weissach while wearing a surgical corset.
Of course there are excellent drivers among the motor industry's top ranks. Ulrich Bez is one of them. Now running Aston Martin, he takes part in the Le Mans Classic races with co-drivers of the class of Stirling Moss and also competes in the 24 Hours of the Nürburgring with his company's cars. Bob Lutz too is a first-class driver. He showed terrific consistency in the "Academic" lap times.
Another engineer and industry chief who could drive was Ferdinand Porsche. He won hillclimbs with cars of his own design and led his Austro Daimler team to a one-two-three victory in the 1910 Prince Heinrich Trophy. Porsche even test-drove his mid-engined Auto Union Grand Prix car in 1934 at the age of 59. On the road he was a take-no-prisoners terror.
Porsche was the reason why I was at Goodwood. There I joined with Ernst Piëch, Ferdinand Porsche's eldest grandson, to launch our new book about Porsche's early life and work titled-appropriately enough-Genesis of Genius. Ernst has had one of Porsche's 1910 team Austro Daimlers magnificently restored. He drove it up the hill with great confidence and aplomb. It seems to run in the family.
- Karl Ludvigsen
---
Travels in the Land of Nod
"Clunk clunk!" That's the sound I felt as much as heard, two impacts in quick succession. I was at the wheel of my MG TC. It was dark. I suddenly remembered I was somewhere in upstate Massachusetts, heading east toward Boston to resume my studies at MIT. Next to me was my friend Ben Dysart, clutching his ukulele. He looked at me in some bemusement. What was happening?
I pulled to the verge and stopped. We got out, walked around the MG. All seemed well. But then I took a closer look at the knock-off nuts on the left-hand side. Both had scrapes and scratches. The worst of them, which needed to be replaced, is in front of me as I write.
What had happened? We got back in. With no traffic on this one-way stretch of two-lane at this ungodly hour I reversed down the asphalt. Soon on the left we saw two concrete posts, flanking a culvert. With both driver and passenger sound asleep, the TC had gently veered off toward the left and just clipped the two posts with its knock-offs, waking us up.
I was reminded of this incident by the recent experience of an Irish singer named Tommy Fleming. Hailed in his homeland as one of Ireland's biggest singing stars, Fleming was booked for appearances on a string of radio stations. In one day he drove from Cork to Carlow, from there to Limerick and on to Galway, then to Sligo. He was headed home to Ballina when he dozed off and veered off the road-straight into a tree.
Fleming was knocked out. When he came to his car was on fire. Luckily he was able to get out. "I got up and in a daze began walking," said Tommy. "The car blew up twenty minutes after I got out of it. It all seems surreal when I look back on it because so many things happened that could have killed me." What Tommy Fleming thought was whiplash turned out to be a broken vertebra that put him in a brace for four months.
Sitting in my MG in the dead of night on a deserted highway in Massachusetts I felt pretty surreal as well. Like Fleming I could just as easily have piled straight into those posts. With no seat belts or air bags the result would have been certain death or disablement. Someone, it seemed, had decided that I should be saved for another day.
In spite of this near-disaster I continued to reckon that all-night driving was one of my strengths. I carried on commuting between my home in Michigan and schools in the East, some 800 miles, in straight-through drives in those days before Interstates. I shrugged away the "clunk clunk" incident as a one-off and persevered with marathon motoring.
In the summer of 1956 I was working at GM Styling Staff in the Technical Center at Warren, Michigan. As wheels I had a white Alfa Romeo Giulietta spider, a nifty car by the standards of then or any day. In the autumn I left the services of GM after accepting the post of technical editor of Sports Cars Illustrated. That meant a trip in the Alfa from Detroit to New York with some of my worldly goods.
I did one of my usual overnight straight-through drives, stopping in the Catskills to see my girlfriend, who was working in one of the area's famous resorts. After we spent the day together I headed for New York. The day was warm and sunny, the New York Thruway broad and gently curving. My view ahead was one of those curves, curling off into the distance…
…until, to my shock, instantly the view was a row of toll gates approaching me at a good 60 miles per hour. They…were…right there! My Alfa was aimed not at one of the long concrete abutments that extended out between the toll gates but rather right into one of the gates. In it was a car, possibly a Pontiac, whose driver had a languid arm extended in expectation of change.
I slammed on the Alfa's powerful drum brakes. Its Michelins howled as they scrubbed off speed. The Giulietta yawed slightly and was still at a slight angle when, slewing between the toll gate's concrete piers, it smote the rear of the Pontiac, which lurched forward.
Though impact speed was low, damage resulted. The front of the Alfa was crushed at the angle of its yawing closure. The Pontiac's lady driver claimed whiplash with the usual lengthy and tedious insurance consequences. I was all right, albeit mentally bruised and mortified.
This was a most miraculous avoidance. I could easily have gone off the road anywhere. I could easily have remained asleep when crashing into the toll plaza. I could easily have been aiming at one of the abutments instead of the gate; there'd been no time to think of changing the Alfa's trajectory. As fortunate escapes this topped the "clunk clunk" episode of a few years earlier.
Needless to say, I gave up overnight drives. In fact since then I've never been a fan of long motor trips. I like short, sharp drives with plenty of curves and corners to test both car and driver. I guess I'm pretty lucky to be around to enjoy them.
- Karl Ludvigsen
---
Picturing Rudy Mailander
I'm not sure when the penny dropped. I arrived in Stuttgart in February of 1958 as a private in Uncle Sam's Army, trained to fix field radios. My Signal Corps unit was based at Böblingen, south-west of Stuttgart, where I cooled my boots until they decided where in Germany they'd send me to carry out second-echelon repairs.
Needless to say when I knew I was Germany-bound I hadn't been slow to make contact with Daimler-Benz, about whose cars I had written before my career as technical editor of Sports Cars Illustrated was cut short by the draft. When called from Böblingen I was put through to the Mercedes man who dealt with the foreign press, a fellow named Rudy Mailander. We agreed to meet; he fetched me from the Kaserne on a snowy evening.
We enjoyed a genial dinner in downtown Stuttgart, opposite the Bahnhof, and he drove me back to Böblingen. During that dinner it must have dawned on me that my host was the Rodolfo Mailander, the photojournalist whose illustrated reports from Europe I'd enjoyed in Auto Speed & Sport. In this worthy effort by Robert Petersen in 1952 and '53 to barge into Road & Track territory with a monthly for the sporty set, Mailander's material was among its strongest offerings. I'd also seen the Mailander credit in Automobile Year among other publications.
Since 1955 the cosmopolitan and polished Mailander had been working for Daimler-Benz. Though he'd sold his Leica-to his later regret-he still had his photographic archives. During my spare time from radio repair I was still writing for SCI, so I went through his contact prints and asked for a number of images that I needed for my own journalism.
Our relationship became more than professional. Rudy and his wife visited in Munich, where I was assigned, and we saw them in Stuttgart as well. We kept in touch when I returned to the States. During these years Rudy joined Fiat, he and Helga settling in a wonderful old house part-way up the vertiginous climb to the Superga Basilica on the eastern outskirts of Turin. From 1902 to 1960 this was the venue for the 2.9-mile Sassi-Superga hillclimb. So steep was the twisting road that the arrival of front-drive Fiats in the 1960s meant that in winter it could only be mounted in reverse.
The Mailander house was lovely, set back into the hillside. The only problem was that it was threatening to slide down into the road and off the hill. In the early 1970s Rudy decided to fund the necessary building work by selling his photo archive. He and I had kept in touch on this topic. As luck had it I was able to prevent his well-ordered negatives and contact prints from joining the Kurt Wörner archive at Road & Track.
Rudy Mailander and I became professionally linked at the end of the 1970s when I joined Fiat Motors of North America; we had some business areas in common. By then he'd risen to the top floor of Fiat's headquarters at Corso Marconi 10 and a senior role as aide-de-camp to the Avvocato himself, Gianni Agnelli. Thanks in part to his mastery of the main languages he was widely active in Fiat's governmental and quasi-governmental contacts and initiatives around the world.
Early in the 1980s Rudy and I shared similar portfolios when I moved to Ford of Europe in England to look after governmental affairs as well as motor sports. When I bought a Stratos from Lancia he garaged it for a while at his new house in the country, not far from Fiat's proving ground at La Mandria.
Rudy's life was clouded when Helga died all too young. Their daughters, Monica and Carolina, are beautiful and brilliant reminders of that relationship. Later Mailander met and married Carla, with whom he shared the Turin home and a flat in Nice. Our friendship was the best possible reason for my wife Annette and me to head for Turin during the autumnal white-truffle season. Rudy reciprocated by visiting London when many of his stunning images of the Mille Miglia starred in a major exhibition at Connollys.
The Mailander images are the core of the holdings of the Ludvigsen Library, which provides car and motor-racing images to publishers and collectors world-wide. I first started drawing on them in depth in 1997 when they richly illustrated my biography of Stirling Moss. Rudy and Moss became friends in 1950 when the young Briton was first campaigning seriously on the Continent. When Rudy asked Moss where, on a circuit, he should position himself to get the best photos, Stirling was quick to help. After Moss crashed two races in a row just where he'd suggested that Mailander stand, he quit providing advice!
I last spent quality time with Rudy when I was planning my book Ferrari by Mailander, which features 500 of his images. We had a great time looking through them while he recalled the people and events. I'd planned to do likewise for an upcoming book, Porsche by Mailander, when I received news that Rudy was seriously unwell. He left hospital for his home, where he died in the early morning of April 1st at the age of 85. I'm missing him a lot. But thanks to his daughters and their families I'll still feel very much at home in Turin.
- Karl Ludvigsen
---
Meeting Mister Mercedes
While studying industrial design at Pratt Institute in Brooklyn in 1954 I received an unusual request from an old friend. Tom Mix at Foreign Motors in Boston had bought a Type K Mercedes and wanted it picked up from the New York docks, where it had just arrived from England. This K lost its bodywork during World War II and for some time suffered the ignominy of being used for "agricultural purposes". It then acquired a rudimentary two-seater body before falling into Tom's orbit..
We're talking about a big, impressive and exotic Mercedes, the work of Ferdinand Porsche during his five-year spell as the company's chief engineer. The first cars of this type were built in 1925, roughly six months before the merger with Benz, so were thus strictly Mercedes vehicles. Officially the Type 24/100/140, they became known as the 33/180K in England and simply as the Type K after their successors arrived in the form of the Types S, SS and SSK.
Tall and imposing, the K was powered by six cylinders of 94 x 150 mm for 6,245 cc. Two overhead valves per cylinder were operated by rockers from a single overhead camshaft, which was driven by a vertical shaft at the rear. The magnificent vee radiator was of true honeycomb construction while three great outside exhaust pipes were protected by chromed flexible covering. When engaged by pressing the throttle pedal, a vertical Roots-type blower at the front of the engine boosted output to 140 bhp at 3,200 rpm, up from the usual 100 bhp. Big cable-operated brakes were assisted by a Bosch-Dewandre vacuum servo.
Tom warned me that a split plate in the clutch prevented its full disengagement. As well the generator and starter were inoperative. Armed with this encouraging information, plus goggles and sou'wester, I confronted the personnel of Cunard Dock Number 90 in New York. Their incredulity was unconcealed. Yes, the old crate would run. Yes, I was going to drive it to Boston. Yes, I guess I was nuts.
At a nearby garage the essential liquids were added. Then I went through the starting drill, which went as follows:
hand throttle shut;
ignition fully retarded;
mixture control full rich;
open fuel shut-off under cowl;
prime by lifting float lever under hex nut on back of carburetor;
open hand throttle six notches;
turn on magneto;
turn on coil;
pull up smartly on crank.
The several score bystanders were dumbfounded when the Mercedes roared to life on the fifth twirl, but I just casually moved the spark to full advance and mixture to lean. I then lowered myself into the ample bucket seat behind the cord-wrapped steering wheel on the right-hand side. My right knee shared space with the handbrake and gear lever, the latter sliding smoothly in its machined gate. The pedal arrangement featured an accelerator between the clutch and brake.
My first concern was getting used to the gear-selection system. Each ratio had its own distinctive screech, whine or growl. Starting from rest was eased by a transmission countershaft brake. Clutch action was remarkably smooth but the split disc caused drag even when fully disengaged, drag which quickly brought heat and even more drag. A gear could only be disengaged at that precise moment passing from acceleration to overrun when no power was being transmitted. Only near Hartford, Connecticut did I finally achieve smooth and silent progression through all speeds.
On good roads the K's steering was superb with about one-and-three-quarters turns lock to lock. Direction changing was a matter of thought rather than effort. Over bumps, however, this same sensitivity resulted in strong steering-wheel kickback so my grip had to be loose to avoid the worst of this. While the suspension soaked up small irregularities, the low sprung-to-unsprung-weight ratio at the rear made that end more sensitive. On one bumpy bend I was really motoring until car and steering wheel started leaping about alarmingly. I sat back entirely helpless, waiting until the oscillations died down.
Trundling out of New York up the West Side Drive I'd been disappointed with the feel of the car and engine because it seemed loose, noisy and disjointed. When the cruising speed of 2,000 rpm (or 60 mph) was reached, however, individual disturbances seemed to blend and smooth out as the K got into its stride. The big six responded instantly to the throttle with a sharp and regular exhaust note.
This was as naught compared to the sensation when the blower was engaged. Past a distinct stop in the throttle's travel things began to happen. With the whistling shriek of its blower and a spirited exhaust crackle the Mercedes surged forward with renewed purpose. To be at those lofty controls, blasting along with the wind howling over the racing screen, was a great motoring experience.
The trip to Boston was, of course, eventful. The Mercedes and I came to a classic boil on a detour, smoke and steam pouring from every crevice. We managed to average 40 mph for the trip, however, and traveled 9.5 miles for every gallon of gas. Most rewardingly I was able to get an inkling of the responsiveness and sheer brute power which, developed and refined, were to carry Rudy Caracciola, Hans Stuck and Manfred von Brauchitsch to many immortal racing triumphs.
- Karl Ludvigsen
---
Bravo Paul Frère
I first read about Paul Frère in the June 16, 1948 issue of The Motor. Two of its editors were visiting Belgium to try various American cars, including the Frazer for whose importer Frère worked as service manager. The Englishmen were important contacts for car-mad Frère, who was beginning a career as an automotive journalist while also competing successfully in motorcycle trials and races.
Born in France of Belgian parents in 1917, Paul Frère moved frequently on the Continent as a youth. This brought him the flawless command of Dutch, French, German, Italian and English with which he communicated with people at all levels of the industry and sport. Having earned a commercial engineering degree from Brussels University, as a Belgian citizen young Frère managed not to be caught up in the war's devastation. He started writing for various local journals including Belgique Automobile.
A career breakthrough came in 1952 when Frère was appointed co-editor of Royal Auto, the organ of Belgium's Royal Automobile Club. His joint editor was Jacques Ickx, who had an outstanding reputation as editor, journalist, historian and all-around expert. The generous Ickx, father of future racing driver Jackie Ickx, gave the 35-year-old Frère warm introductions to leading industry figures. With this as a stable base for the first time, Paul started taking his racing seriously.
While most auto journalists fancy themselves excellent drivers, Paul Frère really was. And he was successful in the most unlikely cars. In 1952 he won a production-car race on Belgium's Spa circuit driving an Oldsmobile 88. The next year he won his class in the demanding Mille Miglia. His mount, which was all but brakeless for the last 400 of the 1,000 miles, was a 1952 Chrysler Saratoga with Torqueflite transmission.
His 1952 success with the Oldsmobile led to an invitation to compete in that year's Belgian Grand Prix if he could find a suitable car. Paul approached the British HWM team, which offered him a mount for a lesser event at Chimay instead. This the journalist promptly won, setting a new lap record when taking the lead on the last corner of the last lap. This sealed a seat in the team for the Spa race in which Frère finished an excellent fifth.
This remained Paul's best result for HWM, for whom he drove a few more times before switching to Gordini in 1954, when he retired in his three outings. He did enough, however, to come to the attention of Ferrari. Frère raced Formula 1 cars for Ferrari three times, placing fourth in the Belgian G. P. in 1955 and an excellent second in the same race in 1956. After this fine result Enzo Ferrari offered Paul a permanent post at Maranello in charge of car preparation and testing plus a regular place in the sports-car team. He decided against the move to Italy that the job would have required.
Sandy-haired, open-faced and very fit, Paul Frère kept racing with the Ecurie Nationale Belge, whose patron Pierre Stasse was publisher of Les Sports for which our hero was now writing. Starting in 1952 Paul was a regular competitor at Le Mans, driving class-winning cars. After co-driving Aston Martins to second place twice in a row Frère decided to make an all-out attempt to win. This meant a Ferrari, so in 1960 he pulled some strings to wangle a seat in a Testarossa. He and Olivier Gendebien were the team's only survivors - and the winners.
As an industry insider Paul Frère was often asked for private opinions about new models, a role that developed into regular consultancies for a tire maker and for Lancia, Fiat and Mazda. His close relationship with Ferdinand Piëch at Porsche led to several books about their racing cars and his stand-alone work on the 911. As well it gave him the chance to test-drive almost every racing Porsche of his era. For almost 40 years Paul was a regular contributor to Japan's Car Graphic while his tenure as European Editor of Road & Track was almost as long.
For a dozen years Frère was a member of the FISA Technical Commission that drew up rules for international racing. His was the idea that led to the Group C regulation starting in 1982 that controlled cars only by the amount of fuel they were allowed to carry. Though Paul wasn't entirely happy with the way this was implemented, it led to a great era in endurance racing.
Paul Frère's many fans were delighted when he put his personal experiences between hard covers in On the Starting Grid, Sports Car and Competition Driving and My Life Full of Cars. I didn't hesitate to comb them for gems that could sparkle in my own works. My latest book, Red-Hot Rivals, is about the epic battles between Ferrari and Maserati from the 1940s through the 1960s. He recalled "team manager Nello Ugolini briefing us - Farina, Trintignant and myself - on the morning of the 1955 Belgian Grand Prix and making his recommendation: 'We know that the Mercedes will be very difficult to beat, but our main target is to beat the Maseratis.' On that occasion we did, Farina taking third place and myself fourth."
Thanks for that, Paul, and farewell. On February 23, at the age of 91, Paul Frère died at Saint-Paul-de-Vence in the south of France where he had long dwelled.
- Karl Ludvigsen
---
Morganantics
While a student at MIT in the early 1950s I had quite a lot to do with Morgans. One of my hangouts was Gaston Andrey, Inc in Chestnut Hill, where ambitious and able Swiss Gus Andrey sold, repaired and race-prepared foreign sports cars. He took the Morgan to heart, so effectively in fact that in 1955 he drove one to the SCCA's E Production National Championship.
For a Boston advertising agency chief who wanted more pep from his Morgan, Gus Andrey's team carried out one of the pioneering Chevrolet V-8 installations in an import. This was late 1955 when folks were just picking up on the potential of Ed Cole's Chevy eight. Andrey's conversion created what was certainly the first Morgan Plus Eight. Weighing only 2,050 pounds, with a standard 162-horse V-8 it accelerated to 60 in 6.8 seconds and reached 100 mph in 18.5 seconds. Strong stuff for 50 years ago. I likened it to "sitting astride a keg of dynamite".
My next outing in a Morgan was in 1956 when I road-tested a race-prepared Plus Four for Sports Cars Illustrated. Stripped of front bumper and grille, this blue-striped white roadster had a straight-though exhaust that earned my neighbors' disapproval. Its zero to 60 time of 11.2 seconds didn't fully reflect its liveliness because I had to shift from second to third at 58. Don Typond and I clocked its top speed at exactly 100 mph.
"That long, louvered hood is best viewed from the driver's seat," I concluded my test, "where we guarantee it will give the meekest of chauffeurs an anticipatory thrill. It's no ruse, for the Morgan knows its purpose in life and has been at it a lot longer than most of these upstarts. Just tell it you're the boss and you'll have made the sincerest of friends."
A Morgan flickered on my radar again in 1963. Mortified by the damage being done to my 300SL Gullwing by the salt on Detroit's streets - it was my daily driver - I parted with it. Now I needed a new two-seater for my commute to GM's offices at the Tech Center and West Grand Boulevard. But what about the salt? Aha, I thought, the Morgan! Ash-framed body and wooden floor panels! What could be better?
I got in touch with the Morgan dealer in Lansing, who was able to supply a British Racing Green Plus Four - just the ticket. After they delivered it to me in Pleasant Ridge my wife and I headed for Woodward Avenue for a first impression. Quite a change from the 300SL! It was - and felt - rough and basic to say the least. But the view down that louvered hood was indeed the greatest.
Heading into winter as we were, the first order of business was to sort out a heater. This amenity, not to be overlooked in snowy and icy Detroit, was neither standard nor an option on a Plus Four. At first glance I could see why, because there seemed no place to put it! However a look at the ever-reliable Sears catalogue revealed the solution: an under-seat heater. No, not under the Morgan's seats. Virtually on the floor, they consisted of nothing but rubber bladders. Instead we mounted the heater with its electric fan under the dash and plumbed it into the engine. It did the job extremely well.
Of course the Plus Four was a top-down kind of car. Its ride quality was all but non-existent while its handling combined strong understeer with heavy steering, leading me to conclude in my road test that "the Morgan will go wherever you have the strength to point it. The rear end just follows along and never gets out of hand." It shifted well and had plenty of punch from its twin-carb Triumph TR four.
At the end of '63 I took the Morgan to New York, where I had a new job with GM's Overseas Operations Division. There it was my habit to drive into the Bronx and park near the station from which I took the subway to work. One day I'd had a lift home so the Morgan was still parked when, sitting down to dinner, I had a call from the police. A truck driver had lost control and skidded, on a downslope, into the Morgan. It was no longer driveable.
My insurer decided to repair the Morgan at a body shop in the Bronx. This was all very well in principle, but getting the needed parts was beyond anyone's capabilities. Morgan, it seemed, was much more interested in using parts to build new cars than in wasting them on cars already on the road. Luckily I had friends in England, the white-coated Doctors of Motors you may recall from the Connaught saga. They came to the rescue by traveling personally to Malvern Link to collect the parts.
The poor condition of New York's streets was my cue to sell the repaired Morgan. It had been one of my shorter relationships, one from which I concluded that a Morgan was less a car than it was a state of mind. I was glad to have owned it, lacking though it was in many of the attributes that a modern car requires. Okay, so how come I always gravitate toward the Plus Fours when I'm leafing through the classic-car magazines? Maybe I haven't quite gotten Morgans out of my system.
- Karl Ludvigsen
---
How Big Are Wankel Engines?
Your editor's eyebrows shot sky-high when I submitted my article on the design of the Mazda RX-7. I said that its rotary engine had "a displacement of 573 cc per working chamber. Since there were two rotors and three cells per rotor, that added up to a total capacity of 3,438 cc."
Cue editorial response! "It's been my understanding that the 12A displaced 573 cc per rotor for a total of 1,146 cc," queried Mr. Fitzgerald, "and for Japanese tax purposes the engine was rated at 1.5 times the nominal displacement for 1,719 cc. I've never heard of the 12A being described as anything other than a sub-2.0-liter engine."
The reason for that is simple, I told Craig: Mazda has been misrepresenting the actual displacement of its rotary engine for decades.
I first got involved in this in the early 1970s, the Wankel's heyday. That's when almost everybody was interested in this ingenious new engine, for good reason. Covering it closely as a journalist, I was happy with the convention that the displacement of a singe rotor was rated as double the swept volume of one of the three combustion chambers that surrounded that rotor.
There seemed to be some logic to this. At the output shaft this matched the pattern of power strokes of a four-stroke engine. This was the rating used by the international racing authorities for Wankel displacement. As well heavyweights in the Wankel world, Daimler-Benz, Ford and General Motors, concluded that the "equivalent displacement" was double that of a single chamber. On that basis the RX-7, with its two rotors, would have a displacement of 573 cc x 2 x 2 or 2,292 cc.
Then one evening in 1973 I was dining at the Dearborn Inn with G. Fred Leydorf, an advanced-engine engineer at American Motors. Fred had worked on a joint rotary-engine project with Renault and was liaising with Curtiss-Wright on the Wankel engine that was scheduled to power the Pacer. He knew his rotaries.
"The thing about the Wankel," said Fred, "is that its displacement is bigger than people think. You have to follow all its chambers through their complete working cycles. With the Wankel that takes three revolutions of its output shaft, not the four-stroke reciprocating engine's two revolutions. If you do that, you find that all three chambers of each rotor complete the four-stroke cycle - so they have to be counted in its displacement."
The light dawns! Suddenly the Wankel is seen for what it is: a brilliant design that packs a lot of working volume into a small package. You'd think its creators would be boasting about how much "cylinder" capacity they've managed to build into its compact housing, a tribute to Felix Wankel's genius. In a 1963 study of racing classifications one of Europe's most respected engine experts, Prof. Eberan von Eberhorst, came down firmly in favor of a triple-chamber rating.
That's just the way the engine was seen at first by Germany's NSU, the little company that took the gamble of licensing and building the first Wankels. When Max Bentele, then a Curtiss-Wright engineer, first visited NSU in mid-1958 he copied down a list of all NSU's present and future Wankels. NSU showed the displacement of each as triple its single chamber. The first engines, which had 125 cc chambers, were classified as 375 cc. Projected engines with 500 cc chambers were described as 1.5-liter units in single-rotor form and as 3.0-liter engines with two rotors.
Bentele brought the NSU engineers up short. "Aren't you asking for trouble?" he said. "We have no problem in the US with taxation on the basis of engine size, but you do in Europe. Why do you mention three chambers when you could mention only one?" NSU did indeed go back to a single-chamber rating for all its Wankels. Mazda did likewise and has done so ever since.
I did some writing on the subject in 1973 that led to correspondence with many experts including Felix Wankel. Then I got involved in the discussion for real in 1974 when I learned that the Society of Automotive Engineers (SAE) was setting up a Rotary Engine Subcommittee to establish clear definitions for the engine's components and functions so that all engineers could sing from the same song sheet. I managed to wangle a place for myself on the Subcommittee.
Needless to say I pushed hard for all three chambers to be counted in a definition of displacement. My first proposal was for that to be adopted in parallel with an "SAE displacement" of two chambers per rotor to pacify the car makers who were comfortable with this. At a Subcommittee meeting on February 25, 1975 I made a major presentation, complete with slides, defending the counting of all three chambers of any and all rotors.
Had I not weighed in as I did I'm pretty sure that SAE J1220, approved in June 1978, wouldn't have included a definition that counted all three chambers. In fact, unable to agree, we hedged our bets by satisfying everybody. One chamber was defined as "Geometric Displacement", two were "Equivalent Displacement" and three were "Thermodynamic Displacement".
You can take your pick. But believe me, if you want to understand the Wankel's pros and cons the best way to do so is to consider all three chambers of each rotor - even if Mazda doesn't want to!
- Karl Ludvigsen
---
Connaught Capers - Part 3
I was at the Brooklyn docks to collect - with some trepidation - the 1949 Connaught L2 sports car I purchased in May of 1968 from London's Portobello Motors, one of the quirkiest car dealers on the planet. This was the company of which my friend Dennis May had written that it's "the sort of firm, scruffy and insouciant to the nth degree, that I'd hate to do business with at a range of 3000 miles." Dennis had been scathing about both the dealership and the condition of the Lea-Francis-based Connaught.
By now my expectations were so modest that when I finally set eyes on AHC 82 I was pleasantly surprised. The dark-green Connaught was complete as described, with the regrettable addition of a fresh dent in its rear. Having brought a tow rope on the recommendation of Portobello's Eric Lister, in view of the supposed tightness of its recently rebuilt engine, colleague Judy Stropus gave me a tug. The 2.5-liter four fired up, ready to rumble. After stopping for gasoline I was soon home in Pelham Manor.
Representing as it did a net investment of $450, the Connaught didn't disappoint. It did indeed have a dash full of instruments that all worked. There was no sign of the smoke and noise that had alarmed my inspectors. Although the bodywork had been modified, with added space behind the seats and a flow-through line joining the originally individual fenders, it had its own funky character. And it was a Connaught, the fourth car made by the company in Send, Surrey that in 1955 had scored Britain's first post-war Grand Prix victory.
I was eager to show off my exotic new acquisition at a Bridgehampton meeting of the Vintage Sports Car Club of America. The trip out to the end of Long Island and back went well and the Connaught was competent on the demanding circuit. Its only fault was a tendency to jump out of gear; I took a passenger whose job was to hold it in.
Back home in Pelham Manor I was looking the car over when I noticed water where water shouldn't be. I reported my findings to Eric Lister: "I have discovered that there is an extensive crack in the upper right water jacket of the Connaught block. I know this didn't happen during shipping because the weather was not cold and because the crack was covered up by some kind of plastic goop, over which was a fresh coat of red paint. Now, it's evident to me that the presence of this crack must have been known to you or to your mechanic, if you had the engine out for repairs, as you say you did and as I believe you did. This crack presents me with the most fundamental kind of additional work on this car."
Completely in character Lister was insouciant in reply. "Most unfortunately our star mechanic Black Jake was recently involved in a rather serious industrial accident in the welding shop," he wrote, "and as he is in hospital I just can't broach the subject with him at the moment. However I have spoken to his assistant who tells me that he did have knowledge of such a crack. As I am not a mechanic myself I was not aware of this and would have notified you if I had been."
I was on the horns of a first-class dilemma. I had a Connaught whose non-original engine - 2.5 instead of 1.8 liters - had a cracked block. It was a nice enough engine made by Lea-Francis that had been in the car since 1953. Should I fix it or should I find a 1.8-liter to replace it? Deciding on the latter course I found that VSCCA member Tom Stewart had a disassembled unit of just the kind I needed. Late in 1968 both the engine and the car were at the workshop of mechanical genius Jim McGee on Long Island to be rebuilt and mated.
Jim never got around to the job. When after several years I collected the Connaught the proverbial trees were growing through its cockpit. AHC 82 languished in my garage while I continued to contemplate her future. Should the body be restored to its original shape? What about the engine? I hadn't made a decision when, in 1980, I went to work for Ford of Europe in England. Soon I arranged for the Connaught and its spare engine, still disassembled, to return to the country of their birth.
The veteran was now in a sorry state. I explored options for restoration in the UK but the projected costs were daunting. Meanwhile with my Aston Martin I was starting from Bath on a classic-car run in 1986 when none other than Eric Lister came up and introduced himself. After some to-ing and fro-ing he met me in London at the Royal Automobile Club. Over a good lunch we put our differences behind us.
Ultimately in 1987 I sold the Connaught to Duncan Rabagliati, eminent historian of racing cars in general and Connaughts in particular and a renowned collector of lost causes. Over years Duncan gradually brought her back to life, ultimately for his daughter to drive. I saw AHC 82 again in 1998 at a gathering at the old Connaught works to celebrate 50 years of the company's founding. She looked good. But I had no regrets.
- Karl Ludvigsen
---
Connaught Capers - Part 2
Last month I'd had the reaction of Eric Lister of London's Portobello Motors to the findings of the two men whom I described to him as "among the leading U.K. experts on Old Cars" concerning the Connaught L2 sports car I was planning to purchase from the other side of the Atlantic in 1968. "Mr. Rolls and Mr. Royce perhaps?" he hazarded in his reply. The concerns of my experts about the Connaught's smoky, noisy and erratic running had caused me to pressure Lister that the car's problems would be sorted before the car was shipped.
Why - you might well ask - was I still willing to consider buying this car? After my Doctors of Motors had rendered a negative verdict on both condition and originality? Good question. But I was besotted by the idea of a Connaught. Starting with the sports cars, of which they made 14, Connaught went on to produce their A-Series Formula 2 racing cars and then, in 1954, their B-Series Grand Prix cars. Driven by Tony Brooks, one of these was the first British car to win a modern Formula 1 race at Syracuse in Sicily at the end of 1955. Connaught carried on through 1957, after which season it closed its doors. When its assets were auctioned they gave Bernie Ecclestone his first step on the Formula 1 ladder.
In 1963 I'd met Rodney Clarke, Connaught's creative spirit, when he visited New York. His designs and ideas were always advanced, sometimes too much so for the modest finances provided by his backer Kenneth McAlpine, and his engineering standards first-class. Thus in addition to admiring the achievements of this pioneer British racing-car company I felt a personal link through the tall, red-haired Clarke, who'd been the first to build and race a fuel-injected Grand Prix car.
Portobello's Lister did his best to reassure me that I wasn't altogether leaping into the unknown. "I would like to stress most emphatically on Black Jake's instructions," he wrote, referring to his mechanical minder, "that you must run this car in very carefully as it is exceptionally tight and that means that you should not exceed 45 mph in top gear for at least 1000 miles and then increase the speed progressively. The engine has been running for six hours only since the new crankshaft and bearings were fitted; it is still very tight indeed. When she feels easier, have the carburetors tuned and synchronized.
"Don't forget my remarks about old cars," Eric Lister added. "They do give trouble, but this can be kept to a minimum if you put into them what you take out. It is my own policy never to drive old cars fast as they last longer if you treat them gently. It is quite ridiculous what people do with old cars. They expect a 20-year-old vehicle to have exactly the same performance as when it was brand new. No respect at all for nice old machinery." These admonitions weren't exactly what I wanted to hear, because as a member of the Vintage Sports Car Club of America I was planning to race the Connaught!
After he drove my Connaught "out of the garage and made sure that it was fastened securely onto the transporter on its way to the docks at Southampton," Eric Lister felt it was time to brief me on what to do when it arrived. Doubtless, he wrote, "the battery will need charging as it really has to be at peak charge to start her, so these are the instructions: pull out choke to right of steering column; flip the first three switches on the left of steering column down; you will then hear the electric pumps clicking. With it being an open car, I am assuming that sometime during its journey people will fool around with the switches, so make sure that they are all up before attempting to start it. Then if she doesn't start on the button, fix a tow rope to the front axle, pull her for about 50 yards in third gear and she will definitely start.
"After that," Lister admonished, "make sure the battery is very well charged and run her at least 500 miles at very low speeds before gradually opening her up a bit. The 'T' key for opening the trunk is under the driver's seat. There are no ignition keys, so make sure all switches are up before leaving the car. Side curtains are at the rear of the seats and that's just about all."
The Connaught was put aboard the Blue Grass State on May 13th, 1968. The pre-shipment list of damages for insurance purposes contained an impressive litany of faults: "seat back seams split - upholstery and dashboard soiled and damp - rear panel and number plate surround chipped, rust and dented - boot lid chipped all over - left door chipped all over and scratched - right door chipped edges - bent left rear wing scratched and chipped, large piece touched up" and much more of that ilk.
Before the end of May the Connaught was decanted at the Columbia Street Pier in Brooklyn. Al Rappaport of General American Shippers arranged for its customs clearance. With my assistant Judy Stropus and a tow rope I drove to Brooklyn to have my first sight of the fourth Connaught L2 to roll off the production line almost 20 years earlier.
To be continued!
- Karl Ludvigsen
---
Connaught Capers - Part 1
A friend and business partner of Eric Lister wrote that "we started, as an expensive hobby, the Portobello Motor Company, mainly to indulge ourselves in the classic cars we loved to drive." Last month I related the saga of my non-purchase of a Burney in 1968 from Lister and his dealership in London's Notting Hill. At the same time I was negotiating with Lister the acquisition of a 1949 Connaught L2 sports car.
Some explication may be in order. After World War II Rodney Clarke and Mike Oliver of Continental Cars, Ltd. in Send, Surrey were looking for a project to replace the Bugatti work they'd been doing in the 1930s. They hit on the idea of building a competition sports car on the basis of the post-war Lea-Francis. This had a conventional but effective solid-axle chassis and a 1.8-liter four with high-placed twin cams and hemispherical combustion chambers.
They shortened the Lea-Francis frame, hopped up the engine and had new aerodynamic bodies fashioned in aluminum. The result was dubbed the Connaught and given the series designation "L" in recognition both of the car's origins and the fashioning of its body by Leacroft. Backing for the project came from Kenneth McAlpine, a wealthy racer and enthusiast. Completed in 1948, the first car was his.
In 1949 four more L2 Connaughts took to the road. The first owner of the fourth car built, registered AHC 82, was P. L. Jonas, who raced it at Goodwood in 1950. In May and August he was seventh and sixth respectively in short races won by McAlpine in his sister car. In the early 1950s a new owner made substantial changes in AHC 82. He replaced its original engine with a 2.5-liter Lea-Francis four and modified its body with straight-through side panels and additional space, for youngsters, behind its bucket seats.
"It has been rebuilt mechanically during the last three months," Lister assured me. "The engine has had a new crankshaft and has been thoroughly overhauled, likewise the gear box. The bodywork is hand painted but very neat and has a new hood and weather equipment, quite decent upholstery plus a very impressive array of instruments. The car runs well and has only done a few hundred miles since it was overhauled so the engine is rather tight but this will ease of after a couple of thousand miles."
It was this point that, as related last month, I wrote from New York to ask Dennis May to have a look at the Burney and Connaught for me. When Dennis and Steady Barker arrived at Portobello "they didn't appear to be expecting us to either drive it or be driven," although ample notice of these intentions had been given. "Under gentle pressure they fitted its battery and a passenger seat and tried to start the engine. It refused to start on the button so all hands turned to and pushed. It then finally came to life on two and occasionally three cylinders, emitting a terrific noise from faulty gaskets and leaking near-lethal doses of exhaust gas into the cockpit (the top was up).
"I couldn't legally drive it myself because it wasn't licensed," Dennis continued, "so I rode as passenger with their tame demonstrator, an amiable bearded negro. He excused the erratic running by saying he hadn't had time to tune the carbs, though why not I couldn't imagine; wasn't four days enough? The condition of the body isn't too bad but it's a rather ugly non-standard thing. They vowed it was standard but neither I nor Steady (a firm he worked for in his youth used to make bodies for Connaught) ever remembered seeing its like. It just doesn't have that distinctive horseshoe-like cross section at around the plane of the scuttle - know what I mean?"
This was not very comforting. Nevertheless Eric Lister sought to reassure me. His mechanic "Black Jake", he wrote, "gave them a drive around in the Connaught which I am told performed very well." I replied that "in view of the findings of my Doctors of Motors…I can't be as sanguine as you about the operation of the Connaught. I gather that it had to be pushed to start it…this is not a condition in which I'd want to drive a car anyplace, even the relatively short distance from the Jersey docks to my home." I asked Lister for his "most candid and realistic summary of the condition of these cars [including the Burney] and the specific work you plan to put in hand on them before I send any more dollars over to follow those that have already emigrated."
"We would like to use that well known New York East Side expression 'not to worry'," Lister replied. "I have found that a little knowledge is a dangerous thing and most people who come around to examine the cars think they know a lot more than they in fact do." This about two experts who'd seen more exotic cars than he'd had hot breakfasts! The push start, he said was needed because the battery was flat, while the noise was from "a rough temporary positioning of the silencer (you say muffler) which needs repairing or replacing as necessary and new exhaust gasket." Water in the plug wells had caused the misfiring, he explained, adding, "All these faults will definitely be rectified."
To be continued!
- Karl Ludvigsen
---
Burned by a Burney
In Motor Sport of February 1968 the Portobello Motor company in London's Notting Hill offered an astonishing array of cars. Why I didn't leap at the M-Type Allard for £265 or even the Maserati 3500GT Spider at £950 I'll never know. Instead my eyes were drawn as if by magnetism to "1930 Burney Streamliner, the best on offer, the only one on offer. Offers."
Unfortunately I knew what a Burney was. Fascinated by the rear-engined experiments of the 1930s, I knew that a few such cars had been produced by Sir Dennistoun Burney, creator of the R100 airship. Responding to my query about this curiosity, Portobello's Eric Lister said that his Burney "was the very first car manufactured under license by the Crossley Motor Company." This made it a Crossley-Burney, of which some two dozen were built in 1933-34, powered by Crossley's own six-cylinder engine. This had been replaced, said Lister, by a Vauxhall four.
That the Burney was admittedly "rather shabby and needs restoration" was vaguely attested to by three tiny, fuzzy photos. Remarking on these, I judged that "they were taken with the same special camera that is passed around from one British establishment to the next, prized for its ability to show the general outlines of an automobile without revealing too many details."
In reply Eric Lister explained that "My grandfather purchased our Brownie (type) camera on a visit to Hong Kong in 1923. The street trader who sold it to him gave an unconditional guarantee. Although this is written in Chinese we are assured by scholarly friends that if any fault develops in this camera during the remaining years of this century, all we have to do is contact a certain Mr. Loo Fong in Hong Kong and he will be obliged to repair or refund the money on the camera. As yours is the first complaint we have received about our photography we are attempting to contact Mr. Fong by telephone today.
"Believe me," Lister continued about the Burney, "I will be most sorry to see it go as it has become a kind of pet of mine which every now and then I go down and stroke. Actually I was hoping that it would go to a good home in this country where I could visit it occasionally. However, if you will invite me to your home when I am next in the New York area I will bring over a few carrots to feed it."
In spite of (or because of) this hokey blarney, and with Lister's assurance that "it can be driven away from the docks", I offered $900 for the Burney and put down a deposit. As a precaution, however, I wrote to an old friend and colleague, Dennis May, asking him to visit Portobello Motors. He did so, taking along another knowledgeable friend, Ronald "Steady" Barker.
On March 27, 1968 Dennis reported on his trip to Notting Hill. He found Portobello "the sort of firm, scruffy and insouciant to the nth degree, that I'd hate to do business with at a range of 3,000 miles." He judged the Burney "positively decrepit in every sense except its engine does run." It had an ENV preselector transmission, which Lister's man said lacked bottom gear but was otherwise fine. On the day, however, "there wasn't drive on any gear at present, so all he could do, and did, was to demonstrate that the Vauxhall engine runs in neutral. See what I mean about insouciance?"
Insouciant as ever, Eric Lister took the inspection visit by "two gentlemen…both wearing identical white coats" in his stride. "Our genius mechanic known in the trade as 'Black Jake' (no kidding) because you can't see his face for hair and oil, started the Burney which requires some gear box adjustment before emigrating to the United States."
"This 'runner' turns out not to run at all," I replied, "due to malfeasance by the ENV box. Are you sure that adjustment will suffice? There is a distinct shortage of ENV experts over here and I would very much like to have this part of the car, at least, in reasonable shape before it comes over." "Blake Jake has removed the gear box," Lister reassured, "and finds that there is very little adjustment left so the gear box has gone back to the preselector experts in London and will be overhauled as necessary. Just leave it to us to sort out the aggravating bits and pieces."
In May, while discussing shipping arrangements, Eric Lister added to the "bulging files" of our correspondence with the note that he was "particularly sad to let the Burney go to America", adding, "The other day I had a representative of the British Science Museum looking at it. He was most intrigued and knew quite a lot about these cars and said he was very disappointed that it was going abroad, which made me feel a bit of a heel but, as you say, that's the way the cookie crumbles."
In June, my feet getting colder by the day, I was able to relieve Mr. Lister's conscience with the news that I was relinquishing my deposit and wouldn't be taking the immobile Crossley-Burney after all, "especially in view of the interest of the Science Museum in this important car." But I did buy another car from Portobello Motors - about which more next time.
- Karl Ludvigsen
---
Crown Wheels
For many years my abiding criterion for car ownership was never to buy the same make twice. I figured there were enough good and interesting cars out there that I'd always be able to find something that suited me without having to duplicate brand ownership. Also in the process I'd learn a lot about different cars and their makers.
This strategy was put to the test after I left General Motors in 1967 to pursue a free-lance writing career. It was time to check out these Japanese cars that were starting to make inroads in the American market. Did the Japanese have anything that would suit the Ludvigsens?
The answer was yes: Toyota's Crown. This was the top of the Toyota range, newly restyled and enlarged for 1967 as the S50 series, as I learned in Jeff Koch's story about the Crown in our August 2007 issue. Take a look at the sedan at the bottom of page 92. This was a handsome piece of kit on which the ever-ambitious Japanese stylists had, for a change, shown some restraint.
Now imagine it as a station wagon with glazing all the way to the rear - a good-looking and spacious load-carrier. Ours was cream with a black interior. Transmission was automatic, a three-speeder with torque converter, while steering was manual with five turns lock to lock. Suspension was conventional for the time with a live rear axle and coil springs at all four corners.
Toyota went to some trouble to design an advanced in-line six for its Crown. It had an aluminum cylinder head and carried its crankshaft in seven main bearings. A single overhead camshaft was chain-driven. Its 2,253 cc were produced by dimensions of 75 x 85 mm, unfashionably undersquare but aiding shortness and lightness. The under-hood scene was impeccable, an object lesson in neat and orderly disposition of piping, wiring and accessories that contrasted vividly with the chaos of British imports.
When asked about the Crown I would answer, "Well, it does everything I want in a car except go, handle and stop." It did not have strengths in these departments. Elegant though the engine was its output was a modest 115 bhp at 5,200 rpm, and that by the SAE's gross rating. Referring to an Autocar road test of a Crown sedan I see that leaving the Toyoglide in "D" gave zero to 60 acceleration in 21.3 seconds. That's about what my MG TC managed. By holding it in second gear this could be reduced to 16.0 seconds. The standing quarter-mile took 20.1 seconds.
Once it got up to speed the Crown cruised comfortably at 70 mph and 4,000 rpm. Irrelevant thought it was, its top speed was between 95 and 100 mph. I don't recall testing its fuel mileage but Autocar measured 15 mpg for its sedan. The wagon would have been worse. This was our first air-conditioned car, a great luxury when driving from New York to Michigan and back for summer holidays.
As for stopping, I recognize the Autocar comment about the brakes that "At first they seem alarmingly ineffective. The pedal scarcely moves and seems to meet dead resistance." Though vacuum-assisted, the front discs and rear drums needed heavy prodding to get their attention. Braking was available but required a powerful poke at the pedal. A peculiarity was a clicking noise from the brake-light switching relay.
Handling wasn't even a consideration. The Crown could be aimed with reasonable accuracy. Though sluggish, its helm would eventually begin to respond. Looking back, this was clearly a car that was waiting for radial tires.
"This is the most substantial and refined Japanese car we have yet tried," said Autocar, "and it offers very comfortable and roomy transport for five." This is what I was looking for and this is what I got in a transport machine that suited a family with two young children.
An important part of my Toyota experience was watching the settling-in of the network. When I bought my Crown the dealer on the Boston Post Road in New Rochelle was little more than a hollow shell. He had a showroom and a back shop with a few tools scattered about. Luckily for him and his colleagues Toyota built its cars to demand little in the way of service. Parts supply, especially for the exotic Crown, was nothing to brag about in those early days.
Gradually, step by step, New Rochelle Toyota started looking like an ordinary car dealership. Shop equipment arrived as did showroom décor. By the mid-1970s it was evident that Toyota was here to stay.
One day we were heading out toward Bridgehampton when, in a bizarre accident, we smashed into the side of a Lincoln. I turned around to see our youngsters, still wearing their lap belts, bent over at the waist because their seat back was pushed forward by the Lea Francis engine I was delivering to Jim McGee. We were all okay but the Crown needed parts, some of which were slow to arrive.
In 1977 I replaced the Toyota with Chevrolet's new Malibu Classic station wagon, sheer-lined and functional with a V-8 under the hood. This was, come to think of it, the first time I'd bought the same make of car twice. It was about time I got around to abandoning what was, after all, an unedifying criterion.
- Karl Ludvigsen
---
Newton, Franciamore and BMW
I met Harry Newton in 1964 when I moved into his town, Pelham Manor, a New York enclave squeezed between the Bronx and New Rochelle. Harry was a man of many parts in the world of the automobile. A shrewd and often controversial observer of motor-industry trends, Newton made a living selling cars as varied as Aston Martins and Cadillacs.
Soon after I met him, Harry Newton went to work for the legendary Max Hoffman. Max was then in his final phase as the importer of BMW cars. Though struggling with the perception among many folks that BMW meant "British Motor Works", Max was doing his best to expand sales of the Bavarian-built cars in which he wholeheartedly believed. On both coasts, using the finest architects, he erected new and handsome BMW distribution centers.
Max Hoffman was a strong supporter of the new generations of BMW cars in the 1960s. But when in late 1965 he saw a new model the company was planning to launch he was flabbergasted. It was a slimmed-down, short-wheelbase, two-door version of its sedan, powered by a 1.6-liter four. As far as Hoffman could see it was a high-cost car that BMW would have to sell for a lot less money - a guaranteed profit-killer. He told BMW's executives that they were in for a big disappointment.
BMW went ahead anyway. In fact at celebrations of its 50th anniversary in the center of Munich on March 8, 1966, surrounded by classic cars and motorcycles, it unveiled its new 1600 model. The next day the two-door was on BMW's stand at the Geneva Salon. There'd been a previous 1600, a small-engined version of the four-door New Class BMW, but this was a different animal.
When I left GM and started free-lancing in 1967, I needed wheels. Interested in the 1600, I asked Harry Newton about it. "It's the perfect car," he said with his habitual assurance. In fact it was. Here was a four-passenger car weighing only 2,030 pounds powered by a smooth, high-revving overhead-cam four producing 85 bhp. All-independent springing gave it a good ride coupled with agile, neutral handling. In an airy interior with tall windows, gauges were handsomely cowled in a driver-centered nacelle. The trunk was huge and seats were decidedly upmarket.
If BMW were going to lose money on these, I decided to take advantage. Harry recommended specific tires for it and Max offered a friendly discount. Soon I was the proud owner of a dove-gray BMW 1600. It immediately commended itself in many ways. Frameless door glass made its light doors a snap to open and shut. Visibility in all directions was unsurpassed. The wide hood gave excellent access. Top speed was just over 100 mph while second gear was good for 60 mph and in third it reached an astonishing 90 if you revved it to 7,500, which the sweet four easily attained.
Drawbacks were relatively few. Floor-pivoted pedals were passé; oddly they were suspended on right-hand-drive cars. Outmoded too was the six-volt electrical system. No tachometer was provided but I arranged to fit one. The speedometer was wildly optimistic. With discs in front and drums in back its braking was good but not amazing.
The 1600 was an ideal choice for my peregrinations from a New York base around the East Coast to cover various stories. After its warranty expired I drove it into the Bronx for servicing. I'd noticed that a repair shop there was called "Quattroruote", the name of the Italian monthly for which I was the American correspondent. Ignazio Franciamore chose the name to express solidarity with his native Italy.
Iggy and his team performed yeoman service on various cars in the Ludvigsen stable. They ingeniously adapted a Saab muffler to my Type 87 Tatra. And when the BMW started getting tired they carried out a stem-to-stern restoration, including new ventilated wheels that I sourced. Although passionate about Alfa Romeos, for which he eventually became a dealer, Iggy had to admit that the BMW's independent rear suspension had the advantage in wintry conditions.
Later trading as F&S Motors, Sicilian-born Iggy Franciamore's success in car repair and sales helped him satisfy his interest in fine Italian cars. One of his first acquisitions was a 1954 Lancia Aurelia with a rare PF 200 body by Pininfarina. Its unique design, with a jet-like air intake, attracted an Award of Excellence from the judges at 2005's Concours Europa in Greenwich, Connecticut.
In 2000 the same concours featured Iggy's 1927 Fiat 509 touring car. Spotting it lurking behind a pizzeria on his way home from Watkins Glen, Franciamore bought the Fiat, which its owner had acquired in Sicily in 1987. Incredibly, its Italian papers showed that among its previous owners was Franciamore Senior, who had driven it in taxi service in Agrigento in the 1940s before selling it to a fishmonger who'd planned to convert it into a pickup truck, but didn't.
I relied on my mini-Bimmer for a long time, well into the 1970s. Harry Newton lasted only briefly with Max Hoffman, finding the latter's business methods incompatible with his ideas of good practice. For a while Harry published a very insightful car-dealer newsletter and at the end of his career was a respected author on sports and classic cars. Sadly Newton, who gave me good advice on many occasions, is no longer with us.
- Karl Ludvigsen
---
The Skid-Pad Saga
The idea of a so-called "skid pad" is to drive around a circular track to explore the steady-state handing of an automobile under controlled conditions. On such a continuous corner you can learn a lot about tires, suspension, steering and handling as the car approaches the limit of its ability to hold the road.
Skid-pad testing of cars was first perfected in the mid-1930s by General Motors under the guidance of British engineer Maurice Olley, a far-seeing pioneer of suspension and handling research. By 1937 he and his colleagues had tested and defined the handling attributes of many cars, GM's and others. In 1952 Olley was asked to head up a new research and development section for Chevrolet Engineering. He brought along his skid-pad know-how, which was quickly absorbed by a newcomer to R&D, Zora Arkus-Duntov.
A Belgian-born Russian engineer, Duntov was asked to race on the Porsche team at Le Mans in 1954. Unimpressed by the unpredictable handling of the early 550 Spyders, Zora suggested to Porsche's Helmuth Bott that he try testing on a skid pad. Bott found a suitable area: a paved runway at Malmsheim, west of Stuttgart. The airstrip's width limited the pad's diameter to about 260 feet. This was enough for the size normally used by Chevrolet, a 100-foot radius.
Bott's tests were fruitful, hugely improving the Spyder's handling. They led to the establishment of a regular skid pad at Malmsheim, which was also used by Mercedes-Benz for tire testing of its 1955 Grand Prix cars. When Porsche established its own proving ground at Weissach one of its first and most prominent features was a huge skid pad. A similar pad soon became a feature of Mercedes's test track at its Untertürkheim factory.
I was reminded of skid pads by an article in Racecar Engineering. Engineer and author Paul van Valkenburg recalled his work with Mark Donohue's Trans-Am Camaro in 1968, which was so useful that Mark set up a pad near the Penske racing shop in Reading, Pennsylvania. Skid pads were early speed secrets for both Donohue's Can-Am Lolas and Jim Hall's Chaparrals, tested on a pad at Hall's own Rattlesnake Raceway in Midland, Texas.
As technical editor of Sports Car Graphic, Van Valkenburgh included skid-pad testing in the magazine's highly instrumented road tests from 1969. Using a pad of 100-foot radius, these gave remarkable detail, including maximum roll angle, maximum cornering grip in percentage of "g" or gravity for both clockwise and counter-clockwise running, and steering characteristics. Paul's tests, which far outshone any being done now, also revealed front and rear lift or downforce at 100 mph and aerodynamic drag as well. As he said, "that would still be an interesting comparison today."
I took a different tack with skid pads. In Sports Cars Illustrated I established a super-duper road test, the Road Research Report, to take an in-depth look at important new cars. The first RRR appeared in our February 1960 issue. A feature of the RRR was a graphic representation of what I called "steering behavior". It showed the car's steering wheel and, at its rim, the amount of wheel movement that was needed to maintain the car's course at increments of 10, 20, 30, 40 miles per hour and upward to the highest speed the vehicle could maintain on a circle of 200-foot radius.
This gave a useful guide to steering responsiveness and handling behavior. If wheel position changed little for increasing speeds it showed that the handling was neutral or nearly so. Cars manifesting this quality were the Plymouth Valiant, Austin-Healey Sprite and Maserati 3500 GT. If higher speeds meant a lot of wheel-turning to stay on course this showed the onset of heavy understeer. Cars like the Volvo P1800, Studebaker Avanti, Peugeot 404 and Facel-Vega Facellia were in this category.
Strong but not excessive understeer was a feature of the short-wheelbase Ferrari 250 GT, which with the Jaguar XK-E and Shelby Cobra reached 55 mph on our circle. Most sporty models could attain 50 mph while 45 mph was the limit for the Austin 850, Pontiac Tempest, Lancia Flavia and Jaguar Mark X. Slowest around the circle were the power-limited VW Karmann-Ghia and Renault Caravelle. The highest-speed figures required the wheel to be back-tracked for the early Corvair, the Tempest and the Triumph TR4, showing their oversteer at the limit.
SCI, later Car and Driver, was headquartered at One Park Avenue in Manhattan. Where in the vicinity would I find a skid pad of 400-foot diameter? Thought you'd never ask. Not far from where I lived in Pelham Manor were the roads into Pelham Bay Park. Taking the exit from the Hutchinson River Parkway, the road led straight to a big traffic circle which measurement showed to be 400 feet in diameter. This was my skid pad.
One disadvantage of course was that I could only navigate it in the counter-clockwise direction. Another was that fellow road users might object. A third was that the cops might take a dislike to my shenanigans. It was the job of the riding observer to look out for the fuzz while jotting down the driver's assessment of the wheel angle needed at each increment of speed. We got away with it, though I'll never know how. Wailing around that traffic circle in the 250 GT Ferrari was a highlight of my days in the editor's chair.
- Karl Ludvigsen
---
Wheeling Yarns
Every few months a planeload of us senior Ford of Europe executives arrived at the proving grounds at Lommel in Belgium to try prototypes of new models in our pipeline. Lommel has a good mix of fast and twisty roads that serve to probe a chassis well.
During our drives we awarded numerical scores from 1 to 10 for all the key attributes of the cars we were driving. While we had lunch the scores were tallied so we could have a good discussion of the findings in the afternoon. These were the years when we were developing the front-drive Escort, the Sierra, the updated Fiesta and the Scorpio.
The drill was that two executives took turns driving each car, the passenger noting down the driver's grades. The only exceptions to this were the chairman, Bob Lutz at the time, and the chief engineer, first Charlie Knighton and later Ken Kohrs. They drove the full course with Ford engineers riding shotgun to note their comments and ratings.
On my last trip to Lommel we all moseyed out to our cars for the drive session when I discovered, to my surprise, that one of the engineers climbed in beside me, clipboard in hand. I acted as if this were an everyday occurrence as we set out on the designated test routes, wringing out Ford's latest. But when we ended our run I couldn't contain my curiosity.
"How come I'm on my own today?" I asked him.
"You get what you deserve" was his succinct reply. It was one of the high points of my Ford career.
It reminded me of a press trip to Sweden to drive the first Volvos with the new V6 engine shared with Peugeot and Renault. It was a damp day as a gaggle of American journalists herded their test Volvos along proving-ground tracks. Later we sat down with the engineers over a drink. One of them came over with a questioning look:
"Why are you so much faster than the others?"
I didn't have much of an answer to that, except that I've always enjoyed testing a car to its limits - or at least to my limits. Some of the best such episodes were at Detroit's car launches on their respective proving grounds. New-car introductions for GM's makes moved into high gear after the General paved a quarter-mile square of his Milford site, so big it was nicknamed "Black Lake". Each division laid out its own courses with traffic cones so we could flaunt our incompetence against the clock.
Of course things didn't always go to plan. At one Pontiac launch I overdid it with the result a (small) dent in the rear fender of a hand-built GTO prototype. Then at a Corvette launch Zora and his merry men brought out some heavyweight machinery with quasi-race underpinnings. Things got serious and I overdid it big time. I still have a vivid mental picture of the view through the 'Vette's rear window as the technicians scrambled for safety when I completely wiped out their timing apparatus in a desperate banzai slide. End of timed runs for the day.
Speaking of Corvettes, Corvette News invited me to write the launch article for the LT-1 version of the new 1970 model. They brought their one and only orange prototype up to Boyne City, Michigan's skiing center, in the dead of winter. The idea was to feature the snowy background of the ski resort in images by ace cameraman Don Sudnik.
To get some action shots on the snow-covered roads Don crouched in the open back of a Chevy station wagon while I piloted the Corvette in his wake. Proud of my tail-sliding skills, I decided to give Don's Hasselblad some fishtails to liven up his coverage. I swung the tail this way and that and then…much too far. Skidding at an angle the Corvette's nose caught the snowbank on the left and threw up a huge white spray as the mailboxes hurtled by.
With a decisive "whump" the priceless LT-1 prototype did a 180 and slammed right off the road into the snowbank and down the slope. Yours truly exited, abashed. Incredibly, miraculously, it was undamaged. We missed the mailboxes. Towed out, the Corvette was good as new. My stupid stunt's only legacy was a bit of snow left in the grille, visible in some of the Corvette News pictures.
Another memorable car launch was Triumph's Herald, introduced at Palm Springs. The trip west was my first flight on a jet airliner, Boeing's 707. We all had a great time bombing this British jitney around the California roads. Festivities wrapped up at a gala dinner. During it Triumph's p.r. man Dave Allen stepped to the rostrum:
"Though you didn't know it, we've been observing you out on the roads, watching your driving. And we've identified the person we think was doing the outstanding driving job. I'd like to ask [name forgotten] to step up to receive the Triumph Best Driver Award."
There was a smattering of applause as we looked at each other, wondering why that guy deserved the handsome silver cigarette box, carrying the Triumph crest and engraved with "Best Driver Award". But then Dave topped it:
"And you'll all leave here this evening with the same Best Driver Award."
It was one of the best p.r. stunts I can recall.
- Karl Ludvigsen
---
From Lebanon to Bad Tölz
Some interesting things were happening in the summer of '58. At the Radio Show the big news was a technique called "stereo" sound. It used two microphones for recording and two speakers for the playback to give a stereophonic listening experience. It was forecast to have a big future.
In May of 1958 Christopher Cockerell, a boatbuilder in Britain's Suffolk, revealed that he'd created a vehicle that rode on a cushion of air created by an on-board engine and fan. Calling it a "hovercraft", Cockerell said that it would give frictionless movement over both land and water. It too was seen as a highly promising development.
Under instead of over the water a maritime breakthrough was that summer's voyage beneath the North Pole's ice cap by the nuclear submarine Nautilus. Beginning in Pearl Harbor, its track led through the Bering Strait and under the Pole, to emerge in the North Atlantic and finish its historic voyage at Iceland.
Meanwhile, in a US Army base on the north side of Munich, Germany yours truly was several months into his duty as a second-echelon field-radio repairman for the Signal Corps. Under the genial supervision of Sergeant Bridges, a down-home character, a half-dozen of us fixed walkie-talkies and mobile radio sets while listening to Bob and Ray and the radio version of Gunsmoke starring William Conrad. Sick radios were brought in from various units including a mysterious Green Beret outfit at Bad Tölz south of Munich.
By midsummer I'd already been to the Grands Prix of Monaco and Belgium, seen the Brussels World Fair and attended the 24 Hours of Le Mans. Enough leave was available to allow me to see, at last, the racing cars I'd been writing about at Sports Cars Illustrated. But a cloud hovered over these cozy arrangements. I was reminded of it, and of those days, by Israel's ill-fated incursion into Lebanon in July of 2006 and the recent recriminations in Jerusalem about their army's poor performance.
Lebanon was under an international spotlight that summer of 1958. To the east in Iraq the regime of King Feisal was toppled by a coup led by young army officers. In deposing Iraq's pro-Western regime they were inspired by the success in Egypt of Arab nationalist Gamal Abdel Nasser. Next in the Muslim firing line, it seemed, were the West-leaning governments of Jordan and Lebanon.
In Beirut the Lebanese government had been led since 1952 by Camille Chamoun. He earned Arab enmity by failing to break relations with France and Britain when those nations sent their armies to attack Egypt's occupation of the Suez Canal in 1956. In that summer of 1958 Chamoun faced armed rebellion in Beirut. Meanwhile on the borders of Jordan the Syrian military was massing, evidently preparing to invade.
In Washington President Eisenhower and his military chiefs were kept up to date on these developments. While Ike had forestalled the 1956 attempt to take the Suez Canal back from Nasser, he wasn't about to stand by and see these friendly Near-East regimes toppled by the Muslim movement. Eisenhower initiated preparations by sending troops to await further orders in 44 warships afloat in the Eastern Mediterranean.
Units based in Augsburg, Germany were among those activated, including their Signal-Corps complements. When their bases emptied we moved west to Augsburg to take their places. We bedded down in their barracks and set up shop in a big well-equipped mobile repair vehicle, a special body on a truck chassis. It was a move that brought all of us, Sergeant Bridges included, that much closer to possible conflict in Lebanon.
Early in July the situation in Beirut worsened. On the 14th President Chamoun issued a call for western aid which, he said, was needed "very quickly". Taking him at his word, the next day the American Sixth Fleet landed 1,700 Marines on the shores of Lebanon. In what was called "the most unopposed landing in the history of amphibious warfare" the Leathernecks were welcomed by bikini-clad Beirut babes handing out ice cream.
The Marines' presence, plus a landing of British paratroops in Jordan two days later, helped calm the region's turmoil. Our forces returned to Augsburg and we went back to Munich to end the closest brush I had with active engagement during my two-year stint in the Army.
All this came back to me on Saturday, March 21, 1970 when I drove the 30 miles south from Munich, past the Special Forces base at Bad Tölz, to the Alpine village of Lenggries. There I met a former Green Beret, Francis McNamara, a mid-western American who'd set up shop in Germany in 1968 to build racing cars. Starting with Formula Vee, McNamara moved up the ranks so rapidly that only five days before my visit he'd air-freighted his first Ford-powered Indy car to America to be prepared by Vince Granatelli and raced by Mario Andretti.
Designed by Austrian Joe Karasek after he served a spell at Lola, the turbocharged and STP-sponsored McNamara-Ford turned out to be a fairly decent car. Soon after its completion it finished sixth at Indy. It scored its first - and only - win on the Championship Trail at Continental Divide on June 28, 1970. But by 1972 Mario Andretti left Andy Granatelli's embrace to drive for the Vel's Parnelli Jones Viceroy team. With them he would, frustratingly, be no more successful.
- Karl Ludvigsen
---
I Go Yugo
It all started innocently enough. When I set up a motor-industry consulting business in London in 1983 one of my first clients was International Automobile Importers, the company founded by Malcolm Bricklin to import the X1/9 and 2000 Spyder after Fiat decided it wouldn't make these sports cars any more. Bertone and Pininfarina carried on production under their own names and Bricklin's IAI took over their American importation.
Always the entrepreneur, Malcolm was soon on the lookout for additional brands to import. This was one of the areas where we helped by researching and qualifying possible candidates. Suddenly, however, a candidate dropped into Bricklin's lap.
International dealmaker Armand Hammer had been asked by the Yugoslavs to identify business areas in which they could generate imports to earn the hard currencies they desperately needed to bolster their economy. Hammer hit on the idea of exporting the small cars made in Serbian Kragujevac by Zavodi Crvena Zastava. For many years an armaments producer, with a magnificent museum to prove it, Zastava's fine socialist name meant "Red Flag".
In 1953, when Zastava celebrated its 100th anniversary, it started meeting the local market's transportation needs with vehicles made under license from Fiat, just across the Adriatic. Thirty years later it was still producing the perky rear-engined 600 and the 101, a bustle-backed version of Fiat's evergreen 128.
On its own initiative, in 1980 Zastava introduced its Jugo or Yugo model. Still using Fiat-type power train and underpinnings, it was an update of the Italian company's 127. It was very neatly done. Styled in Turin, the boxy two-door hatchback's lines were pleasantly reminiscent of the original VW Golf or Rabbit. Zastava was already exporting its new creation to other East European markets, installing the bigger 128 overhead-cam engine for a top speed of 90 mph.
Setting up Yugo America to import the car, Bricklin assigned Bill Prior to sort out the distribution and Tony Ciminera to sort out the Yugo. Ciminera, a car-mad former Fiat executive, descended on the Kragujevac factory with such vigor that they nicknamed him "Hurricane". Tony carried out a bumper-to-bumper audit that resulted in more than 500 changes to meet the needs of the American market, including the safety and emissions improvements that US laws demanded.
At an early stage I visited the factory with Ciminera. It was vast, patterned after the Fiat factories of the early 1950s, and poorly maintained with dirt and grease underfoot. Its 50,000 employees were internally divided among "85 basic associated labor organizations and 25 work committees", each of which had its own agenda. Nonetheless they appreciated the opportunity that America represented. They set up a separate assembly line, with handpicked elite staff earning extra pay, building Yugos destined for the New World.
I was introduced to a new working style during the visit. We started at something like 6:00 in the morning and with meetings, tours and discussions carried right through to 2:00 in the afternoon. Yours truly mused, "This is the first time I've worked an eight-hour day before breakfast!" There was method in their madness. To earn an adequate crust the Serbs had organized their days so they could hold down two jobs. After a brunch break they headed off to their other workplaces.
Head of Zastava's R&D Institute and thus effectively the company's chief engineer was Zdravko Menjak, a dynamo of improvisation. Having led the Yugo model's development, Menjak was now responding to the many changes needed to qualify the car for sale in the West. Bricklin had his own people at the plant to monitor the effort, constantly stressing the need for high quality.
Communicating the need for world-class quality wasn't easy. Zastava defended its efforts, saying, "We have the best quality of all Comecon cars!" Needless to say, this wasn't going to get the job done. We located a team of British quality experts who sent a cadre to Kragujevac to study the factory and recommend improvements. Their resulting report was scathing, so much so that the Zastava officials took offense and barred them from continuing to work at the factory!
When troubles began surfacing with Yugos in service in America, we discovered that Zastava had been badly let down by its licensor. Take the car's 128 engine. Over the years Fiat had made many changes and improvements but hadn't communicated them to Kragujevac! The Italians had long overcome the piston problems that started plaguing Yugos driven by lead-footed Americans.
In spite of their problems Yugo America and its plucky Serbian supplier were preparing a fightback in the late 1980s. They'd produced an ingenious Yugo cabriolet that was being tooled up for production. An automatic transmission was being sourced from Renault. A larger car, the Florida, had been styled by Giugiaro and was in the early manufacturing stages.
With communism's collapse, however, Yugoslavia began to unravel. After embargoes stifled production the coup de grace was NATO's bombing of the Kragujevac factory, rightly enough shown on its maps as a producer of military equipment. Their accuracy was impressive. Only in 2000 could production be restarted and not until 2003 was the Florida launched.
Not for a while, if ever, will we again see Yugos on sale in America. However, the 1980s effort was a brave one for all parties. A new car for $3,990! It was, as the ads said, "A new kind of sticker shock."
- Karl Ludvigsen
---
Porsche's Bad Idea
"I'm mad as hell and I'm not going to take it any more!" If you're a cinema fan you may remember this as the rallying cry of suicidal anchorman Howard Beale in the 1976 film Network. Well, I feel just like Howard.
Living in Britain I'm used to seeing every road test of a 911-series Porsche spend half its text moaning about its rear-mounted engine being an offense against God and man that has somehow been made to work by the Porsche people even though it defies all logic. Now, to my disappointment Road & Track has joined this benighted bandwagon.
As one of its 50 Things Enthusiasts Should Do, number 44 on the R&T list is "Celebrate a bad idea brought to brilliance." Yes, you guessed it. That refers to the Porsche 911, which it calls "a design that has confounded competing auto-makers for more than four decades" with its "less-than-ideal rear-engine layout." Though the magazine admits that "the Porsche 911 remains one of the world's greatest sports cars" in its latest Type 997 guise, it thinks that this has only been achieved by overcoming the appalling faults of a "bad idea"!
The decade in which the rear-engined Porsche concept was born, the 1930s, was rife with automotive novelty including the first extensive modern use of rear-mounted engines. A leader in this respect was Czech company Tatra, whose Erich Übelacker was keen on rear-engined aerodynamic cars. He used V8 engines behind the rear axle, first in his Type 77 of 1934 and from 1936 in the much-improved Type 87. With air cooling its engine was light enough to keep the Tatra's share of weight on the rear wheels from exceeding 62%.
In those years some engineers were reluctant to recommend putting the engine behind the rear wheels. Among them was Dutch innovator John Tjaarda, creator of the rear-engined prototypes that evolved into the Lincoln Zephyr. His engines were above or ahead of the rear axle. In a letter to me Tjaarda noted that he had "never made one design with the engine behind the rear axle. It is, with the present type of engine, the wrong place. It offers no advantage; it multiplies the gimmicks required to make the car behave."
Nevertheless, waving aside the misgivings of some of its engineers Mercedes-Benz introduced its Type 130 in 1934 with a water-cooled side-valve 1.3-liter four extending behind its rear wheels, complete with radiator. This positioning put 65-66% of its weight on the rear wheels. Engineer Josef Ganz wrote in his Motor Kritik that this wasn't a pure rear engine but rather an "outboard-motor" that brought "undesirable tail-heaviness".
In the Mercedes the "outboard motor" wasn't a success. British engineer Maurice Olley, an expert on handling and suspensions, drove a Type 130 and said that "the oversteering on corners is the worst I have ever experienced." At London's motor show of 1934 he "appealed to" Ferdinand Porsche and asked him "to enlighten me on this matter." Just what were Germany's engineers up to?
"He agreed that a weight distribution of 33% front, 66% rear is unsatisfactory," Olley reported on his conversation with Porsche. "On the cars he is laying out for Auto Union he hopes to get 42% front, 58% rear and on his racing cars with engine ahead of rear axle he gets 45% front and 55% rear, which is as good as most normal cars. The Germans recognize the fact that a car carrying 2/3rds of its weight on the rear wheels is not in a favorable condition for safety in handling."
In fact the landmark rear-engined car that Porsche and his team designed in the 1930s, the Volkswagen, had 59% of its weight on the rear wheels. Contributing to this relatively modest proportion was the engine's short "boxer" format and the lightness of its air cooling. Significantly, during the war the Porsche office conducted tests with cast iron instead of scarce strategic aluminum for the VW engine's crankcase and gearbox casing. It rejected this expedient because the added weight at the rear disastrously impaired the vehicle's handling.
After the war an imprisoned Ferdinand Porsche was asked to comment on the design, virtually complete, of the rear-engined 4CV Renault. He had many criticisms of its layout, among which was certainly the 65% of its weight carried rearward. This was well in excess of the limit that Porsche thought desirable. Some 40 years later the same proportion applied to the Renault-engined DeLorean DMC-12. Thanks to modern tire technology its handling was the least of its problems.
When Porsche's son Ferry created his Type 356 Porsche, on the VW model, it had excellent weight distribution. Its rearward proportion ranged between 54.5% and 56.5%, with which the tires of the day could easily cope. A huge advantage of the layout was and is that weight transfer forward under braking makes full use of the stopping power of all four wheels.
With its boxer six instead of a four, the 911 inevitably shifted more weight rearward, starting typically at 59%. Some were as low as 58%, while in 1979 the 930 Turbo went to the other extreme at 63.8%. This was the exception, however. Today's 911s typically scale 60% on their driving wheels. This is a boon to their traction as the racing versions demonstrate every weekend.
All in all, pretty good going for such a bad idea!
- Karl Ludvigsen
---
Triumph Triumphs
My coccyx made me do it. I'd enjoyed driving my MG TC around New England and the Boston area when I was studying at MIT. Then in 1954 I switched to Pratt Institute in Brooklyn to become an industrial designer. I carried on for a while with the MG but New York's potholed streets started knocking heck out of the car and, dare I say it, the driver. I think it was the Kosciuszko Bridge that was the last straw, practically bouncing me out of the MG.
Thinking about alternatives, I hit on the TR2. I'd read a lot about Triumph's sports car, whose looks had a pleasingly functional honesty. It wasn't as pretty as an Austin-Healey but its drive train was much less tractor-like - even though its engine was in fact derived from one that also powered Ferguson tractors. It would still be stiff-riding but at least it had independent front suspension! This was of course a feature of the MG TD but I'd never felt that its looks measured up to its rakish predecessor.
Checking the New York Times classifieds, as usual, I found a little-used TR2 at a dealership on Long Island. Like so many of them it was white with a red interior. One of only 248 cars delivered in 1953 after production started that August, it was a "long-door" model whose doors extended right to the bottom of the bodywork. From 1954 the door would be shortened so that it could swing over curbs more easily.
Compared to the MG this was a serious car with its top speed of just over 100 mph. Ken Richardson, whose racing experience helped develop its chassis, drove a TR2 at a timed 124 mph in Belgium with an undershield and tonneau cover. Its acceleration was lively and its fuel economy remarkably good. It had snap fasteners galore for its top and side curtains, which stowed neatly away. Its dash was neatly designed with all necessary gauges and a proper glove box, which housed the T-handled key that opened hood, rear deck and compartment for the spare tire.
Graham Robson wrote that the TR2 "soon won itself a reputation for doubtful handling," which was no great surprise in view of its short wheelbase and the humble origins of its running gear, largely scavenged from Standard's parts bins. I don't recall it as being all that doubtful, although I like a car that breaks away at the rear in a controllable manner. It was very easy to catch when it did start tail-sliding.
The Triumph would have been well-suited to competition but I never had a chance to do any serious racing with it. I did take it on a loose oval track near my home in Kalamazoo and greatly enjoyed throwing it around. Even without pressing it too hard, however, I did manage to fail the TR2's rear axle. That was the only major problem I had with it.
This was of course my car for commuting back and forth between Pratt and Kalamazoo. On one such trip I kept track of my time and distance between landmarks, starting in the afternoon and driving through the night. The key landmarks along the way were Stroudsburg, Kingston, Williamsport, Du Bois, Sharon, Bowling Green and Angola. My average speed for the whole trip of 762 miles was 50.6 mph, which was pretty good over ordinary roads. My speeds went up in the early morning hours through Ohio and into Michigan, averaging 60 mph over the last two legs.
My speeds went up for another reason. Dawn was just beginning to break as I left the outskirts of Battle Creek at around 5:00 a.m. It wasn't far now to Gull Lake, where my family had a cottage. But behind me I saw, gaining, a patrol car. He wasn't happy with the speeds I'd been clocking through his town. But I hadn't come all that way just to get nabbed on the last lap of a long trip.
I put my foot down and the Triumph responded. I knew the roads, taking full advantage of that high top speed to lope off into the middle distance. Needless to say I kept moving until I was well out of the orbit of a Cereal City patrolman. By 5:30 I was home and happy sans citation, thanks to the TR2's punch and low-drag design.
In the 1970s it was a pleasure to renew my relationship with Triumph cars thanks to my friend John Dugdale, the urbane and talented British expatriate who was responsible for marketing at Jaguar and Triumph in New Jersey. Just around the corner from fellow columnist Mike Cook, John and I worked on the brochures for Triumphs for some years. He had a fine art director in Bill Freeman while I produced the texts, accentuating the positives of these British offerings.
This was around the time of the launch of Triumph's Stag. To position this unusual car in the marketplace I produced and copyrighted my Car/Parator to compare its specifications with those of the Alfa Romeo 1750 GTV, BMW 2800CS, Chevrolet Camaro Z-28, Jaguar XKE 2+2, Mercedes-Benz 280SL and Porsche 911T. I enjoyed writing the Spitfire brochures and did a few as well for Jaguar and Land Rover. The launch of the Triumph TR7 was on my watch as well. So you literature collectors will be holding some secret samples of the Ludvigsen prose!
- Karl Ludvigsen
---
Delightful Dauphine (January 2007)
We were bombing along the Autobahn at the highest feasible cruising speed of our Renault Dauphine, which I reckoned to be about 65 mph in a car whose top speed was 73. In the mirror I saw a Fiat 600 gaining on us. Finally he swept by. Not unaware of the relative performances of the cars and the pecking order on the Autobahn, my wife said, "How can he do that?"
"He can't," was my answer. "It's impossible."
Not many kilometers down the road we passed the Fiat 600, stationary and smoking at the roadside. We looked at each other and laughed. It was one of those moments that gave me confidence that as an expert on automobiles I was not entirely out of my depth.
This was 1958, and you may well ask why I was driving a French car in Germany where a Volkswagen was the obvious choice. I'd arrived in Deutschland that February to begin my service as a field-radio repairman for the U.S. Army. Assigned to a base in Munich, I needed wheels to commute from our two rented rooms in Schwabing to the military compound north of the city.
My wife and I required something that was cheap to buy and run yet roomy enough for the European travels we planned. Back in New York I'd been technical editor of Sports Cars Illustrated at a time when Renault was gaining ground in the American market hand over fist. Its feisty little 4CV was its pilot offering in the U.S., starting with 1,500 in 1955. At the end of that year the first Dauphines rolled off the line at Renault's new factory at Flins.
Charmingly named and attractively styled, the Dauphine was the last creation of Pierre Lefaucheux, who led Renault after its post-war nationalization and launched Project 109, to build a bigger and better 4CV, before his unfortunate death in a 1955 auto accident. It had been Lefaucheux's daring decision to sweep away the Louis Renault reliance on a huge range of models to concentrate on the 4CV as the right car for a post-war world. Now with Project 109 he commissioned a car to keep pace with Europe's growing prosperity. His legacy came to market in March of 1956 with simultaneous launches in Paris and Geneva.
Before I'd left for Germany in early 1958 the new Dauphine had been making a good impression in America. It was well priced at just under $1,500, economical and remarkably spacious for both people and luggage. Its four doors, a sine qua non of the French market, offered convenience while its water-cooled engine offered comfort in the form of a decent heater compared to the Bug's intermittent exhalations. These were among the considerations that found me at the Renault dealer in downtown Munich, taking delivery of my robin's-egg-blue Dauphine.
This amiable car took us all over Europe, from the world's fair at Brussels to the north of Germany and south to Monza for the Grand Prix and Turin for the auto show. I don't recall any special problems, though its three-speed gearbox was a handicap going up and down the Alpine passes. It's always fun to drive an underpowered car - 26.5 net bhp from 845 cc - because you're constantly challenged to maintain momentum, stay off the brakes and corner like crazy.
Underpowered or not, the Dauphine collected its fair share of speeding tickets. I already had one to my credit when the Army announced an Operation Crackdown on its military motorists in the Munich area. No sooner was this launched than I was ticketed for speeding a second time. This meant an intolerable suspension of my license for at least six months. Fortunately I had a friend at the company headquarters who agreed to make the citation "disappear" for a small consideration. There was a follow-up system, he said, but this was unlikely to catch up with me. It didn't.
In my spare time I was pounding away on my Olivetti Lettera 22 for Sports Cars Illustrated, saving my earnings with the objective of buying a Zagato-bodied Alfa Romeo Giulietta. This idea went by the boards, however, when I saw an ad for a Mercedes-Benz 300SL. It said that taking a car in trade would be acceptable; the owner was looking for a runabout for his wife. The Dauphine was just the thing, he agreed, so combined with my Alfa Romeo hoard I became the owner of a Gullwing.
For Renault the Dauphine saga didn't end so happily. Pressed by its owner, the government, to earn hard currency abroad, the Regie was emphasizing exports. When I came back to the States in 1959 the little car was flying high, leading Renault's sales of 102,000 in America. Unlike arch-rival Volkswagen, however, the Regie failed to provide service support. "Renault, in a hurry, entrusted its signs to anyone willing to sell its wares," wrote Edouard Seidler. "Overseas we seem to rush at the market like a bull at a gate," admitted Renault chief Pierre Dreyfus.
When America slipped into recession in 1960 Renault's house of cards began to collapse. Sales that year fell to 63,000 and in 1961 plummeted to 28,000. Clearing the unsold Stateside inventory became a task of Herculean proportions. The promise of the charming Dauphine, a car that if properly developed and marketed could indeed have challenged Volkswagen for import leadership, had been wasted.
- Karl Ludvigsen
---
A Count in the World of Cars
Opening my copy of the 1951 Enlarged Super Edition of Dan Post's Original Blue Book of Custom Restyling I find three photos of a rakish coupe based on the post-war Studebaker. It had a teeny-tiny cab and an ultra-low hood beneath which was one of the Granatelli brothers' hot-rodded Mercury V8s. Standing next to it in one photo is a tall fellow with swept-back hair wearing a tee-shirt, a moustache and a big smile. This was none other than Albrecht Graf von Schlitz gen. von Goertz und Freiherr von Wrisberg.
Inheriting titles that included both Count and Baron, Albrecht Goertz was born on January 12, 1914 into one of Germany's noble families. Their properties were in Lower Saxony between Hanover and Göttingen at the village of Brunkensen, set in an idyllic valley. The family's scions would be expected to maintain its traditions, but Albrecht was the second son with few prospects of inheriting its stewardship. In 1936 at the age of 22 Goertz decided to seek his fortune in America.
"I did all kinds of odd jobs," he said. "In 1939, the beginning of the hot-rod era, I rented a small body shop - a corrugated metal shack on Rodeo Drive in Beverly Hills - and modified Fords." One of his creations based on a 1940 Mercury was a low, handsome coupe with suicide doors, clearly influenced by Jean Bugatti's pre-war designs. Adopting this as his personal car, he named it the 'Paragon'.
Albrecht Goertz had little time to enjoy his creation before bring drafted into America's army. After V-J Day he was mustered out with little more to his name than the Paragon. Exemplifying the theme of his autobiography, You've Got to Be Lucky, Goertz was driving this spectacular machine in New York one day when he was spotted by Raymond Loewy. Sensing a diamond in the rough, the famed industrial designer sent Albrecht to Brooklyn's Pratt Institute to learn the rudiments of formal design before granting him an apprenticeship at the South Bend styling offices of Studebaker.
"This was possibly the best education into design that one could get," Goertz said later. After helping with Studebaker's spinner-nose facelift he left South Bend to set up his own industrial-design office in New York. There the tee-shirt-wearer took full advantage of his exposure to the stylish Loewy. He metamorphosed into a suave and affable European who lost no time in making contacts in New York's motoring circles. One of his calling cards was a series of sketches of car-design proposals for Motorsport magazine.
Another émigré who'd made a home in New York was BMW importer Max Hoffman. The two met at the city's automobile show in the spring of 1954. Hoffman had just returned from a visit to Munich where he'd been disappointed by design proposals for a sports car on the V8-powered Type 502 chassis. Showing photos of it to Goertz and explaining the situation, Hoffman said, "Why don't you make some sketches?"
Ten days or so after sending a portfolio of drawings to BMW Albrecht Goertz received a telegram asking whether he could come over to discuss the project. Flying to Munich, he reached agreement on a design project for two cars. In November of 1954 he started work on them both at BMW and in his New York studio. One, the 503, was a 2+2 model on an unaltered 502 chassis. The other, the 507, was a pure two-seater sports car on a new chassis shortened by 14 inches to a 97.6-inch wheelbase.
What Goertz called his "breakthrough" came at the Frankfurt Show in September of 1955 when the two new BMWs were shown. The 507 in particular has stood the test of time as one of the most stunningly beautiful cars ever created. In his eyes the design had a particular cachet, he said: "I think I was the only guy able to change the BMW front without anybody saying a word." He did change it but sympathetically, with the 'kidneys' split horizontally instead of vertically.
In 1961 Albrecht Goertz became one of the first occidental designers to take up the challenge of Japan. After five visits Nissan assigned him a consulting contract. Working with their designers he created the handsome Sylvia coupe of 1965 and a fast-back sports car that failed to reach production. After no little controversy, Nissan later grudgingly granted that "the personnel who designed [the 240Z] were influenced by your fine work for Nissan and had the benefit of your designs."
In New York in the 1950s and 1960s I enjoyed my contacts with the well-informed Count. He was engagingly persistent in his attempts to arrange, through me, a design-consulting relationship with the people in our GM Overseas Operations who had product responsibilities, but that never came good. Meanwhile he was busy with his work for companies that eventually numbered 62, creating boats, cameras, furniture, jewelry, sportswear, pens, clocks, irons and lighters, to name only a few of the products of a versatile industrial designer.
In 1990, at the age of 76, Albrecht Goertz upped stakes and transplanted his design business to the family estate at Brunkesen. Rightly enough he continued to be feted throughout the world not only for his creativity but also for his effervescent personality. While at the resort city of Kitzbuehl on October 27, 2006 Goertz passed away. The world of cars lost one of its most engaging and colorful individuals.
- Karl Ludvigsen
---
Ferrari: Formula 1 Forever (November 2006)
My friend Jean Sage was prowling around the sports cars mustered for the acceptance ritual in Brescia's Piazza Vittoria before the start of the 1998 edition of the retrospective Mille Miglia. Jean knows his cars; he's a noted Ferrari collector and a former team manager for Renault in Grand Prix racing. His stooped figure came over to us, his head shaking: "Karl, there are a lot of very peculiar cars here."
It's no secret that at the stratospheric level of values among great collector cars, falsification is a temptation to which many are vulnerable. If the skills are there to repair a Ferrari, they're also there to create one from scratch, or at least to fashion a GTO or short-wheelbase 250 GT from the raw material of a lesser product of Maranello. The result can be a nice car - but a big risk for the unsuspecting purchaser who may be convinced, by omission if not commission, that it's the real article.
This has been no small issue for Ferrari itself. Its guardianship of an unparalleled legend depends in part on maintenance of the authenticity of its cars on the road, cars that of course have long since left its direct control. A few years ago Ferrari did bring legal action to terminate the activities of a blatant counterfeiter of its products. Now, with the opening of Ferrari Classiche, it's taking direct action to establish a means of verifying the authenticity of its cars and, where necessary, of bringing Ferraris up to a standard that's consistent with they way they were made in the first place.
Headed by Robert Vaglietti, formerly chief of Ferrari's service activities, Ferrari Classiche represents the company's first effort to get a grip on the cars that constitute its heritage. Its offices and a well-equipped workshop of more than 10,000 square feet nestle into the historic buildings at the center of the company's Maranello complex. Ferraris more than 20 years old - and single-seater Ferraris of any age - are eligible to be worked on by ten well-trained mechanics. They can refer to original factory drawings to achieve authenticity.
In addition Vaglietti is investing in a massive program of remanufacturing critical Ferrari components, especially for engines. This includes blocks, heads, crankshafts, pistons, connecting rods and cylinder liners for key V12 and flat-12 models. Some parts are made internally while others come from the original suppliers.
Crucial to the success of Ferrari Classiche is the new operation's program for certifying the authenticity of early cars. Rolled out in a Beta version in 2004, the certification process was streamlined for its full launch in 2006. It places an initial burden on the car's owner to provide detailed information on his Ferrari, according to a factory questionnaire, and to dispense a certification fee of $3,000 for cars made before 1980 or $1,500 for younger Ferraris up to 20 years old.
Inspection of the submission by a panel of experts will result either in the issuing of an impressive certification brochure or the provision of recommendations for bringing the car up to snuff. The adjudicating experts aren't just dragged in off the street. Among them are Enzo's son Piero, keenly interested in historic aspects of the company in which he still holds a 10 percent share, and Angelo Bellei, who headed the engineering of production Ferraris well into the 1960s.
On July 25, 2006, when Ferrari Classiche was officially launched, it had 250 applications for certification in hand and had approved 190. One motivation for going through the process is that only certified cars will be eligible to take part in official Ferrari events. Other advantages include inalienable proof of provenance and authenticity when selling a Ferrari.
Visibly installed as it is in the core of Ferrari's Maranello factory, the Classiche operation is another enhancement of the spirit of heritage that infuses all aspects of the company and its activities. Everywhere throughout the facilities you see evidence of the racing, the engines and the hero drivers of the past and present. In the racing department the meeting rooms are named after Ferrari's world champions. In a network of tubing in the factory's main square a modern Formula 1 Ferrari is enmeshed like a butterfly in a net.
Most importantly, Ferrari's people are proudly kitted out in red and beige outfits with Shell and Ferrari patches that communicate the emotion of the race track. The weekly workforce bulletins feature the previous week's achievements on one side and the coming week's activities on the other with red and yellow colors that are pure Ferrari. A competition for higher manufacturing quality is the "Quality Grand Prix" with a checkered flag for the winner. Teamwork on manufacturing-systems improvement is graphically portrayed in the style of a race track.
In other words, Ferrari has so thoroughly integrated racing with its road-car activities that the two are inseparable. This was made official by the promotion of Jean Todt, formerly in charge of the racing team, to the post of general manager of all of Ferrari. So in case you're wondering how committed Ferrari is to Formula 1 racing, you need wonder no longer. For Ferrari in the 21st Century Grand Prix racing, at the very apogee of world-wide competition, is as irrevocably an integral part of the company's activities as the beating heart of a racing driver.
- Karl Ludvigsen
---
Cariocan Cars (October 2006)
From 1964 to 1967 I was in New York, working for GM's Overseas Operations Division. Looking after the overseas press, I had the pleasure of a visit from an ebullient character, Leszek Bilyk. Les, who had flown for the Polish Air Force and the RAF during the war, was editor of Brazil's leading car monthly, Quatro Rodas. We got along well and when I left GM in 1967 to make a career as a free-lance writer Les named me North American correspondent for Quatro Rodas.
In 1969 Alcantara Machado, the organizers of Brazil's automobile show, had the happy idea of inviting some journalists and others from abroad to Sao Paulo to see what was happening there and to promote their show, Brazil and its car industry abroad. Thanks to Les Bilyk's recommendation I was invited, together with veteran Gordon Wilkins from Britain and retired racing icon Stirling Moss. Like the rest of us Stirling was taken with the exotic beauty of the Brazilian ladies but frustrated at the same time: "How can you chat them up if you don't know the lingo?" was Stirling's despairing plaint.
Les Bilyk met our plane and drove us directly to the show at Ibirapuera Park where, on entering, we immediately shook hands with Brazil's president Costa e Silva. This was a coup of which Les was justifiably proud.
Among the others to whom Les Bilyk introduced me were local racing stars the Fittipaldi brothers, Wilson and his younger brother Emerson. The latter was just back from his first season of racing in Europe. In 1970 he'd be promoted by Lotus to Formula 1, which saw him the surprise winner of the Grand Prix at Watkins Glen. With everyone else saying, "Emerson who?" I was among the handful at the Glen who had any inkling of the credentials of this brilliant young Brazilian. On his way home it was my pleasure and honor to introduce him to René Dreyfus at Le Chanteclair in New York.
Brazil's big players in 1969 were Volkswagen, dominating the market with its Beetle, locally the Fusca, Chrysler with its Simca-derived models, GM with the Opala, an Opel Rekord with Chevy engines, and Ford, which was just introducing its Corcel, a new front-drive model with a drive train based on the Renault 12.
Interesting anomalies abounded. In cooperation with Karmann's Brazilian operation VW's Rudolf Leiding developed a sports coupe unique to Brazil, the handsome SP2. With the Brazilian industry and market a demanding training ground for executives, Leiding went on to head Audi and then Volkswagen, where he created the Golf and Scirocco.
My major discovery in 1969 was Puma. This little company had the genial idea of building a sports car on the VW Fusca chassis. Though far from a novel concept, it was executed brilliantly by Puma in the form of a great-looking coupe. Looking after the technical side was experienced engineer Jorge Lettry, who'd been involved in DKW's racing activities in Brazil. Executed in glass-fiber in Puma's own facilities, the result was an attractive sports car that stole the hearts of Paulistas and Cariocans.
Among the stories I wrote after that '69 visit for many magazines around the world was one on the Puma. This aroused tremendous enthusiasm and interest. My friends at Puma said that after these articles appeared they received letters expressing interest in the car from all parts of the globe. Exports of Pumas began, especially to Switzerland and the Low Countries.
The Puma story deserves - and will get - separate treatment in Sports & Exotic Cars. Suffice it to say here that they later introduced a convertible version, after which they took on the ambitious challenge of building their own chassis for a Chevrolet-powered car to get away from their dependency on VW. This failed to produce a car with the undeniable appeal of the original rear-engined Puma.
I was back in 1970 for the next show, the first in completely new facilities in Anhembi Park with more than twice the space. My last two auto-show visits were in 1972 and '74. These saw some notable product launches. Fiat opened its factory at Belo Horizonte, producing a local version of its 127. Ford introduced its Maverick to Brazil, with both sixes and V8s. GM gave Sao Paulo an important role in its T-Car project which saw similar cars introduced as the Kadett in Germany and as the Chevette in America and Brazil.
One constant through these years was the Brazilians' fantastic enthusiasm for cars. They were passionate about new models, eager to see what was being launched both at home and abroad. This made Brazil a lodestone that attracted engineers and designers like GM's talented Dick Finegan, who made a career commitment to Sao Paulo. I carried on contributing to Quatro Rodas until I went back into the auto industry in 1978.
I can say that I fell in love with Brazil and its people, so much so that when I married in 1987 I arranged to honeymoon in Brazil. Later when I was a management consultant I was invited to speak to a group in Porto Alegre about new developments in the motor industry. I still keep a weather eye on Brazil, which has often been hailed as the country of the future. It always will be!
- Karl Ludvigsen
---
The Tragedy of the Corvair (September 2006)
The first time I properly met Zora Arkus-Duntov was at a drinks party at Harder Hall before the 12 Hours of Sebring in 1960. His first question to me was straightforward enough: "Why did you write what you did about the Corvair?"
In the autumn of 1959 my first big project for Sports Cars Illustrated after returning from the Army was to cover Chevrolet's all-new Corvair. I went out to Milford to drive this most radical of new American cars. In my report in the November 1959 issue of SCI I said that "the Corvair is fundamentally a profound oversteerer."
This was what Zora wanted to ask me about. How had I reached this conclusion? I explained that I'd taken the car to the Truck Loop where there was a huge turning circle that could be used as a skid pad. Turning laps there I explored the limits of the Corvair's handling envelope. I wrote that it was "possible to hustle hard into tight corners and bring the tail around with just a twitch of the wheel, counter-steering until the slide stops and the time for acceleration arrives." Duntov acknowledged that under skid-pad conditions the car did indeed behave just that way.
I was tough on the Corvair in several respects. One was Chevrolet's recommendation of "normal inflation in the rear tires and a reduced pressure in the front tires", which amounted to 26 and 15 psi respectively when cold. Saying that "such a difference reflects poorly on the basic chassis design," I warned that "it's unlikely that most Corvair owners will ever maintain the pressures recommended."
I was even more amazed than I let on in the article that Chevrolet hadn't done more to mitigate the effects in handling of a weight distribution that was 62 percent rearward. A front anti-roll bar would have helped, but it was eliminated at the last minute by the bean counters. I urged that it be restored.
The architect of the Corvair's suspension was Robert Schilling, an experienced chassis engineer from GM's Research Staff. I knew that Schilling had introduced an ingenious means of decoupling the two single-leaf springs that carried the de Dion tube at the rear of GM's turbine-powered Firebird I of 1953. He joined their rear ends by a pivoted balance beam which, Schilling said, reduced "the rear roll rate to less than 50 percent of its original value".
Something like this was what the Corvair needed. Its rear springs, I pointed out in SCI, were twice as stiff as those of a full-size Chevy sedan. A system like the one Mercedes-Benz used on its 300SL Roadster, with a coil spring compressed between the swing axles to accept vertical loads and allow the individual wheel springs to be softer, was too cumbersome for the Corvair. But in 1959 Porsche introduce a simple pivoted transverse leaf spring that performed the same function. "For all its novelty," I finger-wagged about the lack of such a solution, "the Corvair is surprisingly naïve in this major respect."
These were pretty tough criticisms of the chassis of a car that soon began to earn a reputation for going out of control without warning. Counter-steering to correct tail slides on dry roads wasn't part of the repertoire of most drivers, and with good reason. To boot, Chevrolet had deliberately given the Corvair relatively slow steering on the grounds that its drivers would thus be less likely to initiate the steering inputs that could cause them to lose control!
Late in 1961 I left magazine editing to go to work for General Motors in public relations. As news of the Corvair's cranky road behavior began to flow in, especially to the Corporation's Legal Staff, an awareness gradually grew that someone now working for GM was among those journalists who had been critical of the car's design. I recall being interviewed by someone from Legal, who advised me to keep a low profile.
Fortunately I wasn't among those quoted in the first chapter of Ralph Nader's Unsafe at Any Speed, dedicated as it was to the Corvair. One of my senior p.r. colleagues did his best to alert top GM management to the threat that Nader's book and actions represented, counseling a more proactive approach, but his initiative was waved off.
For the 1964 model Chevrolet finally fitted the front anti-roll bar that had been optional and provided a transverse-leaf spring at the rear that allowed the wheel rates to be reduced. It is a matter of history that it took far too long to make these essential improvements. The 1965 model had a much more sophisticated rear suspension on the lines of the Corvette Stingray's.
Meanwhile, GM geared up to fight the legal challenges to the early Corvair. The former industrial-design offices of Ford & Earl Associates, on the south-east corner of Mound and 12 Mile Roads, were converted into a factory for the Corvair's defense with shelf after shelf of films and documents.
Out at Milford a huge area was paved to create "Black Lake", a vast smooth surface on which handling experiments could be conducted without limits. Black Lake became an outstanding research tool that later contributed to the racing expertise of the Penske and Chaparral teams. This at least was a positive outcome from what can only be described as the Tragedy of the Corvair.
- Karl Ludvigsen
---
NSU Spider (September 2006)
FIRST HEARD about the Wankel engine in 1959 from some friends who were consultants in Neckarsulm, hometown of NSU. The friends sketched my first glimpse of the now famous triangular rotor and hourglass housing. When I first saw an engine at a Curtiss-Wright's press conference in November, 1959, 1 was impressed by its sophistication and simplicity. This, I thought, was tomorrow's power.
While NSU was talking publicly about how far in the future automotive Wankel applications would be, back at the laboratory their Research Director, Dr. Walter Froede, was busy fitting engines into two NSU Prinzes for road tests. Successful demonstrations of these cars were instrumental in convincing the NSU board that Felix Wankel's wild invention was worthy of pursuit.
On a visit to NSU in August, 1961, I was given a ride in a Sport Prinz powered by a more advanced Wankel engine. It was noisy and not without smoke, but its smoothness, power and durability were impressive. By the end of 1962. NSU decided to use a 500-cc Wankel engine in a sports car. Early the following year design work was started for the production Spider. The first car, plus a display engine, was ready for unveiling at the Frankfurt Show, September. 1963. As an avowed Wankel fanatic I decided I must have one, and so advised the appropriate importer in New York City. I was assigned a "preference number" and settled down to await my Spider.
Production of Spiders was initiated Sept. 20, 1964. During that year some 300 cars were made, but the outlook for 1965 was said to be 5000 units, an estimate that dropped to 3000 in May. Actual 1965 production was 930 Spiders. Production rose to more than 1000 cars in 1966. NSU's maximum rate for Wankel Spider production now is 15 cars per day or approximately four times greater than last year.
Not until the first Spiders were proved in Europe were the trim little convertibles brought into the U.S. Mine was in the first batch of 15 cars to arrive. I had a distinct impression that the 14 others were destined for Dearborn, Pontiac, Highland Park and Chelsea. My car was the 455th to be built, fitted with engine number 350. It drove out the importer's door at $3046, a price I still think is amazingly low for an automobile with an experimental engine built with racing powerplant techniques.
Fine handling of the Spider frankly surprised me, because I was mainly interested in the engine and hadn't thought much about the remainder of the car. Near-neutral handling tended toward understeer, especially on wet pavement. Its quick rack-and-pinion steering offered good road feel and could be faulted only in the amount of attention it required on a straight road.
Lockable front and rear trunk compartments provided useful volume. Neither became too hot to be practical. Forward volume was limited by the wide radiator, behind which was an electric fan turned on by a thermostatic switch in the cooling system. This fan came on only in heavy traffic in summer. When it switched on, it sounded much louder and rougher than the engine, so much so that the first time it functioned, I thought my Wankel power unit was about to expire.
To start the Spider one uses a hand choke lever on the center tunnel. A dashboard light shows when the choke is in use and the owner's manual urges its activation as seldom as possible. Fortunately the engine runs smoothly without choke after very little warmup. The Wankel does not fire immediately, but it does so unfailingly after a few cranks of the starter, then settles down to an idle at about 900 rpm.
The complete engine/ transmission assembly is very softly suspended, together with the elaborate muffler system, allowing easy oscillation at idle. To bystanders, the exhaust pipe seems to be moving excessively, but on the Wankel this is normal. Just above idle, at 1500 rpm, there's a marked vibration period, at which the engine's balancing masses cause it to shake heavily on its mounts. Another resonance period occurs in the exhaust system at 2400 rpm.
To the first-time driver, the Wankel's response to its throttle seems slower than that of a piston engine. It is as if rotating masses were somehow heavier, which in fact they are not. This impression was given by the extremely long travel of the throttle pedal. required to provide progressive opening to the 2-barrel carburetor. Rapid opening to full throttle would give very quick response. On deceleration, the Wankel engine's low inertia gives it less engine braking effect than is provided by the majority of reciprocating engines.
With an explosion in a 500-cc working chamber for each revolution of the output shaft, the Spider's Wankel engine is the equivalent of a 61-cid 2cyl., 4-cycle reciprocating engine. It's tuned for performance. and not until the tachometer needle moves past 3000 rpm does it start to come to life. From there upward the power curve rises steeply and the engine pulls with progressive strength.
Quite often writers have likened the Spider's engine to a 2-stroke in feel, but I can't support this analogy. There's absolutely no "popcorn-popping" or missing at idle or on the overrun, and the only time it smokes is very slightly just after the engine is started.
How fast will the engine turn? There are many answers to this question. Quite a few of the early Spiders had a 6000-rpm tachometer, which also is shown in the owner's manual. My car, however, had an 8000-rpm tack, which reflected improvements made in spark plug life and oil sealing, two factors that Dr. Froede savs limit the peak usable speed. I followed the guidance given in the owner's manual, which, like all NSU manuals, is refreshingly written in a frank and amusing style. It says 6000 rpm should not be exceeded, but, "you may, however, if the occasion should arise, overrev in the lower gears above the 6000 mark, to get out of a difficult situation such as a passing maneuver. We ask you only on behalf of your engine's durability: Don't make it a habit." The standard Spider engine pulls beautifully to 7000 rpm and only at 7500 does it start to become short of wind. It will turn higher, however, and I took mine to 8000 more than once. Journalists who tested the early cars took them to 10,000 rpm and, in one case, even 11,000 in first gear. In this way they were able to record 0-60 times of approximately 14.2 sec. Normal time to 60, using a 6000 rpm limit, was nearer 16 sec. The Spider covered the standing quarter in 20.5 sec. and reached top speeds of 92-98 mph.
As stated earlier, oil sealing affected useful peak speed of early Spider engines. The seals involved were those at the sides of the rotor, and over 6000 rpm they allowed oil to pass much more rapidly into the combustion chambers. In addition. oil from the sump is metered into the intake port by a small pump which is responsive to both engine speed and throttle position. The driver is encouraged to check engine oil level frequently, at every fuel stop, to maintain it within the 2quart margin between the bayonet gauge marks. Carrying out this check is seldom convenient if luggage is being stowed in the rear compartment.
As with any sporting car, the Spider's fuel consumption was very sensitive to the way it was driven. My overall fuel consumption was 26.4 mpg, but on a trip from New York to Detroit the figure rose to 28.6 mpg. Road testers thrashing the car showed poorer figures, ranging from a low of 21.8 to a high of 25.9 mpg. My view was that mileage was not notably good, but was satisfactory in view of the very good performance delivered. Quite consistently, my Spider required 1 qt. of oil every 260 miles.
Generally, the engine showed few operating faults. If I failed to downshift while slowing the car, when it reached 2500 rpm or so it would start to buck, the result of an imperfect fuel/air mixture on part throttle. So good was the all-synchromesh gearbox, however, there was little excuse for shiftlessness. After some 1600 miles the box became very noisy in reverse and first became difficult to engage. A new transmission was installed by my dealer at no cost.
In August, 1965, NSU's managing director, Dr. G. S. yon Hcydekampf, reported that on the basis of field experience gained with the first 1000 Spiders, "We now believe that the Wankel is practically proven as a passenger car unit." Dr. von Heydekampf referred to problems met and solved in oil sealing, cooling, carburetion, gearbox and porous main-block castings.
This verdict of success for the Spider marked the end of an arduous development trail for the first Wankel engine to be used in an automobile. Some of the early automotive trials were unpredictable. At one time it was common for the test drivers to take along a spare engine.
Designated the KKM 502 by NSU, the Spider's engine had completed the design phase by the time of its unveiling at Frankfurt late in 1963, but little development work had been done then. It's not well known that development in the year following brought about an almost complete redesign of the engine before the start of production.
Among the many changes made was enlargement of the water picketing all around the main aluminum housing for better cooling. The oil filler cap was relocated, the oil metering pump added, the ignition system mounting bracket redesigned, the oil pump pickup moved, and the generator replaced by an alternator and interchanged with the water pump. which was placed low instead of high.
Major changes were made in the Spider's unusual carburetion system. The original KKM 502 had a single, simple inlet port. and though its power curve was strong from 3000 to 5000 rpm, it fell away too rapidly below 2000 rpm. To help solve this problem, Solex developed a special 2-stage carburetor with an 18-mm throat, for starting and low speed operation, and a 32-mm secondary throat, opened progressively by the throttle, for full power. The throttle valve of the secondary was placed as close as possible to the block to reduce the amount of exhaust gas that could be carried over by the rotor and lodged in the inlet port, fouling the incoming fresh mixture.
These two carburetor throats were aligned with individual ports that opened separately into the engine's interior. Because location of the port on the housing wall of a Wankel engine determines opening and closing timing of that port, NSU placed the smaller low-speed port where its timing would be less radical. When the larger port is opened, by opening its throttle valve, it has the effect of advancing the engine's inlet timing. The timing of this larger port was advanced somewhat from that used in the original KKM 502 design, which accounts for the later engine's ability to turn more freely above 5500 rpm.
Improvements were made in the oil sealing arrangements for the sides of the rotor as stated earlier. The KKM 502 uses metal-impregnated carbon seals for the all-important sealing strips at the three rotor tips. which separate the combustion spaces. These must be 5 mm wide, as compared with the 1.6mm width required for the metal seals used previously. The carbon seals were first tried in July, 1962, but not until three years later were they regarded as fully satisfactory, with a consistent lifespan in excess of 2000 hours.
To some owners of the NSU Spider, long life is less important than high performance. The little car has shown itself an able competitor in rallies. In 1966, Spidermen Karl Heinz Panowitz and Rainer Strunz won the German Rally Championship for GT cars of all engine sizes. On the Panowitz car, regulations have allowed the carburetor to be "tuned" and the two separate inlet ports to be joined in a single oval passage. This extends the useful rpm range to 9000, compared with 7500 for the standard engine, and increases net power output to 65 bhp. Using similar techniques, NSU now markets, in Europe only, a 70-bhp rally version of the Spider.
Much more radical is the hillclimb Spider built by tuner Siegfried Spiess. The Spiess Wankel engine's inlet port was opened to 44 mm and a Solex carburetor of matching diameter fitted. This, plus a straight-pipe exhaust of tuned length, is about all that's needed to raise the KKM 502's output to 92 bhp. The power range is from 6000 to 1 1.000 rpm. and the tech needle must be at 7000 to make a smooth getaway from rest. With this technique and the Spiess car's special close-ratio gearbox 60 mph is reached in 10.1 sec. Maximum speed is raised to 110 mph with sprint gearing.
Siegfried Spiess tunes 10 Spiders for high performance in the time it takes to rework the NSU 4-cvl. engine. The Spiess car is known on the European hillclimb courses by its frequent class wins, the puffs of smoke it trails as it rockets upward and by its exhaust note, shattering and penetrating beyond belief. It is said that if an entire field of Grand Prix cars is revving its engines on the starting grid, waiting for the flag, all the spectators will turn their heads to see what's going on if Spiess fires up his Spider in the paddock.
During 1966, a KKM 502 engine was installed in a Cooper chassis. The Wankel was fitted with a straight pipe and a 2-throat Weber carburetor to feed a downdraft Y-type intake pipe. In international Formula III racing, for which it qualifies admirably, the car has enjoyed local success.
Its design has benefited greatly from the research work carried out by initial owners. The major elements of the Spider's engine also will be used in the twin-rotor power unit that NSU has developed for its new sedan, the Ro 80, recently unveiled at Frankfurt. It probably will also be given the Ro 80's dual ignition system, with two plugs per chamber. Some of its basic parts also are likely to be used in the single-rotor engine that NSU will build for a new Citroen model in the near future.
In all respects the Spider has filled its role as advance agent for tomorrow's power. It was an exciting and satisfying car to own.
- Karl Ludvigsen
---
Two Horsepower (August 2006)
That was its rating according to the French car-taxation system, deux chevaux, two horses, based on its cylinder dimensions. This was the 2CV Citroën, revealed to a shocked motoring world at the 1949 Paris Salon. Ten years later I decided that a 2CV was just the car I needed in New York.
In the summer of 1959 I'd returned from my Army service in Germany with a Mercedes-Benz 300SL. Living in the borough of Queens, it soon dawned on me that a Gullwing wasn't exactly the handiest vehicle for getting around the patched-up streets of Manhattan. What did the newly minted editor of Sports Cars Illustrated choose for his second car? A Citroën 2CV of course. I could then have one car for all missions up to 50 mph and another to suit everything from 50 to 150!
The 2CV was not so much a car as a brilliant transportation device. It broke new ground in its proportion of size to power. Though my AZ model had only 425 cc (25.9 cubic inches) and 11.8 bhp at 3,500 rpm, it wasn't a minicar. In fact it had a large and roomy body with plenty of space for four and their luggage and weighed only 1,080 pounds empty. It was a masterpiece of ingenious engineering.
Though the power unit of a car intended for farmers, its air-cooled engine had vee-inclined overhead valves. With one-piece big ends, the connecting rods were mated with the crankshaft at the factory and replaced as an assembly if required. The coil sparked both cylinders at the same time, only firing the one with a compressed mixture.
Output was through a normal clutch combined with a centrifugal clutch. The latter meant that the engine couldn't be stalled and served for easy starting and stopping in traffic. Shifting was by a large push-pull knob on the dash. When my wife took her driving test in the 2CV she had to ask the examiner to stop propping his clip board on the knob because she needed it to shift!
With front-wheel drive, the 2CV had large inboard drum brakes alongside its transaxle. Suspension was by long curved arms from transverse pivots, stretching out to front and rear like the legs of a relaxed cat. Inside a cylindrical casing at each wheel was a mass damper just like the ones that have been inside the noses of the fastest Formula 1 cars since 2005.
Below the pivot of each suspension arm a tension rod reached into a common cylinder below the 2CV's sill. Inside the cylinder, which was free to float forward or backward, two separate coil springs were compressed, against its ends, by the tension rods. Like that of the original Mini and Packard's Torsion-Level system, this front-rear interconnection of the suspensions greatly reduced pitching and delivered an astonishingly smooth ride over the roughest surfaces.
The 2CV's interior was reduced to the max. A flap under the windshield opened for ventilation. At the left was the speedometer, whose cable drive also operated the windshield wipers. Warm air wafting from the engine into the interior through ducts was a token gesture; heavy fur-lined boots were best for winter driving. Seats were canvas over rubber strips on a tubular frame. They could be whipped out with ease, the rubber matting removed and the 2CV's interior hosed out from front to rear. Holding only 5.3 gallons, the fuel tank had a fiber dip stick inside its filler cap. This was the sole means of checking its contents.
As for performance, acceleration from rest to 40 mph took half a minute. The 2CV driver could relax completely, confident in the knowledge that he was going as fast as he could most of the time. There was no point whatsoever in trying to rush ahead; he'd arrive when he'd arrive, not before. The Citroën inculcated a completely stress-free attitude toward driving that was a revelation.
In short, this blue-gray machine with its corrugated hood was a device of tremendous character. Its life changed drastically in 1961 when I moved from Car and Driver to the GM Public Relations Staff in Detroit to look after Bill Mitchell and his Styling Staff. First there was the matter of getting there from New York in a car whose maximum speed was 52.2 mph. Taking the Interstates I became adept at quickly swinging in behind big semis to pick up a draft, keeping the Citroën in the suction of their wake as long as possible.
Of course I used the 2CV when I was escorting members of the press or managers from other companies visiting Styling. On one occasion I picked up two senior body-engineering executives from Daimler-Benz for a downtown dinner. They were laughing fit to bust, unable to get over the idea that they were riding around the Motor Capital of the World in a humble 2CV.
While in Detroit I succumbed to the appeal of Chevrolet's new Nova SS, exploiting my Styling connections to get a non-standard combination of black interior with metallic green exterior. I found a willing buyer for the 2CV in Styling's Tony Ingolia, who already had flat-twin air-cooled French machinery in the shape of several Panhards. I'm told that the Citroën was a frequent sight around Warren and Detroit thereafter. Well it should have been, for no more loyal or agreeable motoring companion could be imagined.
- Karl Ludvigsen
---
My Escorted Life (July 2006)
Ford's Escort Mark III had a lot to do with my decision to join Ford of Europe. Not long before my meeting with Bob Lutz to discuss the job I'd seen a spy shot of the new model. A four-door hatchback pictured from the side, it showed an airy six-window greenhouse with a rear window that sloped down to a tiny tail bustle - altogether a very stylish design that stated clearly that Ford was planning to do new things in the 1980s.
This was the new front-drive Escort that was launched in September 1980 on both sides of the pond. Much was made at the time of its "World Car" creation; the American versions had little strips of flags of many nations on their flanks to assert their global credentials.
The European and American Escorts did indeed share common design roots. Their engines came from America, where Ford's researchers carried out extensive tests of cylinder-head designs in search of an optimum for both performance and emissions. Their recommendation was a two-valve hemispherical head with two vee-inclined valves, cleverly twisted in plan view to allow them to be operated by a single overhead cam and rocker arms. Called the CVH for Compound-Valve-Hemi, it was adopted on both sides of the Atlantic.
The rest of the Escort was designed in Europe as a replacement for the popular previous models, which had been rear-wheel-drive. Partly tongue-in-cheek - but only partly - Ford's European chief engineer told me that he was grateful to Fiat for the progress they were making in front-wheel drive. He'd cribbed the Fiesta's front-strut design from an earlier Fiat, but they'd introduced a much-improved design he could use for the Escort!
I soon learned that while the NIH syndrome - aversion to anything Not Invented Here - applied to innovations conceived outside Ford, NIH was also alive and well inside the company. Deeply offended by the idea that these highfalutin' Europeans were designing a car to be built in America, Ford's Dearborn engineers spent some $300 million making the US version of the car different - but not necessarily better. In the end the only part that was common between the two versions of the Escort was the stud that held the half-ball on which the engine's rocker arms pivoted.
Arriving as I did at Ford of Europe almost a year before the new Escort's launch, I needed something else to drive in the meantime. My motor-sports operation was producing the RS2000 version of the Mark II Escort, the road equivalent to our successful rally cars, so this was an obvious choice. But when I asked about it among my mainstream-model colleagues they said, "Oh, I don't know. The back end isn't all that good."
In spite of this I chose an RS2000 as my company car and just loved it. Sure, the tail did come out on turns but in a wonderfully controllable way that I hugely enjoyed. I looked forward to the many traffic circles on British roads as the ideal places to enjoy the tail-happy cornering of this agile Escort. Its performance was excellent as well. I don't know why I don't have one today.
In the meantime my motor-sports group in Germany was hard at work on a fuel-injected version of the CVH four. They'd wangled a contract from Ford's mainstream engineering to carry out the engine's adaptation to Bosch K-Jetronic injection. The work was directed by Otto Stulle, a savvy ex-BMW engine man. Their target was 115 bhp from the 1.6-liter engine and they reached it, though with one or two tricks that were hard to reproduce in production. The series-built XR3i version of the CVH was scaled back to 105 bhp.
For test purposes we had an XR3 Escort in Britain equipped with the injection engine. To get real-world experience they loaned it to me. I readily admit that it was quite a kick to be driving the first fuel-injected Escort to be on the road in the UK. This had its disadvantages, however. It stranded me twice with various problems. Once it stopped near our headquarters but another failure was far to the north. Fortunately a dealer was able to get me going again. But these were all in a day's work for the test driver of a new Ford model.
My motor-sports group evolved its own version of the injected Escort, the RS1600, and put it into production. Rated at 115 bhp, it had a novel electronic ignition and a reinforced front end with a beautiful cast-aluminum subframe for the front suspension. For once with the RS1600 Ford beat Volkswagen to the punch; it was faster on the Autobahns than the current GTi. I was proud to have had some involvement with the creation of a car that made Ford of Europe's offering decisively the best in its class. That didn't happen often!
Believe it or not, this classy offering came under attack inside the Ford organization. The executive handling our European sales outside Britain and Germany said that reports from the field were critical of its high-speed stability. He threatened to stop selling it. It did wander a bit at speeds that no other Escort had yet reached; we found some fixes in its rear-suspension alignment that warded off the threat of execution. The RS1600's recognition in France as Motorsport Car of the Year was sufficient answer to its critics.
- Karl Ludvigsen
---
The Dreaded Rattle (June 2006)
Though it started badly the trip was going well. The bad start was my fault. Chris Whitehead completed a lot of good work on our 1937 Cord 812 Beverly and we were off to France to join members of the Vintage Sports-Car Club for a tour of the Burgundy region. We'd planned to cross the Channel by Eurotrain but by the time we got through all the checks and customs controls, stopping and starting, the battery cried "enough!" And they won't let your car on the train unless they're sure it will start - which I wasn't and they weren't.
So there was nothing for it but to truck the Cord back the 143 miles to Suffolk and set out again the next morning in our 1952 Riley "RMS" sports car. We drove straight though to Beaune, skirting Paris, and enjoyed a great week touring the vineyards and testing the wines and restaurants in the company of an Invicta, Sunbeam, Rolls-Royce, Aston Martin, Bugatti, Alvis, Bentley and Lagonda and their enthusiastic and knowledgeable owners.
Our Riley's trunk isn't all that big so to make room for the wine we'd been given I poured the last of my spare engine oil into the sump before departing for home. Having survived monsoon wind and rain we were half-way to our planned overnight stop when I spotted suspiciously low oil pressure. A sump check showed precious little oil, vanished somehow and somewhere from an engine that didn't usually use much oil.
I headed for the nearest small town in search of oil but hadn't found any when, to my dismay, I head the Dreaded Rattle. Our trip was over. I parked next to the town hall and got on the phone to the AA. They came quickly, which was just as well as the town hall's parking lot was filling up with guests for a wedding that was just about to start! The photographer had already set up his portable grandstand and the bridal party was marshaling down the road when we were towed away. We were spared the embarrassment of sitting in the middle of a marriage celebration in our broken-down Riley.
I haven't heard the Dreaded Rattle all that often. The Cord once expired in a spectacular plume of steam thanks to a warped head/block joint. Two new heads and a new block later she's good as new. Many early problems with hot starting and front-end shimmy - typical Cord maladies - have been fixed. And she shifts like a dream.
When I was editor of Car and Driver I borrowed a Lotus Elite from the Detroit distributor. I was humming along in this buzzbox to the GM Proving Grounds when its Coventry Climax engine let go in a big way. Only later did I learn that Lucas considered the Climax-powered Elite to be the most demanding vibration tester for its equipment. That brief trip proved costly because the distributor demanded compensation from my publisher, who was not thrilled, to say the least.
Hitherto I've thought of myself as hard on drive lines. The rear axle of my Triumph TR2 was one victim. So was the transmission of my 1951 Porsche 1300, which failed with a grinding growl when I was visiting my friend Axel Rosenblad in New Jersey. In Trenton I swapped its original early-VW crash box for a later synchronized transaxle.
The grinding growl was heard again in 1959 when I was driving in Michigan in my Mercedes 300SL gullwing. Its gearbox threw in the towel, which wasn't surprising as the car had been raced in a previous life, including the Mille Miglia.
Otherwise I don't recall any major blowups. The Lancia Stratos was always exciting, with wiring that was apt to start smoldering without provocation. At least the smoke helped identify the source of the problem. Its ignition box failed when my son Miles and I were visiting the Fittipaldis in Switzerland, but we got a fair substitute from the local Fiat dealer, the box they used on the Type 130 V6.
My 1933 Aston Martin Le Mans was also prone to the occasional electrical failure, but it was so simple that these were easy to fix. I did have an engine stoppage with the Aston when the scavenge pump of its dry-sump system failed. Luckily no major damage resulted. The Aston's main continuing problem was one shared with many early cars: keeping its magneto sparking adequately. When it works it's fine but when it doesn't you're comprehensively stuck.
Of course problems aren't limited to exotic cars. I went to start my 1993 Mazda Xedos 6 the other day - my personal daily driver - only to find that the alarm system had decided to immobilize it! I had an appointment to visit Colin Chapman's son Clive at Classic Team Lotus near Norwich, so I hopped in the Cord and drove up there. The battery seems to be coping but I had a spare with me and a new one on order. Clive was intrigued by the Cord and I enjoyed seeing Formula 1 Lotus of various vintages in his racing shop.
Meanwhile the Riley is with Chris Whitehead and I'm awaiting his verdict. If it's the while-metal rod bearings - as I suspect - Chris has all the equipment needed to renew them. It's reassuring to have that kind of capability in your neighborhood if you insist on running these oddball cars.
- Karl Ludvigsen
---
Driving Lessons (May 2006)
The other day in London a huge split-level tourist coach made an awkward turning in front of our car, lurching from one side of the street to the other. My wife pointed to it and said, "Watch out! It's from Belgium!" Sure enough, it had the dreaded red "B" badge of a Belgian-registered vehicle. We've come to fear the Belgians as the most undisciplined and unruly drivers on the roads of Europe, uniquely marrying ambition with ineptitude.
I have to admit that we see the Belgians as the European counterparts of the drivers of the Commonwealth of Massachusetts, whom I came to know well during two years at MIT. I've encountered them on many other roads as well throughout the United States. I'll never forget the time we struggled in a lengthy column of steaming cars twisting and turning sluggishly through Yellowstone Park. When we finally got to the front of the queue there he was: a driver from Massachusetts.
These are a couple of the lessons I've learned in a driving lifetime. A relatively new one is that in Britain a driver is free to stop his car at any time or place. The circumstances don't matter; if someone wants to stop to look at a map or relight a pipe, they stop. As a fellow road user it's advisable to keep that in mind.
My wife had to explain an important driving distinction to our German au pair. In Germany, of course, they flash their headlamps to clear the road ahead. A flash of the lights means, "Get your slowcoach out of the way, I'm coming through." In Britain, however, a flash of the headlamps means, "I'm stopping to give you the right of way. The road is yours." What a difference! It's a difference that could be - and probably has been - fatal.
I learned a harsh driving lesson on my second day as an executive of Ford of Europe. Before I picked out my own car they loaned me a big, magnificent Ford Granada sedan. When I arrived at the executive garage for my second day at work I apologized profusely to the fellow in charge.
"What's the problem, Mr. Ludvigsen?" he asked. "It doesn't look too bad."
"You should see the other side!"
On the very last turning before arriving at work I'd seen a "Yield" sign out of the corner of my eye when I arrived too fast at an intersection, right in front of a hapless local chap in his Ford Escort. He had no option but to smash into my left front fender. He was all right, fortunately, but I just hated the feeling of being branded as a stereotypical American who couldn't cope with the British road system. Happily I haven't had a proper crash since - not one that was my fault anyway.
To get my British driving license I engaged the services of a professional trainer who took me through the required routine, which includes putting the handbrake on when you come to a stop - the idea being to keep you from hurtling out into an intersection when someone rams you from behind. I got through the test all right on my first try, unlike our American engineering vice president, who got so frustrated by his failures that he quit trying and never did get a license.
A good feature of the British test is its mantra of "Mirror-Signal-Maneuver". They want to see you looking in your mirror first to check the situation, then signaling and only thereafter executing your maneuver. After passing the test, of course, most drivers forget about the signaling part.
A few other thoughts about driving come to mind:
Approach every curve with the aim of estimating the right radius for the whole turn beforehand, moving the wheel just enough. Then gently make your adjustments in compensation as you go along.
I'm a big believer in the Smith System, which requires you to make sure you have as much space around your car as possible in the circumstances. I'll change lanes on an expressway to make sure I'm not in a queue that could concertina without warning.
I try to avoid what I call the "five o'clock shadow". That's the quadrant of the other's guy's vision at his five and seven o'clock positions where you're not visible in any of his mirrors. The worst thing you can do is sit there until he forgets you're around and turns straight into you. Either brake or accelerate to get out of that danger spot.
To reduce my own "five o'clock shadow" problem I set the mirrors so they overlap as little as possible, spreading the outside ones to get the widest possible view.
At night I try my best to look at the edge of my side of the road when there's oncoming traffic instead of at the other car's headlamps. It's very hard to do - the hardest thing I've found in adapting to driving on the left - but it's the only way to avoid being momentarily dazzled.
Unlike my friend David E. Davis, Jr. I'm not a big long-distance driver. I prefer spending the time in an airplane to catch up on my reading. But give me a road through the Italian hills, shaped for smooth passage over generations by drivers and road menders, and watch me go!
- Karl Ludvigsen
---
Fiat Follies (April 2006)
Recent columns and comments about Fiat in these pages reminded me of my two years with the American arm of Italy's auto-making champion. After 11 years as a freelance writer I was stunned to discover that there were such things as paid holidays and vacations when I checked into the lavish headquarters of Fiat Motors of North America along Importer Row in Montvale, New Jersey. My boss was Claudio Ferrari (no relation to the car maker), who saw it as his mission to restore the American unit's credibility with his Turin masters after successive boom and bust years of Fiat and Lancia imports.
What attracted me to the job was the wide portfolio I'd have as an executive vice president in charge of dealer relations, legal affairs, customer relations and governmental and public affairs. I put together a great team with Bill Baker in charge of public relations and Tony Ciminera heading dealer and customer relations. I'll always treasure a remark by a member of our dealer council after one of our early meetings with them. "This is the first time," he said, "that I've left one of these meetings feeling better than I did before."
In customer relations the buck stopped with me. It was my job to take the tough ones that had been referred to Claudio and also the callers who'd been referred up the line from the people in our office. It was a demanding but vital task, especially when it came to the Lancias. We were selling the Betas, which were wonderful cars when they were running but diabolical when they went wrong.
I was staggered by the warranty costs we were incurring with Lancias, on average in excess of $500 per car. The worst thing was that we were fixing cars with parts that we knew would fail. The exhaust manifold was the main offender, eventually cracking under the strain of US-market emissions equipment. We were replacing them with new manifolds of the same design, equally likely to crack.
The Lancia people meant well, but they couldn't build quality cars. Claudio Ferrari tried hard. He sought to negotiate an agreement with Lancia that they wouldn't ship us any cars that they knew were faulty. Obvious though this seems as a method of satisfying overseas markets, they demurred. In self-defense our embattled service manager Frans Donck sent one of his best people to the port at Genoa to set up an inspection procedure to check the Lancias before they were shipped. It helped, but too many hidden flaws were built into those Betas.
It was a shame because the Beta - Fiat's first attempt at a new model after taking over Lancia - was an attractive automobile. I had an HPE as one of my company cars and enjoyed it very much. I launched an effort to get closer to the Lancia Club, which was a good morale builder for them and for us. To counterbalance our many complainers I had "I Love my Lancia" bumper stickers made up to be flaunted by those who were having positive experiences.
The public relations chief of Fiat in the UK, Richard Seth-Smith, gave me good counsel. "I don't start any activity with the press," he said, "until the cars arrive at the docks." I ignored his advice when I launched new Beta models in Italy with a wonderful evocation of Lancia's win in the Mille Miglia 25 years earlier. We got great writeups in the press, but excruciatingly long months passed before the cars actually arrived.
One of the new models was a Beta with a detachable Targa-type roof. When I learned that these bodies were contracted out to Zagato in Milan for the necessary rework I suggested that we call this the "Zagato" version of the Beta. Sales chief Dick Recchia bought the idea and the name became accepted for this attractive version of the Beta.
On the Fiat side my biggest bugbear was rust, or rugine as the Italians call it. This affected many of our products but none more than the Bertone-bodied 850 Spider. When this attractive little car was built Bertone's rustproofing methods were remote from industry standard. Though most of these roadsters were approaching a decade in age, we were under pressure from NHTSA in Washington to declare a recall to cope with severe rusting of their underbodies that had some drivers falling right through the floor onto the road.
We argued that it made no sense to recall such aging cars, in which rust was only to be expected. We came up with the idea that we'd offer to spend several million dollars to fund an information campaign about car corrosion that would help motorists take better care of their cars. Going to Washington and presenting this proposal, sitting across the table from NHTSA officials who struggled to mask their amazement and disbelief, ranks as the most difficult meeting of my life. No presentation to any industry body at any level fazed me after that.
We ended up recalling the Spiders and the 850 Coupes. We worked out a procedure of tapping their undersides with ball-peen hammers to find out which ones needed to have corroded panels cut away and new ones welded in. It was a challenging job which our dealers addressed manfully. By then our problems with the Fiat Strada were mounting - but that's another story.
- Karl Ludvigsen
---
Bugatti and Auto Age (March 2006)
In front of me I have the typescript of the first article that I wrote for commercial publication. Titled "Bugatti and the Future", it speculated about the design of the new Grand Prix car that Bugatti was building for the 1955 season. This is pretty abstruse stuff. What put this exotic bee in my bonnet?
It was the autumn of 1954 and I'd just arrived in Brooklyn to start my studies in industrial design at Pratt Institute. All the wonders of New York City lay before me, just a subway ride away. This included tiny mid-town bookshop R. Gordon, specialists in automotive books and magazines. Needless to say I soon became a good customer.
Among my early purchases at Gordon's was a copy of Bugantics, yellow-jacketed organ of the Bugatti Owners Club. Its editor reported on a journalistic coup, a visit to the Bugatti factory at Molsheim during which he was allowed to photograph components of the new GP racer's engine. He also published specifications of the coming Type 251, though they were noncommittal about the car's layout.
Intrigued by design features of the engine parts he depicted, I set about the first of my many photo-interpretation efforts. It was clear from the design of its crankcase that power would be taken from the center of the crankshaft of the Bugatti's straight-eight engine instead of from the end as usual. I commented on this in my article, noting a similarity with the straight-eight engine of the Mercedes-Benz W196. In the French car's case I speculated that the engine would be rear-mounted, probably longitudinally.
I indulged in further speculation about the potential of Bugatti's design. "It would now be possible to derive real benefit from a transverse rather than a longitudinal orientation of the crankshaft," I pontificated. I stopped short of suggesting that this was the actual design of the Type 251, but readied some sketches of what I thought such a transverse-engined Grand Prix car could look like. I laid its engine flat, its cylinder heads facing forward.
Here was a pretty esoteric eight-page article, written in my garret room at 220A Willoughby Avenue. What was I going to do with it? It would make sense, I thought, to contact a car magazine based in New York. At the time there was only one of consequence, Auto Age. I sent off the story and my proposed illustrations and awaited developments.
Some days later I was called to the phone by my landlord. On the line was Harvey Janes, one of the editors of Auto Age. The Bugatti story wasn't up their street, he said, but they might be interested in other articles by someone who seemed to have a grasp of car technology. Could we meet? Could we! I arranged to see him at his Manhattan office.
At the controls of Auto Age I found two editors. One was the bespectacled Janes, an affable character with a nice line in irony. The other was a glamorous brunette, Diana Bartley, entirely at home in the world of cars. Between them they assembled the eclectic content of this wide-ranging monthly. Grand Prix Bugattis weren't in their line, they explained, but they were looking for someone to write technical stories for them. They were willing to take a chance on this 20-year-old industrial-design student.
We talked about topics and settled on - of all things - an article about rear axles for my debut. I was interested in another theme, I told them. That summer I'd visited Ford as a guest of a Blue Oval executive, Fred Goodell, a friend of my father. He gave me a tour of the proving grounds in Dearborn, the compact site that once was Ford's airport. Driving around, we saw a prototype that was unmistakably the coming Lincoln Continental. The subject of great speculation, this ultra-luxury model wasn't expected on the market until 1956.
From my recollection of the car I thought I could produce some reasonable drawings of the Continental-to-come. The Janes-Bartley team thought this would be a great idea. They cautioned, however, that I might not want my name linked with the story as it would be obvious that Mr. Goodell was responsible for the leak. I know now that such an indiscretion would have had little impact, but back then such scoops were rare and thought to have heavy consequences in Detroit's executive suites.
Enter Eric Nielssen. He married my middle name with my grandmother's maiden name plus the insertion of an extra "s". He had a byline on the axle story while the Continental sneak peek appeared anonymously. Before I knew it Eric was on the masthead of Auto Age as technical editor and busy writing articles for the magazine as the alter ego of a student at Pratt hip-deep in his design projects.
Meanwhile Bugatti pressed on with its Grand Prix car. Unveiled at Entzheim Aerodrome on November 21, 1955, it did indeed have its engine in the rear and positioned transversely as well. Its cylinders were vertical instead of horizontal but otherwise the Type 251 was surprisingly close to my anticipation of it a year earlier. The GP car wasn't a success, but I'll always have a soft spot for this Bugatti model as the one that got me started on a career of writing about interesting cars, companies and people.
- Karl Ludvigsen
---
The Duckworth Way (February 2006)
My first personal exposure to the genius of Keith Duckworth was during a visit to Cosworth Engineering in Northampton in 1968. Keith showed me around the workshops, letting me photograph the parts of his race-winning 3-liter Formula 1 Ford V8. Then we went for lunch at a nearby pub during which Keith expanded on his approach to engineering in general and racing-engine design in particular.
Keith had nothing but contempt for the way "engineering" was practiced in Britain. He viewed the respected British art of "development" as a substitute for designing the job properly from scratch. "Development is only necessary to rectify the ignorance of designers," he said. "Some firms don't even have designers, just 'engineering' and development to try to fix what should have been designed right in the first place." Duckworth took a degree in engineering at London's Imperial College, writing his thesis as a criticism of the course!
I wondered to what extent Keith paid attention to the work of other engine designers. "I never look at what others have done," was his flat reply. "You have to think out everything yourself right from the start, facing every problem, reaching your own conclusions. Then you can compare what you've done to others and understand what they've done and why."
Fourteen years after my edifying visit to Northampton, as the person presiding over Ford's European motor sports it was my honor and pleasure to celebrate the 150th victory by the Cosworth Ford DFV engine in Grand Prix racing and to congratulate the teams that contributed to such success. At the time the nearest rival was Ferrari with a mere 84 victories. The astonishing DFV had also recorded 142 seconds, 146 thirds, 130 pole positions and 136 fastest laps.
As a celebration of this achievement I thought we at Ford should try to get the license plate "DFV 150" and present it to Keith. Harry Calton in public affairs was successful and we duly arranged for its delivery to Cosworth. Typically, Duckworth spurned our offering. It's probably still being used on a Cosworth Transit van.
We were struggling in our relationship with Cosworth at the time. Nineteen eighty-two was the first year of the new Group C rules, which controlled endurance racing with a fuel-consumption limit. We backed Cosworth's construction of a 3.9-liter version of the DFV which we called DFL with "L" for long-distance and large (and Ludvigsen). Unfortunately it wasn't long-distance because it shook Fords, Lolas, Mirages and Rondeaus to pieces.
Keith was dismissive of their struggles with vibration. The Grand Prix cars had had the same problem with the DFV, he said, but soon mastered it. His implication was that we needed better designers for our cars. Later he realized that the long-stroke DFL was indeed a vicious shaker. For 1983 we were planning to turbocharge it - so we could burn all our fuel allocation - and fit external balancing masses to counter the vibration. We were still at the stage where the dynamic balancers were tearing themselves out of the crankcase when the program was canceled.
At Ford we also strongly supported Duckworth's suggestion of a future Grand Prix formula that would equalize performance by restricting the flow of fuel to the engine. As usual Keith had thought this through in detail with answers to all objections. It would have been a good idea - we loaned him one of our engineers to support him in crucial presentations - but it was an innovation too far for Formula 1's regulators.
Thinking it through was characteristic of Keith Duckworth. "I have to admit I don't find thinking to be an unpleasurable exercise," he told me in his nasal drawl. "I put a lot of thought into my work. For example I probably spend a full hour each week just thinking about connecting rods, about all the different possible ways to make them. I try to anticipate every point that could cause problems. Then when the first things go wrong with a new engine I really feel each one. When other problems come up later, ones I couldn't have anticipated, I'm absolutely up the flue! I haven't the vaguest idea where to start to fix them!"
This reminds me of another Duckworthism: "Anybody who's sure he has the answer to a problem probably doesn't even know what the problem is." Others that guide his friends, colleagues and customers are:
"It is better to be uninformed than ill-informed."
"In engineering there is an answer to everything. It's just that we're too ignorant or too dim to see it."
"Very few straight answers are even possible; the decisive man is a simple-minded man."
"It's better to keep your mouth shut and be thought a fool than to open your mouth and prove it."
Keith Duckworth was supported in his engineering career by colleagues who appreciated and indeed absorbed his demanding philosophy. His main partner was fellow engineer Mike Costin, the "Cos" in Cosworth. "Mike and I knock the bull out of each other's ideas," Keith said. "Eventually we hope we catch everything." Others of his close and supportive team were Bill Brown and Benny Rood.
After retiring from Cosworth in 1988 at the age of 55 Keith Duckworth maintained his interest in machinery of all kinds including aviation and motorcycling. He's now practicing his unique and uncompromising philosophy in Another Place. Keith left us on December 18, 2005.
- Karl Ludvigsen
---
Daytona Dramas (January 2006)
Have I told you the one about being named to drive a Ford GT40 at Daytona? It all started when I met William Wonder. Bill was a wiry, wry flight engineer with American Airlines and a passionate enthusiast of cars and racing. His job with American allowed him to test-hop the planet in search of cars and know-how. It also gave him time off to prepare cars for competition - at which he was extremely capable - and race them.
In 1956 Bill was stepping up his racing. Having acquired a 200S Maserati he needed to sell his Bristol-powered Frazer Nash Mille Miglia. This was a car I'd long admired, so we arranged to swap it for my Alfa Romeo Giulietta Spyder - a car that Bill could much more easily sell. We kept in touch, and by the early 1960s Bill was working on other people's cars in addition to his own on the floor above Del Mentnich's body shop at Locust Valley on New York's Long Island.
In the meantime Bill Wonder raised his racing game. He acquired a Huffaker-built Genie with Ford power for the SCCA's Group 7 racing and the jewel of his stable, an early Ford GT40, the Shelby-entered car that was driven to victory in the 1965 2,000 Kilometers of Daytona by Ken Miles and Lloyd Ruby. Both were immaculately maintained and liveried in his trademark deep maroon. I acted as team manager for Bill's effort in the first-ever 24 Hours of Daytona in 1966, when he was partnered by Herb Wetanson. A wheel problem sidelined our effort during an extremely cold night in Florida.
In 1966 Bill and his sidekick Don Lefferts maintained my Maserati A6GCS for racing in the VSCCA's events at tracks like Lime Rock and Bridgehampton. The Maser and I made a quick pairing, pretty much the fastest in the Club at that time. Bill Wonder must have taken note, because one day late that year he raised the idea of my co-driving with him at Daytona in 1967. This was a sensational idea. Racing a GT40! I accepted with a frisson of dread and delight.
There was only one problem: though I'd been to the odd SCCA driver's school, I possessed nothing resembling a current international competition license. My best shot at one was a driver's school at Marlboro, Maryland in November of 1966. A good result there might suffice to get my ticket. For this I needed a current-model racing car - something else I conspicuously lacked.
The solution came from Hank Rudkin of the Pepperidge Farm Rudkins. Tall, sandy-haired Hank was the backer of an effort in Seymour, Connecticut to build a Saab-powered single-seater called the Quantum Formula S. This was a successor to an earlier sports-model Quantum Saab that I'd tested at Lime Rock, a car that John Fitch and I judged only marginally controllable.
The Formula S was a big step in the right direction, a trim little racer with a twin-tube frame that served as its fuel tank and a ring-a-ding Saab two-stroke in the back giving 85 horses. Saab components were ingeniously adapted to its parallel-wishbone suspension, rack-and-pinion steering, drum brakes, wheels and four-speed transaxle. With a car buildable from a base kit priced at a mere $1,347 FOB Seymour, the ultimate aim was to establish Formula S as a one-make SCCA category.
With Rudkin's manager/racer Bill Kerrigan I arranged to borrow his demonstrator Formula S complete with trailer and tow car. I dragooned fellow General Motors wage slave Matthias Klinke into accompanying me to Marlboro for the school. We wheeled the red racer through tech inspection but then had the damnedest time getting it to run. The solution lay in isolating an ignition wire that was shorting out against the frame. With that sorted the super-tuned Saab burst into raucous life.
All went well at the school. I had a blast driving the Quantum at Marlboro, where a small oval combined with a tight road circuit to create a demanding track. We walked the track, did our usual solo bits and then had a race at the end in which I didn't embarrass myself or the Saab.
Was this enough to get the license I needed to race at Daytona? Well, no. Displaying a high degree of common sense, the authorities decided that I'd actually have to drive in some races before they'd punch my ticket. With no races available over the winter, I was stymied.
Bill offered the drive to Ray Caldwell, the New England driver-engineer than making his name with his Autodynamics Formula Vees. Wonder and Caldwell made a good pair. They upped their qualifying pace at Daytona and completed the 1967 24 Hours in eighth place and second in class - an excellent result. They teamed up again for Sebring but retired with engine trouble.
As for me, I had a great Daytona in 1967. I was close to the Ferrari people in those days, including drivers Lorenzo Bandini and Chris Amon, engineer Mauro Forghieri and team manager Eugenio Dragoni. I was in their garages as the dedicated Maranello mechanics meticulously prepared their two 330P4 Ferraris for the race. I was trackside when they rolled in tandem across the finish line after vanquishing the might of the Ford Motor Company. And I joined their dinner when they celebrated a memorable victory over the Blue Oval. Driving would have been good, but this wasn't bad at all.
- Karl Ludvigsen
---
Steve Wilder (July 2005)
I guess you could say I had a love/hate relationship with Steve Wilder. I don't think he ever had a harsh thought about me, although I fired him from a job he enjoyed. But afterward Wilder was the quintessence of consideration. When I bought a Moretti, Steve popped up with a bottle of Moretti beer. Knowing I was nuts about the Lancia D50, he gave me a kit to build one. And when he saw an article he thought would interest me, as he did earlier this year, Steve let me know.
I shared an MIT engineering education with Stephen F. Wilder, although unlike me he graduated, indeed with honors. Steve served with the US Army in Europe in the early 1950s. He stayed on for a while in Britain, getting involved with the Porsches that were then exciting fellow enthusiasts like photographer Jesse Alexander and journalist Denis Jenkinson.
Jenkinson in particular enjoyed hanging out with Wilder because, as Jenks put it, he was "a good practical fellow who could whip a Porsche engine out by the roadside and fix it if need be." That this was no idle claim was proven in the Nürburgring paddock, after Jenkinson's 356A broke its transaxle mounting. There "we dropped the engine and gearbox out and renewed the rubber mounting, and for that sort of job 'in the field' Steve was an ace."
Wilder spared the horses on neither road nor track. Before going into the Army he raced in California with a Porsche-powered VW Beetle. He pedaled his black 1500 Super coupe in British races in 1955 and '56, taking pleasure in beating the 2-liter Triumphs with half a liter less. He also upended his Porsche on the road, Jenkinson related. Steve mentioned an English hilltop where a sign said, "Accident Black Spot - 27 accidents have taken place here." "Gee," the sandy-haired Wilder told Jenks with his wide grin, "I guess the council guy is changing it to 28 right now!"
After returning to the States, Steve bought one of Colin Chapman's first single-seater Lotuses, a Climax-powered Mark 12. To enter it he set up the 5th Avenue Racing Team, the acronym of which amused him. Wilder was in fact an entrant for the first modern United States Grand Prix at Sebring in 1959, but his car didn't arrive in time.
Steve was testing his Lotus at Lime Rock Park when he had a heavy crash that he was lucky to survive. This marked the end of his competitive ambitions. "You know how when you're driving very fast," he told me, "a little warning sign comes up that you're about to overdo it? That you should back off the throttle? Well, I don't seem to have that." Some drivers don't, and like Wilder they're wise to retire from racing before they're crippled or worse.
Steve and I hooked up when I left my job as technical editor of Sports Cars Illustrated to go into the Army in 1957. Editor John Christy had seen some pieces Steve had written for Road & Track that qualified him for the job. The problems arose when I came back from my stint in the Signal Corps to take over from Christy as Wilder's boss. This didn't sit very well with the several-years-older man.
From my time working with Steve I formulated one of my axioms, which is that the person living closest to any destination always gets there last. Wilder lived close to One Park Avenue but was invariably late. It was also like pulling teeth to extract copy from him. Thus when I discovered Jan Norbye I hired him to take Steve's place. The incumbent fought back, saying, "Why won't you judge me by what I'm saying, not by what I'm doing?" I'd have preferred it the other way around.
After Car and Driver Steve developed fascinating parallel careers. He became a technical advisor to the New York City Taxi Commission. He also set up Suspensions International Inc. to work as a consultant. The latter was the vehicle for his most spectacular venture, his takeover of the foundering Griffith GT sports-car project and its rebirth in 1966 as the Omega. On this he spent what David E. Davis, Jr. called "quite a lot of nice old New England money", hiring Charlotte's Holman-Moody to build and rectify some three dozen cars that were in the pipeline.
"Our man Wilder got serious about the GT car business," added Davis. "He spent more money than he'd ever dreamed he could. He worked hard. He hassled and negotiated." He saw great potential in the Ford-powered sports coupe, built in Italy by Intermeccanica to a design by Bob Cumberford productionized by Franco Scaglione. Wilder is credited by experts with the output of 33 Omegas. That's 33 more cars than most of us will ever have a chance to manufacture.
With as Davis wrote "a personality that is charming to a fare-thee-well," Steve Wilder was also preternaturally bright. Speakers at meetings of the International Motor Press Association could count on being skewered by a Wilder comment or question. He was a shining ornament to our amazing world of the automobile. And if I write about Steve in the past tense, it's because prostate cancer finally caught up with him in November of 2005. That was one challenger he couldn't outrace.
- Karl Ludvigsen
---
Leo Goossen (June 2005)
I'm not sure when I first walked up the wooden stairs to the floor above the machine shop at 2001 West Gage Avenue in Los Angeles. It couldn't have been later than November of 1960, when I was at Riverside for the US Grand Prix. On the spacious board floor of the upper story of the Meyer & Drake Engineering Corp. a bespectacled man sat on a tall stool in front of a huge drafting table, well-lit by the California sunshine. This was Leo William Goossen.
Thanks to Griff Borgeson's pioneering research into the origins of the American racing engine the world knew who Leo Goossen was. In an October 1956 cover story in Sports Cars Illustrated Griff traced the bloodlines of America's racing engines. By 1920, he said, the 27-year-old Goossen had joined the design staff of Harry Miller, who was on the brink of dominance of American racing with his superb twin-cam straight eights.
For the subsequent 40 years before our meeting, Leo Goossen had been the engineer behind America's most successful and spectacular racing engines, from the Offys and Meyer-Drakes to the Novi V8 and Sparks sixes. Slender with thinning hair, Leo had slim fingers, a gentle handshake and a quiet voice with traces of his Midwestern origins. To my astonishment I learned that we were both natives of Kalamazoo, Michigan, where his Dutch parents had settled. They later moved to Flint, where Leo joined the engineering staff of industry leader Buick.
Keen and willing to learn, Goossen came under the wing of Buick chief engineer Walter Marr. As described in my new book, The V12 Engine, in 1915-16 he helped Marr design an overhead-valve V12 for Buick and a V6 version as well. When a spot on Leo's lung was diagnosed he was advised to head for warmer climes, which found him at Los Angeles in 1919. His knowledge of Motor City engineering, plus a laudatory letter from Buick's Walter Chrysler, landed Goossen a design post with Miller.
A huge multi-drawer cabinet next to Leo's board held the fruits of his subsequent labors. Drawing after drawing showed cars and engines he'd designed for Harry Miller, Fred Offenhauser, Art Sparks, Bud Winfield, Lou Meyer and Dale Drake, to name only his main employers and customers. Goossen gave me blueprints of the V8 he designed for Howard Keck, his front-drive Novi car and engine and an air-cooled flat six he engineered for owner-driver Joel Thorne.
In return I sent Leo information that came my way from engineering sources in Europe. But when we corresponded in 1962 the Meyer-Drake Offy was still the engine to beat at Indy. "It does look as though the engine conceived way back in 1931 is still a competitor," he said; "how much longer no one knows." "When we are beaten," he wrote me in 1963, "we can always say it took a long time to do it." I'll say!
When I mentioned the trend in Europe back to four-valve cylinder heads, an Offy feature since 1931, Goossen was ahead of me. "We have made dyno tests using the 255 with four- and two-valve cylinder blocks," he reported, "The four-valve job produced the greater power." In fact this test was made in 1946, Leo told me, comparing a 255-cubic-inch Offy four with a two-valve block he'd designed in 1933 for Art Sparks, featuring very large valves at a 90-degree included angle.
Ford built the V8 engine that broke the Offy's stranglehold on the Indy 500. It paid Meyer-Drake the compliment of buying one of its engines in 1962 to find out what they had to beat. "Extensive dyno tests were made," Leo told me, "the results, however, being somewhat classified. We do know for sure that they obtained 411 honest horsepower. Also, 'The volumetric efficiency was 98%'." The four-valve cylinder heads of Ford's four-cam V8 for 1964 were patterned after his Offy design.
When Lou Meyer left the company to look after Ford's engines Dale Drake took over, ably supported by his son John. Doing business as the Drake Engineering and Sales Corp, in 1970 they moved to bright new premises in Santa Ana. Goossen, now 78 and upgraded from "design engineer" to "chief design engineer", moved along with them. At the beginning of 1972 Leo wrote to me that he expected "to retire this year". He showed no signs of slowing down.
Indy in 1972 brought success for the Drake Offy at Indy with a win for Mark Donohue's McLaren. Incredibly the turbo-Offy completed its sensational comeback by winning all the races through 1976, when only three of the 33 starters had any other kind of engine. Dale Drake saw the beginning of this gratifying boom before his death in the autumn of 1972. In November of 1974, at 82, Leo Goossen was hospitalized with a stroke. He died on December 4th.
Yours truly had some hope of acquiring Leo's archives. In 1972 he wrote that "you are my number one choice to have them". But the distance from New York to Los Angeles was too great to allow me to stake my claim. Fortunately many of Leo's drawings are in the archive catalogued and tended by leading historian of American racing Gordon Eliot White. You can have a look at http://www.crosslink.net/~gewhite. I recommend it most heartily as an insight into the life and work of a most remarkable man.
- Karl Ludvigsen
---
The Name Game (May 2005)
Naming new cars is hugely difficult because it's one of those things that a company's top executives - and their wives - consider themselves qualified to assess. No matter how much information is gathered, how many surveys are run and evaluated, the final decision usually comes down to a personal opinion. Not surprisingly that opinion carries more weight if it's held by one of the more senior executives.
My first big-time brush with car naming came when I was an executive vice-president of Fiat Motors of North America at the end of the 1970s. My Fiat colleagues had already tasted success in their renaming of the Fiat 131 for the US market. Stateside it was the Brava, a nice name, and in an upmarket version the Superbrava.
Now we were gearing up to import a new Golf-sized car that Fiat had named the Ritmo. Expected to sell in volume, this was the car we were counting on to wean our dealers away from sole dependence on our sports cars - good though they were - and stake out new careers as sedan sellers. But "Ritmo"! We thought it evoked Rit, a laundry product, and - based on its Italian meaning - the rhythm method for contraception. Neither struck us as compelling support for an important new car in a key market.
There was only one problem. The demanding chief of Fiat Auto, Nicola Tuffarelli, had decreed that there'd be no tinkering with the Ritmo name. In its rhythmic way it was to be used throughout the world on the new model - and no argument. We'd been in touch with our colleagues in Britain, who were equally unenthused but felt that they lacked the clout to take on Tuffarelli. So it was up to us.
Aware as I was of this situation when I joined Fiat, I put forward my own cheeky idea for a name. Triggered by circular motifs in the Ritmo's design, I suggested that we call it the "Berry". We could have a fun time, I thought, calling it Berry Economical, Berry Roomy and Berry Durable. A used one, of course, would be an Elderberry. For some reason this idea didn't gain traction.
After conducting the usual surveys we came up with the name "Strada" for the new model, euphonious and Italian, a neat pairing with Brava. Now we had to get it adopted. We prepared a presentation with our arguments and delivered it to the top Fiat Auto cadre, led by Tuffarelli. Guess who got to make the presentation? Yours truly drew the short straw. We got the name we wanted and the Brits adopted it as well.
Then when I joined Ford of Europe in 1980 I found names on the agenda again. We had some interesting new cars to launch. One was the new Mark III Escort, which was developed under the code name "Erika". Though this was the first Ford car in its class with front-wheel drive, we deliberately kept the Escort name to encourage the British to buy it in spite of their reservations about this radical new feature. The same name was used in North America to support the new Escort's credentials as a "world car".
We took a different tack with our replacement for the evergreen Cortina, for which "Toni" had been the project name. Our decision in this instance was to change the name to underline Toni's newness. We felt that in Germany, a crucial market for the model, the Cortina name had come to stand irrevocably for outdated technology. After much cogitation "Sierra" was the choice, and not a bad one, although we discovered that kit-car maker Tom Dutton had registered it and our lawyers had no easy time acquiring the rights.
We took two other new Fords to market with their project names. One was the Orion, the three-box version of the Escort, and the other was the Scorpio, our replacement for the Granada developed as a stretched Sierra. Here again we wanted a new name to appeal to the Germans.
Another naming issue came up when we started exporting the Sierra and Scorpio to North America. We wanted an unique brand name for the New World. I said that I had the answer. Ford owned an excellent brand with an upscale sheen: "Ghia". Instead, in its wisdom Ford came up with "Merkur", which the ads had to explain was pronounced "Mare-Koor". I hardly need add that I felt this was a pretty poor effort, even though it was German for "Mercury".
Car naming was part of my portfolio when I set up an automotive management-consulting company in London in 1983. We brought together a panel of experts to brainstorm possible future names for Bentley and Rolls-Royce models. For Renault we studied the options for naming cars built by the Romanian company it acquired, Dacia. To their surprise, I think, we concluded that Dacia was a perfectly good name with which they should carry on. That's just what they've done in many markets with the new low-cost car being made by Dacia, the Logan.
One of my last naming projects addressed the big luxury car being launched by Volkswagen. In some panic we were asked for our thoughts on possible names. Two that I recall with particular affection were "Oberon" and "Condor". Whether "Phaeton" is a better name for this top-of-the-range VW I'll leave you to decide.
- Karl Ludvigsen
---
Porsche Pushing (April 2005)
As the author of the definitive history of Porsche and its cars I'm often asked what kind of Porsche I drive. I'm obliged to answer that I've only ever owned one Porsche - a 1951 Type 356 with a 1300 engine. I was an industrial-design student at Pratt Institute in Brooklyn, New York at the time, making some money on the side as a contributor to Speed Age, Auto Age and Sports Cars Illustrated. In the autumn of 1954 I'd upgraded from my first car, an MG TC, to a Triumph TR2. Around a year later I got the itch for a Porsche.
I spotted this particular car in an ad placed by Hartford, Connecticut motor maestro Russ Sceli. I knew Russ by reputation, for he was a seminal figure in the growth of interest of sports cars in New England after the war. A notable discoverer and dealer in Bugattis, Sceli was active in the founding of the Sports Car Club of America and a major carrier of the sports-car bacillus that began infecting many Americans.
With my friend and fellow Pratt student Don Typond I drove the TR2 up to Hartford in the autumn of 1955 to have a look at the Porsche Sceli advertised. It was a sinister-looking black coupe with the split windshield that was typical of the first Porsches. Sceli said it had the Type 506 engine of 1,286 cc that was introduced by Porsche at Frankfurt in April of 1951. Russ and I engineered a swap which, if I recall correctly, didn't involve much money. The Triumph was newer and easier to sell than a primordial Porsche, which had to be driven by someone who knew how to cope with its early-VW crash gearbox.
The Porsche had many endearing features. Walnut cappings along the door sills proffered an intimation of luxury. You wound its clock by pulling out a knob at its base which, attached to a cord, in successive tugs tightened the mainspring. You nestled snugly in its sumptuous seats behind its spring-spoked steering wheel and rumbled along at impressive speed, its flat four chortling away.
Less impressive was its braking. In those early days Porsche were stopped by the hydraulic brakes that VW had adopted in 1950 for its export models, replacing a cable-brake system that Ferry Porsche admitted was a weak point of the original Beetle design. They were short on retardation for this much faster car, however. Porsche's approach to heat dissipation was to shrink finned aluminum muffs onto the outer peripheries of the iron VW drums. With aluminum expanding more than iron when hot, these weren't terrifically effective.
The Porsche's brakes and handling got a workout on the wonderful loop road inside Brooklyn's Prospect Park, the official test circuit for students at Pratt Institute. Virtually without traffic lights and providing an excellent mixture of turns, Prospect Park was and is a great track that severely tests a car.
After two British front-engined sports cars the Porsche's handling presented some new challenges. I loved the eager way it tackled corners, a Porsche trait that today's Type 997 still manifests. My main aim was to keep the front wheels in front where they belonged. Once on a narrow and twisty tree-lined road in Michigan the coupe spun out with shocking speed, happily staying on the black stuff. It turned out that a rear tire had lost air, so the Porsche wasn't to blame.
Driving the coupe through a New York winter was a hoot. Other cars created tracks in the snow; when the Porsche came along its ultra-low nose and bumper just scooped into the snow and shoved it up and over the top of the car!
Among the visits I made in the Porsche was a trip to Carteret, New Jersey to the transmitter of station WOR, where from 1:00 to 4:30 in the morning raconteur Jean Shepherd wove wonderful tales of life in the Midwest. All of us at Pratt were avid fans of Shepherd, who kept us company while we worked into the night on our projects. A Midwesterner myself, I identified with Shepherd's soothing off-the-cuff sagas of life in and around Chicagoland. My stock at Pratt went up big time when I managed a phone conversation with Shepherd during his show and subsequently sat across from the Great Man as he conjured up his verbal short stories - the Garrison Keillor of his day. You can find out more about him at www.flicklives.com.
Around this time I was falling big time for the attractions of Alfa Romeo's new Giulietta Spyder. Griff Borgeson's test of it in the May 1956 issue of Sports Cars Illustrated had me salivating for what he called "a champagne car at a beer price". I got talking to Jean Shepherd about the Porsche, with the upshot the he agreed to buy it. As so often happens it suffered some minor front-end damage in Manhattan traffic before Jean took delivery, but the transaction still went through.
Shepherd enjoyed the Porsche and drove it as it was meant to be driven. Early one morning he was bombing along the New Jersey back roads on his way to the Carteret transmitter. He rounded the last turn to roar through the chain-link gates - only to find them shut. Shepherd was okay but I think that was the end of my one and only Porsche.
- Karl Ludvigsen
---
The 200 mph Road Car (March 2005)
In 1966 I was a General Motors p.r. man in New York when I wrote a "think piece" for Automobile Quarterly. I speculated on the likelihood of a future 200 mph road car. My hook for the story was the 1965 declaration by Aston Martin's executive director, Steve Heggie, that by 1970 his company would be offering a road car capable of 200 mph. Britain's adoption of a 70 mph Motorway limit around that time wouldn't deter Aston, Heggie stressed. There were still plenty of roads on the Continent where such speeds could be used, he said.
What was the state of the art in the mid-1960s? Top speeds of Aston Martin's cars were in the 145-150 mph bracket. Only a few ultra-rare cars were faster. One was Maserati's V8-powered 5000GT, for which the factory claimed 170 mph, and the other was Ferrari's 500 Superfast, powered by a 5-liter V12 giving 400 bhp. It lived up to its name with a maximum speed in the range of 175 to 180 mph. These were the ultra-pricey sports-tourers that Aston Martin was planning to challenge with its future model. They were approaching the 300 km/h figure - 186 mph - that was talismanic for Continental sports-car makers.
The out-and-out sports-racing cars of that era weren't all that much faster. In 1965, for example, no car was timed at more than 200 mph at Le Mans. Knocking on the door was one of the Mark II Ford GT40s with an official timing of 199 mph. Most of them, and the Ferraris, reached 175-185 mph. With its lazy output of 450-plus horsepower from 7 liters, the Ford's V8 struck me in 1966 as a pretty good power unit for a 200 mph car. In fact I thought the Mark II GT40 represented an effective way of delivering 200 mph performance in a usable road car. It was geared for 205 mph in top and reportedly reached 216 mph in tests.
To reach 200 mph in a fully equipped road car I thought a minimum of 500 bhp would be needed, preferably 600 horsepower. For a transmission I proposed an automatic box with a dual-range feature - one range for ordinary speeds and a higher range for storming the Autobahns. I suggested variable-height suspension so the car could hunker down to reduce drag and improve stability at high speed. I also felt that such a vehicle could hardly avoid using an air brake to supplement its wheel brakes. An area of six square feet, I calculated, would add a valuable 0.3 g of deceleration that would be available no matter how bad the road conditions were.
Now, of course, the 200 mph road car is very much with us. Independent tuners like Germany's Alois Ruf produced one-off versions of the Porsche Turbo that could attain the magic figure. However, the first series-production car to lay claim to a 200 mph top speed was the Ferrari F40 in 1987. Any and all arguments about the fastest road car were silenced on March 31, 1998 when a standard production McLaren F1 was timed at a two-way average of 240.1 mph at Volkswagen's test track in Germany.
On February 28, 2005 the McLaren's speed was just pipped at 241.0 mph by a Swedish supercar, the Koenigsegg CCR, at Italy's banked Nardo circular track. The McLaren's best speed there had been 231 mph. With its supercharged V8 engine the CCR develops 806 bhp at 6,900 rpm. Founder Christian von Koenigsegg expects it eventually to attain the magic 400 km/h, just a tick short of 250 mph. Quite an achievement for a car that's entirely suitable for the road!
My forecast of a 600-horsepower requirement for 200 mph is holding up pretty well. With 571 bhp a Lamborghini Murcielago will reach 206 mph and with 660 bhp at Ferrari Enzo will hit 220 mph. The Mercedes-Benz SLR McLaren attains 208 mph with 626 bhp and its automatic rear spoiler does raise up to perform an air-brake function. So aerodynamic is Ferrari's 575M Maranello that it will just top 200 mph with its 515 bhp. And that of course has been the big breakthrough since I made my forecast back in the 1960s: the Energy Crises led to intensified wind-tunnel research that greatly reduced the drag coefficients of all cars, from family runabouts to exotic sports cars such as the Pagani Zonda, which needs only 550 bhp to reach 220 mph.
Most amazing perhaps is the top-speed capability of Bentley's new 553-horsepower Flying Spur four-door sedan. A team from Britain's Autocar took one to Nardo. With all four seats occupied the 5,500-pound Bentley lapped easily at 196 mph and hit a stunning 208 mph before the engine's rev limiter stopped play. The air conditioning was on and the seat coolers were operative. That was only possible with quite exceptional aerodynamic refinement by the owners of Bentley, Volkswagen.
What happed to Aston Martin? Did they make good on Heggie's commitment? Well, not at the time. In what they called their "170 mph" project the Aston engineers did build two Touring-bodied two-seaters, but their attention was diverted from ultimate speed toward other more realistic requirements. Only in 2005, with its Vanquish S powered by a 520 bhp V12, did Aston introduce a road car that could break the 200 barrier. The goal was reached, albeit 35 years late.
- Karl Ludvigsen
---
Tomorrow Came on November 23, 1959 (February 2005)
My first overseas trip as the fledgling editor of Sports Cars Illustrated was to Sweden, by courtesy of Saab. While overnighting in Gothenburg, I got in touch with an industrial design classmate at Pratt Institute, Pelle Petterson. Pelle came to meet me with his father, Helmer, in the bar of the Park Hotel. The duo were doing some design consulting for NSU, a small German maker of cars and motorcycles, and they couldn't wait to tell me about the new engine that NSU was developing at its base at Neckarsulm.
I still have the notebook in which the Pettersons tried to sketch for me the novel engine's configuration, a baffling combination of a triangular rotor in a figure-eight housing that somehow managed to carry out a complete four-stroke combustion process without valves of any kind. It was revving as high as 20,000 rpm, they told me, and producing 42 horsepower from a 250 cc unit weighing only 30 pounds. Volkswagen was said to be very interested in the engine, which could be ready for passenger-car use in five years.
NSU had already found a licensee for the engine, the Pettersons revealed. This was the Wright Aeronautical Division of New Jersey's Curtiss-Wright Corporation. Led by colorful engineer Roy T. Hurley, Curtiss-Wright was dabbling in the automotive world with hovercraft and alliances with Daimler-Benz. Hurley was said to be paying $400,000 per year to NSU for the right to exploit this remarkable new source of power.
Armed with this astonishing inside information, on my return to New York I called Fred Oppenheimer, energetic importer of NSU cars. "Something's definitely cooking," Fred told me, "though I can't give you the details. But Curtiss-Wright will be announcing something soon. Keep in touch with them to be certain you're invited." Sure enough, Curtiss-Wright announced a press conference for Monday, November 23rd, 1959 in a Manhattan hotel. There was only one snag: cameras were strictly prohibited.
Resourcefulness was called for. Technical editor Steve Wilder and I attended the conference, which included the first-ever unveiling of the Curtiss-Wright Rotating Combustion engine, complete with films of the units in operation, one powering a portable fire pump. We brought along photographer Tom Burnside, who slung his camera on a strap over one shoulder, underneath his sports jacket. After the dog-and-pony show we gathered around the exhibits. Steve and I flanked Tom as he snapped pictures of the radical engine's components. We had our story, including the identity of the engine's inventor, Germany's Felix Wankel.
From my good contacts in Germany I quickly sourced background information on Wankel and the engine's origins. But how was I to explain the way this engine worked to the readers of SCI? Its motions were so sophisticated that they were very hard to understand, even with an engine right in front of you. When Popular Science featured it on the cover of a major anniversary issue, it got the gearing wrong, proudly displaying a rotary engine that couldn't rotate!
I finally decided to fall back on an introduction of the Wankel engine that required our readers to cut out my drawing of the rotor and spin it around the stationary timing gear, inside a drawing of the housing. Only in this way, I concluded, could its amazing operation be demonstrated. I launched the engine in the February 1960 issue of SCI, praising the NSU-Wankel's ingenuity and saying, "The rotating combustion engine seems to start where the reciprocating version stops."
My theme for the discovery was "Tomorrow is Here", which I repeated in our March 1960 profile of Felix Wankel and his engine. We followed up with a color photo of the original all-rotating Wankel unit in our May issue and had the first driving impressions of a Wankel-powered car in July. Our championing of the engine put us at the polar opposite of our arch-rivals Road & Track. In his March 1960 issue R&T's respected publisher, John Bond, briefly mentioned "a sensational new engine" and added, "Our opinion of the Curtiss-Wright NSU engine? It will never be heard from again." I had a lot of smoothing to do on furrowed brows in the executive suites of SCI's publishers.
That summer of 1960 a letter and photos arrived at 1 Park Avenue of the sort that brings joy to an editor's heart. It related that a Daytona Beach father-and-son team had built a running Wankel engine, based solely on our introductory story back in February! We bought Steve Wilder a ticket to Florida and he returned with the story of the William Thomases, senior and junior, experienced model-builders who'd been so intrigued with the new engine that they'd built their own, much the same size as the unit we'd shown in SCI.
Our report on this achievement, complete with hints to home handymen, appeared in the August 1960 SCI. A father and son had completed the story that had germinated in Sweden, with another father and son, almost a year earlier.
- Karl Ludvigsen
---
MG: Gone for Good This Time? (January 2005)
Yes, I was lucky. My first car was an MG TC that my dad bought for me as a high-school graduation present. So I've long had a weakness for the MG brand. Another MG fan is Bob Lutz, for whom I worked at Ford of Europe in the 1980s. Early in that decade Bob and I visited the top management of BL, Britain's government-owned car maker. We wanted to ensure that if their thoughts ever turned to offloading some of their properties, we at Ford would be interested. We expressed particular interest in the MG marque, which had just wound down its sports-car production.
In those days, however, Americans weren't wanted. On January 9, 1986 Margaret Thatcher's defense secretary resigned from her cabinet in a huff when it seemed her government would favor an American offer for Westland Helicopters instead of the European consortium he preferred. Anti-US passions were still raging when news broke of takeover talks between BL and Ford. The Dearborn company was angrily shouldered aside as a possible owner of BL and its products.
Meanwhile Rover (as the company and all its products were renamed) continued the unflashy but effective and productive partnership with Honda that Michael Edwardes and his team had engineered in 1979. Their relationship was a win-win arrangement. Rover got new models it desperately needed and invaluable insights into the methods of a successful car company. Honda got a important customer for its power trains and indirect access to European markets at a time when its exports were constrained by mutual understandings.
When news broke in March 1988 that British Aerospace - of all people - was contemplating a Rover takeover, the Honda connection was deemed important enough for leading lights from Rover and BAe to fly to Japan for talks with Honda's president. Tadashi Kume "made clear that he would be very concerned if the bidder had been another car manufacturer." That the government held a golden share in BAe, the Honda president was assured, would make the aerospace company a reliable owner of Rover.
"Shock and amazement" described the reaction to the Rover purchase by BAe in July 1988. Much was made of the "synergies" between the two companies but analysts were hard-pressed to find any. However, under BAe the co-operation with Honda flourished. In April 1990 the two companies agreed to a share exchange that gave Honda a 20% shake in Rover's car-making operations and Rover a similar investment in Honda's new Swindon factory.
When it came to sell Rover in 1993, BAe made the decision that effectively sealed Rover's fate. On the table was an exceptional offer from Honda, exceptional in the sense that the Japanese car maker, known for its independence of thought and action, had never before sought deep involvement with another company. Valuing Rover at $970 million, it would pay $250 million to bring its shareholding up to 47.5%. Provided that Rover met certain profit and cash-flow criteria, Honda promised to take the company public by 1998. "Our philosophy was to maintain Rover as an independent British company," said Honda Motor Europe president Shojiro Miyake.
Here was a serious offer from an auto company that had real synergies with Rover and a product range that could support and underpin its future. However George Simpson, Rover's chairman, was against the Honda deal. He and BAe's Dick Evans felt the offer didn't reflect Rover's book value of $1.9 billion. Nor was BAe's ultimate exit route guaranteed. So they shouldered the Japanese aside and accepted a deal from BMW which, including assumptions of debt and other obligations, was worth an astounding $2.5 billion.
To its credit, BMW allowed the revival of the MG brand to go forward in the shape of the MGF, launched in 1995. Lacking Honda's vital help, however, and failing adequately to get to grips with Rover's fundamentals, BMW bowed out of Rover in 2000, selling the company for a pittance to four entrepreneurs. Realizing the value of MG, the buyers rebranded the company as MG Rover and brought out MG versions of all their sedans. But neither these nor the aging Rovers sold well enough to earn the profits that would allow new models to be developed.
To be fair, the new Rover owners had bad luck. They had a joint-venture partner for the MGF in body-maker Mayflower; Mayflower went bust, leaving MG Rover holding the bag. They contracted a new-model-development project to TWR Engineering; TWR went bust. Now it's been the turn of MG Rover, which has collapsed into the hands of the lawyers and accountants.
Rover seems to be defunct as a brand. The bankrupt company's only car-making asset is likely to be the MG TF, as it's now named, and its production line. This might be the basis on which MG could be kept alive. Though the little mid-engined roadster is now a decade old it's well-accepted and a sound basis for further development. It enjoys a good slot in the market as an MX-5 alternative that would surely catch on in America. Maybe it's time to ask Ford again if it might be interested!
- Karl Ludvigsen
---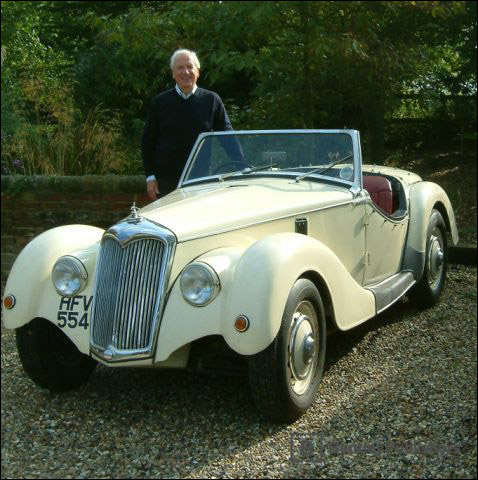 Karl Ludvigsen with his 1953 Riley 2.5L that was specially modified as a
two-seater sports car in Scotland by Dennis Ramsay
---
Return to Karl Ludvigsen main page