Return to Karl Ludvigsen main page
---
Ferry Stories
In his valedictory column Karl Ludvigsen reflects on Ferry Porsche the man, as revealed in frank conversations. His spirit of canny conservatism in the service of great sports cars long animated Porsche the auto maker.
I first met Ferry Porsche when he and Huschke von Hanstein came to New York in 1957. Ferry was in the USA to accept a Franklin Institute award that recognised the role of his father in the creation of the VW Beetle. Porsche organised a reception for Ferry and Huschke in New York to which I, a humble technical editor of Sports Cars Illustrated, was asked along. Huschke gave me my first Porsche lapel pin, which I managed to hang on to for many years.
I reflected on this first meeting after a stint in 1996 as an honorary judge at the 50th-anniversary Porsche Parade at Hershey, Pennsylvania. On the same panel was actor and comedian Jerry Seinfeld. My colleagues at Bentley Publishing arranged for me to have some one-on-one time with Jerry, who is an enthusiastic owner, driver and admirer of Porsches. During our chat he said to me, in his no-nonsense way, 'You knew Ferry Porsche, didn't you? What was he like?'
Yes, I did know Ferry Porsche. He was of medium height with light-brown hair and a clear gaze. He spoke in a gentle tenor with a lilt that betrayed his Austrian origins. He preserved as well an Austrian awareness of the ridiculous, an appreciation that although things had at times been bad, they could always have been a lot worse. It was fascinating to discuss Porsche affairs with a man who had driven the Auto Unions and shaken hands with Hitler.
Disappointments loomed large in the Ferry story. During the years when he worked for his demanding father he suffered from the same abruptness, the same unwillingness to praise, as his colleagues. If it was meant as a way of hardening the young engineer, it failed. Ferry remained a man who got results by knowledgeable persuasion, not by fiat. He brought all of his unequalled experience and close observation to every decision, an attribute that could be frustrating to his colleagues but yielded great results in the long run.
Perhaps Ferry's deepest disappointment was his father's decision on the distribution of the Porsche patrimony at his death in 1951. The semi-feudal central-European custom was that the eldest son received the main inheritance, the house and the business, while token gifts were made to others. Ferry Porsche had every reason to expect that he'd be similarly blessed. Instead, to his astonishment and dismay, Ferdinand Porsche divided ownership of his holdings equally between Ferry and his sister Louise without, said grandson Ferdinand Piëch, 'giving the slightest inkling as to whom he'd prefer to entrust the leading role in the clan.
'Apart from the fact that the daughter was five years older,' Piëch continued, 'she always seemed rather more mature, grown-up, stronger than her brother. At least in my view she'd never lost a certain advantage, and there's much evidence that my grandfather saw it the same way.' 'My father absolutely wanted to bring my sister into the company's management,' Ferry acknowledged. 'It would have been more correct if my father had gone the way of the Rothschilds and said: "One bears the responsibility, one does it."'
Brother and sister found a Solomonic solution. They took joint ownership in their respective enterprises, which however remained separate in their management. Ferry ran the car and engineering company in Stuttgart while in Salzburg Louise headed the Austrian import company for VW and Porsche. 'Each sibling was ready to help the other,' said eldest grandson Ernst Piëch, 'but they remained separate.'
Little changed over the years in the high-tension relationship between brother and sister. Yet when Ferry was released from detention in 1946 it was to his sister that he turned, for long walks in the countryside to share his pent-up emotions, rather than to his wife. 'One could sense that the relationship between the siblings Louise and Ferry was exceptional,' said Ferdinand Piëch. 'They loved and hated each other in the intense, violent manner that's customary between brother and sister. And naturally it fitted that picture that in high old age, in spite of all that separated them, they were again and again together.'
Forthright to a fault, Ferdinand Porsche had been constitutionally incapable of appreciating the attributes that Ferry brought to business management. He was conservative, to be sure. That very conservatism contributed to the remarkably subtle and at times glacial evolution of Porsche's cars from the 356 through the 911 to 1972, when Ferry and his relations stepped back from the company's management. Without mentioning the 924 and 928, Ferry said later that he wished he'd stayed longer at the company's controls.
On 15 October 1973, when Ferry's departure from direct management was still fresh, I sat with him in his office in a villa on Stuttgart's Robert Bosch Strasse to discuss the company and its evolution. This was the first time that I or anyone else had heard of the 1.5-litre sports car that was designed before the war with the aim of creating the first Porsche-branded production model. 'It had a five-cylinder engine,' he told me. 'It's a very smooth, well-balanced engine,' he said, 'with nice firing intervals.' Only when I went to the files to check on this hitherto-unknown design did I discover that Ferry had recalled the concept but not the actuality: in fact the Type 114 'F-Wagen' had a V-10 engine.
Ferry described to me the way he had moved a small engineering detachment from Gmünd back to Stuttgart late in 1949. They set up shop at the Porsche villa on the Feuerbacherweg, using the garage as a workshop-as it had been when the first VW prototypes were built-and the room usually occupied by the family cook, which they called their 'three-metre office'.
It wasn't a given that Porsche would make cars in Germany, Ferry explained: 'In 1951 there were many discussions in the family about whether we should continue what we started in Gmünd with the 356. I was always for it, and after I pressed ahead there were no more arguments. In fact there were, though-arguments about which part pays for what. If we pay for 50 per cent of engineering work on cars with cars, for example, who is to say how the other 50 per cent was earned with consulting? You can divide up the amounts any way you want.'
When Porsche started making cars in Germany it rented space from coachbuilder Reutter, because the US Army still needed their nearby Werk I as a motor pool. 'That was our greatest good fortune,' Ferry told me with a knowing smile. 'Other firms had buildings, tools and so forth, but they didn't know what to do, which cars to make. They had overheads but no cash flow. We started with cash flow but with no overheads!' With their earnings and royalties from Volkswagen they soon built up a war chest.
'We then saw that production needed to increase,' Ferry continued, 'so we built Werk II. It was ready in 1956. Then that same year, exactly on the 25th anniversary of our company, the Americans gave back our Werk I. If we'd known that would happen we might never have needed Werk II!' This was typical Ferry, bemused by such coincidences and second-guessing past decisions. Of course both workshops were soon needed to meet demand.
Ferry Porsche explained to me the background of the relationship with Reutter. 'Father Reutter was killed by bombing here in Stuttgart,' he said, 'and his son was killed in the war. There were eight heirs but none of them had any knowledge of the business so they hired a manager. When they had to invest more, as our production increased, the heirs didn't want to, so the manager advised them to sell the body plant. In a very difficult decision, we at Porsche bought it in 1963. It was very hard to get the necessary capital together. We had to make an investment which brought in nothing new. We laid millions on the table and nothing changed.'
While sports-car production boomed, Porsche's contract with Volkswagen gave little satisfaction apart from royalties. 'After the war,' said Ferry, 'our first work for Volkswagen was to design a new car, keeping the existing engine. It had a completely integral structure and MacPherson-strut front suspension. But then the Beetle was selling so well they decided not to build it.' Many more prototypes for Wolfsburg met the same fate. 'That's why I always thought that we should keep building cars,' Ferry told me. 'At least in one area we can show that we are always up to date, even if the others for whom we work don't produce what we have designed. If we weren't building cars, nobody would speak about us any more.
'Others are making sports cars,' Ferry Porsche explained, 'but no one makes a car like we do, made specially for the purpose, down to every last screw and bolt. Others in Italy do it, but their cars cost twice as much as ours.' As a summary of what makes Porsche Porsche, that's still pretty good today.
- Karl Ludvigsen
---
The Unasked Question
Its membership in the VW Group has brought Porsche both new opportunities and new challenges, especially in engineering, in which it has a proud tradition. Karl Ludvigsen looks for answers to a question no one has asked.
Since the arrival of Matthias Müller as Porsche's new chief he's been quizzed from all quarters about the outlook for the company's products and the nature of Porsche's relationship with the rest of the sprawling VW Group. He's been pretty forthcoming.
A crucial question, of course, is the nature of Porsche's future role in respect of the Group's sports cars. Audi has been challenging Porsche in this sector with its TT and R8 derivatives, the latter especially a no-excuses sports car. Nor is Lamborghini to be overlooked, in its role as an associate of Audi, or Bugatti, which is linked with Bentley in the Group hierarchy.
Müller described an early-2011 conclave of senior VW bosses at which the question was aired: 'What is the most sporty brand in the Group? And we decided that that is always Porsche. Due to that fact, we said that the modular systems of high-performance sports cars have to be the responsibility of Porsche.'
This was a signal victory for the Zuffenhausen outfit. It puts Porsche in charge of platforms for all front-mid-engined and rear-mid-engined sports cars, those of Audi and Lamborghini as well as Porsche. The assignment successfully fended off a proposal from Wolfsburg that future 911-class cars be based on VW underpinnings. This was clearly a step too far; Porsche will control development of all its boxer-engined sports cars.
Matthias Müller is open, however, to the use of VW components for a sub-Boxster entry that he fondly calls the '550'. It would be derived from the Boxster, he said, 'which we can make a little bit cheaper using some parts of the modular system of Volkswagen, specifically the MQB-the next Golf platform. So that could be a way to have a platform for a smaller sports car.' In Wolfsburg jargon this is the Modularer QuerBaukasten or matrix for transverse-engined cars-perhaps a hint that the '550' could have an east-west mid-mounted engine.
Impressively, as well, Porsche was awarded responsibility for the MSB or Modularer StandardBaukasten, which will be used for the Group's sporty sedans with rear- and four-wheel drive. 'The basis is actually the Panamera platform,' Müller explained, 'which we will develop in the next generation. Concept-wise it is the platform which fits the best for huge cars.' By 'huge' he meant not only the Panamera itself but also the Bentley Continental or the mooted four-door Lamborghini based on the Estoque concept car shown in Paris in 2008.
Müller didn't rule out use of the MSB underpinnings for a future Audi, such as the A8, but stressed that it such a decision was up to Audi. The Ingolstadt sister in the VW Group has its own MLB platform for products with longitudinal engines as the acronym suggests. This has already been earmarked for the third generation of the Q7, Cayenne and Touareg.
Nor is this all on the groaning platter of the Weissach engineers. 'There are two other Group-wide fields that we take care of,' Matthias Müller added: 'light-weight construction and engine expertise.' The assignment to mastermind lightness for the VW Group arose during a discussion with Ferdinand Piëch, said Müller. 'We quickly came to the theme of weight reduction-and thus efficiency-and that here Porsche must again assume the technological leadership. We want to deliver an argument to our customers that says it's not immoral to drive a sports car.'
As for 'engine expertise', this is a topic of immense importance to a Group that has always prided itself on the outstanding power-unit skills in Ingolstadt and Wolfsburg that have given birth to such notable engines as the pioneering VW Diesels and the W-format units that are unique in the industry. It won't be easy for Porsche to prevail across the group in this specialisation. This will be one of the tasks of its new engineering board member, Wolfgang Hatz. From Porsche by way of VW, Hatz has the asset of engine expertise.
Soon after taking over at Porsche in October of last year Matthias Müller expressed one of the goals of his administration. 'It would be fatal,' he said, 'if we weren't to enhance the profits of other brands in the Group effectively by using Weissach, the company's third large development centre. I'm confident that we'll have a substantial role.' He has achieved this aim with stunning success.
The VW Group signals its confidence in Porsche with the investment that it is planning over the coming five years. A billion euros are earmarked for enhancement of facilities for production, product planning and engineering. As well staffing is expected to rise by eight per cent or some 1,000 personnel, half of whom are needed in engineering to carry out the major new assignments described above-not to mention continuity of the traditional core Porsche products.
The foregoing begs a crucial question: what is to be the fate of Porsche's vaunted engineering services to outside clients? Opening in the Porsche Museum on 21 June is a special three-month exhibition on the subject of 'Porsche Engineering - 80 Years of Porsche Designs'. It takes its timing from 15 April 1931, the date on which Ferdinand Porsche and his backer Adolf Rosenberg officially registered their new business, an engineering consultancy that aimed to provide design services to clients.
In 2006, when the dedicated Porsche Engineering Group (PEG) and its 500-strong staff celebrated their 75th anniversary, they produced a book that told the early story of Ferdinand Porsche's creativity and highlighted the major projects carried out for customers after the 1931 founding of the Dr. Ing. h.c. F. Porsche GmbH.
Unforgettably the 1930s brought the high-profile engineering of the Grand Prix Auto Union and the Volkswagen, projects that reminded the world of Porsche's expertise. The 1950s saw new prototypes for VW and the design of an all-new car for Studebaker. The 1960s brought the engineering of the Leopard armoured assault vehicle while the 1970s launched major work on the Russian Lada Samara and the 1980s witnessed the design of engines for Seat, Harley-Davidson and TAG, the turbo V-6 that won championships in McLarens.
Off the beaten track of vehicle design were such projects as forklift trucks for Linde and a flight deck for Airbus. These were godsends during periods like the 1980s when the designs of Porsche's own products were quasi-static, leaving stylists and engineers with lots of time on their hands. At various times efforts were made to expand the PEG's activity, which was always seen by the senior members of the Porsche and Piëch families as the vital core of Porsche's competence. A Detroit office, for example, was opened and later closed.
Since October of 2009 the PEG's board chairman has been Malte Radmann, who is also handling its commercial arrangements. The Group's technical director is Dirk Lappe, who came up through electronics. Today, says Porsche in its 80th-anniversary celebration. 'Porsche Engineering carries out development work on behalf of car manufacturers and suppliers as well as companies from other sectors, combining the skills of Porsche as a series manufacturer, technology company and engineering service provider and making these available to third parties.'
But does it? This is the unasked question. Porsche refuses to release information on the number of the PEG's third-party customers or the share of turnover for which it is responsible. It was the recent PEG custom to publish a magazine at the beginning of each year to tout its competence and the capabilities available at Weissach. So far in 2011, well into the year, no new magazine has been published. Nor for many months has any announcement been made of a new contract for the PEG.
Porsche may be experiencing a major collision between its hallowed tradition of design for customers and the tremendous demands being made on its engineering capabilities by the tasks that it has accepted-indeed lobbied for-within the VW Group. The PEG's 500 staff would easily be swallowed up by these commitments, to meet which 500 more engineers are being recruited.
Another straw in the wind gives a hint. During 2010 the VW Group bought 90-per cent ownership of Italdesign, the company founded in 1968 by Giorgetto Giugiaro and Aldo Mantovani. Folded into the VW empire, Italdesign will no longer work for third parties. Its current clients, said Giugiaro, could either withdraw from their commitments or have them completed. After that no new outside projects will be accepted.
Is the same thing happening at Porsche? Unasked, the question is unanswered. It was once the ambition of VW's Heinz Nordhoff to gain complete and exclusive control of Porsche's engineering expertise. Dedicated as he was to Porsche's hard-won independence, Ferry Porsche saw through Nordhoff's scheme and thwarted it. Now in the 21st century a descendant of the founder, VW's Ferdinand Piëch, may have achieved what Nordhoff could not. It would be his definitive rude gesture to the company that showed him the door almost 40 years ago.
- Karl Ludvigsen
---
Porschefying History - Part 4
In one of the most impressive and complex automotive recreations, Porsche funded the revival of Ferdinand Porsche's hybrid of 1900. Then it corrupted the achievement by making needlessly exaggerated claims for its Semper Vivus.
Backed by the Vienna firm of Jakob Lohner, coachbuilders to the crowned heads of Europe, Ferdinand Porsche built his first racing car in 1900. Like all his earliest cars it was battery-powered and propelled by electric motors built into the front wheels. On both sides of its nosepiece were triangles from which three running legs protruded, a well-known motif in both Sicily and the Isle of Man. It symbolised the patented System Lohner-Porsche.
The racing Model J Lohner-Porsche had a tubular steel frame and suspension for its front wheels only. The driver crouched over a raked steering column behind a wedge-shaped prow. A second seat was at the rear. Below them a coil-sprung box carried the battery pack, containing 74 cells with a 148-volt potential, Porsche's biggest and heaviest yet. It contributed most of the bulk of the stripped-down 2,490-pound Type J.
This racy Lohner-Porsche was built expressly to compete in the prestigious and demanding Semmering Hill Climb near Vienna, driven by the designer himself. On race day, 9 September 1900, his time at the half-way mark promised victory but his drive tyres failed him. Porsche's style was fast but rough; on the big day he pressed too hard. He struggled forward on the naked rims but they scrabbled ineffectually on the loose surface. His racer slewed to a standstill.
Failing so openly mortified Porsche, who stood stranded at the roadside. When a passing official asked after his welfare, the distressed designer answered, 'I'd really have preferred that both the car and I fell off the cliff!' It was a setback in image and prestige for Lohner, which had entered a second Lohner-Porsche for Johann Maschl that failed to figure among the finishers.
Porsche assured his chief Ludwig Lohner that a result could be obtained, so arrangements were made to with the Austrian Auto Club to have official timing for a private attack on the hill two weeks later. The Semmering was wreathed in mist for an early-morning start. Observers heard the hooting of Porsche's wheel-mounted horn before they saw him roll speedily and silently out of the mist. His clocking at an average speed of 24.88 mph was quicker than that of all participants a fortnight earlier save a solitary three-wheeled de Dion. Honour was satisfied.
Soon after this sprinting success Ferdinand Porsche completed another project based on a similar tubular chassis. It was the realisation of an idea that he'd had earlier in the year. In Vienna's AAZ of 25 February 1900 readers learned that Porsche and Lohner wanted 'to supply the vehicle with a portable charging station, which would enable it to generate so much fresh current during the journey that it could cover 95 miles.' This required no small amount of electrical engineering, at which Porsche was expert.
Like the racing car the new machine had a single driver's seat in front, behind a curved dust shield. Another seat at the extreme rear could accommodate two. Its battery box was like that of the racer but with 30 instead of 44 cells. The reduction was allowable because the new car carried its own charging station. Behind the front seats were two 3½-horsepower single-cylinder de Dion engines from Lohner's extensive inventory of past experiments. Both drove generators that delivered electricity according to Porsche's sophisticated system.
Each de Dion engine operated completely independently in all its equipment and interconnections to the batteries and motors, delivering a current of 20 amperes at 90 volts. Under way the generators' output was fed directly to the front-wheel motors unless it wasn't required, in which case it was diverted to the batteries. The latter then were switched into the circuit to augment the output of the generators when needed, for example on upgrades. In other words, it was a parallel hybrid as we understand the term today.
An appealing feature of Porsche's layout was that the generators were operated in reverse as motors, powered by the batteries, to start the de Dion engines. Each engine drove a pump that delivered its cooling water to an individual gilled-tube radiator alongside the prow.
The on-board charging station weighed 595 pounds. Also added were 220 pounds worth of full fuel and water tanks. Thanks to the reduction in battery weight, at 2,650 pounds Porsche's self-charging vehicle scaled little more than the same machine in all-electric racing form. Its name Semper Vivus reflected its 'always alive' capability.
With its lack of rear suspension and exposed booster engines, shielded only by side screens, this was a mere breadboard layout of the kind of vehicle Ferdinand Porsche had in mind. By the time Semper Vivus was displayed at the 1901 Paris Salon, together with a Lohner-Porsche electric car and fire truck, Porsche's thoughts had already raced ahead to new families of motor-wheels and new ways of powering them. The test car's success in providing a link between a gasoline engine and electric road wheels opened new horizons for both Porsche and Lohner. The idea's first manifestation was all but forgotten by its creator.
With the dawn of the hybrid era in the 21st century, Semper Vivus wasn't forgotten by the Porsche company. On 16 November 2007 it commissioned Hubert Drescher to build a replica of the long-lost pioneer. At his workshop in Titisee-Neustadt, near Freiburg in the depths of the Black Forest, Drescher began piecing together the information he needed to recreate this historic prototype in all its revolutionary complexity. He needed a lot.
The de Dion engines shouldn't be a problem, Drescher thought, only to find them thin on the ground. He was about to start making replicas when he found one in a Strasbourg flea market. The Porsche Museum's Klaus Bischof discovered another-with some useful spare parts-in Britain during a trip to Goodwood's Festival of Speed.
Helped by engineer Wolfgang Ertl, Hubert Drescher rethought the Semper Vivus electrical system. Original Porsche wheel motors were examined in museums in Budapest and Vienna to permit Ferdinand's brain waves to spark again. The inventor's patents gave clues to motor windings and the rotary control under the driver's seat that gave the vehicle three forward speeds, a braking mode, neutral and reverse, all managed by a single lever.
The sprung wooden battery case carried more modern cells, 44 in all of a fork-lift-truck pattern giving 88 volts. Drescher created gauges for voltage and current flow in turn-of-the-century style, saying that 'it shouldn't be possible to see that it's a reconstruction.' In all he and Erlt spent some 2,000 hours making this new Lohner-Porsche look old, an effort thought to have cost £570,000.
Early in 2011 the reborn Semper Vivus strutted its stuff on Porsche's Weissach skid pad. Its first public appearance was on the Porsche stand at Geneva in March-a fitting complement to the launch of the Panamera's hybrid version. In its press releases and an accompanying book Porsche hailed the Semper Vivus - alive again - as 'the world's first operational full hybrid automobile'.
This was another example of Porsche's predilection for rewriting history. The Stuttgart company finds it insufficient to celebrate the achievements of its founder without claiming priority for him. Porsche has to have done it first. This is regrettable because it debases the company's communications. Of course because Porsche says it, many editors think it must be true. It isn't.
Based on earlier tramcar designs, Chicago's W. H. Patton built vehicles in 1898-99 that drove their wheels by an electric motor powered by batteries that were charged by an on-board gasoline engine and generator. In 1896 both L. Epstein and H. J. Dowsing patented various combinations of these elements. In America gasoline-electric vehicles were produced by both Indiana's Munson and Illinois's Fisher at the turn of the century. A sophisticated mixed-system vehicle was exhibited in Paris in 1899 by Pieper of Liège, Belgium, an authentic pioneer of advanced electric cars. Porsche wasn't far behind, but he was by no means first.
As for Ferdinand Porsche, he and Ludwig Lohner abandoned their pioneering hybrid. The Semper Vivus disappeared from history while they concentrated on what the market wanted in the form of pure electric cars, on the one hand, and their electric-drive petrol-powered Mixtes, on the other. Though today's Porsche has often characterised the latter as hybrids, the Mixtes were in fact petrol-engined cars with electric transmissions. They had no battery motive power.
Even in far-away America due note was taken of what Porsche was achieving. There respected technical author Peter Heldt advised his readers, in July of 1900, that 'We know that a great Vienna firm is working on a vehicle of a concept of mixed systems.' For Ferdinand Porsche such recognition was sufficient. He found it satisfying to pioneer and patent successful new technologies. Unlike his boastful successors, he found the accomplishment its own reward.
- Karl Ludvigsen
---
The Private Life of 356-001
Iconic though it is in the history of the Porsche production car, the original 356 roadster was dispensed with surprisingly quickly after it had served its purpose. We track its remarkable post-Porsche history.
Though planned in principle in mid-1947-chief Porsche designer Karl Rabe was working on a one-fifth-scale drawing at Gmünd on 24 July-the first Type 356 roadster was only progressed as and when the necessary skills were available. In July of that year and again in November meetings took place with the British occupation officials in Klagenfurt who would have to bless Porsche's creation of an automobile, lest it be thought a new secret weapon. Inspection of its completed tubular space frame took place on 18 January 1948.
After the frame was ready, final assembly proceeded quickly. On the 5th of February the bare chassis was ready for the road. Naturally Ferry, one of the most experienced evaluators of automobiles in Europe, was first to try it out. On several of his outings with the bodyless car Ferry was accompanied by Robert Eberan von Eberhorst, then still a consultant on the Cisitalia Grand Prix project. At first silent, shaking his head, Eberan then said, admiringly, 'That's really something. And all that from Volkswagen parts!'
Next an aluminium body was needed. Erwin Komenda drew it, thereby establishing the basic look of the 356 coupes and cabriolets to come. The body was hammered out by star craftsman Friedrich Weber. Though Ferry Porsche later wrote that Weber needed 'a bit over two months to build that first body-not exactly a record time for a skilled artisan,' the actual timing indicates that he built it in a day or two more than three weeks.
Soon after the roadster's completion, on the 28th of April, Ferry invited his father to join him for a run south toward Spittal during which the 356 suffered a frame breakage. After repairs, works manager Otto Husslein took it for a shakedown run on the first of May. That he had something to learn about sports-car driving was shown by the dents in its tail that had to be repaired after his return.
On the 13th of May the roadster was undercoated in yellow, weighed and turned over to Ferry for further evaluation. A week later it was commandeered by Ferdinand Porsche and chauffeur Goldinger for an afternoon drive in the first car that was destined to carry the family name.
Finish-coated in silver-grey, the 356 was presented to the authorities in Spittal on 8 June for road registration. They recorded Porsche as the producer and the model as 'Sport 356/1'. Serial number was 356-001 and engine number was 356-2-034969. A picture appended to the application is the only known image of the roadster with its crude canvas top erect. Individual type approval was granted on 15 June with the awarding of registration number K 45 286.
Now branded as a 'Porsche', no longer thought of as a possible sports Volkswagen, the 356 roadster was driven to Switzerland late in June so it could be tested by journalists who were on hand for the Swiss Grand Prix on July 4th. Then it was driven back to Austria, where it was demonstrated before an appreciative crowd on 11 July 1948 at Innsbruck between races of the Rund um den Hofgarten meeting.
Thereafter the 356 roadster came to rest back in Switzerland, where the first orders for Porsche production cars originated. Its first owner after Porsche was the Riesbach Garage in Zürich. The garage's owner Josh Heintz bought the Porsche for 7,000 Swiss francs-about $1,750-in September of 1948; an Austrian export license was forthcoming on September 7th.
The Riesbach Garage put the Number One Porsche in its new-car showroom. Though the 356 was admired by many onlookers, no one had the courage to buy this unknown vehicle. A friend of the garage owner, Peter Kaiser, was willing to take the car for 7,500 francs-more or less as a favour to Heintz. Kaiser was told that a group of Swiss industrialists had wanted to manufacture it. He was sold the 356 on the understanding that they could buy the roadster back if they decided to proceed.
Not until 20 December was the car officially registered for the road in Switzerland, where it bore the plate number ZH20 460. The PORSCHE lettering on its front deck didn't meet with Kaiser's enthusiasm. He felt that it didn't fit well with other sports cars, which had sonorous, zippy names like Alfa Romeo and Jaguar. 'I wasn't interested in advertising Porsche,' he said, 'so I changed the name.' Accordingly he rearranged the original lettering to spell PESCO.
His PESCO became Kaiser's daily driver. 'I had the feeling of driving a very lively and agile automobile,' he said. 'I had to park it in the darkest back streets of Zürich, because otherwise there would be a huge crowd of people around it when I returned. They didn't know which end was the front and which the back.'
In the spring of 1949 Kaiser sent the car to Metsch, a friend in Frankental in Germany, to have its brakes converted from cable to hydraulic operation. In 1951, after Porsche set up in business in Stuttgart, he took the roadster to the works, where he thought that it might cause some excitement. Instead he was told that they had no interest in it. This 'failed design' was nothing to do with them, the Porsche people told him.
In 1951 Peter Kaiser sold the 356 to Zürich VW importer AMAG for 4,500 francs. At the time, said Kaiser, its seats were uncomfortable, body seams were opening up, the doors were dropping after the hinges went, the seating between the frame trusses was narrow, the engine was weakening and the springing was suffering. 'It was falling to bits,' he recalled.
Shortly thereafter Rosemarie Muff of Zurich acquired the Porsche for 10,000 francs. After she drove the car into the ground, swanning slowly about the streets of Zürich, Hermann Schulthess bought it for 3,000 francs, still in 1951. Now the first Porsche felt that it was finally in good hands. Zürich's Schulthess, a car hobbyist, restored the 356 completely.
On a trip over the Gotthard Pass the Porsche nearly collided with a goat. Avoiding it, Schulthess braked so severely that the Opel following him, occupied by six nuns from the Einsiedeln nunnery, ran into him and pushed the 356 into the car in front. Both ends were repaired in the bodywork department of AMAG in Zürich, which altered both front and rear to align them more with the design of current production Porsches.
In 1952 Hermann Schulthess took the car to the Porsche factory for the installation of larger hydraulic brakes and a 1500S engine. The only person in the works who expressed pleasure at this reunion with 'our first Porsche', as he called it, was business chief Leopold Prinzing. Otherwise no one took a particular interest in it.
With its strong engine and great brakes, thought Hermann Schulthess, his car was race-ready. But the only actual race that 356 Number One entered was the Swiss Mitholz-Kandersteg Hill Climb in 1953. Mark Engler from Ascona drove it to second place behind winner Hans Stanek in his Porsche-powered Glöckler special. That year the car also participated in several Swiss rallies.
The next owner was Zürich master baker Igoris. It was love at first sight when he saw the 356 being inspected at AMAG. Igoris exchanged his Porsche 356 1300 coupe for the car with Hermann Schulthess. Although he wanted to renege on the deal the next day because Number One didn't meet his expectations, Schulthess refused. From then on the car stood in the garage of Igoris and deteriorated.
The last private owner of Porsche No. 1 was Franz Blaser of Laachen on the Zürich Obersee. On one of his daily trips to Zürich the auto mechanic spotted the car sitting in the Igoris garage and bought it. Again the car was completely overhauled, restored and returned to the road.
In 1958, celebrating its first decade, the Porsche works decided to retrieve the first car bearing the company name. The intention was to set up an exhibit at the factory in which all previous Porsche designs would be assembled and admired. Porsche's Richard von Frankenberg, a friend of Hermann Schulthess, assumed that he was still in possession of No. 1 and asked if he would sell the car. Frankenberg was referred to Blaser, who happily exchanged his ten-year-old roadster against a factory-new Porsche Speedster.
Thereafter 356-001 has been in the Porsche collection. Around 1975 it was restored to an approximation of its original external appearance, though its interior had been much changed with a new dash and buckets instead of bench seating. Buffed and primped to a fare-thee-well, it is justifiably a prime attraction in the new Porsche Museum.
- Karl Ludvigsen
---
Porsche and the Vees
The symbiosis between Porsche and Volkswagen was exemplified by the Stuttgart company's role in the establishment of Formula Vee in Germany. Porsche's Austrian sister had an important role as well.
That failure is an orphan and success has many fathers is a well-known axiom. It was never truer than in the instance of Formula Vee's launch in Europe, in which Porsche played a major role. This racing class, based on the extensive use of near-standard VW drive train and suspension, had its origins in sunny Florida.
Another category served as the cradle for Formula Vee. In 1959 Formula Junior was all the rage, a class for single-seaters that used standard 1.1-litre engines but allowed more design freedom otherwise. Florida enthusiasts Hubert Brundage decided that this would suit VW's flat four so he commissioned Turin's Enrico Nardi to fashion a Formula Junior from Volkswagen raw material. As his Brumos was America's south-eastern distributor for Porsche and VW, this was right up Brundage's street.
The result didn't measure up to Brundage's hopes. The air-cooled VW couldn't cope with the Fiat fours that powered the early Juniors. However a retired Air Force colonel, George M. Smith, saw promise in the concept. His vision was of a one-make category for cars akin to sailing's Star boat class, which gained a reputation as the 'poor man's racing yacht'. A VW-based single-seater, Smith thought, could serve the same purpose in motor racing.
After competing with the Nardi-built car through 1961 Smith sparked the establishment of Florida's Formcar Constructors Inc. to produce such cars in series. By the end of that year several were racing. In 1963 more were campaigned, showing the merits of this simple but effective concept, and in 1964 the Sports Car Club of America ran the first Formula Vee National Championship. Rules were set that allowed any maker to produce Vees to a strict set of guidelines. By 1965 some 700 Formula Vee single-seaters were introducing Americans to the fun of open-wheeled racing.
In these natal years of Formula Vee, Carl Hahn headed Volkswagen of America. He witnessed with fascination the growth of this new class based on his Beetles. 'During an Easter holiday in the Bahamas,' said Hahn, 'my wife and I enthusiastically drove Vees…though not in races.'
Soon Hahn, a success in America, was recalled to Wolfsburg to take over sales for VW. 'Back in Germany,' he recalled, 'the idea soon arose to bring this popular form of motor sports from the USA to the European continent.' He approached his chief, Heinrich Nordhoff, with the idea. 'Nordhoff gave me his permission,' added Hahn, 'with a budget of DM100,000.
'With the help of Ferry Porsche and Porsche racing director Huschke von Hanstein, a good friend,' Carl Hahn continued, 'overnight the cost-effective Formula Vee racing car became numerically the world's biggest racing-car category. There were 2,500 of them. Volkswagen couldn't lose.'
Von Hanstein recollected the sequence of events differently. He was president of the ONS, Germany's highest motor-sports authority. In this post, he said, 'I was concerned because in Germany, unlike in neighbouring countries, very little was being done for future generations in motor sports. When I saw a small, affordable racing car at one of our American dealers I became quite excited by its prospects. It consisted of a race-car body sprung by VW suspension components.' This would have been during a visit to Brumos in the course of a March Porsche entry at Sebring.
In Huschke's telling of the story he returned to Stuttgart and 'attempted to convince Ferry Porsche to establish such a racing series in Germany. It would give a tremendous PR boost to motor sports and of course for Porsche. Ferry was sceptical at first, because the cars used VW components.'
In the von Hanstein version he then took his idea to Carl Hahn while the latter was still in his VW of America chair. Getting Hahn's assent to his scheme, Huschke arranged for the VW man to meet with himself and Ferry during his next trip to Germany. In that meeting, said Huschke, Ferry was won over and the European Vee project was approved. Any reservations that Ferry had were certainly eased by the application of Hahn's 100,000 deutschmarks, equivalent at the time to $25,000.
Early in 1965 Porsche imported ten kits, both Beach and Formcar designs, and installed VW power trains to launch this accessible form of racing in the Beetle's native land. Von Hanstein's modus operandi was to take the show on the road, putting on short demonstration races in key cities with invitations to local hot-shots to try these odd-looking racers. Then the first fleet was placed at the disposal of the big clubs, the AvD and ADAC, without charge to give 'Formel Vau' a running start. The first serious races, held that summer of 1965, had the desired effect.
'Our success surprised us,' admitted von Hanstein. 'We only wanted to see how much interest there was and whether companies could be found to build the cars. The matter took off on its own. In short order several clever young men had built their own tiny racers based on the American examples.'
With Huschke in charge at the ONS it took no time at all for 'Formel Vau' rules to be drawn up and approved. While American Vees had 1.2-litre engines, the European rules catered for the VW's 1.3-litre version since that was the more common capacity in the Old World. For the class's first two years in Germany it was supported at each event by two Porsche engineers. They checked the cars for safety and rules conformity before and after each race and provided technical advice.
'Anton Konrad, Volkswagen PR chief, was manager of this racing series,' Carl Hahn related. 'He found enthusiastic support from our main dealers and importers. This broke the ice. For the first time VW and motor sports found each other.' VW's direct support continued until 1976, after which it bowed out and left its development to private hands. Other categories had been added such as Super Vee, in 1971, to accommodate 1.6-litre engines and more sophisticated chassis designs.
At Leonberg, near Stuttgart, Fuchs produced a 'Formel Vau' that was exceptionally trim. Near Bonn another company got into the act with its Gepard Vee. Added to the ranks from early 1968 was McNamara Racing, at Lenggries at the foot of the Bavarian Alps.
Sounding anything but German, McNamara was established by an American Midwesterner who caught the racing bug while with the U. S. Army in Germany and decided to build cars of his own. 'We couldn't buy what we wanted,' said Francis McNamara, whose 'Sebring' Vees were highly successful. The goateed McNamara went on to produce cars for higher categories up to Formula 2 and, surprisingly, an Indianapolis racer designed by Jo Karasek, a former Porsche engineer.
Just as they had in Germany, the cheeky Vees sparked strong motor-sports participation in Austria by that nation's VW importer, Porsche Salzburg. There Ferry's sister Louise Piëch and her son Ernst Piëch took up the new category with verve. Austro and Bergmann produced Vees, among others making Austria a leading source of the new racers. At Salzburg Paul Schwanz specialised in engine preparation for the formula.
A key actor in both versions of the story of Formula Vee's launch in Europe, Porsche's Huschke von Hanstein could be proud of what he'd achieved. The cars, he enthused, were 'dirt cheap and you could take them to races on a lightweight trailer. Interested hobbyists could buy the appropriate parts directly from VW. Then it was only a question of their own skill and aesthetic sense for what body they dropped on the frame. Tyres, suspension, transmission and engine were identical for all competitors and easily checked by the organisers. In Formula Vee anybody who came out ahead of his competitors was truly a better driver because their equipment was identical.'
That Vees provided a suitable training ground for talent was verified by the results. Von Hanstein's aim of a step up the ladder for his home-based talent was achieved. From the Vee ranks came leading German drivers including Jochen Mass, Harald Ertl and Klaus Niedzwiedz. Austrian stars in the category were future world champions Jochen Rindt and Niki Lauda as well as Helmut Marko, today the eminence grise of Red Bull Racing. Champions Emerson Fittipaldi-who produced Vees in Brazil-and Nelson Piquet also cut their teeth driving these racers.
'For me the circle closed in 1990,' said Carl Hahn, without whose support and subsidy the European breakthrough might never have happened. 'That's when we honoured Michael Schumacher for his Golf-powered German championship in Formula 3.' With a little help from Porsche, Volkswagen had indeed broken the ice to go on to success in motor sports. The Vee also sparked the competition activity of Porsche Salzburg, whose backing of major endurance-racing entries was key to the success of the immortal 917.
- Karl Ludvigsen
---
How a Tail-Dragger Saved the 911
An analogy with aviation helped a new Porsche chef executive restore confidence in the company's 911 at a crucial stage of its evolution.
When I first drove a Porsche 928 on 26 February 1977 I was eager to get a sense of its road manners. After their years of massaging the handling of the rear-engined 911, how had Porsche's engineers managed the transition to a powerful front-engined sports car? My impressions were interesting.
'The steering is not so precise and direct as a 911's - what car's is? - but it is almost that good,' I wrote at the time. 'Only a slight numbness hints at its power assist. It controls road handling that's the definition of neutral. It's so predictable that you simply track it through turns faster and faster until, near the limit, the front tires shudder a warning and the rear rubber gently, controllably slackens its grip on the road.'
My colleague Tony Curtis of Motor seemed to agree. He wrote that the 928 'handles magnificently,' adding, 'There is a sense, indeed, in which the 928 has no handling at all: it simply goes round corners where the driver wants it to go without effort or fuss.'
This had all the hallmarks of high praise from both Tony and myself. What could be better than balanced, neutral handling? The self-adjusting 'Weissach' rear suspension was doing its job, also helping to make the 928 Europe's Car of the Year.
In 1981 Germany's auto motor und sport compared the then-new 928S with a 911 Turbo. On curving country roads it found the Turbo's 'hectic' throttle response less satisfying than the 'beautiful balance' of the V-8's power production. After five hours on the Autobahn, said ams, the 911 Turbo driver 'is visibly bushed and figuratively gives himself a pat on the back. The 928S pilot steps out his capsule relaxed and without bands of perspiration under his armpits. There's no doubt about it: almost immune to the effects of side winds and responding stoically even in 125-mph curves, the unerringly straight-rolling 928S is here the car nearer perfection.'
But...was perfection really what people wanted from a Porsche? Had this striving for immaculate handling led to a more banal, even boring, driving sensation? Some light on this relationship between the 911 and the 928 is shed by remarks that former Porsche chief Peter Schutz contributed to a new book I've written for Bentley Publications, Porsche - Origin of the Species, to be out later this year. Schutz, who was CEO at Zuffenhausen from 1981 through 1987, set the scene as follows:
'In the mid-1960s Porsche introduced its 911 as a successor to the 356. Confirming the direction established with the 356, the 911 extended the growth of a successful Porsche automobile business. Its unique rear-mounted air-cooled engine made unusual noises that were theme music for true Porsche lovers. Light and powerful, the 911 had unique handling characteristics. In the hands of a capable driver it was extremely quick.
'But the 911 wasn't easy to drive, It had a tendency to spin in a fast curve if mishandled. The 911 had its origins in the Volkswagen Beetle. Although highly evolved from that machine, the 911 retained some of the cantankerous handling characteristics of its ancestor.
'In the early 1970s the Porsche and Piëch families withdrew from active management of their company. The first head of Porsche who was not a family member was Ernst Fuhrmann, a brilliant engineer. During his tenure Fuhrmann undertook the task of replacing the Porsche 911 with two water-cooled front-engined cars, the Porsche 924 and 928.
'A great deal of sound technical thinking went into these new Porsche models. One objective was to eliminate the perceived instability or nervousness of the rear-engined 911. This characteristic, its directional instability, can be described in positive terms as manoeuvrability.
'It depends on the driver's point of view. Some drivers love a car that is stable, that continues to go straight until the driver acts to make it turn. It goes in the direction in which it is steered. On the other hand some drivers love a car that will change its heading as a function of actions other than just steering. Highly manoeuvrable racing and sports cars can be steered with the throttle and brakes in fast turns.
'The new Porsche era was to be built around the 924 and 928 models powered by liquid-cooled front-mounted engines. Their layout eliminated the cranky characteristic of the rear-engined 911, the tendency for its rear to be chasing its front if its driver released the gas pedal too suddenly in a fast turn.
'As well, prevailing opinion at Porsche was that the rear-mounted air-cooled engine couldn't be brought into compliance with anticipated noise and exhaust emission legislation. A decision had been made to move Porsche beyond the air-cooled, rear-mounted-engine era. Accordingly the Porsche 911 was scheduled to be discontinued at the end of the 1982 model year.
'Such was the posture of Porsche in the spring of 1980 when the Porsche family decided to replace Ernst Fuhrmann as CEO of Porsche A.G. On January 7, 1981 Sheila and I went to Stuttgart as husband and wife and became a part of the Porsche team. It was time to get down to business and begin the task of rebuilding Porsche.
'In many discussions with Porsche employees, owners and customers I had learned enough to have an inkling of what was wrong. Whenever I talked with Porsche enthusiasts, the conversation eventually came back around to one subject that seemed to be on everyone's minds. The company's two major challenges, the lack of profitability and the poor morale, appeared to have their foundation in the same development: the planned discontinuation of the still-popular Porsche 911 sports car.
'The 911 was challenged on numerous occasions. Many wondered why Porsche persisted in propagating its strange handling characteristics when state-of-the-art engineering could facilitate far more civilised performance. The Porsche Australian importer visited me in my Stuttgart office and put the question to me: "Why does Porsche continue to build such a difficult-handling car, a car that requires a driver with above-average skill to drive well?"
'I derived my answer from my flying experience. I had been a pilot for several decades. Most of the aircraft I'd flown and owned over the years had tail-wheel landing gear instead of the more modern tricycle landing gear. A tail-wheel airplane has more treacherous ground-handling characteristics than its tricycle-gear counterpart. A tail-wheel airplane will ground-loop, careen in a sharp circle and, in some instances, end up on its back if not handled with skill and respect.
'One such airplane I flew for a number of years was a Fairchild PT-23, a World War II Army Air Corps training plane. I explained to my Australian visitor that when I flew this airplane to a small airport and did a chandelle after a high-speed pass over the runway, followed by a perfect wheel landing, every eye on the airfield would be waiting to see who got out of the airplane. They knew it took a bit more than average flying skill to carry that series of manoeuvres off well. It was a point of piloting pride.
'In like manner, when a Porsche 911 owner drove their car well it garnered the respect of peers, a point of driving pride. The point had been made. A few weeks later I received a gift from several Porsche importers: an aircraft tail-wheel mounted on a beautiful wood plaque with the inscription: "To the Porsche tail-wheel philosophy."
'A deep sense of loss, a grieving that was almost heartbreaking, was gathering like a storm. Elegantly engineered though they were, the 924, its successor the 944 and the 928 weren't real Porsches in the eyes of the hard-core Porsche faithful. None of these new vehicles was able to replace the about-to-be-discontinued Porsche 911 in the hearts of Porsche customers and dealers. To me, a newcomer, the feeling of impending catastrophe was overpowering. It was essential for us to recognise what our faithful hard-core customers were looking for and make sure we gave it to them.
'The decision to keep the 911 in the product line came one afternoon in the office of Helmut Bott, the Porsche operating board member responsible for engineering and development. I noticed a chart on Bott's office wall. It depicted the development schedules for the three primary Porsche product lines: 944, 928 and 911. Two of them stretched far into the future, but the 911 programme stopped at the end of 1981.
'I remember rising from my chair, walking over to the chart, taking a black marker pen and extending the 911 programme's bar clean off the end of the chart. I am sure I heard a silent cheer from Helmuth Bott. In his calm, reserved way he emitted a loud hurrah! I knew we had done the right thing. The Porsche 911, the company icon, had been saved. I believe the company was saved with it.'
In the future the 911 would face several more challenges. This, however, was one of the toughest. Thanks to an apt analogy with tail-wheeled airplanes, it survived to fight another day.
- Karl Ludvigsen
---
Those Pesky Porsche-Abarths
Among the many riddles the author had to solve in the updating of Excellence was the identity of the makers of the Porsche-Abarth bodies. This led him a very merry chase.
In 1960, when the Abarth-bodied Porsche Carrera came to life, I was the editor of Car and Driver at Number One Park Avenue, New York. I received a brief report and photos of the new model from my friend and colleague Edward Eves. We printed verbatim his information that the bodies were being made to Abarth's design by Milan coachbuilder Zagato. When I wrote my history of Porsche I said the same thing. This got me in a lot of trouble.
As researchers dug into the story of these cars, the Zagato attribution looked more and more fragile. For example Zagato denied having anything to do with them - kind of a clue there. Other coachbuilders started to be mentioned. It looked like I had some work to do for the updated version of Excellence.
It's time for a bit of back story. The motivation for improving the Carrera wasn't to improve its racing performance in the 1,600 cc GT class. The MG Twin-Cam had proved less than a menace. But competition between Lotus Elites and Alfa Romeo Giuliettas in the 1,300 cc GT class was so intense that they were gaining on the Carrera's lap times. To avoid the embarrassment of being overtaken by these small fry, Porsche moved to improve its Carrera for 1960.
The FIA's GT-class rules allowed a different body, as long as the car's weight remained above the homologated figure - an invitingly low 1,712 pounds. In the summer of 1959 Porsche asked two suppliers for bids on the manufacture of 20 special lightweight bodies for the 356B chassis: Wendler, the nearby maker of Spyder bodies, and our prime suspect Zagato.
As so often happens in Italy, news of a new project spread quickly. During the rest of 1959 past and present friends of Porsche got in touch to inquire about this body-building opportuny. Among them was Karl "Carlo" Abarth. In 1958 and '59 Abarth and his aide Renzo Avidano were successfully building and selling small-displacement Fiat-based rear-engine sports-racers that were, indeed, bodied by Milan's Zagato. Dirk-Michael Conradt's research tells us that Abarth journeyed to Frankfurt for its Auto Show in September, 1959. At the Frankfurter Hof he met on the 18th with the top men of Porsche: Ferry Porsche, sales chief Walter Schmidt and technical boss Klaus von Rücker.
For one million lire each, said Abarth, he would body 20 Carreras - this price to include his tooling. The bodies were to be 'as light as possible'. The cautious Ferry agreed in principle but asked that Abarth start by building one such body as a sample. October 21st was set as a deadline for Abarth to inform Porsche about the kind of body he would build and for Schmidt's department to confirm its sales objective and likely pricing.
Porsche named the experienced Franz Xaver Reimspiess as its liaison man for the project. He travelled to Turin to meet with Abarth on October 6th and 7th to go over project details. Reimspiess set out Porsche's requirements for the design, such as oil-tank location and engine-bay ventilation. Carlo Abarth engaged respected designer Franco Scaglione to prepare some proposed designs for the body.
Scaglione was a well-known stylist-engineer of sports-car bodies who had shown a special knack for aerodynamics. Reimspiess saw his first efforts during his visit. Reported the Porsche engineer, 'He will have the bodies made at ZAGATO, where of course he will closely observe the execution of the work.' Abarth also raised the idea that after this series was built for Porsche he might carry on the building and selling of such cars on his own account.
Franco Scaglione and Abarth were successful in achieving one of their main goals: a sharp reduction in the Porsche Carrera's frontal area. They slashed 5.2 inches from its height, reducing it to 47.2 inches, and cut the width down by 4.7 inches to 61.0. This had the effect of reducing the frontal area by about 15 percent. Scaglione's shape was also successful in the drag department, having a Cd of 0.365 with the engine-cooling flap closed and 0.376 with it open, usefully below the standard 356B body with its coefficient of 0.398.
The Carrera's Italian cure achieved a reasonable if not striking weight loss. Its body was made entirely of aluminium. Its structure was beefed up in order to increase the overall strength of the chassis, yet the first car weighed only about 1,760 pounds. This made it some 100 pounds lighter than the Reutter GT and a safe 50 pounds heavier than the homologated minimum allowed for its class.
But who was actually making the bodies? This was a turbulent period for Abarth, who in fact was just then severing his relationships with Milan's Zagato and sourcing his bodies from small and less-experienced Turin-based companies. Instead of Zagato, as planned, he changed to such a company to make the Porsche prototype. Thus instead of October 1959, as promised, the first Carrera GTL - as the new car was named - arrived in Zuffenhausen at the end of February 1960.
Historian Peter Vack attributes the first body, and perhaps more than one, to coachbuilder Viarenzo & Filliponi. Abarth wasn't eager to disclose that he had changed body sources. When the car was first revealed at Abarth's factory in Italy, Ted Eves was told that Zagato was its coachbuilder. However Zagato confirmed to researcher Donald Peter Cain that it had not, after all, been involved in the Carrera GTL project. Abarth may not have wanted Porsche to know that he was using a different - and doubtless cheaper - source for his bodies. Such a revelation could have led to a downward readjustment of the price he was being paid for the work.
Late-winter rain found the first car leaking profusely on delivery. There was next to no headroom, even for the shorter Porsche men. This was remedied by relocation of the seat tracks and changes in the seat cushioning and the back angle to add several inches of headroom. Porsche also found that the front-wheel openings had been trimmed so tightly that steering lock was limited, especially when a wheel moved upward on jounce. In spite of the instructions given by Reimspiess the mounting of the oil tank was unsatisfactory, its cooling inadequate.
With problems like these resolved, the run of production cars was bodied for Abarth by the Turin workshop of Rocco Motto. Motto's flexible facility was staffed by '45 men and three power hammers,' as he put it, proudly including the hammers among the staff. Motto was well prepared for the visit by Carlo Abarth who, he said, 'was a rough diamond and was always shouting. I told him "no". He made me change my opinion; now he seemed like a well-mannered friend. Such times!'
Motto's work made a positive impression on the engineers from Zuffenhausen. 'The German engineers were full of enthusiasm and suggested that I should go to Germany,' said the coachbuilder. 'They were prepared to create a section just for me. If they had proposed that I would be able to lord it over them there, I would have gone. But just to work, Turin was better.'
During 1960, starting with Strähle, private owners took delivery of their GTLs. The final serial number was 1021, bringing to 21 the population of Abarth-Porsches. Cars 1013 and 1018 were kept by the factory for works entries. Both they and the privately entered GTLs racked up outstanding racing records well into 1963.
In September of 1962, at Monza for the Italian Grand Prix, Huschke von Hanstein huddled with none other than Carlo Abarth to discuss a brainwave. Huschke said that he was thinking of taking the bodies off his 1.6-litre Carreras and putting them on the new Carrera 2 chassis. 'To be sure he did not find this solution very elegant,' Huschke reported Abarth's reaction.
Abarth told the Porsche racing chief that he'd be glad to build new bodies to the same pattern for Porsche. He would require, however, an order for at least 25 bodies to make the project economical, even if he didn't expect to make much money, he told Huschke: 'By mentioning his name the Porsche-Carrera-Abarths have brought him so much world-wide publicity that he has no need whatsoever to make a profit' on the new Porsche job.
This contact was followed up in October by Porsche with the view of having the 25 bodies completed by 25 June 1963, the latest date at which they felt they could be assured of selling the cars. By the end of 1962, however, the idea was dropped. Instead, craftsmen back home at Porsche were assigned the job of making a new light body for the Carrera 2. Its shape would be the responsibility of Ferdinand 'Butzi' Porsche, opening a new era in styling at Zuffenhausen.
- Karl Ludvigsen
---
Porsche's F.1 Formulae
In various roles as designer, builder and racer Porsche has been involved in Grand Prix racing since 1922. What does this tell us about the modern company's role if and when it returns to this demanding sport?
When new Porsche chief Matthias Müller hinted that Formula 1 could be on the VW Group's agenda and might even fall to Porsche to implement, he caused big ructions in the tight little world of the Stuttgart sports-car maker. His remarks at the Paris Salon were to the effect that VW would have an internal round-table discussion late in 2010 to sort out the respective racing ambitions of Audi and Porsche. One of them, he mooted, could be competing in Grands Prix.
G.P. racing is in Porsche's blood. Ferdinand Porsche designed a Grand Prix car for Austro Daimler in 1922, the ADS II-R, and a Mercedes G.P. entry when he worked for Daimler in 1924. When he departed in 1928 he left behind a design that set the pattern for the 1934 Grand Prix Mercedes-Benz. Among the first projects by Porsche's own design office was the Type 22, the G.P. car built and raced by Auto Union from 1934 through 1937.
From 1937 through 1939 the Porsche office was a consultant to Daimler-Benz on its G.P. car designs. Its Project 108 was a two-stage supercharger that led to the use of that principle on the 1939 racing Mercedes-Benz. Type 116 was a 1½-litre racing-car study under a Volkswagen contract, based on the Type 114 F-Wagen sports car. And of course in 1947 Porsche designed its mid-engined Type 360 for Cisitalia, the supercharged 1½-litre flat-12 that was one of the most advanced conceptions of a racing car for its era.
All these designs were prepared by Porsche. In some cases the company also participated in the development of the racing cars it created. As well, with his designs for Austro Daimler in 1922 and Mercedes in 1924 Ferdinand Porsche had full responsibility for the construction, testing and actual racing of his cars.
When the Porsche company finally made a wholehearted commitment to Formula 1 it sleep-walked into the category, drifting into it in stages that seemed both gradual and easy. As Ferry Porsche said, 'At first we ran in Formula 2 with modified sports cars and won some races. Since we won in Formula 2 easily we thought, "Why not go into Formula 1?"'
By adapting the RSK's suspension to a new narrow frame Porsche built its first open-wheeled single-seater in 1959 to compete in the 1½-litre Formula 2, powered by the Fuhrmann-designed four-cam Spyder four. This soon showed sufficient form for the Rob Walker stable to run one in 1960 for Stirling Moss, who enjoyed some Formula 2 success. Thus it was a no-brainer for Porsche to commit to the new 1½-litre Formula 1 of 1961 with the strong driver team of Jo Bonnier and Dan Gurney.
One of the big attractions of Porsche for Dan was the knowledge, imparted by racing chief Huschke von Hanstein, that the company was developing an all-new flat-eight 1½-litre engine. The Porsche men had sensed that the demands of the new Formula would exceed the ability of their trusty Fuhrmann-designed four. Work therefore began at the end of 1959 on an engine that would be intrinsically capable of producing more power. Secondary, at that time, was the question of what kind of car would use it.
Early in 1961 Porsche released photos of its new Grand Prix eight but no details about its design. As the editor of Car and Driver I was naturally extremely curious about the innards of this all-new engine. External views betrayed little of such vital features as camshaft drive and valve gear.
When in August of 1961 Mercedes-Benz organised a press junket to Austria and Germany, I made a side trip to Porsche. Huschke von Hanstein took me into the sanctum sanctorum where the F.1 engines were being torn down and rebuilt. I eyeballed them in depth and detail.
In the January 1962 issue of Car and Driver I reviewed the new eights being prepared for Formula 1, the Porsche included. Helped by information from Swiss engineer Michael May, a Porsche insider, I described the struggles with the new unit, including its disappointing 120 horsepower when first run. In fact, I wrote, 'Porsche opinion in mid-1961 was veering toward a decision to toss the engine out and start from scratch again.'
Accompanying my story was an illustration by my friend Tom Fornander that showed the engine's cam-drive train, based on my description after Huschke's private preview. It was an elaborate affair with the crankshaft between upper and lower half-speed shafts, from which other bevels and shafts drove the cams at their centres. More shafts drove the distributors for dual ignition and an axial-flow cooling fan.
Alert editors at Germany's auto motor und sport picked up this drawing and published it together with some of my comments about the engine. They'd been denied any glimpse of its innards so this was big news for them and their readers. The upshot was embarrassment for Huschke von Hanstein, who wrote to me in self-justifying terms clearly intended to divert blame for this indiscretion away from himself in the eyes of his superiors. I'm happy to say that we remained friends in spite of one of my better mini-scoops.
The record shows that in 1962, the only season in which Porsche competed with a car built especially for Formula 1, it entered seven out of nine World Championship events. It won one and placed third, fifth, sixth, seventh and ninth in five others. The single Championship Grand Prix win was scored by Dan Gurney in the French G.P. at Rouen on 8 July. Porsche placed first and third in the two non-championship races it entered. Its drivers were ranked fifth (Gurney) and 15th (Bonnier) in World Championship standings. Its car stood equal fifth with Ferrari among the seven marques that won points in the Formula 1 constructors' challenge in 1962.
This couldn't be called a litany of disaster. Only once, when a lone car was knocked out by another on the first lap, did a G.P. Porsche fail to finish a race that the team started. This was one of only four retirements among 13 eight-cylinder entries in championship G.P. races. The others were the fault of the drive train: the ring and pinion gears twice and the shift linkage once. Not once in 1962 did engine trouble knock a Porsche out of a Grand Prix race.
Porsche took for granted in 1961-62 that it would build the entirety of its Grand Prix cars. It had the technology to do so with its hard-won knowledge of suspensions, structures and materials. A handicap was its lack of access to a German network of small, specialised suppliers like the ones that underpinned the efforts of its British rivals. Though excellent, Porsche's domestic suppliers had little appreciation of the urgency that racing demands.
Porsche's subsequent Formula 1 entries have been as an engine supplier. The twin-turbo V6 that it created for McLaren under contract to TAG Turbo Engines was a storied success, winning the drivers' title for Niki Lauda in 1984 and successive crowns for Alain Prost in 1985 and 1986. The V12 that it supplied to Arrows in 1991 was, in contrast, a flop, while the V10 that Porsche designed to replace it never had a chance to show what it could do.
Significantly, the Type 2708 single-seater that Porsche entered in the CART series in 1987-88 was entirely an in-house effort, both engine and chassis. Its early struggles in the American series were attributed to chassis faults rather than lack of power, though the latter was ultimately found to be the more significant deficit. When a hasty switch was made to March chassis, the Weissach engineers lost interest. 'The light went out' as one of them said. The programme never recovered.
There's a lesson here for today's Porsche management. Though an entry into Formula 1 as an engine supplier might seem a low-risk approach, seeking to emulate the glories of the mid-1980s, it's half-hearted in today's Grand Prix racing where Ferrari and Mercedes-Benz have their own integrated car-building teams. Just making engines would be demotivating to a technical team that has mastered whole-car racing challenges with great success, most recently with the brilliant RS Spyder in the ALMS and at Le Mans.
There's no escaping it: any Porsche Formula 1 entry has to be a complete automobile. No other approach to the series would suit the Porsche reputation for outstanding engineering of all aspects of a vehicle. More problematic is the issue of how the cars would be entered and raced. Would Formula 1's rules allow the involvement of a private team like Roger Penske's with the RS Spyder or Reinhold Joest's with Audi? Sorting this should not be beyond the wit of men as resourceful as those at Porsche.
- Karl Ludvigsen
---
The Auto Union Connection
When Ferdinand Porsche set up his own engineering company in 1930 he urgently needed customers. First Wanderer and then Auto Union came to his rescue, making 'Auto Union' an apt name for the future company combining VW and Porsche.
It all started with Wanderer. Though an automaker since 1896, Siegmar's Wanderer struggled to find a formula for success during the 1920s. From September 1928 a new head of sales, Baron Klaus Detlof von Oertzen, enlivened its marketing, recruiting famed racing driver Rudy Caracciola to front a new dealership on Berlin's proud Kurfürstendamm.
Klaus von Oertzen was a keen motor-sportsman, so much so that he went all the way to Sicily for the 1924 Targa Florio where he wangled his way onto the Mercedes team, for whom he acted as timekeeper. Mercedes won the great classic race with a car designed by Porsche, who invited von Oertzen to the victory dinner in Palermo. This was an important contact for the young Baron.
By 1930 Wanderer was feeling the Great Depression's pinch. Sales of 2,719 cars in 1929 were heading toward 1,319 in 1930. The company needed an injection of up-to-date engineering. Klaus von Oertzen told his board that he had just the man. "He wanted to do something and was pleased to get contracts," von Oertzen said of Ferdinand Porsche, who was establishing his own engineering company in Stuttgart in 1930. He urgently needed customers who would exploit the skills of his small but expert team.
They agreed on three projects which were sanctioned on 29 November 1930, five months before the new Porsche company was officially registered. The Type 7 was to be a six-cylinder 1.5-litre car, the Type 8 a 3.5-litre eight and Type 9 a supercharged version of the eight. Famously the Porsche men gave the number 7 to their first project to avoid giving the impression that they were starting from scratch-which of course they were.
The Type 7 emerged as a six-cylinder produced at the sizes 1,692 cc and 1,963 cc, achieved with differing-diameter wet liners and pistons in an aluminium block along the lines that Porsche had proven at Steyr, with pushrod-operated overhead valves. The new engines were installed in existing Wanderer models from October 1932 and at the Berlin Show in March 1933 were equipped with Porsche's completely new underpinnings including rear swing axles.
As part of this revival Wanderer's conservative chief Hermann Klee was persuaded to think of building a racing car to raise his products' profile. The persuader of course was Klaus von Oertzen, who arranged for Klee and Porsche to discuss such an effort more concretely at the 1931 Paris Salon.
In October of 1932 the rules were announced for the Grand Prix formula to take effect in 1934; they limited car weight less tyres and liquids to 750 kilograms, 1,654 pounds. Two weeks later, on 1 November 1932, Porsche and his team drew up preliminary specifications for their Type 22: a mid-mounted V16 engine of 4,358 cc and an operational speed of 4,500 rpm.
Meanwhile, under the patronage and with the encouragement of the state of Saxony, in 1932 four of its depression-hit car and motorcycle makers, Wanderer, Horch, DKW and Audi, pooled their assets in a single organisation, the Auto Union AG. Baron Klaus Detlof von Oertzen became a deputy management-board member. All valid contracts of the member companies were carried over, including those of Porsche, who was working not only for Wanderer but also for Horch.
The creation of Auto Union opened an opportunity for Porsche's racing car. A new automotive combine needed powerful publicity. The new company's top executives, Richard Bruhn and William Werner, were ambivalent about the value of racing. Was it more than a frivolous diversion from the tough job of making and selling cars in a depression? They already had confidential confirmation of the plans of Daimler Benz to re-enter racing; they felt they might have to compete with the Swabian firm on the track to support the sales of their costly and luxurious Horch.
In January of 1933 Klaus von Oertzen presented the Type 22's case to the Auto Union management board. Very well, the directors responded, it sounds promising, but where are we to get the money to do this? They would get encouragement from an unexpected source. It had been no secret that Adolf Hitler, leader of Germany's National Socialists, was keen on cars. His party had steadily been gaining support.
On Monday, 30 January 1933, Adolf Hitler was named Germany's chancellor. Only a few days later in his speech at the opening of the Auto Show in Berlin on a Saturday, 11 February, "he set out the guidelines of a mass mobilisation of Germany: tax abatements for car buyers, the building of the Autobahns, repeal of obligatory driving school and encouragement of motor sport."
Soon Daimler-Benz negotiated a commitment by the new Third Reich to provide a subsidy for the cars it was building for the 1934 formula. As by far the nation's leading producer of racing cars the Mercedes-Benz maker was confident that it had a monopoly on this important mission. Directed by his board to get support from the Third Reich, Klaus von Oertzen had his work cut out.
Von Oertzen prepared his arguments well, but no one would let him see Hitler, who was immensely busy with the tasks of the first weeks of his administration. "Then I went to see his deputy, Rudolf Hess," von Oertzen related. "He and I were pilots of yore; we knew each other from the Great War. I asked Hess to get us an appointment with Hitler. Hess then arranged it for the beginning of March."
The Baron laid his plans carefully. The appointment was set for Wednesday, 1 March 1933. At a meeting on the preceding Monday, Porsche and Auto Union reached agreement in principle on the outlines of the racing-car project. Von Oertzen: "To this meeting [with Hitler] I took Dr. Porsche and the racing driver Hans Stuck, who unlike myself was personally acquainted with Hitler."
At the old Chancellery in Berlin, shaped like a horseshoe with its open court facing the Wilhelmstrasse, the trio were given a sombre reception by the Führer. To von Oertzen's opening overtures Hitler gave not a hint of acquiescence. The Baron persisted, saying he owed it to Auto Union's ten thousand employees to press his case for support. Turning away from the emissary, Hitler addressed Porsche, who opened his portfolio on the glossy surface of the massive conference table.
The chancellor asked Porsche what sort of car he would build. One can imagine the impact of the first sight of the drawings and plans of the ultra-radical Type 22 racing car with its torsion-bar springing, central fuel tank, stubby nose and prolongated tail covering sixteen supercharged cylinders. It looked like the fuselage of an advanced fighter plane. For 25 minutes Porsche explained his car and his ideas. Afterward Hitler's secretaries said that they'd never heard the Führer listen so long to anyone without interruption.
Hitler ended the meeting without commitment but with a remark that admitted some hope: "You will hear from me." Three days later von Oertzen was informed that the Auto Union project would receive government support. The subsidy was increased and then divided between Daimler-Benz and Auto Union.
With remarkably little change in their basic concept the Auto Unions raced successfully from 1934 through the end of the formula in 1937. The team's ace drivers Hans Stuck, Achille Varzi and Bernd Rosemeyer battled the rival Mercedes-Benz battalions with brio, scoring 32 victories in both Grands Prix and hill climbs and setting speed records to boot.
Maintained into 1937, the racing-car contract with Auto Union included a financial windfall for Porsche. It specified that Porsche's company would receive half of the Reich's subvention payments over and above a base figure. To June of 1936 these already amounted to a total of RM492,428.50, some $170,000 by the official exchange rate. This went an long way toward the cost of building Porsche's own offices and workshops in Zuffenhausen in 1938.
Accordingly it's impossible to overstate the importance of Ferdinand Porsche's relationships with Wanderer and Auto Union to the foundation and success of his engineering business in the 1930s. I thought about these crucial events when it was first mooted, about a year ago, that the Auto Union name could be revived as the sobriquet for the combined businesses of Volkswagen and Porsche when this is finally achieved in 2011.
VW owns the name, acquired when it bought the Audi and DKW brands from Daimler-Benz. In addition to describing the nature of the relationships accurately, 'Auto Union' is freighted with the magnificent heritage not only of the great racing cars but also of the vital engineering commitments to Ferdinand Porsche that ensured the success of his new business at a hazardous juncture. Thus 'Auto Union' would be a fine tip of the topper to an alliance that has come full circle.
- Karl Ludvigsen
---
Noble Success For a Newcomer
Among the titled enthusiasts whose early adoption of Porsches helped give the brand-new marque the credibility it desperately needed, Count Konstantin Berckheim stood out as an ace racer and rallyist. He helped score Porsche's first competition success.
In many ways Porsche was remarkably lucky when it took up car-making in Stuttgart in 1950. In the spring of that year the first German-built Porsche was sent out into the world on the day before Good Friday. Here was a strange-looking two-seater based on parts of the humble Volkswagen with a price tag in Germany of DM9,950, some $2,400 at a time when that would buy a Packard or Lincoln in America. Who would risk buying and being seen in such a costly curiosity?
Significant numbers of the first Porsche owners came from the ranks of Germany's aristocracy-men who had both the confidence to be 'early adopters' of this new-fangled auto and the funds to afford one. Among pioneering buyers were the two Princes of Hanover, Count Metternich, the Duke of Harrar, Prince Thurn and Taxis and Prince Joachim zu Fürstenberg and his brother Fritzi. Sweden's royalty took the Porsche to their hearts as did that of Egypt, thanks to the initiatives by 'Count' Laszlo Almasy that I wrote about recently.
One of the bell cows for titled Porsche owners was Philipp Konstantin Graf von Berckheim. Into a family both militarily and industrially prominent, 'Tin' Berckheim was born on 20 September 1924. Thus he was 25 when the first Porsches emerged from Zuffenhausen. He was just the right age to became a rabid enthusiast for the new marque-which he certainly did.
Tall, good-looking and great company, Count 'Tin' Berckheim was the poster boy for the youthful owners that Porsche hoped to attract. They had to be good drivers too, because the first Porsches had VW's synchro-free 'crash' gearboxes. Porsche's mechanics paid close attention when they went out with a prospective buyer. If a driver couldn't manage the 356's cranky shift and unusual handling the mechanics were known to black-ball their application for ownership.
Berckheim bought a light-coloured 356 coupe. Relishing its performance, he decided to enter it in competitions. Huddling with the Porsche men, he decided on an entry in the first big event available, Sweden's Rally to the Midnight Sun from 15 to 18 June. The first-ever Midnattsolsrally organised by the Swedish Royal Automobile Club, it had starting points at Stockholm, Falsterbo and Gothenburg. Their routes joined at Örebro as they headed north to the finish at Kiruna, well north of the Polar Circle, covering a daunting 1,400 miles of Sweden's well-graded but unpaved roads. Fortunately the rally was held in midsummer, avoiding the punishment of the Scandinavian winter.
For the Swedish event Porsche prepared both Berckheim's car and a cabriolet to be driven by Count Günther von Hardenberg and Fritzi zu Fürstenberg, whose brother Joachim accompanied Berckheim. They posed, rally plaques in place, with Ferry Porsche before departing from Stuttgart in their 40-horsepower Porsches.
In Sweden the entry disclosed a third Porsche, the Austrian-built aluminium-body 356 of Countess Cecilia Koskull and Christina Peyron running in the 1.5-litre class. Their car was one of the substantial share of Porsche's Austrian production that was sold in Sweden by VW importer Scania Vabis.
So new to the Swedish scene were these Porsches that the local media didn't know what to make of them. The newspapers called them 'Volkswagens in leisure clothing,' saying of 'the new Volkswagen entered' in the rally that 'the engine has been reduced to 1,086 cc. The power was increased from 25 to 40 horsepower and the top speed from 115 to 140 km/h.' This suited the propaganda of Scania Vabis, which cheekily credited any Porsche achievements to their 'VW engine and chassis'.
The Midnattsolsrally enjoyed 126 starters ranging from Oliver Goodwin's 1931 8-litre Bentley through an HRG and Healeys, Citroëns, BMWs, Cadillacs, Chevrolets, Austin A90 Atlantics, Fords, Plymouths, Volvos and-in the same 1.1-litre class as the Porsches-Fiats, Renaults, Czech Aero Minors, a Dyna Panhard and the new and lively Saabs. All pitted their performance and crewing skills against the roads and several special tests, two speed trials and a hill climb before an acceleration and braking test at the finish in Kiruna, following the successful model of the Monte Carlo Rally.
In one of the tests the fastest cars-including an Austin Atlantic!-clocked three minutes flat. In her light-weight Porsche Cecilia Koskull was timed at 3:17.4, beaten in her class only by the HRG and (just) by an MG, while the two steel-bodied 356s were timed at an identical 3:26.9. The best clocking by a rival in the 1.1-litre class was a Saab at 3:58.3, driven by company engineer Rolf Mellde.
When the final standings were posted at Kiruna a pre-war BMW 328 was the overall winner of the Rally of the Midnight Sun. Second overall was the quick HRG and third was the Fürstenberg/Berckheim Porsche-an outstanding performance. The Koskull/Peyron 356 was ninth overall and the Hardenberg/Fürstenberg cabriolet eleventh.
Most importantly, wins were achieved in two of the classes for which the Porsches were eligible. The Fürstenberg/Berckheim team won their 1.1-litre class, ahead of the Mellde Saab and a Fiat, with Hardenberg/Fürstenberg fourth. The Porsche coupe drivers received the Royal Auto Club's gold plaque and a cash prize of 900 crowns-about one-eighth the price of a new Saab.
Financially the girls did even better. Cecilia Koskull and Christina Peyron pulled down 1,000 crowns as winners of the Ladies' Class. Feminine teams driving Simcas and Volvos were left in the wake of their aluminium Porsche coupe.
These successes go down in history as the first-ever competition victories by Porsche cars. You'll recall that the event previously making that claim, the Innsbruck race supposedly won by Edwin Kaes in the 356 roadster in 1948, turned out to be a non-competitive demonstration and thus has been stripped of that honour. No minor outing, Sweden's Midnattsolsrally was a demanding four-day contest that proved the merits of all participants. Porsche was justifiably proud of the success achieved.
This marked the beginning of a successful competition career for Tin Berckheim. He returned to Sweden a year later to win his class again, this time with Porsche's new 1300. In 1951 he was a class winner in the Travemünde Rally.
That summer of '51 Berckheim was one of the drivers when Porsche used the Baden-Baden Rally to conduct a high-speed trial of its new 1.3-litre engines. With rules that awarded success to the team that made the most check-point visits, two Porsches raced back and forth on the Autobahn between Stuttgart and Munich, covering 2,254 miles at a 75 mph average. The fastest completed lap was at 85.4 mph. To travel at such speeds the Porsches carried 'Test Car' placards that allowed them to exceed the 50-mph speed limit imposed by the American occupiers.
Early in 1952 Tin Berckheim was on one of the teams that drove Porsches to second and third in Italy's Sestriere Rally. In May his agenda turned more serious when he accompanied Giovanni Lurani in an aluminium 356 in the Mille Miglia. Using a semi-experimental 1,488 cc engine they were leading their class when they lost all but third gear 200 miles from he finish at Brescia. Knowing of their misfortune, their main rival in a Cisitalia put on speed to make up a seven-minute disadvantage only to blow his engine trying. The class victory was Porsche's. Cisitalia was also denied the win in the 1.1-litre class by the Porsche of Count Paul Metternich and Wittigo Einsiedel.
Count Berckheim carried out pre-race testing of their Mille Miglia coupe during the night on the Autobahns around Stuttgart. When he roared past one of the American military patrol cars at better than 110 mph he decided that he'd better not wait around and continued at top speed. Twenty miles down the road a swinging lantern prompted him to stop. However, when policemen there compared notes on the radio report they'd received about a speeding car, they realised that it had come only 11 minutes earlier. No car could have covered the distance so quickly, they concluded. Waiting instead for the real culprit to arrive, they waved Berckheim happily on his way.
In the ultimate adventure Tin Berckheim took his 356 coupe to Mexico for the Carrera Panamericana late in 1952. His car was fitted with one of the prototypes of Porsche's then-new synchronised transaxle. Trouble with this stopped his race on the second leg. His riding mechanic Herbert Linge recalled that Berckheim loyally told reporters that a stone thrown up by the roadway had damaged his transmission.
An accident effectively ended Konstantin Berckheim's racing career and left him partially crippled. He nevertheless kept a strong interest in Porsche's racing, observing and organising from a wheelchair. He died, aged 60, on 6 October 1964. Tin Berckheim deserves to be remembered as one of Porsche's first and finest entrants, drivers and enthusiasts.
- Karl Ludvigsen
---
Porschefying History - Part 3
Several legends have become indelibly associated with the first-ever Porsche car, the mid-engined 356 roadster of 1948. The validity of one is doubtful while the other is plain wrong.
The mid-engined Porsche Type 356 roadster was granted road registration in Austria on 15 June 1948 with the awarding of license number K 45 286. The authorities in Spittal recorded Porsche as the producer and the model as 'Sport 356/1'.
In that high summer of 1948 the Porsche engineers at Gmünd were entitled to pause in their efforts and congratulate themselves. They had built and were driving not only the first car to bear the Porsche name but also the world's first modern mid-engined sports car. Everyone on the team felt immense pride at its creation, which gave a welcome boost to their spirits four years into their obligatory ostracism in Austria.
Among the legends surrounding this historic car that have come down through the decades are two in particular. One is that its handling was treacherous thanks to the way that not only the VW-sourced engine/transaxle but also the complete rear suspension was turned 180 degrees to effect the mid-engined placement. The other legend is that the roadster, in the hands of Herbert Kaes, scored the first-ever racing success for the Porsche marque.
Starting with the first legend, many armchair experts have said that this realignment of the Volkswagen's components possessed a fatal flaw. The effect, they pointed out, was to cause the wheels to toe outward when they rose, instead of inward as they did on the Beetle. The rear-wheel-steering effect thus generated would tend to make the car turn more sharply than the driver intended, producing unwanted oversteer. In the VW Beetle the effect was the opposite, combating the car's inherent oversteering tendency.
But what did knowledgeable people make of the 356 roadster when it was freshly minted? It was driven to Switzerland late in June 1948 so it could be tested by journalists who were on hand for the Swiss Grand Prix at Bern on 4 July. One of these was Robert Braunschweig, editor of Bern's authoritative Automobil Revue.
Calling the 356 'the youngest offspring of a great name,' the experienced Braunschweig wrote that he 'became very confident with it in a short time' on the difficult and fast G. P. circuit. 'This is how we imagine modern road motoring to be,' he continued, 'where the advantages of modern springing and the resultant driving comfort are combined with the adhesion of an equally modern, low and handy sports car. In tight corners it is handy and stable while in longer, fast highway bends it precisely holds the desired course.'
Another reporter in Switzerland had the inside track with Porsche on the story of its new car. He was Max Troesch, an engineer who had been in charge of experimental work at Steyr in 1929 when Ferdinand Porsche was director of design there. Troesch later moved to Switzerland to advance his education and was still there when the first Type 356 arrived.
Driving the 356 in both town and country, Max Troesch reported that 'it is not only speedy but also very comfortable and above all almost unbelievably stable.' Its suspension, he said, 'in conjunction with the very small overhang and concentration of weight at the back, gives remarkably steady, straight running on bad roads, and, due to the raised roll centre at the rear of the car, plus the low centre of gravity, the car has really remarkable road holding, combined with a pleasant softness of springing and very light, accurate steering.'
That summer a British visitor, David Scott-Moncrieff, paid an impromptu visit to Gmünd and to Porsche, he and his wife driving 'up a valley to a group of what looked like army huts and were very graciously received.' A purveyor of fine motorcars, Scott-Moncrieff made himself known to Ferry Porsche, who showed him the works and the first 356.
'I was allowed to take the prototype for a test run,' Scott-Moncrieff said. 'I was absolutely shattered by its roadholding. We were emerging from the decades during which only vintage cars and a few sports cars sat on the road; the others wallowed and floated about. So to find this new prototype as taut and road-hugging as a Grand Prix Bugatti was an incredible experience.'
All these assessments of the 356's handling were positive. None mentioned excessive oversteer. Respecting the standing of Ferdinand Porsche, who was well known to all who understood European motor engineering, those who drove and reported on the first 'Porsche' might have been inclined to see it in a positive light. Nevertheless their own reputations were such that they would have given their honest impressions of its attributes. That they didn't even hint at oversteer is significant.
It's noteworthy that the same means of creating a mid-engined car was used by engineer Hermann Ramelow in the racing special that he built for Frankfurt's Walter Glöckler in 1949. Glöckler drove this 980-pound special to the 1,100 cc sports-car class championship in Germany in 1950, defeating for the first time the VW-based cars of Petermax Müller. In 1952 the same car brought the same championship to Heinz Brendel. When Ramelow built a 1.5-litre racer for Glöckler in 1951 he used the identical formula for a spyder that broke international class records at speeds of up to 116 mph.
The limited wheel travel of all these sporting adaptations of the VW kept their rear-wheel-steering effect to a minimum. As well, upward rear-wheel movement generated negative camber, which increased cornering power. The inherently sound weight distribution and balance of these mid-engined cars made them less demanding of their rear suspension's performance. That independent experts found them superior in handling to anything else being built at the time is indisputable.
A further demonstration of the roadster's agility came on 11 July 1948. The car was back in Austria at Innsbruck in the Tyrol, appearing at the Rund um den Hofgarten, a round-the-houses race meeting on a 1.9-mile circuit through city blocks alongside the Inn River that gave the town its name. Brightening that summer's gloom in the still-deprived post-war years, the meeting was attended by 45,000 fans. The three local newspapers devoted considerable coverage to an event that was chiefly for motorcycles but featured one sports-car race of ten laps, 19.0 miles.
This contest had a handful of eclectic entries. Alceo Padovani entered a Stanguellini, Trento-based Italian Luigi Vilotti fielded a Fiat 1100 sports, Otto Mathé brought his 1934 Fiat Balilla 508S, while a 3.0-litre Austro Daimler of circa 1929 vintage, whose engine could trace its origin to Ferdinand Porsche's designs, was an entry by Robert Aschkenasi.
Because the Stanguellini didn't start and the Austro Daimler failed almost immediately, the race became a duel between Vilotti and Mathé. The story in the Tiroler Neue Zeitung summarized the finish by stating 'The Fiat of the Italian driver was much more powerful than the Balilla of Otto Mathé, but the latter ran an excellent race and kept up with the rival Italian for a long time.'
Another paper, the Volkszeitung Innsbruck, said in its story, 'As for the car race, the Fiat of the Italian Luigi Vilotti placed himself in front of regional racer Otto Mathé. Let it be noted that the one-armed pilot of Innsbruck showed excellent wheel control on this occasion but he finished behind the Fiat which was definitely more powerful than the Balilla.'
Isn't this the race in which the first-ever Porsche competition success was famously scored by Herbert Kaes driving the 356 roadster, a victory celebrated in song and story? Both car and driver are conspicuous by their absence in the accounts quoted above. The reason for this is that they didn't officially compete. Instead, Kaes only drove demonstration laps in the silver roadster. He was accompanied on the circuit by Ferry Porsche in the Type 60K10 Volkswagen coupe, the car built in 1939 for the aborted Berlin-Rome Race.
This appearance 'at racing speed' of exotic Porsche creations, giving a glimpse of the future of auto making, caused even more excitement than the race. 'Much observed and admired were the two new Porsche cars,' said the Tiroler Tageszeitung, 'using components from the Volkswagen and tuned engines, not as racers but as sporting touring cars.' Since the 60K10 coupe was still a virtually secret car, little known to the public at large, it was thought to be another new Porsche creation. By then it had been rehabilitated in Turin by Pinin Farina and given PORSCHE identity.
We can't be conclusive about the 356 roadster's handling. Though it still exists it's so altered from its original form that it wouldn't be fair to test it, even if we were allowed to. But we can conclude that the reports of its unstable oversteer are exaggerated.
However, we have to strip from the roadster its legendary role as Porsche's first race winner. So, which Porsche does deserve that honour? That's a column for another time.
- Karl Ludvigsen
---
Porsche and the English Patient
Ferdinand Porsche's nephew, Ghislaine Kaes, served as his uncle's secretary and, when necessary, general dogsbody. In both capacities he kept notebooks, some of which he downloaded to compile a history of Porsche's activities. Others were more banal, packed with shopping lists and hospital visits. In several of the latter, however, I found some intriguing references.
The end of the war found the Porsche engineers in Gmünd, Austria, whence they were dispersed for their production from Stuttgart's wartime bombings. There they were rebuilding their lives and business after the war. Around the 5th and 6th of September 1948 a note in Ghislaine's diary stated 'ALMASY SPORTWAGEN KÖNIG'. It was associated with travels around the area, including a pickup from Villa Leopold at 5:00 p.m. during which Kaes put 15 miles on his military-style Beetle.
The mention of Almasy was easy to decode, especially because Kaes also referred to him as 'Almasy Graf', meaning 'Count Almasy'. The man was none other than László Ede Almásy de Zsadány et Törökszentmiklós, better known as Laszlo Almasy. The noble title was an honorific, thought bestowed on Almasy by Austria's deposed King Karl in the years between the wars. Almasy usually didn't use the title outside Austria or Hungary.
Not that Laszlo Almasy was born low on the food chain. Noble but not titled, his family occupied a magnificent castle at what is now Bernstein in the east of Austria between Vienna and Graz. His forebears were of Hungarian origin in the dual monarchy of Austria-Hungary that was dissolved after World War 1. Born in 1895, the tall, slender youngster was educated at first in Graz and later, between 1911 and 1914, in England. He famously became an awesome linguist with a mastery of any and all tongues that he found useful.
Having obtained his pilot's license during his sojourn in Britain, Almasy served in the Great War with the Austro-Hungarian Imperial and Royal Aviation Troops. There he had ample acquaintance with the aero engines made by Ferdinand Porsche's Austro Daimler. After the war, however, Laszlo Almasy allied himself with Steyr, an armaments company that entered auto production as a rival to Austro Daimler. Vehicle testing and proving were on Almasy's agenda at Steyr, for whom he also competed in trials. Driving an open Steyr VII he won Poland's Touring Trial in 1925.
Early in the 20th century Almasy's father György, a noted ethnographer, conducted pioneering expeditions to Central Asia and Northern China. Following his example, his second son Laszlo mounted an expedition from Cairo to Khartoum in the Sudan in 1926, accompanied by Prince Anton Esterhazy and Said Mohammed Baracat. Famously they relied on a used Steyr VII, enhanced only with top-quality tyres, as their principal transport. They were the first to cross the Nubian Desert in a motor vehicle.
Writing about his exploits and demonstrating Steyr cars at the 1927 Cairo motor show, Laszlo Almasy continued to support the Austrian producer. In 1929 he used two Type XX Steyrs, bodied as pickups, for another foray into Africa that filled in many blank spots on the maps of the day. Although that was his last venture with Steyr vehicles, Almasy certainly made the acquaintance of Ferdinand Porsche, whose 16-month stint as Steyr's chief engineer began in January of 1929.
So effectively did Almasy continue his explorations of Africa in the early 1930s that he was dubbed 'Abu Ramla' by the Bedouins, 'Father of the Sands'. He used a de Havilland light aircraft as well as rented Model A Fords for his subsequent forays into the Dark Continent, over which he shed much light. His knowledge of Africa resulted in his 1941 recruitment in Budapest by German military intelligence, which attached him to Erwin Rommel's Afrika Corps.
Among Laszlo Almasy's exploits as a mercenary in German service was his infiltration of two German spies into Cairo. In 'Operation Salaam' he and his team drove deep into the south of Libya in a four-truck convoy before turning east to deposit the spies at the Nile. En route the cheeky Hungarian siphoned petrol from the enemy's vehicles. Their return trip was aided by a cache of food and fuel that he'd established in advance. This daring exploit won Almasy the Iron Cross and a promotion from Captain to Major by Rommel.
These were the deeds that led novelist Michale Ondaaje to make 'Laszlo Almasy' the title character in his 1992 novel The English Patient. In the novel and in the 1996 film, in which he's played by Ralph Fiennes, Almasy is badly burned in a plane crash in the desert. His English accent causes the unidentified casualty to be assigned that nationality. While the fictional Almasy dies, the real one returned to Hungary before the end of the war, there to keep several Jewish families from being transported to certain death.
Although tortured and tried as a traitor by Hungary's communists, Almasy was acquitted. With the help of a bribe paid by his Egyptian friends the adventurer was whisked out of Italy by British intelligence, which valued his contacts. Carrying a false passport in the name of 'Josef Grossman', Almasy was infiltrated into the British sector of occupied Austria. There he knew he had friends, among them the Porsches and Piëchs sequestered in Carinthia.
Hence the contact diaried by Ghislaine Kaes. Laszlo Almasy had something to offer the Gmünd denizens: his excellent contacts at the highest level in Egypt. In early September of 1948 the Austrians were just completing their first coupes to the final 356/2 design, aluminium-boded cars on a platform chassis of which they had laid down a series of 50. Their sales potential was by no means secure, so Egypt was a welcome market of great promise.
The reference to König or King in Kaes's notes referred to Egypt's King Farouk, famously a car fanatic in spite of his celebrated girth. In February of 1947 Farouk had rolled out the hospitality for a select group of drivers competing in identical single-seater D46 Cisitalias on a Cairo road course.
Almasy came through. Although nominally destined for Swiss Porsche backer Rupprecht von Senger in Zürich, the third 356/2 coupe was earmarked for Farouk. 'Ladislaus' Almasy of Cairo was pencilled in as its recipient, although the Egyptian ruler was to be its ultimate owner. Porsche tailored the car to suit its regal driver, giving it seats that were as wide as possible to suit his ample posterior. An unusual fitting was a prism mounted next to the rear-view mirror. It gave the driver an upward view, possibly to detect attacking aircraft at a time of political turbulence in Egypt.
The unique 356/2 remained in Europe at first for the King's motoring pleasure. At the age of 20 in the summer of 1949 Ernst Piëch recalled meeting both Almasy and Farouk during their visits to his family and the Porsches. Kaes minuted a meeting on 2 August among Almasy, Piëch's mother Louise and Porsche financial director Hans Kern. The Hungarian 'Count' was on the Kaes agenda again on 18 August and once more in early September of 1949.
Records indicate that Porsche 356/2-003 finally left Austria on 28 October 1949. Only days later Ghislaine Kaes was with Almasy and Swiss racing driver Rudi Fischer at Schloss Velden, over the border in Bavaria, enjoying a dinner of venison. Farouk however left his car in Europe, Ernst Piëch recalling driving the coupe on the Autobahn from Munich to Stuttgart in the early 1950s to have it checked at Porsche's facilities there. On a foggy autumnal day, it was a treacherous undertaking.
Laszlo Almasy sold two more Austrian-built Porsches into Egypt, 356/2-033 to His Excellence Mohamed Taher' Pascha and 356/2-035 to His Royal Highness Prince Abd el Moneim, resident in the posh Cairo suburb of Heliopolis. A cousin of Farouk, the prince became Egypt's chief regent when the king was toppled from his throne. 'The prince was fairly fat,' wrote Richard von Frankenberg. 'So as not to rub against the lower edge of the steering wheel, he always spread a large silk handkerchief on which the royal Egyptian monogram was embroidered. This handkerchief was spread out between his shirt and the steering wheel. As a matter of fact he was quite a good driver.'
In these latter years Laszlo Almasy was resident in Cairo, where Farouk named him president of the Desert Research Institute, founded expressly to suit the Hungarian's skills and experience. On a return visit to Austria he fell ill. Almasy died of dysentery in a Salzburg hospital in March of 1951 at the age of 55. Thanks to his voluminous publications, founded on an authentic spirit of adventure, his exploits remain bright in the memory. Thanks to Ghislaine Kaes, his connection with Porsche is now equally unforgettable.
- Karl Ludvigsen
---
Rebel with a Cause
Impelled by a passion for fast cars and upset applecarts, Tony Lapine carved a brilliant career in the world of automobiles at General Motors and Porsche. An important birthday is our excuse for a quick recap of his remarkable life.
Anatole 'Tony' Lapine turned 80 on 23 May this year. It's a good time to celebrate the amazing career of a man who, in spite of being as iconoclastic as they come, had a distinguished and productive career in the corporate world with GM, Opel and, finally, Porsche. He worked at the Stuttgart company from 1969 until the autumn of 1988, when he gave way to Harm Lagaay. 'Nothing is changed,' his boss told him at the time, 'except you don't come to work.' One couldn't ask for a better arrangement.
I remember Tony well from the time we both worked for GM in the 1950s. He and his wife and offspring lived atop a carriage house which perfectly suited his passion for cars. In 1959 he'd bought a Porsche 356A plain-bearing Carrera coupe, specifying a black car with black interior, a rare combination that had the Porsche salesmen questioning his choice. When Porsche set up a driving school for its top executives at Malmsheim Airport in the early 1970s Tony turned up in his Carrera. He set fastest lap against all the others in their 911s.
Tony turned to Porsches after frustrating experiences with British iron including his wife's Jaguar XK120M, which he totalled on a race track when they still had three years of payments to make. His first Zuffenhausen car was a 1600N Speedster with which he and his wife toured Europe in 1957. A fine driver, Lapine also competed in VW, Alfas and Volvos. In 1959 GM Styling chief Bill Mitchell trusted Tony to co-drive his racing Sting Ray at Elkhart Lake.
In the Styling Staff basement under studio chief Ed Wayne, Latvia-born Lapine was the Studio X engineer, after an apprenticeship at Mercedes-Benz and a stint at Fisher Body, working with Japanese-American designer Larry Shinoda. There he had a 'memorable time fulfilling Bill Mitchell's private or semi-private whims and wishes along automobile lines.' High points were the Sting Ray body for the Corvette SS chassis and the elegant Corvair-powered Monza GT.
A big breakthrough for Tony Lapine came in 1965. One of GM's top stylists, former Chevrolet studio chief Clare MacKichan, had taken over the studios at Opel in Germany. Determined to give styling more credibility in the engineer-led company, MacKichan decided to set up a research studio to conduct projects outside the mainstream. In a brilliant choice Lapine was named to head it, giving him his first test of management.
At Opel the irreverent and irrepressible Lapine set up a 'secret' styling shop that was able to design, engineer, build and test advanced sports and racing cars. It was a real 'skunk works' with stylists and engineers working arm in arm next to the shop floor. They built single-seaters and sports cars using Opel hardware with space frames and monocoques, front- and mid-engined, testing model body shapes in wind tunnels and trying out bare chassis on the track.
One of their aims - sadly not realised - was to create an Opel that could be built in enough numbers to create a one-make racing class. Where they did succeed however was in transforming an Opel Rekord two-door into a racing car. They stripped and lightened it, uprated suspension and brakes and fitted a Swedish-modified engine. Painting it black with classic oval Opel emblems on its flanks, they tweaked the paddock establishment by plunking a 'TAXI' sign on its roof.
This 'Black Widow' Opel staggered the establishment late in the 1968 season. Driven by headstrong Erich Bitter, it breezed past an ex-Penske Camaro at Zolder and outraced the Group 5 BMWs and Porsche 911s at Hockenheim. Called the 'Wonder-Opel' by the press, it gave fair warning that Opel had ideas above its station. And it was just the kind of tail-tweaking of the establishment that Tony Lapine relished.
When a Zuffenhausen delegation visited Opel, Ferry Porsche and Ferdinand Piëch were both impressed by the way Lapine's radical 'black' projects successfully married engineering with styling, a relationship that was under stress at Porsche. This led to an invitation to join Porsche, which happened in the autumn of 1969. Lapine brought to Zuffenhausen a flair for the unconventional and some of the talented young stylists he had come to know at Opel, including future stars Dick Soderberg and Wolfgang Möbius.
Tony Lapine brought as deep an appreciation of and affection for the Porsche traditions as any man in the company. When the centenary of Ferdinand Porsche's birth was celebrated in 1975 the blond, bearded Lapine drove his Porsche to the Professor's birthplace in Maffersdorf, now in Czechoslovakia, and brought back to Stuttgart a container of soil from that historic site. That's Porsche enthusiasm.
'When I was invited to the Porsche residence near Salzburg,' Tony recalled, 'it was like a dream, like a Christian going to Bethlehem. They were all there - the Porsches the Piëchs, Ferry's sister. He wouldn't take any big decision without talking to Louise.'
Lapine also brought a highly personal style to Porsche's design activities. 'He didn't like tourists,' a colleague recalled. Company officials who sauntered into the studios without invitation were sternly told to vamoose and to come back to see completed proposals when they were ready. For liaison with the technical departments he relied on his highly competent and powerful studio engineers. From engineering, design chief Wolfgang Eyb would come in to negotiate hard points with Tony and his team. From time to time, however, company head Ernst Fuhrmann and Ferry would visit to see new concepts.
Tony Lapine had two watchwords for his men. One was, 'If the engineers come in and they like it, you have to start again.' The other was, 'If marketing comes in and says something, ignore it.' The drawing-board designers were kept on their toes by the studio's chief modeller, Peter Reisinger, another refugee from Opel. An acerbic and observant Austrian, Reisinger 'would make a sarcastic remark that would lead to a change in the shape,' a designer recalled. 'A big part of the team, he would tell the guys what to do.'
Creative stress was a characteristic of Porsche design under Lapine, recalled Stephen Ferrada: 'His style was to set designers against each other, a classic way of keeping the upper hand. This raised the tension in the studio. Lapine wouldn't remain neutral. He'd get angry over a design he didn't like, swearing about it. The successful design was praised highly. One day champagne, the next day the complete opposite - tears and shouting.'
Ferrada noted Tony Lapine's affinity with Austrian engineer Ernst Fuhrmann, who ran the company during most of the 1970s. 'He was close to Fuhrmann then,' the designer related. 'We would visit his office for celebrations, birthdays and the like.' Fuhrmann in turn appreciated Lapine's eagerness to make advancements and adventurous excursions. 'I prefer people who want to run ahead,' he said, 'and whom I only have to guide and control.' This was an obvious reference to Lapine, who began as an understudy to Ferdinand 'Butzi' Porsche and assumed full design authority when all the family members left the company in 1972.
Late in the 1970s, when all the work on the 924 and 928 was complete, Butzi might have wondered why business fell off for his new Porsche Design studio at Zell am See. When phone calls were put through to the Porsche styling office by people who thought they were reaching Butzi's Austrian operation, Tony Lapine would say, 'Yes, this is it!' If any business was going, Lapine wanted it to make use of his spare capacity. Major contracts with Airbus and Linde fork lifts resulted.
On one of my visits to Weissach Tony took me into a small side studio in which - of all things - was an MG TC. But what a TC! It had new aluminium body panels, a reinforced frame and an A-bracket locating its front axle. Drive train was a two-litre twin-cam Fiat with five-speed gearbox driving an Alfa rear axle. Its pedals and titanium steering rack were recycled 917 parts. The mighty MG was a typical Lapine snook cocked at the establishment, built to outrage.
Similar motivation lay behind Lapine's acquisition of a Chevy-powered sprint car built by Wally Meskowski. Titivated with a new nosepiece, the sprinter was just the thing to upset the purists at the Nürburgring's August vintage race meetings, where Lapine would blow off their expensive British and Italian classic machinery. Later Tony acquired and raced a Mark 1 Lola, Eric Broadley's classic design.
Tony Lapine carried on through the Peter Schutz years of the 1980s, helping revive the 911 and advance the art of the front-engine Porsches. A heart attack was a warning, he said: 'Life at Porsche could be extremely intense. It affected people's health.' Fortunately it hasn't done permanent damage to the well-being of Anatole Lapine, who remains active at four score years in the German spa city of Baden Baden. He's had a life to envy.
- Karl Ludvigsen
---
The 917 Test Mystery
Success has many fathers and failure few, and thus it was with the test in the autumn of 1969 that made Porsche's 917 a real racing car for the first time. Two new books bring enlightenment where confusion once reigned.
One of the most enigmatic episodes in Porsche history was a Type 917 test session at Austria's new 3.73-mile Österreichring circuit, near Zeltweg, in the autumn of 1969. It was of great significance in several respects. It marked the first time that Porsche's engineers co-operated with the Gulf-backed John Wyer team in any racing effort. And it followed a troubled debut season for the 4.5-litre flat-12 917 whose drivers dubbed it 'The Ulcer' for its frighteningly wayward behaviour.
One enigmatic aspect of the test was its timing. Here's what I said in my history of Porsche:
'The shape of the 1970-model 917 was significantly affected by a test session at the Österreichring in August 1969. The site was convenient for testing because both the Porsche and JW teams were there for the 1,000-kilometre race that ended the endurance-racing season on August 10th. Both remained at Zeltweg for three days after the race for a test session managed by John Wyer and fully supported by Ferdinand Piëch and the rest of Porsche's top technical staff.'
I based my timing of the session on the testimony of Paul Frère, who wrote about 'the test runs for which the track was hired after the race,' which was won by a 917 driven by Jo Siffert and Kurt Ahrens-the model's first victory. As well I found a quote from Brian Redman, who said that in the tests 'I drove the car that I'd been driving in the race the day before, and it did the same time as in the race, and felt just as bad.' These assertions placed the test in mid-August. They were wrong, so I was too. And in fact neither John Wyer nor Ferdinand Piëch was present for the tests.
Two new books make the timing crystal clear. One is Racing in the Rain by John Horsman and the other is Porsche 917-Archiv und Werkverzeichnis 1968-1975 by Walter Näher. The former was chief engineer for the JW-Gulf team and the latter was a Porsche experimental engineer who was given full access to the 917 archives. They agree on the date of the Österreichring test: 14 through 17 October 1969. The first day, Tuesday, involved Porsche alone. The John Wyer crew arrived on the 15th, led by Horsman and JW team manager David Yorke.
Two 917 coupes in Group 5 configuration were available for the test. One was 917 006, which had been used for training at Le Mans, and the other was 917 008, which had led at Le Mans before retiring in the 21st hour. Both had 1969's short-tail layout. Instead of the original suspension-actuated rear spoilers, since the August race in Austria the spoilers were fixed in place albeit adjustable in their angles.
Major background for the test was the 917's unpredictable instability. JW-Gulf's contracted tyre supplier Firestone was on hand but refused to take part at first. 'We inquired what was happening and why they were not our there testing their tyres,' wrote John Horsman. 'They replied that they did not want to get the blame for the poor handling of the 917 and were not going to put their tyres on the car until it was sorted.' That's how poor its reputation was.
'We were the guests,' Horsman continued, 'and Porsche ran the show.' Led by experienced Zuffenhausen engineers Peter Falk and Helmut Flegl, Porsche started testing on Dunlop tyres on the 14th with drivers Brian Redman and Kurt Ahrens. Suspension experiments continued into the 15th with no significant improvement in behaviour or lap times. While their target was 1:46.6, turned in the August race by a Gulf Mirage-Ford, the best they'd managed so far was 1:48.2.
'In the clear, still autumn air of the Austrian hills,' John Horsman observed, 'there were clouds of gnats flying around, and their remains were splattered all over the nose and windscreen of both closed 917s. I noted there were hardly any dead gnats on the rear spoilers, which by now had been raised into near-vertical positions during the course of testing with no discernible effect on the handling. Since they were very small and light, I knew the gnats would flow over the bodywork exactly as the air flowed. Any gnat remnants on the white paint would indicate the air had touched that surface. This proved to me the airflow was barely touching the rear spoilers.
'I knew immediately that we had to raise the rear deck,' Horsman continued, 'and then attach small adjustable spoilers to the trailing edge. It was obvious to me that if the whole rear body surface was in the airstream it would be able to exert some downforce. So, supported by David Yorke, I asked Peter Falk and Helmut Flegl if we could "borrow" 917 008, as it was standing idle at the time. Somewhat puzzled, but wanting to be co-operative with the "Englanders", they said "Ja". And do you have any aluminium sheet in the trucks? "Ja." And could we borrow some snips, and pop rivets, and duct tape? "Ja."'
Now we've arrived at another enigmatic aspect of this test. Porsche's perspective on these events on 15 October differed somewhat. 'John Horsman came along and noticed that only the top edge of the spoiler was covered with dead bugs and oil spots,' related Peter Falk. 'So he said-and we saw it at exactly the same time-that the air was not going down to the bottom of the spoiler. He said that we could not build a car with a spoiler like that, but that we could build up the rear of the car with sheet aluminium. So that's exactly what his mechanics did. We had a lot of aluminium sheets prepared for this test, to make the spoilers higher and higher.'
Falk thus insinuates that Porsche was preparing to try a higher tail during the tests and that it was aware that it might be useful, but clearly it hadn't done so until Horsman suggested a trial. This has to be viewed against the background of the 917's origin. It was the personal creation of Ferdinand Piëch, now head of all Porsche engineering. From nose to tail it was designed as an ultra-low-drag racing car.
Downforce, or even the mitigation of lift, wasn't on Piëch's aerodynamic agenda. It's likely that any changes that would have increased drag-like a higher tail-would have been seen by Falk and Flegl as an admission of defeat. With the Englishmen doing it, they could divert any blame to them. Significantly Walter Näher's 917 book, based on the test reports in the archive, makes no specific mention of the British contribution. 'John Wyer's technicians' get a mention but with no indication of what they actually did.
Under Horsman's direction the 'desecration' of 917 008 was carried out by JW mechanics Ermanno Cuoghi and Peter Davies. 'To the horror of the German observers,' wrote Horsman, 'Ermanno and Peter snipped and riveted the rest of the afternoon but were not able to finish the job by the time the circuit closed.' When they wheeled it out the next morning, 'it looked very ugly, and Brian Redman was rather rude about it.' Peter Davies took the picture of the tail that appears in this column.
Redman it was who first took the aluminium-tailed 917 onto the Österreichring on the morning of 16 October. Instead of heading for the pits after a couple of laps, as before, he stayed out for seven. His first words on returning were, 'That's it-now it's a racing car!' 'Those were words of sheer joy to me,' recalled Horsman. 'After months of being a monster, the 917 was tamed.'
'It was a solution that came from all of us,' summed up Peter Falk. 'Later Mr. Wyer and Mr. Horsman said it was their work. And we naturally told Mr. Piëch that it was our work! But it was really teamwork.' Though overstating Porsche's role in the bodywork transformation, this comment did reflect the importance of the successful result, which proved to the Germans that their new English partners had something to offer.
Working back and forth the between the two 917 coupes, the engineers made them faster as well as better. With the wedge-profile tail the lap time dropped immediately to 1:45.6. With Firestone's tires plus chassis changes the time finally dropped to 1:43.2, to the credit of Kurt Ahrens.
'We thought we might have some trouble convincing Porsche to go along with the new shape,' said John Horsman, 'but they surprised us and were converted to the new gospel of downforce without any further discussion.' Such test results, which set the seal on the 917's successes of the next two seasons, couldn't be ignored.
- Karl Ludvigsen
---
Porsche Junior
Though disappointed by Porsche's baroque '918 Spyder' concept car, our columnist hasn't given up hope. He suggests ways to address the urgent need for a new entry-level range and proffers a thought-provoking suggestion for its branding.
'Be careful what you wish for,' the saying goes, 'because you might just get it.' In the November 2009 issue of 911 & Porsche World I campaigned for a new concept car from our favourite sports-car maker.
'We urgently need to see a new concept Porsche,' I said, adding, 'The creation of a new Porsche concept car is vital for several reasons. First, after more than 50 years the 911 look and configuration has finally worn out its welcome. Porsche needs a new icon. Second, the Panamera shows definitively that Porsche has run out of styling ideas. Third, we're all worried about what will happen to Porsche in its new relationship to the VW Group. We need the reassurance of a concept that will prove that Porsche will be allowed to assert its own ideas.
'We need a new all-Porsche sports car,' I concluded, 'that will advance and enhance the inimitable character of the cars from Stuttgart. I look forward to seeing it as a concept car at Frankfurt in 2011.'
In the meantime Porsche's rivals have raised their game. With its magnificent 458 Italia, Ferrari has shown once again that's it's possible to have a new model that breaks fresh ground in styling while still looking like a Ferrari. Right in Porsche's own group, Audi's e-tron sports-car concepts push the state of the art in both styling and engineering. With its CR-Z hybrid, Honda threatens to redefine the sports car. The other guys aren't standing still.
Well, Porsche beat my timetable big time. At Geneva in March it showed a concept car, the 918 Spyder. The number that it chose for the car is interesting. This was the project number for a new range of mid-engined sports cars planned for 1973, created by engineering chief Ferdinand Piëch.
'For the 917 racing cars I had developed valve gear with twin overhead camshafts that worked well,' Piëch related. 'In my way of thinking it was logical to introduce a design feature into series production that was successful in motor sports. The development was complete, the production tools were ready. Nevertheless my cousin Peter Porsche, then head of production, blocked twin overhead camshafts for our production cars. His reasoning was that the old method still worked.' Fruitless and frustrating conflicts like this led to the 1971 decision that all Porsches and Piëchs were to leave the company.
Be that as it may, the abortion of Ferdinand Piëch's grand plan made number 918 available for Porsche's new concept. It also has nice echoes of the 917 and 908. And if Zuffenhausen would like my hints about other numbers that could be available, they are 913, 926, 927, 940, 941, 942, 955, 957, 958, 963, 967 and all those from 969 through 983.
When I was at the works in the days before Geneva I found the Porsche people in a state of excitement about the concept car that they would unveil there. Naturally I hoped it would mark a significant shift in strategy, establishing the new design direction that I asked for last November. The 918 was a big let-down. Clumsy and cluttered, it rehashes the whole worn-out vocabulary of Porsche design, swathed in scoops, louvres and spoilers to mask the basic shape's exhausted innocence of innovation and inspiration.
While the 918 is an entertaining technical toy, with its RS Spyder V8 engine and electric drive to the front wheels, it speaks to no known need save the amusement of the wealthiest Porsche dealers and their best friends. What those dealers should be lobbying for-and I'm sure are-is a new Porsche model at the other end of the price spectrum.
We've been here before. In 1987 Weissach's engineers addressed their company's need for a less costly sports car. The 924 was nearing the end of its run. Although plans for updating this entry-level Porsche were made under outgoing chief Peter Schutz, they were dropped after he left, the last 924S being produced in September 1988. This left a gap in Porsche's range that was glaringly obvious to its dealers, as they weren't slow to inform the company.
Studies for a successor were initiated on a product colloquially known as 'Porsche Junior' and more formally as the Type 984. Conceived as open roadsters, both front- and rear-engined versions of the 984 were considered. The rear-engined approach was favoured, both to avoid direct comparison with rivals and to draw on Porsche's traditions. Thoughts turned to air-cooled flat-four engines, one pair of possibilities being a 1.9-litre unit with 125 bhp and a 2.1-litre capable of 175 bhp.
One styling model of a potential 'Porsche Junior' revealed a high-sided roadster with a rounded nose and a long, flat-topped front bonnet into which its headlamps were steeply sloped in the style of the 928. Designer Wolfgang Möbius showed his touch in its meticulously beveled highlight surfaces and sheer flanks. Air inlets were low ahead of the rear wheels. The wheels themselves were of equal size front and rear and adapted a BBS-type spoke pattern in a bold, popped-out centre section.
Smaller, simpler and lighter though it was, the Type 984 was reluctant to yield a lower cost of production and, with that, a competitive retail price in the face of Porsche's limited-volume style of car making. By 1988 each dollar was returning to Porsche a niggardly 1.8 Deutschmarks, sometimes as little as 1.7. Finance man Heinz Branitzki had bought dollars forward at a better rate to protect income, but such currency hedging only helped in the short term, over months rather than years. Commitment to a smaller car meant smaller profits, so the Type 984 was rejected as unsuitable.
Still, the 984 offered some attractive attributes. One was that it was conceived from scratch as an open roadster. This set it clearly apart from the 911, a coupe first and foremost and offered only secondarily in open versions. As a two-seat roadster the 984 could have a strong appeal to people who liked the open style of sports car as exemplified by Mazda's MX-5 or Miata. Porsche wouldn't be competing directly with the Miata but it could position its car as a logical step up for Mazda drivers. And in some of its interpretations the 984 was mid-engined, in the tradition of Porsche's sports-racers. Here was a tradition with powerful appeal and another point of differentiation from the 911.
The mid-engined aspect of the Type 984 pointed the way to the Boxster, created by the imaginative merging of its front end with that of the 911. This was a brilliant solution to the credit of chief engineer at the time Horst Marchart. But with the rise and rise in prices of the 911 and the addition to the range of the Cayman as well, the Boxster is no longer an entry-level car. 'Do you think a 35-year-old can afford a new Boxster at 75,000 euros?' a senior Porsche man asked rhetorically during my visit. 'I don't think so!'
Porsche knows that it needs to slide a less expensive model into the bottom of its range. In the past this has been done in co-operation with Volkswagen, the 914 and 924 being the result. In those days the Wolfsburg outfit was an arm's-length partner. Now, of course, VW is in control of Porsche. In these circumstances the smaller company must do all that it can to assert and maintain its independence, much as Audi under Ferdinand Piëch managed to do even after it was wholly absorbed by VW.
Is manufacturing man Michael Macht up to the job of co-operating with VW in the creation of a new car without being dictated to by the German giant? In principle he knows what to do. 'A reduction in weight, a reduction in size-I think that's definitely a very exciting challenge to think about,' he said recently.
But how is a new model to be introduced without jeopardising Porsche's high-end brand value? Some think that the 914 and 924 degraded the Porsche image. One way to do it is to follow Ferrari's example. When a new cheaper range was introduced it carried a different brand-'Dino', named for Enzo Ferrari's first son. Only after the Dino models were well established did they become 'Ferraris'.
This could work for Porsche too. But what brand would be used? It should derive from the company's history while establishing a reputation of its own. I have a suggestion: 'Piëch'. There's no better name for branding a sister range while recognising, at the same time, the colossal contribution that the Piëch branch of the family has made to the Porsche legend.
One thing's for sure: it would certainly please the chairman of Volkswagen's supervisory board-and that's not a bad idea.
- Karl Ludvigsen
---
Porsche's Tinkertoy PEP
In the mid-1980s Porsche's inquisitive engineers built a radical test bed for the exploration of completely new drive and suspension configurations. It had magazine editors scratching their heads with curiosity.
A few issues ago I said that Porsche should be building and showing some concept cars to establish a new direction for its design and engineering. Since then Audi has blown Porsche away with its brilliant concepts at the winter's auto shows, posing an even more direct challenge to its sister company in Stuttgart.
I said then that the poor reception given the Panamericana concept of 1989 may well have discouraged Porsche from putting its ideas for future models in front of the public. In so saying I short-changed the Boxster concept of 1993, which turned out to be a starting point for a new kind of Porsche. Now in 2010 we've had the 918-a concept car, to be sure, but a disappointing mish-mash of old design ideas instead of the fundamentally fresh approach that we desperately need.
Three years before the Panamericana, another concept Porsche took to the road. It wasn't publicly revealed, however. Instead the matte-black coupe was hammered around the test tracks of Weissach, occasionally snapped by an opportunistic photographer. What could it be? editors speculated. Was it a completely new model? A possible 911 replacement? It looked the part with its plunging nose and big tail-mounted wing.
In 1987 Porsche came clean. Built by the Weissach engineers as Project 2696, the car was their new tool for exploring advanced concepts of handling and suspension. 'It's ugly as sin,' said Peter Schutz, Porsche chief at the time. 'It looks like a camel or something, instead of a horse, because we pay very little attention to its appearance.' This was the Type 2696, also known as the PEP - standing for Porsche Experimental Prototype.
'It's a rolling test stand,' explained Schutz. 'It is a car with which we can do some preliminary feasibility evaluations of concepts. It gives us the opportunity to evaluate different drive systems, because it is literally a Tinkertoy.' This was a reference to a kids' construction set invented in Chicago in 1914. I well remember making interesting structures of various kinds with my Tinkertoy sticks and circular hubs.
'The idea was to create an adjustable car,' said engineer Helmut Flegl, whose research department built the PEP. 'At one stage it looked like a 944 with a different rear end and sounded like a 911.' Its core was an aluminium monocoque center section, which extended from the front toeboard back to the area behind the two seats. In the rear of the monocoque were a 5.3-gallon rubber fuel cell - it wasn't expected to go far from Weissach - and a 3.2-gallon oil reservoir.
Fronting the greenhouse was a 944 windshield. The 944 also provided the roof and B-pillar. Doors were adapted from the 944 but fabricated in glass-fiber, which was used for the entire exterior skin. The steering column with its attached instruments was borrowed from a 928.
Bolted at front and rear to the PEP's central monocoque were welded-steel tubular structures. Carried by these were the suspension systems that Porsche wanted to try out with the PEP. The attachments were made in such a way that the torsional stiffness of the complete vehicle could be varied to try the effects of different structures on handling behaviour.
Suspension at the rear was laid out as trailing arms which were sprung by high-mounted coils. High coils were used at the front as well, acting against the upper arms of a parallel-wishbone setup. This gave the design freedom that was needed to allow all four wheels to be driven. The tubular structures also gave the flexibility needed to try completely different suspensions.
Changes in the PEP's weight distribution and polar moment of inertia could be tried by bolting weights to the tubular frames. 'You could make changes fast,' said Volker Berkefeld, who worked with the PEP, 'and move masses around very well.' Wheelbase length could be changed as well. To accommodate this the drive shaft from rear to front, and its surrounding tube, were telescopic.
The PEP's basic drive train powered all four wheels with its 911 engine mounted in the rear. To reduce mass overhang at the rear, however, the flat six was mounted above the transaxle, driving it through a train of gears. The drive train was laid out so that the PEP could be front-driven, or rear-driven, or four-wheel-drive with different front/rear torque balances. The purpose of the wing at the rear of its snub-nosed bodywork was to permit the car's aerodynamics to be balanced to resemble that of production models.
Porsche made bold claims for its Type 2696. 'In the future it will no longer be necessary to build costly prototypes or heavily modified production cars in the concept phase of a newly-developed vehicle,' it stated. 'In advance its handling can already be evaluated and optimised with the Porsche Experimental Prototype.'
The reality was less rosy. 'It was too crude,' said Flegl. 'It felt very much like a prototype. You couldn't get the feeling of a real car. To decide whether a concept was good or not was impossible.' Volker Berkefeld seconded this negative assessment of the PEP. 'Its acoustics, vibration and so forth made it not representative of a real car. The idea was good, but it's better to build the components into an actual car. The driving feeling is then much better.
'When you try to present a new idea internally,' added Berkefeld, 'it's best to present it in a very good form - not too noisy, for example. Otherwise people don't like it!' He added that later developments leapfrogged the PEP idea in any case: 'Basic suspension issues can now be resolved with computers.' Engineering chief Horst Marchart confirmed this: 'We have become more scientific in the way we work. Maybe this is not always as exciting as it used to be, but the final result is really impressive.'
I can't help thinking as well that the high position of the engine may have skewed some of the research findings. This was less than ideal, raising the car's centre of gravity and placing a substantial mass high at the rear. It was, in retrospect, an odd way to build a test car that was intended to show the best way forward.
Interestingly the Porsche initiative wasn't all that different from the Grand Prix Lotus that Colin Chapman created for the 1976 season. His Type 77 had the following features, said Chapman:
'We can alter the front track very easily by moving the whole of the suspension system out on the very simple sub-frame. It is also very easy to change the rear track. In fact, this is achieved simply by swapping over the rear wheels, which varies the track by four inches.
'We can alter the wheelbase by up to ten inches,' Chapman continued, 'because there are five inches of adjustment at both the front and the rear, and so we can have either a long- or a short-wheelbase car. At the same time, depending upon how it is set up, it is possible to change the location of the centre of gravity, a fairly major adjustment which normally cannot easily be effected once any particular design of racing car exists.
'The basic concept of the Lotus 77,' concluded Colin Chapman, 'apart from trying to produce a light, strong and efficient racing car, is to attempt to effect quite large geometry changes very easily. This is not to say that we will go to a circuit and immediately start altering the car, although that could be done quickly. The idea is that if we are going to a circuit where we know that a long-wheelbase car would probably perform best, we will set it up in the workshop as a long-wheelbase car. If we felt that a wide track would be beneficial for a particular circuit, then we will set up the car in that form. Then, if we found we were mistaken, we could very easily and very quickly change it.'
Chapman first fielded his 77 on the wildly sinuous Interlagos track in Brazil. To suit it the team's 77s were built to minimum dimensions of both track and wheelbase. Mario Andretti found that his 'handles like a go-kart. I just can't get any precision with it.' Ignominiously the Lotus team-mates crashed into each other early in the race, Ronnie Peterson leaving the team thereafter. Andretti persevered to win the season's wet final race in Japan driving a much-improved 77. In fact the 77 was the car that served as a test bed for the 78, which introduced ground-effect downforce to Formula 1 racing.
I don't know whether the PEP has survived. When I updated my Porsche history I was allowed access to the vast underground warehouse off a back street in a Stuttgart industrial estate that housed the Museum's overflow. I saw lots there that was interesting, including the flat-16 engines built for Can-Am racing and the prototypes of the Type 989 four-door Porsche. But I didn't clock the PEP. Exiguous as it was, it may well have gone directly to scrap. Just like my Tinkertoys.
- Karl Ludvigsen
---
Why Porsche?
After World War 2 the raw material for the first Porsches, the carcasses of wrecked and worn-out VW Jeeps, was scattered across a defeated Germany. Why was Porsche the only outfit to use these as a starting point for a successful business?
It might seem that in the years after World War 2 Porsche KG was the only company that started building sporting cars on the basis of the Volkswagen. It certainly became the most successful. But Porsche wasn't the only contender. As the 1940s turned into the 1950s, Porsche was just one among many firms and individuals who sought to exploit the performance potential of the rugged and ubiquitous Beetle. What set Porsche apart from the rest? Why did no one else succeed in launching a serious VW-based sports car?
Obviously Volkswagen itself was in pole position. Struggling back to life after its bombing during the war, the huge factory at Fallersleben was operating under the jurisdiction of British occupation forces. From October 1945 it built the first post-war Type 11 models, proper Volkswagens after the original Type 60 design. At the Hanover Trade Fair in 1947 the VW was launched on the German market and offered for export as well.
Among the Britons involved with the factory was Michael McEvoy, who before the war had been a tuner of motorcycles and marketer of superchargers. 'Why not make a sports VW?' he said to Major Ivan Hirst, who was in charge of the small British team at the factory. 'Just turn the engine around, put it ahead of the rear wheels and make up a tubular frame.' Though some German car enthusiasts were doing just that, Hirst realised that he'd better concentrate on Beetle-building.
Still, McEvoy's suggestion gave Hirst an idea. Earlier, in the plant's little experimental department supervised by experienced former Porsche man Rudolf Ringel, a cabriolet version of the standard Beetle had been built. Hirst suggested to Ringel that he make a two-seater convertible. This used a modified front bonnet panel as its rear deck lid, louvered to admit cooling air. Equipped with a more lively twin-carburettor engine, this was a sporty as well as pretty Beetle variant.
This one-off car served as a prototype for a two-seater VW cabriolet produced by Josef Hebmüller and Son at Wülfrath in the Ruhr district. Hebmüller completed three prototypes by the end of 1948. The handsome new VW model was launched as the Type 14A at the Geneva Salon in March 1949. Although Volkswagen asked for two thousand, problems at Hebmüller, including a fire, meant that only 696 were made.
Other coachbuilders were converting dumpy Volkswagens into racy roadsters and coupes. Among the leading practitioners of this art were Wuppertal's Drews and Berlin's Rometsch, both of whom produced envelope-bodied two-seaters on the VW platform. Made in both coupe and roadster formats, these were appealingly sporty. Rometsch in particular succeeded with some attractive Italianate designs.
Also building on the Beetle basis was Stuttgart's Dannenhauer & Stauss. Theirs were handsome 2+2 versions, coupes and cabrios, with enveloping front wings and free-standing rear wings. Looking very Porsche-like from the front, some 135 of these were made between 1951 and 1953. Lurking in any of these coachbuilding ventures could have been the seed of an auto-making enterprise like Porsche.
The versatile VW suspension, drive train and platform were welcome raw material for racing enthusiasts as well. The durable flat-four could easily be sized to suit the popular 1,100 cc class. Among those building and racing successful VW-based sports cars were Gottfried Vollmer, who preferred light cycle-winged bodywork, Richard Trenkel, Kurt Delfosse and Kurt Kuhnke, who enclosed the wheels and fitted a canopy to create an aerodynamic racer.
In August of 1947 both Kuhnke's silver car and the first effort of Petermax Müller appeared at races at Hamburg and Brunswick. Based at the time in the latter city, Müller had good contacts at the nearby Volkswagen factory. There, recalled sometime Müller driver Huschke von Hanstein, 'the engineers had hardly anything to do because they were only building the standard Beetle for the British. They were happy to be able to work on our engines in exchange for a sack of potatoes or beets or a kilo of butter.'
Petermax Müller, son of the owner of a Potsdam boatyard, was 35 in 1947. Having rallied for DKW before the war, he had good connections with former Auto Union racing director Karl Feuereissen, who was now VW's sales manager. Several of Müller's first racing cars were based on the chassis of wartime VWs, fitted with open coachwork whose sweeping lines were reminiscent of the aerodynamic Wanderers on which Müller had worked in 1938-39.
Müller's speed secret for his creations was possession of several sets of special cylinder heads that Porsche had developed during the war to power light attack boats. They replaced the VW's adenoidal inlet passages with inclined valves and hemispherical combustion chambers. Known publicly as 'Vogelsang heads' after the VW engineer who helped Müller prepare his cars and engines, these made Petermax Müller the German 1,100 cc-class champion in 1948 and '49. He built six such cars, selling them for 20,000 marks apiece.
The most professional VW-inspired racing effort was the series of sports-racers built by Frankfurt's Walter Glöckler. Before the war his family dealership sold Hanomag cars which Glöckler raced and rallied successfully, partnered in one 1936 event by Huschke von Hanstein. After the war Walter took up VW, the brisk sales of which allowed him to indulge his urge to build and race cars of his own. The man he chose to design them was the head of his workshops, Hermann Ramelow. Tall, bespectacled and professorial, Ramelow had worked on the pre-war aerodynamic Adler sports-racing cars.
Keeping the VW suspension, Ramelow replaced the platform with a ladder-type steel tubular frame that was underslung at the rear. Power came from one of the new 1.1-litre Porsche engines, mounted amidships. The driver's seat was nearly in the centre of the stubby yet handsome aluminium body built by C. H. Weidenhausen of Frankfurt, a three-man outfit that was virtually across the street from the Glöckler dealership.
Walter Glöckler drove his 980-pound special to the 1,100 cc sports-car class championship in Germany in 1950, defeating for the first time the VW-based cars of Petermax Müller. Made with awesome attention to detail, it kept winning for other drivers into 1952. A 1.5-litre Porsche four powered a 1951 Glöckler and three more specials made into 1953. With Porsche now making its own motor-sporting forays, however, Walter Glöckler decided to join them, racing the Stuttgart company's cars instead of trying to beat them.
Close kin to the early Porsches, like them making full use of Volkswagen parts, were the sports cars from the Vienna workshop of Wolfgang Denzel. A former racing motorcyclist, Denzel broke into car competitions with a BMW 328 before World War 2. After the Russians raged through Austria on their way west to wipe up the Nazis, raw material in the form of wrecked military Volkswagens was readily available. Denzel and his colleague Hubert Stroinigg decided to whip it into the shape of a sports car.
The first Denzel sports car - also known as a WD for the builder's initials - took shape in 1948. Soon more Denzels followed as onlookers saw what light and handy sports cars the Viennese were fielding. To get more power from his VW engines Denzel made new cylinder heads with individual inlet ports, selling them as kits offering more displacement and a special crankshaft. He and Stroinigg kept the VW engines in their customary location at the extreme rear, developing a tube-reinforced box-section frame to replace the VW platform.
Envelope-bodied, the Denzels were smooth, low sports cars whose early cockpits were designed to seat three abreast. That it was more than a soap-cake-shaped sportster was shown by the 1954 Alpine Rally, which Denzel and Stroinigg won outright with an engine of only 1.3 litres. Though Wolfgang Denzel earned much more with his BMW distributorship, he kept building his sports cars until 1960. While some accounts claim as many as 350 were made, Denzel historian Jim Perrin suggests a total of less than 100.
What made Porsche different? Why did it succeed when these promising projects stalled at low three-figure totals? There were several reasons. One reason was that the VW, an alien and primitive contraption in the minds of many auto engineers, was entirely normal and logical to the Porsche men, an obvious starting point for further development.
Another reason - and a compelling one - was that the Porsche engineers knew the VW through and through. They knew what it could and couldn't do. They knew why every casting was shaped the way it was and why every part was machined just so. Porsche's engineers and, naturally, Ferry Porsche himself had already solved most of the VW problems that other developers were only now encountering for the first time.
The Porsche organisation had a head start of two decades of familiarity with the raw material. That, plus a passion for sports cars and racing, powered Porsche ahead of all its rivals.
- Karl Ludvigsen
---
Setright Versus Porsche
Slurs on the reputation of Ferdinand Porsche litter the pages of a serious work on the evolution and impact of the automobile. We try to understand what the author asserted in relation to what Porsche did and why he held such views.
Leonard John Kensell Setright was one of the most exotic, mysterious and ostentatiously erudite individuals to have written about cars and motoring. Born in 1931 and deceased in 2005, L. J. K. Setright - as he was known in print - threw over a seven-year career in law to become a journalist and author. In Britain he was synonymous for 30 years with Car, whose readers he polarised with his eccentric and hortatory observations, richly interlaced with obscure vocabulary and classical allusions.
Published in 2002, a Setright work that turned out to be valedictory was Drive On! - A Social History of the Motor Car. While it may not have been 'quite simply the most stimulating, informative, provocative and witty book on the motor car ever written,' as its publishers claimed, it came close, eclectically spanning the whole history of the automobile, its roads, makers, users and racers.
With Setright a taste that I may never fully acquire, Drive On! was still on my reading list when I heard from Gary Anderson, editor of The Star, the magazine of the Mercedes-Benz Club of America. Reading the book over the holidays, Gary was struck by the author's contempt for Ferdinand Porsche. 'Setright really doesn't have much use for "Dr." Porsche, does he?' wrote Gary, adding, 'Title in quotes, since Setright points out that Porsche didn't even have a college degree, much less the right to the title of Doctor.'
It was time to open the pages of Drive On! On page 69 Ferdinand Porsche steps onto its stage as the 'somewhat impure engineering partner' of Adolf Rosenberger, in the context of the latter's departure from Germany when persecution of Jews intensified. Setright asserts that it was Rosenberger 'who persuaded Porsche of the virtues of rear engines and all-round independent suspension, which suited Porsche's torsion-bar patents very nicely.' Setright goes on to say that these features were used in both the Grand Prix Auto Union and Volkswagen, leaving the clear impression that Porsche only stumbled on them thanks to Rosenberger's advice.
Without the financial backing of Adolf Rosenberger, Porsche would have had great difficulty in setting up his Stuttgart engineering office at the end of the depression year of 1930. Though motor enthusiast and racer Rosenberger held a 15 per cent share in the company, it's misleading to describe him as an 'engineering partner' of Porsche. It is certain, however, that Rosenberger's enthusiasm for the mid-engined Benz racing cars of 1923 - which he had later raced - helped confirm the decision of Porsche and his chief engineer Karl Rabe to recommend a radical mid-placed engine for the Auto Union.
As for suspension, the Benz had independent swing axles only at the rear and a solid front axle - hardly a model worth emulating a decade later. One of the new Porsche office's first projects was its Type 12, a small-car prototype for Zündapp that had all-independent suspension using leaf springs, not torsion bars. Leafs were also used for the rear springing of the first Auto Unions of 1934, torsion bars only coming in the following year.
Speaking of Auto Union, Setright goes out of his way to state that 'the true instigator of the rear-engined revolution in racing cars was not the 1934 Auto-Union [sic] or even the 1924 [sic] Benz,' giving the credit instead to Cooper. In this there is huge merit of course. But the mid-engined movement accelerated by Porsche did lead to experiments with a similar racing car by Alfa Romeo. Designs for mid-engined G. P. cars by Maserati, Sacha Gordine, Connaught and Cisitalia fell short of realisation in Europe's difficult post-war economic climate. And racing-car designers are, oddly enough, notoriously conservative.
Suspension design was an issue in the 1930s. Knowledge of the effects of geometry on tyre and car behaviour was still in its infancy. While Porsche and his team had mastered suspension mechanics, they were less secure on dynamics. Here Setright was at his most withering, saying that 'nobody knew why Porsche's suspension arrangements were so treacherous - least of all Porsche himself.' Not that others were all the wiser in the 1930s.
Leonard Setright couldn't praise enough the creativity of Czech engineer Hans Ledwinka in his designs for Tatra, calling him 'brilliant'. 'On the rough and steeply cambered roads of the Tatra and other middle-European mountains,' said Setright, Ledwinka's early use of swing axles 'worked surprisingly well. Where there was more grip, they were dastardly.' This was not unfair, though many designers, Porsche included, learned how to tame swing axles.
Porsche, added Setright, simply swiped Ledwinka's ideas - and wrongly. 'As often happens in cases of conceptual larceny,' he wrote, Porsche 'corrupted the ideas he stole from Ledwinka; but such was the confidence reposed in him that everyone was sure that his KdF Volkswagen and Auto-Union [sic] P-Wagen must be all right, however much their antics were all wrong.'
As someone who grew up with the VW Beetle, I don't recall that its 'antics' were all that outrageous. And the Auto Unions muscled up pretty well against the might of Mercedes-Benz, with Bernd Rosemeyer the European Champion in 1936 and Herman-Paul Müller 1939's top man under the existing points system. To be sure, the 1938-39 Auto Unions had De Dion rear suspension of a non-Porsche design, but their basic layout was the same.
As for the pioneering rear-engined role of Hans Ledwinka, this is highly over-rated. Ledwinka made great contributions in the industry's early years, including an overhead-cam engine for the Model S Nesselsdorf of 1906 that certainly inspired Porsche's design of an Austro Daimler racing engine of 1910. But Tatra's rear-engined thrust of the 1930s was the work of a new generation: Ledwinka's son Erich, who came straight from graduation in 1930, and Vienna-born Erich Übelacker, who joined Tatra in 1927 at the age of 28. They designed a small 1931 prototype and the bigger rear-engined Tatras, the Type 77 and 87, that would be among the most radical large cars ever made.
The Ledwinkas and Übelacker had been keeping the patent offices busy as well. They were ultimately credited with more than one thousand patents that gave Tatra priority over Porsche's Volkswagen design in several areas, including engine position, the layout of the gearbox and the ducted-fan cooling. When the VW was being designed, the Porsche engineers were told by Berlin that they shouldn't worry about patents. They should just press on with the design and those details would all be sorted out later on.
In fact they were sorted out later on at the initiative of the heirs of the von Ringhoffer family that owned Tatra before and during the war. They brought suit against Volkswagen AG, which in the meantime had regularised its relationship with the Porsche design office and its own panoply of patents. Testimony in the Ringhoffers' favour was given by an Austrian garage proprietor who scrutinised an early Beetle prototype when its body panels were changed in his workshop.
Before a trial verdict was reached the parties settled out of court. Ringhoffer-Tatra received three million marks from Volkswagen in compensation for the use of its patented features in the Beetle. Setright wrote that 'The fact that [the VW's] designer, the greatly overrated Ferdinand Porsche, had "borrowed" most of its concepts from the much cleverer Tatra designer Hans Ledwinka of Czechoslovakia was just another inconvenient fact to be suppressed,' presumably by the Nazi regime.
In fact, neither the verdict nor the history carried an implication that Porsche copied those features. Rather he adopted them logically as part of the hasty evolution in parallel of another rear-engined air-cooled automobile.
Setright grudgingly tossed a small bone to Ferdinand Porsche in his discussion of methods of power transmission. He mentioned the electric drive system that Porsche developed for cars built by Lohner in Vienna, cars powered by batteries or by engines and generators. 'Porsche cashed in on it eventually,' Setright admitted, 'in the Great War of 1914-1918, when the suitability of his so-called Mixte transmission for army gun-carriages and the like made him successful enough to be clever.'
I submit that in fact he was clever enough to be successful in tasks that seemed impossible, such as transporting 90 tons of 380 mm howitzer to high mountain passes to fight in the Italian Alps. One of his military road trains was brilliantly engineered to reverse in its own wheeltracks even if their path was sinuous.
Auto-industry figures associated with Germany come out poorly in Leonard Setright's book. Few are given a mention and even fewer a positive assessment. Those with any Third Reich association are beyond his pale. The conclusion is unavoidable that the author's open and sincere devotion to his Jewish faith influenced his views about the men and institutions that were part and parcel of the appalling atrocities committed under Adolf Hitler. Among these, for better or worse, Ferdinand Porsche was one of the tall poppies.
- Karl Ludvigsen
---
Celebrating the Rennmezger
Behind the successes of both road and racing Porsches from the 1960s through the 1980s was Hans Mezger, a modest engineer who, however, had very little to be modest about.
It's obvious why I have a soft spot for Hans Mezger. He was one of the few at Porsche-along with Ferdinand Piëch-who wrote to publisher L. Scott Bailey about my book Porsche-Excellence Was Expected after it was launched in 1978. His letter included the following:
'I think I do not have to thank you and Karl just for the book but even more for the excellent work you have done. "Excellence was expected," also from you. This comprehensive book will be an important and helpful document. Karl's book is an appreciation for me and my colleagues at Porsche, who designed and built race cars for many years.'
When Hans Mezger wrote these lines one of his most impressive achievements for Porsche lay in the future. He was the planner and chief designer of the engine that McLaren used to score three straight drivers' championships from 1984 through 1986, one for Niki Lauda and two for Alain Prost, and two constructors' championships on the trot in 1984 and '85. With Mezger's turbo V6 sponsored by middle-eastern technology company TAG, McLaren's drivers scored seven poles, 18 fastest laps and 25 victories in 68 starts.
Although generally known as an engine man at Porsche, from 1965 Mezger-pronounced 'Mets-ger'-was in overall charge of racing-car design. That year a separate department for racing vehicle engineering, Konstruktion Rennfahrzeuge, was set up with Hans Mezger as its chief. He had overall responsibility for the eight-cylinder 908 and then the formidable flat-12 917, which between them won the sports-car world championships of 1969 through 1971.
Returning to his engine specialty, Mezger authored Porsche's project 2623, better known as the TAG-P01 turbo, that won the championships mentioned above in McLaren's Grand Prix cars. Later in the 1980s he designed the turbo V-8 for Porsche's foray into CART racing. Regrettably this was aborted before it had a chance to give of its best. Finally for the Footwork Arrows team of 1991 Mezger led the design of the Type 3512 Porsche V-12 that turned out to be his least satisfying effort. Hans Mezger retired from Porsche in 1994.
Born as he was on 18 November 2009, Hans Mezger celebrated turning 80 late last year. He first saw the world in the hamlet of Besigheim on Stuttgart's northern perimeter. After graduating from the Stuttgart Technical Institute, Mezger joined Porsche in October of 1956. His first post was in the calculation section of the design office, where he was responsible for camshaft design. A slender man of medium height with bold features and a deep voice, Hans Mezger was an engineer in whom his colleagues instinctively felt they could place their confidence.
Easily the most interesting of the engines that Mezger found at Porsche was the four-cam four-cylinder Type 547 that Ernst Fuhrmann designed for the racing Spyders. Enlarged for the Carrera 2s and Abarth-Carreras, the four bore the Type 587/2 designation. When the call went out for more power and improved durability to meet tougher competition in 1964, Hans Mezger stepped up to the challenge. He was then spending 30 per cent of his time in the drawing office and 70 per cent in the experimental department, where as the 'Rennmezger' he was recognised for his knack for making engines stronger quicker.
Porsche's staple pushrod fours also enjoyed the Mezger touch. He oversaw their improvement for the new 356C range introduced in 1963. His assignment was to rationalise the engine's design for more efficient manufacturing and to extract from the former Super 90 the 90 or more horsepower that it was supposed to have had.
'Whenever more power had been needed before,' Hans Mezger said, 'the inlet valves had always been made larger, but not the exhaust valves. In consequence they had become much too small.' He took the surprising step of reducing inlet-valve diameter from 40 to 38 mm so that the exhaust valve could be made larger, 34 instead of 31 mm. At the same time Mezger reshaped the inlet and exhaust ports, improving gas flow by making their cross-sectional areas more nearly constant. The result was the best-ever engine family for the 356.
While doing these jobs Hans Mezger was winding up his work on Porsche's Type 753 1½-litre flat eight for Formula 1, which was raced in 1962. Although Porsche credits him with the design of this complex four-cam eight, in fact he was the developer of an engine whose original layout was the work of Hans Hönick, who had worked in engine design with the departed Ernst Fuhrmann.
So elaborate was the eight that its assembly demanded 220 skilled man-hours, an almost unbelievable 27½ eight-hour days-which of course do not exist in the world of racing. For comparison it took no more than two such man-days to assemble a six-cylinder Carrera engine. Mezger made the best of it, during 1962 authoring several major changes of valve angles and combustion chambers that would have shown to advantage had Porsche not cancelled its Formula 1 effort after the 1962 season.
For Monza in 1962 Porsche's Formula 1 engines had a trick the engineers had been eager to try. They installed an electromagnetic clutch in the drive to the cooling fan that could disable it at the touch of a switch. They found that it was safe to cut it out of operation for eight to ten seconds without hazarding the engine's health. But, Mezger admitted, 'one hardly felt the eight horsepower or so that were saved.' Mezger even dyno-tested a more advanced version that used a thermostat to reengage the fan automatically when engine temperature rose above a certain level.
From the raw material of the Grand Prix Type 753 Hans Mezger fashioned the 2.0-litre Type 771 which continued in sports-car racing after 1962 and which, in 2.2-litre form, enjoyed important successes in the 907 chassis as late as 1968. Though it was a potent weapon in Porsche's sports-car arsenal the eight was pure hell to work on. It was as hard to adjust the valve timing on the early eight, said Mezger, as it was to do the same job on the twelve-cylinder 917.
Hans Mezger was also drawn into the design of a new engine to suit the successor to the 356. The first effort to crack this problem produced ungainly flat sixes with vee-inclined overhead valves operated by pushrods from two camshafts, one above and one below the crankshaft. Though these produced the desired 130 bhp in 2.2-litre form they had limited potential for development and no usefulness for racing.
By 1963 the planned flat six for the 901 was transformed completely. It now had chain-driven overhead camshafts operating the valves through rocker arms. What provoked this change? Hans Mezger put it succinctly and with a smile: 'We decided that if we were going to all the trouble of having two camshafts we might as well put them in the heads!' Mezger had much to do with the design of the final 901/911 six, working with the engineer responsible for its development, Ferdinand Piëch in his first major engineering project at Zuffenhausen.
The setting up of a separate department for Konstruktion Rennfahrzeuge, headed by Mezger, in 1965 was the result of the realisation that past experience wasn't being used to advantage. The turnover of projects in the Porsche drawing office was so rapid that new men were often put on racing jobs who had no inkling of how such efforts had been tackled and resolved in the past.
'Everybody started afresh each time,' said Hans Mezger. 'The guy who worked on the last job two years ago had left or was assigned to another project.' This pattern was especially clear during turbulent personnel changeovers in the early 1960s. It was time for a change. 'We felt it was better for racing projects to have the same people do the work all the time,' Mezger recalled. It was a tribute to his skills that he was named to head this new effort.
Well able to frame and articulate his design ideas, Hans Mezger was often deputed to explain them to the members of the Society of Automotive Engineers. In one such presentation he explained the approach to engineering that he shared with Porsche's technical chief, Helmuth Bott. 'We know what we can take over from earlier designs,' he said, 'and we also know what we do not want to take over. One thing is evident: the more experience, the smaller the risk in a new development, and the quicker-and thus also the cheaper-the development process. Porsche likes development work, and its participation in racing is one among several reasons for this.'
When Porsche fires up its old racers, Hans Mezger is seldom far away. Any questions arising can always be answered by the Rennmezger. He, after all, had been there and done that.
- Karl Ludvigsen
---
Karmann Contributions
For many decades a staunch servant of Germany's car industry, Wilhelm Karmann GmbH struggled in 2009. Could Volkswagen bring it back into Porsche's orbit?
I always enjoyed meeting Wilhelm Karmann at the Frankfurt Show. A slender gentleman with a broad smile and impeccable style, he was born in 1914, only son and namesake of the founder of Wilhelm Karmann GmbH. The elder Karmann started as a coachbuilder in 1901, when he took over the established business of Christian Klages in Osnabrück from the widow Klages. Soon enough Karmann was producing bodywork for the budding auto industry.
The warm contacts of Karmann, Junior with us at Ford of Europe soon paid off. In 1983 he started making the Escort Convertible and the following year he began producing the Merkur version of our Sierra for the US market. In parallel, of course, Karmann was building the Scirocco and then Corrado for Volkswagen, its neighbour in Lower Saxony, much as it had previously produced the Karmann-Ghia and, from 1949, the Cabrio version of the Beetle-its first major volume-production contract.
And building not only bodies but also complete cars for Porsche.
Early in 1961 Karmann's work for Porsche began with a new body style for the 356B, the Hardtop-Coupe. This was a distinctive design, a closed car whose style was patterned after the detachable Hardtop version. Karmann rose to a production rate of 15 bodies a day of this model-known internally as the Hardtop 61-which were shipped to Zuffenhausen for assembly into complete cars. Though some see this as an 'ugly duckling' of the 356 series, I think this is a bit harsh. In all 1,746 of these coupes were produced.
In 1962 Karmann gave up the short-lived Hardtop-Coupe to make normal coupes, which it continued to do through the life of the 356 model. In fact its role became critical during preparations for the launch of the 911. The latter's body was to be built by Reutter, whose coachworks were taken over by Porsche in 1963. Reutter could concentrate on this important launch because production bodies for the 356C were supplied by Karmann.
Soon enough Karmann was making 911 bodies as well, this time to help ramp up the new model's production. 'We have been trying to find a way of getting more bodies,' Huschke von Hanstein said at the time. 'Bodies are our main bottleneck.' This was especially the case because Porsche wanted to make both the 911 and the four-cylinder 912.
Porsche contracted with Karmann to assemble and trim complete 911-type coupe bodies. Though Karmann's prices were never the lowest in Europe for small volumes, it was the only contract producer that offered the quality that Porsche required. While Porsche expanded its in-house body capacity at the end of the 1960s, it still needed Karmann's help.
Zuffenhausen's tooling for its new higher production of 50 bodies a day was set up for half and half coupes and Targas. The demand for coupes, still greater than that for the Targa, was satisfied by additional 911 bodies obtained from Karmann-from 20 to 25 daily. This manufacture of 911/912 bodies continued at Osnabrück until 1971. According to Karmann the total made for both the 356 and 911 came to 'near enough' 50,000.
Meanwhile Osnabrück was producing the Type 2 Karmann-Ghia in VW's lineup, a car that didn't enjoy the acceptance of its predecessor. It was phased out in 1969 with few regrets to make room for a completely new model, the VW-Porsche 914. Developed in a complex joint venture between VW and Porsche, the mid-engined 914 was produced under a contract between VW and Karmann to which Porsche had no access. In discussions of the specifics of the 914's price and production, the Porsche men found themselves at a disadvantage.
Under the final plan, the four-cylinder 914 was completely fabricated, assembled, trimmed and put on wheels, ready to go, by Karmann at Osnabrück. The six-cylinder version was made differently. Its body was put together, trimmed and painted by Karmann and then put on one of the big articulated nine-unit carriers that were being used to bring 911 bodies to Zuffenhausen. There the 914 body was fed into the same line at Porsche on which the 911s were assembled. Thus the 914/6 was given the same care and attention at the Zuffenhausen plant that all other Porsches received.
In this there was nothing disadvantageous to Porsche. It was essentially what the company had had in mind from the beginning of the 914 adventure. But the financial arrangements were something else again. Volkswagen, as proprietor of the 914 project, required Karmann to charge Porsche more for the 914/6 body than it did for the more intricate and elaborate 911 bodies it was already supplying! And Porsche was committed, by the very nature of the project, to sell the 914/6 sell for significantly less than the 911! The profit outlook was poor.
Why did VW do this? 'They calculate costs differently in a big firm,' reflected Ferry Porsche later. 'They don't consider the other advantages of having a sports car in the line, the way it can attract people into the showroom.' VW plotted the very small volume of the 914/6 against the cost of tooling it and came up with a high per-unit cost to repay its investment in a short time. VW didn't amortise the cost of the 914/6 body over the whole 914 range as Porsche would have done. The relatively short life of the 914, through 1975, saw Karmann produce 118,947 of the model according to its figures.
It took a while for Porsche and Karmann to get together again. The 914's successor as a joint project with VW, the 924, was produced a the former NSU factory at Neckarsulm, north of Stuttgart. When sales of the front-engined four-cylinder models declined at the end of the 1980s, they wee moved from Neckarsulm to Zuffenhausen, where they shared an assembly line with the 928. The decision to effect the change was made in May 1989 by the management board, then chaired by Heinz Branitzki. Their reasoning was simple enough engineer Paul Hensler recalled: 'We felt if we built it here it would be cheaper.'
Manufacture of the bodies was contracted to Wilhelm Karmann. They were made as bodies in white at Karmann's sister factory at Rheine, in the north near the Dutch border, with painting taking place in Zuffenhausen. Bodies began to be made at Rheine from March 1991. Although the first cars assembled at Stuttgart were 944S2s, built as a training exercise for the workforce, both companies soon transitioned to the 968. In all Karmann made 11,803 bodies up to the run-out of the 968. That brought to some 182,500 the total of cars and bodies made by Karmann for Porsche.
Karmann made an important contribution to the new Porsche family of the mid-1990s, the 986 Boxster and the 996 911 Carrera. It produced the dies with which BMW stamped the zinc-protected steel panels of both models. But as a production site Karmann failed to make its bones with the tough new Porsche regime run by former production head Wendelin Wiedeking. When he and his aides went looking for supplementary production to meet high demand for the Boxster, they ended up in Finland instead of Osnabrück or Rheine.
At that time Karmann wasn't complaining. It was making the popular SLK for Mercedes-Benz. As well the company was diversifying as a specialist in convertible tops, both soft and hard, and in the provision of technical services. But it was aware in the summer of 2008 that its contract car-assembly business was under threat, because it had failed to land a new contract to replace the SLK, production of which stopped last June. That called a halt to automobile production that has totalled more than 3.3 million units since 1949.
Well aware of the coming risk to its business, the family interests that still control Karmann placed their operating company in receivership on 8 April 2009. Laying off some 2,000 car-production staff, it aimed to say in business with its tooling services, convertible-top supply and other activities. The receiver and the Karmann family, which still owns the buildings and equipment through a company that's not bankrupt, are negotiating with parties who may wish to carry on the business.
The main interested party is Volkswagen, whose Martin Winterkorn told the press that 'we in Lower Saxony are very interested in preserving jobs.' The hot topic in November was that VW, with its new authority over Porsche, may cancel the planned shift of Boxster production from Valmet to Magna Steyr in Austria and direct it instead to Karmann. If the Osnabrück company can return to car assembly on a more efficient basis, that would be a perfect solution. Today's mid-engined Porsche could be built in the same factory that once produced its spiritual predecessor, the evergreen 914.
- Karl Ludvigsen
---
The Electrification of Porsche
Porsche's soon-to-be sister Audi has just the technology that the Zuffenhausen company needs to make a big splash with an electric sports car. But will the VW Group give Porsche access to the elegant innards of Audi's new e-tron?
San Carlos, California's Tesla Motors didn't have to worry too much about initial demand for its electric sports cars. Every major motor-car maker in the world wanted a Tesla, not only to verify its real-world performance and range but also to take a look at the technology invested in the two-seater by Silicon-Valley smarties who aimed to boldly go where mainstream car makers feared to tread.
No car maker felt the Tesla's impact more than Porsche. Here were American engineers, helped by chassis-builders Lotus, who created a sports car that is a credible rival for a Porsche-and it's emission-free! With its maximum speed of only 125 mph the Tesla doesn't challenge any Porsche, but for many markets that's adequate. Acceleration to 60 mph in 3.9 seconds is plenty lusty, however, as is a standing quarter-mile in 12.7 seconds with speed through the traps of 105.3 mph.
To boot, in its latest Version 1.5 the Tesla has a radius of action once thought unattainable by an electric car. Improved from the Version 1.0's 221 miles, it's quoted as 244 miles for the 1.5. Though these figures haven't been independently verified, Tesla has now been in the public eye for so long that it would be imprudent to quote unrealistic ranges. I've seen a Tesla that was driven from Lotus in Norfolk to Nuneaton in the Midlands, a distance of 140 miles, and it still had sparks to spare.
The Tesla was in Nuneaton to be evaluated at MISA, the motor-industry proving ground. I found it amazingly appealing. With full torque available from rest it surged up to speed with uncanny silence and lack of apparent effort. Smooth propulsion by the proverbial 'giant hand' was instantly available at any speed. Totally new in my experience, the sensation is splendidly and immediately seductive. It's power as you would wish it to be delivered-and better than that.
Industrially, of course, at this stage of its development Tesla is no rival for Porsche. Aesthetically and environmentally, however, it's posing quite a challenge. Taste and thought leaders are gravitating toward the Tesla and away from conventional sports cars. The trend is more marked now that Tesla is selling its two-seaters in Europe as well as America. 'Shrewdly controlled,' said auto motor und sport, 'the Tesla whip-cracks forward from any speed as suddenly, smoothly and calmly as if on a bungee cord.' Porsche has already drawn its own conclusions.
Porsche is of course no stranger to electric propulsion. Created in a hectic ten weeks, the first electric car built by Vienna's Lohner to the designs of Ferdinand Porsche was unveiled in February of 1900. It was described then by the Austrian Allgemeine Automobil-Zeitung as offering 'epoch-making novelties'. With a specially built racing version, his Type J, Porsche personally set a new record for four-wheelers in the Semmering Hill Climb later in 1900.
Amazingly the 25-year-old Porsche also built a pure racing car in 1900 for an English client to tackle an electric-car competition based in Chislehurst, Kent. It was an awesome machine, a box of batteries carried by four of Porsche's patented wheel motors. With its driver Porsche having caught a fierce cold on the test's first day, however, the entry was disqualified when he arrived late for the second day's start.
Porsche had creativity and energy to spare in 1900. He also equipped one of his battery-powered chassis with two 3½-horsepower de Dion engines. Each drove a generator that delivered a current of 20 amperes at 90 volts. Under way, the generators' output was fed directly to the two front-wheel motors unless it wasn't needed, in which case it was diverted to the batteries. The latter were switched into the circuit to augment the output of the generators when required, for example on upgrades. The generators were operated in reverse as motors to start the engines. It was nothing less than one of the first hybrids.
From 1900 to 1915 Vienna's Lohner built 301 pure electric vehicles to the designs of Ferdinand Porsche, the majority serving as taxis in Vienna. Porsche remained intrigued by the potential of an all-electric transmission, continuing work on a advanced prototype into the 1920s. By then, however, his skills were fully absorbed by the conventional-vehicle demands of Daimler-Benz.
Porsche's next electric-car venture came in belated response to the Energy Crisis years of the 1970s. In 1980-81 its engineers set out their vision of an electric runabout for urban and suburban use. Their Type 2590 accommodated four passengers flanking a high-efficiency sodium-sulphur battery array that was encased inside a backbone that created a wide central 'tunnel'. Coil-sprung at all four corners, the Type 2590 was driven through its front wheels.
Porsche's proposed electric car had a DC motor driving through a two-speed gearbox. Light at 2,530 pounds, it was projected to need half a minute to reach 60 mph and to be limited to a top speed of 80 mph. Modest performance paid off in a very good estimated range for the time of 155 miles. Engineered from scratch as an electric car, the Weissach design was insightful for its era. But it was never realised in the metal.
Apart from its hybrid developments for the Cayenne and Panamera, Porsche has since had little reason to think about electric drives. Even if it were to plunge wholeheartedly into a fully electric vehicle, where would it get the technology? Substantially though Porsche has grown, it lacks the capability in depth to do justice to a completely new form of motive power. But it should find some way to respond to the demands of new markets that value a low-carbon contribution more highly than Autobahn-burning speed.
Fortunately help is at hand. It was displayed on the Audi stand at September's Frankfurt Show in the form of the e-tron, another example of Audi's obsession with lower-case designations. Some aspects of its specification suggest close acquaintance with the Tesla. Most obvious is its use of lithium-ion cells, the choice of most advanced battery-electric projects. Audi will also use them for its future Q5 hybrid sport-utility. Like Tesla it gives the batteries their own cooling system.
A departure from Tesla-but a reminder of Porsche's dedicated racer of 1900-is Audi's drive to all four wheels. At the rear the two electric motors, with their own cooling system, are mounted behind the rear suspension. The front electric motors are mounted at the suspension with their cooling system arranged in front of them. With the batteries placed behind the cockpit, this gives the e-tron a 42%/58% weight distribution. Its control system normally doses the torque to the motors in a similar proportion but can vary torque amongst all four wheels as conditions require.
Using techniques that Audi says it will soon use for its production cars, the e-tron aims to make the most of its electric power source by being as light as possible. Its body structure is based on Audi Space Frame (ASF) aluminium technology with all added-on parts-doors, covers, sidewalls and roof-made of fibre-reinforced plastic. 'The combination of aluminium and carbon fibre-reinforced composite material guarantees supreme rigidity coupled with low weight,' says Audi.
Despite the hefty drive system with four electric motors and a high-capacity battery system, the total weight of the e-tron is around 3,525 pounds. Impressively, this is about the same as a Porsche Turbo. With performance forecast at zero to 60 in 4.7 seconds, acceleration isn't too shabby. Just like the Tesla, top speed of the e-tron is a modest 125 mph. Although both sports cars have no gearbox, using their motors alone for their full speed range, adding gears is entirely feasible.
The e-tron is packed with fascinating features including a heat pump for heating and air conditioning. Braking has innovations as well. Floating-caliper disc brakes at the rear are actuated electrically by a 'brake by wire' system. In addition to eliminating frictional losses due to residual drag when the brakes aren't applied, the system allows the e-tron's electric motors to convert braking energy into electricity and recover it. Only when heavy braking is needed do the discs themselves kick in.
As a package the e-tron is a dead ringer for a Porsche. Compared to a 911 the Audi sports car is shorter, slightly wider and longer in the wheelbase at 102.4 against the 911's 92.5 inches. So the question that follows is: does Audi want to offer a sports car in this category? With its A8 in V8 and V10 versions Audi has already invaded Porsche territory big time. These are phenomenally competent sports cars.
But what will the bigger picture be when the absorption of Porsche into the VW Group is completed? Wouldn't it be good to introduce a zero-emissions Porsche with the e-tron's features? I think it would-but it won't be up to me. Instead it will be up to Michael Macht and his colleagues to make the case for an all-electric Porsche that will draw on the pioneering traditions of more than a century ago.
- Karl Ludvigsen
---
The Concept-Car Contribution
Concept cars like the 'Gruppe B', Panamericana and Boxster have played important roles in the evolution of Porsche's products. It's time for Weissach to produce another one to show the way forward at a crucial time in Porsche history.
Harm Lagaay remembered the Panamericana as 'the love-hate device'. This Porsche concept car of 1989 was intensely controversial. Nominally it was a birthday present for Ferry Porsche, who turned 80 that September. However, said Lagaay's predecessor as head of Porsche design Tony Lapine, 'Ferry really snubbed the Panamericana. "It's grotesque," he said.'
Ferry's wasn't the only negative response inside the company. 'The reaction to the Panamericana created problems for me within Porsche,' admitted the company's new chief engineer, Ulrich Bez. If Bez was hoping to use it to communicate Porsche's heightened emotionality as a marque-which he was-he succeeded, but the emotions he stirred up were as much negative as positive.
Two decades later the Panamericana doesn't look all that outrageous. For then-new design chief Harm Lagaay the aim of the concept was to 'show that Porsche is always ready to set new trends in form, colours and trim.' It was, he added, 'an unique opportunity to present a car that represents everything in which we, as a sports-car maker, take pride.'
Built on a Carrera 4 chassis, the Panamericana took its name from the same Mexican Road Race that had inspired 'Carrera'. Its design was based on a concept sketched by British designer Steve Murkett which showed a dune-buggy-like interpretation of the 911 with exposed wheels and exoskeletal tubing as a roll-over structure.
Murkett's idea was refined into what Lagaay called 'not a roadster, not a Speedster but perhaps a kind of Spyder with visible safety' in the form of a framework above its doors and windscreen that supported an unique folding fabric roof. Combinations of fabric and plastic panels with versatile fixings allowed five different roof conditions from fully closed to fully open.
Produced of glass-fibre in Porsche's shops, the Panamericana's body was most radical in its cutaway wheelhouses, exposing its wheels far more than usual. Here in fact were references to Italian sports-racers of the 1950s, which abbreviated their wings for better brake and tire cooling. Set into the skin of the Panamericana were new interpretations of traditional Porsche grilles and sloped-back headlamps, while Speedline made new three-piece wheels to Porsche's handsome six-spoke design.
New to the Panamericana's interior was a steering wheel adjustable for reach. Four colours were blended in its leather trim, while its exterior was painted a striking metallic 'frog green'. This was just one of the controversial aspects of this concept car, unusually for Porsche emphasising styling over engineering.
Respected Porsche observer Paul Frère was among the many journalists who took strongly against the Panamericana, said Ulrich Bez, who added that 'later he came to say that he had been wrong about that.' A second look at the Panamericana, in the context of its intentions, suggests that it was unfairly maligned. 'It was underrated then,' said Lagaay. 'We showed it a few times after that. We drove it into the city and the crowds that gathered were such that nobody could move!'
'The core of the car was leading to the future,' added Bez. 'If it had wings it looked like the 993.' In fact the Panamericana builders had chosen the more radical side of their clay model because the other side gave away too much of the more voluptuous shape of the forthcoming 993. The concept car gave them a vital spark for a new styling direction for the 993, one of the most important cars in Porsche's history. Much later, of course, it provided the inspiration for the name of the Panamera-quite a different kind of car.
This wasn't Porsche's first 'concept car' in the modern sense. The very first Porsche of 1948, the open mid-engined Roadster, turned out to be a one-off concept that influenced the styling but not the engineering of the 356/2. Subsequently Porsche made many in-house prototypes for assessment but the next out-and-out concept for public display was the opalescent-pearl 'Gruppe B' that appeared at Frankfurt in 1983. This foreshadowed in broad terms the look of the later 959.
Conceived as a racing version of the 911 under the new Group B rules that called for production of 200 cars in 12 months, the 'Gruppe B' showed that Porsche was planning a four-wheel-drive model. Under design director Tony Lapine and studio chief Wolfgang Möbius, Dick Soderberg developed its shape. The car's dramatic style would reflect for years the best of the Porsche look and inspire numerous body kits for the 911. Said colleague Ginger Ostle of Soderberg, 'His whole understanding of form and his ability to design with a pencil had a huge influence on what came out of Porsche.'
Porsche's most recent concept was of course the original Boxster, which made its bow in Detroit in January of 1993 to show that Porsche was serious about introducing a new and less expensive model. The concept Boxster wasn't a true precursor of the production car because it was styled by Grant Larson in parallel with the other studies that were then being conducted into ways to build both a new 911 and a mid-engined roadster while using the same front-end components. But at a time when Porsche was just emerging from its business nadir it was an important sign of new vitality in Zuffenhausen and Weissach.
Perhaps you already know where I'm heading with this. We urgently need to see a new concept Porsche.
The creation of a new Porsche concept car is vital for several reasons:
After more than 50 years the 911 look and configuration has finally worn out its welcome. Porsche needs a new icon.
The Panamera shows definitively that Porsche has run out of styling ideas. A new direction is needed.
We're all worried about what will happen to Porsche in its new relationship to the VW Group. We need the reassurance of a concept that will prove that Porsche will be allowed to assert its own engineering ideas.
Recently when researching the career of renowned car stylist Giorgetto Giugiaro I ran across this comment by him on the design of the 911: 'It all passed right over Porsche's head! All the body shapes, all the sharp corners came and went and the Porsche has survived them all uncontaminated.' He should know, because Giugiaro was the creator of several trends including the 'origami look' of creased metal and the 'peasant look' of Fiat's Panda. (A stylist friend of mine called the latter the 'pre-crashed-car look'.)
It is eminently meritorious that the 911 look-itself derived from the evergreen 356-has survived so long. It shows the care and affection lavished on it by generations of design chiefs and stylists. But it's now time to rethink this core member of the Porsche family. I find it hard to disagree with D. Smith who wrote to our American contemporary Excellence to say that 'Porsche's sports cars all look like warmed-over versions of what was available in 1980. Who wants such an old-fashioned, tired-looking car-one that costs $135,000 and can be outperformed by modern designs costing half as much?'
We need a total overhaul from the tyre patches upward of the car that will propel Porsche forward. What's required is neither a rear engine nor a mid engine but rather an engine centred over the rear wheels, integrated with its transaxle. To see what this would make possible, Weissach should get its mitts on a new Lotus Evora, which has a 2+2 package engineered to modern standards. We still want that capability in this new car, a commodious feature that's been part and parcel of the 911's appeal.
This fresh approach will allow the interior to be tackled. The famous five-gauge package, iconic since 1963, has already been embarrassingly emasculated. Its speedometer is a total waste of valuable space, the digital speed readout the only one worth watching. We expect Porsche to replace this anachronism with a brand-new gauge system that uses the most advanced ergonomic principles to inform the driver without the 'Tokyo by night' garishness of some of its rivals.
Porsche engineering chief Wolfgang Dürheimer is correct when he says that the 911 is 'a perfect car-in its way.' It has been optimised within an inch of its life. Porsche might choose to continued making 911s, much as Morgan carries on with a classic model. But it urgently needs an advanced sports car that will not only take advantage of the latest technologies but also underline its independence from VW and Audi.
We hear unsettling noises from Wolfsburg about component sharing between Porsche and the VW Group's products. This could continue to apply to cars like the Panamera and Cayenne. But just as another VW daughter has introduced a new home-designed product, Bentley's all-Bentley Mulsanne, we need a new all-Porsche sports car that will advance and enhance the inimitable character of the cars from Stuttgart. I look forward to seeing it as a concept car at Frankfurt in 2011.
- Karl Ludvigsen
---
Bittersweet End Game
The ability of Porsche to remain independent in a world of motor-industry consolidations was always in doubt. With his expansionist policies Wendelin Wiedeking put Porsche in play. The denouement triggered his downfall.
If it hadn't been for Volkswagen, Porsche would never have kept building cars. As described in my August column, producing a few cars in Austria was only a make-work project for the employees stranded in Gmünd by wartime dispersals. After reaching an agreement in 1948 that Porsche would receive five marks per VW produced as compensation for the use of its designs, Volkswagen began its upward surge. From late 1949 Porsche's bank balance in Stuttgart began to show the results.
Albert Prinzing, a schoolmate of Ferry who was in charge of the company's finances, knew that these riches posed certain risks. The Porsches' booming income could be taxed heavily unless they had some offsetting expenses-perhaps even some losses. Prinzing's advice to the Porsches and Piëchs was that they set up some kind of manufacturing operation. 'Something, anything, must be produced here as soon as possible,' he told them.
What might they make in Germany? A light diesel tractor was being developed in which the senior Porsche was especially interested. Available as well were the little sports cars that were just getting into production in Austria early in 1949. Prinzing recommended that Porsche transfer this venture to German soil. The idea encountered resistance in the Porsche and Piëch families. Some members pointed out that so far the car-building venture in Gmünd was anything but a roaring success. They argued that Porsche's renowned engineering skills could be deployed most profitably by sticking strictly to design and development, leaving the risks of manufacturing to others.
Ferry Porsche was amongst those who questioned the value of an increased commitment to car manufacturing. After all, the company was now safely back in harness with Volkswagen, its major customer. Prinzing won him over, however, and Ferry in turn helped persuade others in the family that the idea was sound. The decision to build Porsche cars in Germany was made. During the autumn of 1949 draftsmen ensconced in the garage of the Porsche villa in Stuttgart were hard at work revising the design of the Type 356/2 to adapt it to volume production. A batch of 500 was their first objective.
Subsequently of course the relationship between Porsche and VW remained close. Not until the 1970s was Porsche free to design cars in the VW category for other customers. Both the 914 and 924 were major joint projects for the two companies, the second designed originally as a VW and then taken over by Porsche. Zuffenhausen engineers admitted that they learned a lot about quality control and production from their counterparts at Volkswagen during these projects.
With Ferdinand Piëch heading Audi in the 1980s, connections with Porsche were understandably explored. The new 32-valve version of Porsche's 928 V-8 was seen as an attractive proposition by Ingolstadt. In October of 1982 it seemed that Audi would take ten of these eights a day for a new top-of-the-range model. By December, 1983 the planned rate had increased to 20 per day for a new Audi, the Ω or Omega, whose production was to begin in March of 1986. This was an unique new car whose styling and specification had been developed in co-operation with Porsche. However this ambitious program failed to fly.
Another business link with Ingolstadt was the Audi-Porsche Avant RS2. Based on the quattro version of Audi's 80 Avant station wagon, the RS2 was Porsche-ized throughout with more power and better brakes. Launched at Frankfurt in September, 1993, the model's final assembly and test took place in Zuffenhausen using painted bodies delivered by Audi. With each partner receiving half the profits of a jointly held company, Arge Audi-Porsche, RS2 production started early in 1994 with the first cars delivered that March.
In the Wendelin Wiedeking era the links with the VW Group grew much closer with his production arrangements for the Cayenne and Panamera. He and his finance director Holger Härter conceived a plan to marshal both Porsche's considerable resources and those of investment bankers Merrill Lynch and UBS to take a major stake in Volkswagen. On Sunday, 25 September 2005 Wendelin Wiedeking shocked the automotive world by announcing that Porsche planned to spend some €3.3 billion to acquire 20 percent of Volkswagen's shares. By the 29th it owned 10.3 per cent of VW AG. By the end of 2005 it had acquired 18.3 per cent of VW's stock, which it gradually built up to a 50.76 per cent shareholding by January of 2009.
Setting up a new structure, Porsche Automobile Holding SE, to own its shares in both companies, Porsche claimed to hold options that could take its share of VW almost to 75 percent. Reaching that figure was crucial because it would give access to VW's store of cash, the money needed to cover the debts that Porsche had run up to fund its attack on Volkswagen, thought to be as much as €14 billion. This triggered a mini-boom in VW shares because the state of Lower Saxony held a 20 per cent stake in VW which it had no intention of selling. Desperate to service the huge debt payments that were threatening bankruptcy, in June of this year Porsche invited an investment from the Gulf-state emirate of Qatar.
For Porsche to have succeeded in its VW takeover it would have needed the European Union successfully to have struck down the special Federal law that gave Lower Saxony the ability to block any acquisition of its shares-and thus any full ownership of the VW Group. The EU did rule against the 'VW Law', after which Germany made some concessions in its provisions but not in the core blocking shareholding. This was the result of a private meeting at an obscure Berlin restaurant on 15 April 2008 between Lower Saxony governor Christian Wulff and Germany's chancellor Angela Merkel. Wulff convinced Merkel not to give way on the legal basis for the blocking holding.
Meanwhile Ferdinand Piëch had decided that the boasting, aggrandising Wiedeking had to be kept away from Volkswagen at all costs. Thanks to an agreement at the depths of Porsche's fortunes in the early 1990s Wiedeking was entitled to 0.9 per cent of Porsche's profits as an annual bonus, which later made him by far Germany's best-paid executive-obscenely so. 'Gradually,' wrote Dietmar Hawranek in Der Spiegel, 'the pinstripes on his suits became wider and the cigars bigger. Wiedeking increasingly spoke in the first person when he was talking about the company. He behaved like a business owner and not like a paid manager whose contract could be terminated at any time.'
For years Piëch and Lower Saxony's Wulff had been at odds over the state's shareholding, which often stood in the way of the greater efficiency that Piëch desired from the company whose supervisory board he chaired. Wulff had lobbied at one time to have Piëch removed from that chairmanship. After a heart-to-heart talk, however, they cleared the air and allied against the incursions of Wiedeking and Härter. The brakes were on their initiative.
On 24 July, after a 15-hour board meeting the previous day and night, VW chief executive Martin Winterkorn announced Porsche's capitulation and the plans to integrate it into the VW Group. 'We can call on our considerable experience in the integration of proud and successful brands rich in tradition,' he said, a clear reference to VW's stewardship of Bentley, Lamborghini and Bugatti and even Audi, which it has made a major force in the luxury-car market. 'Like Audi today,' he continued, 'Porsche can continue its independent development under the aegis of Volkswagen and preserve its own identity.'
Also announced was the departure of Härter and Wiedeking. For the latter, who envisioned himself as a future head of a combined Porsche and Volkswagen, it was a catastrophic fall from grace. Few tears were shed by his contemporaries for a man who had become an overweening braggart. 'It doesn't matter how much he achieved before,' said the Süddeutsche Zeitung, 'Porsche will now be managed from Wolfsburg. He has gambled away its independence, the most valuable capital such a proud company can possess. That is a terrible blow for Porsche and its employees.'
For Ferdinand Piëch, the quiet and canny engineer whose first goal in business was to match his famous grandfather as the head of a major motor company, success was sweet. Through their Automobile Holding the Porsches and Piëchs now own almost 51 per cent of a car company that is closing on GM to be the world's second largest after Toyota. They've kept their valuable ownership of distribution company Porsche Salzburg, which at one time they might have had to toss into the pot. The family now joins such dynasties as the Agnellis, Fords, Peugeots and Quandts as motor industrialists of the first magnitude. The loss of Porsche's independence was the price.
- Karl Ludvigsen
---
Didn't Porsche Design the Corvair?
It's an idea that refuses to go away. When Chevrolet introduced its Corvair 50 years ago this autumn, the rumours were rife. Porsche had designed the Volkswagen, hadn't it? And wasn't the Corvair a grown-up Volkswagen? And what did Chevrolet know about designing air-cooled rear-engined cars? Thus it was obvious: Porsche must have designed the Corvair!
The idea had some legs because it wouldn't have been the first time Porsche designed an American car. Between 1952 and 1954 it designed and built prototypes of its Type 542, a four-door saloon for Studebaker with 120-degree V-6 engines, air- or water-cooled to choice. This was a conventional front-engined car albeit with independent suspension for all four wheels.
Thinking that such a full-sized car might not be the answer to Studebaker's prayers, Ferry Porsche also suggested a smaller car, his Type 633. His proposal showed a notchback two-door sedan with a Porsche-like front deck and a 2.0-litre flat-four engine behind the rear wheels. Air-cooled, it had hemispherical cylinder heads. Torsion-bar springs and 13-inch wheels were suggested for an admirably practical 14-foot-long car.
Ferry Porsche later pointed out with a knowing smile that many of the Type 633's features and dimensions foreshadowed those of the Corvair. Its wheelbase was shorter at 102.4 versus 108.0 inches but its track and width were similar. Though it was shorter, its seating would have been adequate with a height of 55.1 inches against the Corvair's 51.5. At just over 80 horsepower its output was to be similar with a top speed much the same at 90 mph. Porsche posited a weight of 2,112 pounds against the Corvair's 2,420.
Similarities notwithstanding, the Type 633 wasn't a Corvair precursor. This was confirmed by Ed Cole, who headed Chevrolet Engineering when the project got under way. 'I didn't talk to anyone at Porsche,' said Cole, 'but I did speak to some of the people at Volkswagen; I had known Heinz Nordhoff quite well when he was at GM.' A senior executive at Opel in Germany in the 1930s, Nordhoff had liaised frequently with his American counterparts.
With Porsche locked into a consulting contract with Volkswagen after the war, Nordhoff may well have told Ferry Porsche about his conversations with Cole. Although its agreement with VW prohibited Porsche from working for any rivals in the Beetle's engine-size category, this wouldn't have barred it from designing a larger-engined car for GM, just as it had for Studebaker. But it didn't. My comprehensive lists of Porsche project numbers show none that could even remotely have been attributable to the Corvair project.
However Porsche did ultimately figure in the Corvair's gestation. Here were Ed Cole's thoughts on its engine: 'Because of its placement the Corvair engine required a low profile, although it was not necessary that it be opposed. Then the question was: should it be a four or a six?' At that time the flat six was more typically an aircraft engine with Franklins, Continentals and Lycomings common in this style. 'In 1950 I logged about 300 hours in a Continental powered C Bonanza,' Cole recalled for L. Scott Bailey, 'flying many times on instruments under unpleasant conditions, and I certainly got to know the great reliability this engine had, and still has for that matter.'
Another influence was a military project undertaken by General Motors. 'In 1950 we were asked by the government to develop a facility to produce another light tank,' Cole explained. 'This was the T41El, later the M 42, and for this we used a 950-cubic-inch supercharged Continental horizontally opposed flat six. So once more we had exposure to an air-cooled engine-a configuration that was straightforward and simple. Naturally all our engineers working on the project became very familiar with this engine.
'From tests we'd done on the four,' Cole continued, 'talks we'd had with engineers at Continental and elsewhere where fours had been built, and our experience with the tank operation, the conclusion came quickly. From the point of view of smoothness and carburetion the six was easier to handle. And, all things considered, it didn't offer too much of an economic barrier. Everybody voted that the Corvair engine ought to be a six.'
The choice of a flat-six engine was unusual at the time with few having been designed specifically for cars. One was an experimental Mercedes-Benz engine of the mid-1930s for a front-wheel-drive prototype. Another was the Tucker six, which in its final design was a liquid-cooled conversion of a Franklin aeroplane engine. Porsche's six-cylinder 911 was almost a decade in the future when Chevrolet had to decide on the configuration of the Corvair's powerplant.
In the early summer of 1957 Chevrolet Engineering bought a Porsche 1600 coupe. We can date it fairly precisely because it had the new teardrop-shaped tail lamps introduced that spring but not yet the exhaust outlets in the bumper overriders of the 1958-model 356s. Its engine was whipped out and put on a dynamometer to be subjected to instrumented tests of temperatures and clearances. Information thus gained helped the Corvair engine's designers, who were having special problems cooling the centre cylinders. This was of course new ground where the Porsche example couldn't help.
The design that evolved could hardly avoid looking like a cross section of a Volkswagen or Porsche engine with its pushrod valve gear and camshaft below the crankshaft. In this it was unlike the aircraft flat sixes which usually had the camshaft above the crank. The Corvair's rectilinear split crankcase with its flared bottom had more of an aircraft flavour, however. Like aircraft sixes the Corvair had four main bearings. Distinctive features were Chevy's stamped-steel rocker arms, introduced on the 1955 V-8, and hydraulic zero-lash tappets to overcome the problem of differential expansion with heat in an engine with finned iron cylinders and aluminium heads. Unlike the Porsche and VW engines the gear drive to the camshaft was at the engine's flywheel end.
Unusually, for what was seen as an economy-car engine, Chevrolet fitted each cylinder bank with its own carburettor. Designer Bob Benzinger said that this was done 'to place the carburettors as close as possible to the inlet ports, achieving good response and maintaining high volumetric efficiency.' This decision showed greater influence by Porsche than by Volkswagen, which made do with a single central carburettor. A penalty was convoluted induction with a choke fitted to the central air cleaner. From 1962 each carb had its own air cleaner.
For engine cooling Chevrolet rejected both the Porsche and VW solutions by placing a centrifugal blower flat above the engine's centre. This best suited the car's design, which required a low rear deck. The solution was even better adapted to the Lakewood estate-car version, which had a load area above the engine. Less successful was the vee-belt drive to the fan, which bent 90 degrees at both sides over pulleys, one of which drove the generator. It's not by chance that one of the events of the Corvair Society of America is called the 'Fan-Belt Toss'.
As the Corvair took shape under the 'Holden 25' code name, its engine was ready for road testing before the first prototype cars. Waiting to accept it was none other than the Porsche 1600 whose engine was being used for cooling experiments. The Corvair six fitted it surprisingly well. In the spring of 1957, at Chevy's freshly minted Engineering Center at Warren, Michigan, the first complete drive train was installed in the Porsche. Eager as a kid, Ed Cole hopped in and belted away. After a high-speed session on the local roads he returned and said with a grin, 'This is it!'
Cole vividly remembered that first encounter with the Corvair-powered Porsche. 'Perhaps the greatest thrill for me personally was the first concrete evidence that the Corvair really came up to our hopes and expectations,' he recalled. 'This came when I test-drove a modified Porsche which contained the new Corvair engine and rear suspension while we were waiting for our first pre-test prototypes of the Corvair to be completed. I drove this car at the GM Technical Center and Milford Proving Grounds in late 1957 and at Pikes Peak, Colorado, in early 1958. She ran beautifully. I knew that we had a winner.'
Ferry Porsche was interested in the Corvair, of course. Through Huschke von Hanstein, his director of PR and motorsports, he arranged to buy one of the first ones made. It would be invidious to suggest that Chevrolet's effort influenced Porsche, but it can't be overlooked that its first prototype engine for the future 911, the Type 745 of 1961, had a four-bearing crankshaft just like the Corvair's. For its final design, of course, Porsche adopted seven main bearings instead. It was a decision that secured the long life of the best flat six ever made.
- Karl Ludvigsen
---
Porschefying History-Part 2
Blazoned on the wall of Porsche's new museum is a quote from Ferry Porsche:
'In the beginning, I looked around and could not find quite the car I dreamed of, so I decided to build it myself.'
An obvious reference to the Type 356, this didn't ring true to me. In my interviews with Ferry in 1973 and '74 he'd neither vouchsafed such a claim nor anything resembling it. Nor did he make a statement of this kind in his books written with John Bentley and Günther Molter. Where did it come from?
Such a remark is profoundly alien to the character of Ferry Porsche. It has an egotistical 'me, me, me' tone of which not a scintilla rings true. Later, to be sure, Ferry would be the touchstone for the design of Porsche cars. He would be the ultimate arbiter of what kinds of Porsches should be made and why. But to suggest that the creation of the first Porsche sports car was the result of a personal whim? A kind of Ferry Porsche 'dream car'? I find this unlikely to the point of sheer fantasy.
When he established his engineering consultancy in 1931, in the trough of the Depression, Ferry's father asked leading engineers to leave paying jobs with Steyr, Daimler-Benz and Austro-Daimler to join his adventure of an independent office that would design motor vehicles for customers. Who was to know whether such an idea was even viable? Would companies be willing to outsource major or even minor engineering tasks? Porsche's credentials were excellent but he needed the help of a qualified team. His prestige and charisma were such that they joined him.
Having formed his team, Ferdinand Porsche was obsessed with the need to maintain employment for his people. Although the first months were hard, he managed it. As his team expanded, the task became no easier. That Porsche undertook many projects for the Third Reich through the war years was in no small measure due to his determination to ensure that his skilled engineers kept gainfully employed.
Ferry inherited this resolve. During the 1930s he took on increased responsibility, by the end of the decade effectively acting as a project manager. In the war years, when his father was preoccupied with the KdF-Wagen factory at Fallersleben and meetings with Nazi bigwigs, Ferry was a vital anchor first at the Zuffenhausen headquarters and from 1943 at Gmünd in Austria whence most of the engineers were evacuated.
Ferry Porsche remained the main man at Gmünd from November of 1945 to August of 1947, the months during which his father and brother-in-law Anton Piëch were detained by the French. While Ferry's sister Louise was active on the business side in these months, securing the future of the Porsche company, Ferry led its technical decision-making with the help of Karl Rabe, the company's veteran chief engineer.
The team at Gmünd was no skeleton crew. By December of 1946 the works employed 222 people, 64 more than it had a year earlier. Thanks to their connections in the motor-racing world, these engineers were initially busy creating road and racing car designs for Turin's Cisitalia. Looking ahead, however, Ferry Porsche yearned for more secure employment for his team. 'What shall we do with such a good staff of workers?' he mused. 'I had some good engineers and mechanics.'
Ferry and Karl Rabe gained food for thought during a visit to Turin in the summer of 1947 to review construction progress on the Grand Prix Cisitalia. At the Turin factory, however, they also saw the way that Cisitalia was using simple, inexpensive Fiat components to make two-seater sports cars that could be sold at high prices and considerable profit. 'It is certain,' said liaison engineer Rudy Hruska, 'that when Porsche built their own sports car they were very influenced by what Cisitalia did with the Fiat parts.'
'We decided to build cars with the people we had,' Ferry told me. 'We designed the car around Volkswagen parts-because it was possible to use VW parts-and the concept of the Auto Union Grand Prix car.' Following the Auto Union's concept, the first prototype was a mid-engined open car. As the relevant drawings show, it was designed initially as a 'VW Two-Seater Sports Car'. At that stage Ferry saw the project as a calling card to help open the door to a renewed relationship with the revived Volkswagen company, Porsche's consulting contract with VW having been rendered moot by the war's end. If VW liked the idea, such a car could be produced by Porsche to carry the Volkswagen name.
On 11 June 1947 the project was officially assigned its Type 356 designation. By July 17th the Porsche team completed drawings of its frame, its general layout and several preliminary body shapes. In designing the frame the men in Gmünd were influenced by the multi-tubular steel space frames they'd seen at Cisitalia in Turin. Requiring a lot of skilled hand labour and little tooling, this type of frame-light and stiff-was ideal for a few experimental cars. However, the Porsche designers were well aware that the labour-intensive design was uneconomical for quantity production.
To mimic the mid-engined design of the Auto Union the VW engine-gearbox package was turned around so the engine was ahead of the rear axle shafts and the transaxle was trailing behind. The engine's about-face caused problems with the VW rear suspension, which was also adapted to the Type 356. In the VW it consisted of enclosed swing-axle shafts whose hubs were guided by a single trailing arm at each side, pivoting from the ends of transverse torsion bars. Each torsion bar was enclosed by a tubular-steel housing that crossed the VW chassis just forward of the transmission.
Moving the engine forward, however, meant that if the radius arms were to remain at their original length there'd be no room for this big transverse tube. So the Porsche planners turned the complete rear suspension assembly around together with the power train. This put the transverse torsion-bar tube at the rear of the chassis and made what were formerly trailing arms into leading arms. In jounce this meant that the geometry encouraged oversteer. However this wasn't pronounced, for with its low centre of gravity and mid-frame weight distribution the 356 rolled little.
Surviving its first outings with few snags, the tubular chassis was fitted with a body during April and May 1948. The Type 356 was ready for the road in the last week of May 1948. By then the likelihood of VW commissioning the car for production had diminished so on its nose, above the decorative aluminium strips that surrounded the license plate, was the name PORSCHE, spelled out in widely spaced extended capital letters-marking the first appearance of a distinctive design which, with only subtle modifications, has been used ever since.
Even before the 356 roadster ran for the first time Ferry Porsche initiated work on what amounted to a completely different car, one that would be built and sold as a Porsche. This, the Type 356/2, marks the true beginning of Porsche evolution. Planned in both coupe and cabriolet models, the Type 356/2 Porsches had a new frame construction, body style and engine position.
Although a coupe body was more difficult to build than a roadster's, it was considered more desirable in the cold-weather climate of central and northern Europe where Porsches were chiefly to be offered. Moreover, the roadster's mid-placed engine sharply reduced the amount of useful space that could be enclosed. To get extra luggage area to make the car more appealing as a versatile touring machine, its engine reverted to the normal VW location. Thus was born the Porsche we know and love.
Anywhere in there did you get the impression that Ferry Porsche created the first Porsche sports car for his own personal gratification? Neither did I. I was flummoxed as to the origin of the Museum quote until I received a recent issue of Porsche Panorama, the magazine of the Porsche Club of America. Fred Senn described in an article his experience of taping Ferry for a long-form TV commercial for the US market, an initiative of Brian Bowler, former British advertising man who was running the US arm of Porsche.
'The professor spoke English well,' wrote Senn, 'but with a heavy accent. Some of the English phrases in our scripts were difficult, so we all sat together at the kitchen table until the professor was comfortable with the meaning and the phrasing.' In the final script, polished by ad men, was the sentence on the Museum wall. Forty years after the fact, Ferry wasn't going to correct this gaggle of reverential Americans. He saw no need to ask them to revisit the gruelling post-war years in which he created the first Porsche not to please himself but to attract the buyers who would secure the future of his team and company.
- Karl Ludvigsen
---
Porschefying History - Part 1
Porsche's magnificent new museum in Zuffenhausen has a feature I like a lot. Its interior is a bright white that sets off the automobiles wonderfully. Many museums and collections hide their cars in the gloom and illuminate them with spotlights that make good photography well-nigh impossible. Maybe that's calculated to sell more postcards, but it isn't a gift to the enthusiast who'd like to take his own snaps. Porsche has met their needs and desires wonderfully.
Having said that, I'm less keen on the polished aluminium shell that's proudly presented as the pre-war Type 64. It's claimed to be a kind of ur-Porsche, progenitor of the Type 356 line, bearing on its nose the Porsche name. Because Porsche doesn't own the one surviving car of this type, it has made a replica body shell instead. That's a very good idea. But it isn't what it pretends to be.
This doesn't represent a Porsche. It represents a Volkswagen - or, to be strictly correct, a KdF-Wagen.
Three cars of this type were designed late in 1938 and built by early 1939 to compete in one of the most exciting races ever conceived. Scheduled for September 1939, the starting point was to be Berlin, the cars racing south over the newly completed Autobahn to Munich. They'd roar on through the Austrian panhandle over the Brenner Pass to Italy, then race over local roads, closed to other traffic, all the way to the finish line in Rome. This Berlin-Rome Race was to traverse three nations from capital to capital over 800 highway miles, an epic contest between the Axis capitals with unlimited propaganda potential.
For the budding Volkswagen - then known as the KdF-Wagen - this race promised a publicity bonanza. The first manufacture of Beetles was projected for September 1939 and the first deliveries for early 1940. The Berlin-Rome Race was a made-to-order opportunity to demonstrate to the world the guts and character of this new German automobile. Of course the stock KdF-Wagen would be out of its element, with only 24 bhp from 985 cc and a top speed of about 65 mph. Still, argued Ferdinand Porsche, special cars could be built on the Type 60 chassis that would perform extremely well. Porsche's view counted because he was one of the three key directors of the KdF-Wagen factory.
To get money to build the cars Porsche approached German's boss of all motor sports, Korpsführer Adolf Hühnlein. He agreed to place an official order for three team cars, funding the effort from the coffers of the German Labour Front that was also building the huge factory that was to produce Beetles. Hühnlein also ordered three special roadsters from BMW to compete in the Berlin-Rome contest.
Retained intact for the racers was the normal Volkswagen platform frame and suspension system with wheelbase and track remaining standard at 94.5 and 50.6 inches respectively. Larger valves, twin carburettors and a higher compression ratio boosted engine power to more than 50 bhp, doubling its normal output. The air-cooled flat four was developed to be reliable at peak power, so the car could take full advantage of the high speeds that were possible between Berlin and Munich on the Autobahn leg of the race.
That fast stretch of road was to be exploited fully by the special aluminium coupe bodies built for the cars by Reutter of Stuttgart. Their design, by Erwin Komenda, ingeniously kept the window pattern, rear-deck louvers and front-deck surface embellishment of a normal Beetle - aesthetic touches which were essential if the three racers were to help promote sales of the standard KdF-Wagen.
From there the special shape went all-out to achieve low drag, with pants enclosing all four wheels and a minuscule coupe cabin. The roof was so narrow that it looked like a single-seater, but the coupe managed to accommodate two people by staggering the passenger seat about a foot to the rear of the driver's seat. A large fuel tank was set into the space thus cleared on the right side of the car's nose. Under the long nose were two spare wheels and tires, which sat on a common plane. Weight of the completed car was less than 1,200 pounds.
In Porsche's annals this was considered to be a special version of the Type 60, its basic Volkswagen project number. Realising that the factory intended to produce 150,000 cars in its first year and to build up eventually to ten times that volume, the engineers realised that some body-style variety would be needed. They'd already started designing variants, of which this was one. Each had a 'K' designation for Karosserie, bodywork. The K series, which included early studies for the Volkswagen saloon body and other styles including a cabriolet and open car, ran from K1 to K12. The Berlin-Rome cars were K10, making them the Type 60K10 Beetles.
Capable of reaching and maintaining 90 mph, the 60K10 was tailored perfectly to the special needs of the Berlin-Rome event. Three cars were ready but the race was not. By September 1939 it was obvious that a major war was commencing and that such a race was out of the question, even on the home territory of the Axis powers. Only in Italy would racing continue into 1940.
Instead of racers the three coupes became valuable and distinctive personal transportation. One was used during the war by Ferdinand Porsche and Josef Goldinger, his chauffeur. Porsche frequently exploited his fast and economical Type 60K10. He and Goldinger once arrived at the Hotel Bristol in the centre of Berlin just an hour and a half after leaving the VW factory. That amounted to a door-to-door average speed of about 85 mph over ordinary local roads!
So there's quite a story behind the Type 60K10 Volkswagen. It's an important and interesting Porsche design in its own right. Why, then, is it masquerading at Porsche's Museum as the Type 64 Porsche, complete with 'Porsche' badging on its nose? There was in fact a Type 64 project, launched in 1937 as a sporting version of the KdF-Wagen, the kind of high-performance variation that Ferdinand Porsche liked to engineer for each of his new car designs. He did this partly to satisfy his own enthusiasm for fast cars and partly as a means of pushing each concept nearer its limits.
Instead of the standard car's one-litre engine, for example, the paper study for the Type 64 proposed enlargement to 1½ litres. Merely sketched rather than fully detailed, the Type 64 was to have an aluminium body and a top-speed potential of 95 mph. 'May we have a budget to build some prototypes?' the Porsches asked the leaders of the German Labour Front during meetings in late 1937 and early 1938. Their replies weren't encouraging. Building and selling a sports car didn't suit the immediate plans of the German Labor Front, which wanted to project a responsible image. In 1938, after all, the German Volk had just begun paying their hard-won savings into a giant layaway plan to buy KdF-Wagens.
Nevertheless the Porsche team believed enough in the potential of a car like the Type 64 to explore the possibility of building it themselves. This would mark a full turn of the wheel for the Porsche family, from working for other car makers to becoming an auto producer in their own right. Looking beyond the design work Porsche was then doing on the VW project, which seemed certain to be one of the biggest the firm could ever hope to get, the idea of actually producing a car offered financial security for the future. Porsche could start out in a small way, in its own new works in Zuffenhausen, expanding later in response to demand.
Because their Type 64 used components from the Type 60, the Porsche people approached the Labour Front officials to make arrangements for buying Type 60 parts in quantity for use in their sports car. This request was also turned down, but for a different reason. Probes of the relevant laws by both parties had concluded that there was no legal way a government-owned company, namely the VW factory, could sell goods to a private firm like Porsche. That decision ended for the time being any and all thoughts of a Porsche sports car based on VW parts. It was also the end of the Type 64.
Manifestly the replica body in the Porsche Museum is of a Type 60K10, not a Type 64, which never existed. On what grounds, then, does it bear 'PORSCHE' badging on its nose? After the war one of the three cars survived intact at the Porsche compound at Zell am Zee, Austria. When Ferry Porsche was gearing up to start making cars at the sawmill in Gmünd he brought the car there and gave it 'PORSCHE' lettering to add credibility to his efforts. As a brand-new auto maker in an out-of-the-way part of the world he needed all the help he could get. Now in private hands, the Volkswagen still bears those misleading letters - imitated on Porsche's replica.
- Karl Ludvigsen
---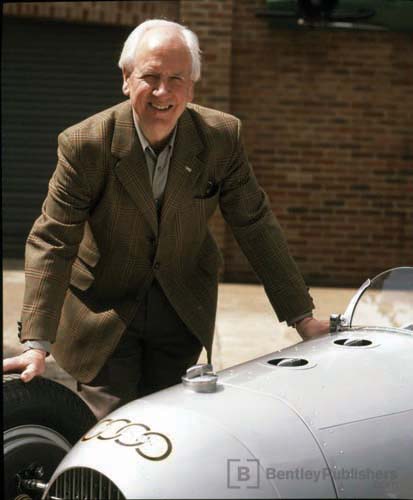 Karl Ludvigsen with a replica of a 1934 A-Type Auto Union
---
Return to Karl Ludvigsen main page