Alex Zanardi -
My Sweetest Victory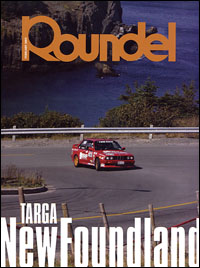 Review of Alex Zanardi - My Sweetest Victory from Roundel - February 2005
"Alessandro 'Alex' Zanardi, in America for a book-signing tour, walked into the auditorium at BMW NA's New Jersey headquarters in November to a rousing round of applause. With great charm, humor, and honesty, he told a spellbound audience of his past racing successes, the horrific 2001 accident at the Lausitzring in Germany—a crash that cost him both his legs and the struggle and agony of his comeback.
Yes, comeback: This remarkable man, a two-time CART champion, has been racing again, his car of choice the two-liter, six-cylinder BMW 320i that competes in the European Touring Car Championship. With the 2004 season behind him, the fiery, popular driver looks forward to the 2005 season, when the European series becomes the World Touring Car Championship.
It took a powerful will and fierce dedication to get hack to the racing grid. Just eighteen months after that racing accident at Lausitz, Zanardi returned to the track, climbed into a modified CART racer, and ceremoniously finished the last thirteen laps at the Lausitzring. And they weren't just "touring" laps, either: Zanardi's times would have placed him fifth on the 2003 starting grid!
In 2003 Zanardi was asked by his friend Roberto Trevisan, the technical director of BMW Team Italy-Spain, if he would like to try a BMW European Touring Car Championship (ETCC) 320i set up with hand controls. "That's like asking a cat if it likes mice!" was part of his reply. A car from the 2002 series was modified; a small wheel at the bottom of the steering wheel handled braking_ a how-tie-shaped metal hoop on top of the wheel controlled acceleration, and an automatic clutch sensor was incorporated into the shift knob. The system was not easy to master; the brake wheel acted more like an on-off switch, with no possibility of subtle modulation, and the bowtie accelerator contraption was plagued with significant lag. Clutch engagement also became a grinding affair.
But despite these mechanical shortcomings. the first outing showed sufficient success to continue development. The accelerator's reactions were improved, and new clutch-engagement controls made for cleaner shifts with the H-pattern transmission. The brakes received a larger booster, and one of Zanardi's prosthetic legs was simply attached to the brake pedal.
This dedicated driver and his BMW made their debut in the 2003 Monza ETCC race. In heavy traffic, Zanardi crashed out of the first session-not an unusual occurrence, considering the intensity of competition, extremely close traffic, and a group of fiercely competitive high-caliber drivers. The car was fixed for the second heat and Zanardi finished seventh, even with brake modulation problems. Immediately, the popular Italian driver and team made plans to run the full 2004 season, where Zanardi was quite competitive. usually finishing midfield or better. Meanwhile, he collaborated with journalist Gianluca Gasparini to write Alex Zanardi: My Sweetest Victory (Bentley Publishers, ISBN 0-8376-1249-7).
BMW NA was Zanardi's first U.S. stop on the post-season book-signing tour. In his book, the author describes his childhood, karting days, and his entry into the very competitive European Formula 3 and 3000 championships. The book provides a remarkably detailed account of specific long-ago conversations during his Formula 1 and CART careers, so I asked him over lunch whether he kept a diary or notes from these days, or is just blessed with an extraordinary memory. He claimed neither-only that most described events were significant enough to have formed a lasting impression.
Zanardi's book gives an insider's experience into the politics, the promises—kept and broken—the deals, the contracts, and the behind-the-scene activities of Formula I and CART racing. Its chapters provide much more information than what we gain from reading casual racing-press coverage and PR releases. The book is also a testament of genuine gratitude toward loving family, devoted friends, and the medicalrehabilitation team whose dedication speeded up Zanardi's recovery.
In person, Zanardi comes across as a passionate and committed racer, a down-to-earth, forward-thinking driver who is unwilling to dwell on the unfortunate accident in 2001. His character traits are strong and well defined in a face-to-face discussion, and his detailed, matter-of-fact chronology of the accident's aftermath, the painful recovery and rehabilitation, and the trials and errors of his artificial legs are an inspirational read for everyone, especially for those who have also experienced major trauma.
Zanardi is remarkable in his optimism and determination; over 90% of those who endure this level of injury never walk again. But Zanardi was never daunted. For example, when he found out that the knee-mechanism materials in his prostheses were averse to water, he had new parts made in corrosion-resistant brass. The foam that had made swimming impossible was exchanged for aircraft-quality open-cell foam that gave him just the proper degree of buoyancy. These improvements are now being incorporated in all sorts of other prostheses. Ingenious, determined, and committed, the racer was determined to get back on the track—despite the doubts of some in the medical and racing communities.
Nor did he ever surrender his impish sense of humor. When U.S. engineers suggested that he use race-car data-recording devices to measure the amount of pressure his prosthetic leg could apply to the brake pedal, Zanardi simply took his bathroom scale, propped it against the wall, and pushed. "Is 220 pounds sufficient'?" he grinned. It was.
With his current schedule, Zanardi is as busy off the track as he was in the 320i. After the book-signing luncheon among his fans at BMW NA, he was off to New York City to sign more books and he interviewed by David Letterman. The next stop was Colorado, then back to New York, more interviews, more signatures, and finally after only five days in the U.S.—return to Europe.
Dear Alex, it was a great treat—and truly inspiring—to meet you. Your old and new fans wish you the best of luck for the 2005 season!"