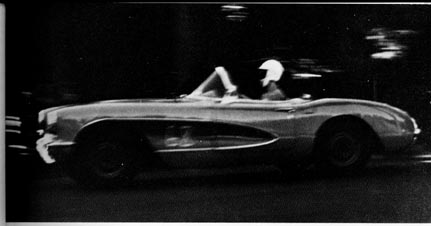 CORVETTE
Corvette: Getting Started (with the Sporty Car Set)
From Chapter 1 of the original edition of The Unfair Advantage:
" . . .With Dave"s expert advice, and careful consideration of engines and gear ratios, I selected a brand-new, bright red "57 Corvette. It had a 283-cubic inch, 245-horsepower engine, with two four-barrel carburetors and hydraulic lifters that limited it to 5500 rpm. Right after I bought it I left for a summer job with the Diamond Match Company in Cloquet, Minnesota. I was a little self-conscious about showing up there in such a spectacular new car, so I parked it some distance from the factory. When it came time to go to my hotel, however, I somehow got it jammed into reverse gear and had to back it all the way to a service station in town. From then on we became a bit of a sensation in Cloquet. I had problems with girls walking up and getting in whenever I stopped at a street light. It was a lot like an episode from "American Graffiti." "