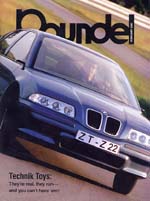 Roundel - February 2001
THE UNFAIR ADVANTAGE:
How "Captain Nice" Finished First
Bentley Publishing brings back a book to introduce a singular American motorsports hero to a new generation of racing fans.
By Bob Roemer
"He epitomized American sports-car racing. Smart, clean-cut, enthusiastic, never satisfied with the status quo, dedicated and humble, Mark Donohue helped revolutionize the sport. Driving for Roger Penske for most of his career, Donohue, a Brown University mechanical engineer, never won races merely on brute speed. His style combined meticulous preparation and a relentless search for even the smallest engineering breakthrough with smoothness behind the wheel. Today that approach might be called continuous improvement. About 30 years ago, AutoWeek's Leon Mandel described it as "the unfair advantage."
Donohue and Penske were never satisfied with an even playing field. They discovered literally hundreds of ways to gain an edge over the competition as they conquered the United States Road Racing Championship in 1967 and 1968, the Trans-Am sedan title in 1968, '69 and '70, the 24 Hours of Daytona in 1969, the Indianapolis 500 in 1972, and the 1973 Can-Am Challenge Cup. Donohue even won a NASCAR race, the 1973 Western 500 at Riverside, Calif.
Some competitors were convinced that the Penske team cheated. Others said they didn't play fair. While there were some eyebrow-raising liberal interpretations of the rules from time to time-like a two-story-tall refueling rig, reducing weight by drilling holes in door panels and pillars, and applying vinyl tops to conceal razor-thin acid-dipped roofs in the Trans Am series-Donohue and his boss were on the leading edge of racing's transition from black art to science. What really frustrated most of their competition was that they hadn't realized the profound nature of the changes overtaking them.
The original edition of The Unfair Advantage, written by Donohue and fellow race engineer Paul Van Valkenburgh, was released in 1975. Donohue, nicknamed "Captain Nice" because of his personable nature, had retired from racing the year before. But Penske convinced him to return the next year for the ultimate challenge, Formula 1. In the morning warm-up for the Austrian Grand Prix, Donohue crashed in the first turn of the ultra-fast Oesterreichring; a catch-fence post struck him in the head. He died two days later of a cerebral hemorrhage.
He was 38 years old.
His book was intended to be an inside look at what the so-called unfair advantage was all about. It was and is that, but it is also reveals the humble and quietly intense personality of a tremendously talented engineer and race-car driver. The first edition quickly sold out; in the last few years it has become a collector's item, with well-preserved copies going for as much as $200. Now Donohue's sons, Michael and David, have worked with Bentley Publishers to create a new edition. In addition to the original text there are over 100 new photos, including a 32-page color section, and personal reflections on Donohue's career by Roger Penske, Sam Posey, David Hobs, Carroll Smith, and others. An illustrated chronology of Donohue's career was also added.
Like the original, the new edition is neatly organized into chapters about the cars Donohue and Penske raced. Penske, a notorious zealot for meticulous attention to detail in every respect-from the car's mechanical preparation to its cosmetic appearance-and Donohue, always looking for any possible improvement, would literally disassemble and re-engineer those cars the minute they rolled into Penske Racing's shop in Newtown Square, Pennsylvania. Working on the cars, Donohue himself pitched in, often keeping the same long house as the mechanics. David Hobbs says of him (in the book's new section), "He would do everything in the shop. He'd spend all his time working on the car and then at the end of the day sweeping up the trash and taking it out to the dumpster."
The stories Donohue tells of the lengths the team would go to in rebuilding their cars shatter myths about some fable marques. Take the year-old Ferrari 512M they bought for the 1971 Daytona 24-hour race. The team immediately tore it apart and started over, even redesigning the car's wiring and plumbing. They had lighter body panels made-at tremendous expense-and, in a move that must have caused Enzo Ferrari to choke on his Chianti, sent its twelve-cylinder engine to the famous motor maestros Traco Engineering in California to find more power and reliability. Donohue said of the Ferrari project, "We try to prepare our cars from a commonsense standpoint-unlike Ferrari, apparently."
Even the fabled Porsche Can-Am "turbo panzers" required Donohue's special touch. His story about the first time he drove a 917-10 at Porsche's Weisach test track is revealing : "I had never driven the track before. I had never sat in the car before, and they [the Porsche racing officials] expected me to break the lap record. Germans are very tough people. they expect the maximum from everybody at all times. I go out of the car thinking, "I've gotta play for time. I've gotta prepare myself mentally for this." I didn't know what to say. The car was terrible."
Donohue told Helmut Flegl, the project engineer, that some changes to the rear anti-sway bar, wing angle, and toe-in might help. "Flegl became really angry," Donohue remembered. "You tell the mechanics what to do," Flegl shot back, "but you don't tell me what the car does? What is my job? Obviously you don't need me."
Donohue is mostly remembered for his technical contributions to racing. While there certainly were many-for example, he was one of the first to understand and use the friction circle to methodically dial-in a car's set-up-he was also an accomplished driver. He was one of the first proponents of trail-braking, a technique which calls for a driver to continue braking while turning into a corner, a method which challenged the traditional approach of completing braking while turning into a corner, a method which challenged the traditional approach of completing braking prior to turn-in.
Race engineer Carroll Smith describes Donohue's driving style in the book. "I don't think he ever realized just how good a driver he was...There was a lot of tiger in Mark...You know the old story about engineers don't make good race drivers because they don't want to hurt the machinery? Bullshit."
Roger Penske saw another side of Donohue in the cockpit. "Mark was a thinking driver," Penske said. "He knew when to go and when not to go. He wasn"t going to win it on guts, he was going to win it using his head."
The Unfair Advantage takes the reader on a fascinating, fast-moving tour of the inner workings of one of racing's most successful teams during one of the sport's most interesting eras. It is especially refreshing because its author had no personal agenda. It is especially sad because given Mark Donohue's talents, had he lived, there would, most likely, now be three American Formula 1 World Champion drivers."