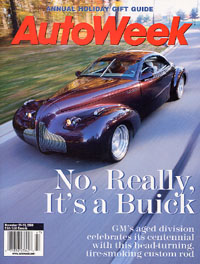 Autoweek - November 20-26, 2000 Annual Holiday Gift Guide
"We're readers, so books are always a favorite. This year, there are some must-read titles. Since its release in 1975, Mark Donohue's The Unfair Advantage has been the racing biography to which others are compared. Now, 25 years after Donohue's death, The Unfair Advantage has been re-released. The new edition's preface is written by Donohue's sons Michael and David, plus there's a 32-page insert of color photos. Available from www.BentleyPublishers.com
Michael Keyser's A French Kiss with Death: Steve McQueen and the Making of Le Mans, the Man, the Race, the Cars, the Movie is a keeper. It details McQueen's love affairs with motorcycles, cars, partying and women. It has more than 700 photographs and illustrations. www.BentleyPublishers.com Hardcover (800) 423-4595.
Two other books would look nice on our bookshelf, but we must battle others for ownership. Motor Racing, a vintage tome edited by S.C.H. Davis, and A Turn at the Wheel, a first edition written by Stirling Moss, are up for auction until Dec. 17. Log on to www.mobilia.com and check out the auction site. More than 4000 other automotive items are also for sale."