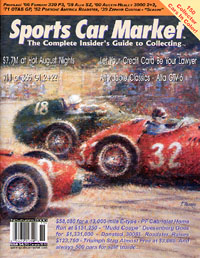 Sports Car Market ? November 2000
Although he may be unknown to today's young batch of racing buffs, Mark Donohue was a Renaissance man among race drivers. His achievements spanned Trans-Am, Can-Am, Indy cars and even Formula One. His driving talent was matched by his skills as a trained mechanical engineer.
His most notable efforts came when teamed up with Roger Penske. The Sunoco colors of dark blue with yellow stripes were familiar livery for the Trans-Am Camaro, Lola Can-Am cars and the unforgettable Ferrari 512M. Donohue and Penske were well known for their ability to take a factory's "customer car" like the Lola or Ferrari and tweak it just a little bit better than anyone else could.
In Donohue's down-to-earth, direct manner he tells the story of his career through his work with the various cars he drove. From his club racing days with a solid-axle Corvette and Elva Formula Junior to his involvement with the awesome, world-beating Porsche 917, Donohue's storytelling evokes a time when modestly funded (and talented) guys made good. The Unfair Advantage has been out of print since the mid-'70s and second-hand copies have recently been offered at $100 and more. Here is your chnace to take a fresh look at that era of professional racing. For me, it was an opportunity to re-read a book I forgot to keep when I first picked it up in 1975, and to relive a part of my sports car past.
?M.D.