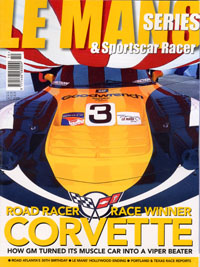 LE MANS SERIES & Sportscar Racer - October 2000
Q&A
David Donohue
The ORECA Viper driver is the son of US racing legend Mark Donohue
Q: You're in the process of re-issuing your father's autobiography. Why now?
A: For several years people have been asking about getting copies and neither myself nor my family have any to give away. Robert Bentley publishers approached me when I was driving for BMW several years back and they seemed pretty enthusiastic. Then we kind of procrastinated for a while, and it's only been this last year that the fire's been lit under this project.
Have you amended or updated it?
My brother and I have written a preface and there are a lot more pictures. At first we wanted to write an aferword which was based on interviews with my dad's peers and other people who were touched by him. But we soon realized that there was a whole other book in there and we didn't want to dilute the original text.
How old were you when he had his accident?
Eight years old, so I'm not very qualified to find out who his friends were! But I've taken a lot of responsibility in putting together this book.
You came into motor racing quite late in life. What prompted you to jump in?
Obviously racing is part of my background but I grew up away from the racetracks because, understandably, my Mom wasn't a big fan of racing and what it had done to our family. When I was at college I started doing some club events and I kind of caught the disease there. When my father was inducted into the Motorsports Hall of Fame, that was my first exposure to his world, and speaking with legends like Mario Andretti and Johnny Rutherford. My now wife said to me that if I wanted to try it, better do it now because otherwise I'd be second-guessing myself for the rest of my life. She gave me five years to make it work.
What do you rate as the biggest achievement of your own career so far?>
Winning Le Mans was a highlight although I didn't fully appreciate it at the time. I was called in at the last minute. I was new to the Viper team, to that type of car and to Le Mans. In many ways it's been more rewarding to go back the next two years even though I didn't win. The team has won every year since then, though, and it was rewarding to share that effort.
What are your ambitions now?
I haven't been one to pick and choose, partly because I don't have a briefcase full of money to buy drives. I take each year as it comes. With the works Vipers not likely to continue next year, a lot of doors could be open - it's just a question of keeping my foot in them all...