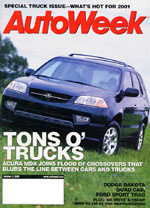 AutoWeek ? October 9, 2000
The Unfair Advantage was originally published in 1975, a bit lost in the wake of Mark Donohue's brilliant life and its sudden, shocking end.
Donohue won several Trans-Am titles, the Indy 500 in 1972 and literally destroyed the Can-Am series in 1973 with the 917-30 turbo Porsche, a Frankenstein's monster he personally chained and mastered. Little left to win, Donohue retired from driving, but then just as abruptly un-retired to take one more challenge: leading Penske's assault on Formula One. At Austria, just two races into the 1975 season, Donohue crashed in the morning warm-up. And he was gone, just like that. Donohue's fans - everyone was a Donohue fan - were left only with their memories, and the book. They weren't enough.
Co-written with Paul Van Valkenburgh, Donohues' book was unique, and still is. It was a racing autobiography but it wasn't constructed around his life ? even in his own memoir, Donohue shyly stood just outside the spotlight. The book was instead broken down into chapters devoted to his cars and the challenges in developing them: TransAm Camaro, McLaren M16, and so on.
So
The Unfair Advantage
was ostensibly a how-to book about racecar preparation. At that level it was a gem, revealing how production autos and raw English kit cars became winning Penske racers. But the book's real insights were its groundlevel glimpses into what the racing was really like- the scene, the people, the politics - and most of all, into Donohue himself. The cars were merely his frame of reference in telling, frankly and intimately, one of the great stories in American motorsports, in one of its golden times. After his death, The Unfair Advantage disappeared from the bookstores and eventually became a collector's item, with copies selling for hundreds of dollars.
If Donohue didn't quite tell all, he told a lot. The title came from a term coined by Leon Mandel. The alleged ?unfair advantage? Mark Donohue and Roger Penske brought to the track: two-story fueling rigs, brake calipers that virtually changed their own pads, any clever gimmick that gave them an edge. If they weren't exactly cheating by the letter of the rules, they were taking liberties with an unwritten code of sporting conduct. To hear some racers tell it, Penske Racing didn't play fair.
Fact is, everyone ?cheated.? What other teams really resented is how in every way Penske and Donohue refused to play on a level field. They refused to run the same okay equipment as everyone else and simply hope it worked. They refused to show up late, and they refused to knock off early. They refused to approach racing as a fun game played with other people's money. In fact, they refused to race with anything less than the maximum professionalism they could muster. By refusing to play fair this way, Penske Racing and Mark Donohue made life tough for everybody.
Racing technology was then the blackest of arts, with no public lore. Carroll Smith once observed that half the racers didn't want to reveal their secrets; the other half, their ignorance. Few experts were forthcoming, in either sense of the word. In The Unfair Advantage, Donohue admitted with easy, becoming openness how little he knew going in. He simply applied to racing his natural antipathy for pat answers, with great diligence. Much of the book's appeal is in simply watching the superb gearwork turning in Donohue's mind, as he sets to work identifying and solving problems.
Because his cars were so often and obviously better, the image we have now is of a talented engineer who happened to be a decent race driver. We probably have that all backward. Donohue's engineering degree from Brown equipped him basically with a handful of textbook formulas that never quite applied, and for Donohue the engineer, the learning curve was a rocky slope. But the record shows that Donohue the driver was fast from the start, quickly picking up a ride in the Ford GT program. Donohue lived in denial ? of his own superior abilities. It pushed him to develop superior race cars, which he then drove with extreme intelligence and nearly without error. That was Donohue's personal advantage, and to drivers of even roughly comparable skills, the results must have seemed brutally unfair.
Donohue's sons, Michael and David, have now arranged another printing of the classic book. The new edition includes a section of color photographs, along with perceptive recollections from Donohue's contemporaries, edited by AutoWeek senior contributing editor Pete Lyons. Here is the opportunity to revisit a charmed period in American racing, and one of its most special personalities.
- Bill McGuire