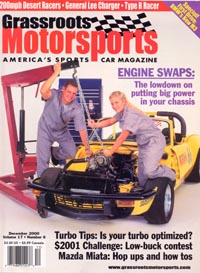 Grassroots Motorsports - December 2000
No matter what the outside weather, curling up with a good book is always a nice way to pass some time. Several car books have been released recently, and one that really caught our eye is The Unfair Advantage, a Bentley Publishers rerelease of the 1974 Mark Donohue classic. This book has been extremely hard to find in recent years, so a fresh printing is welcome news.
The Unfair Advantage is Donohue's tell-all account of his racing career, from his first races in SCCA amateur competition to success in Trans-Am, Can-Am, Indy and more. Topics like acid-dipped Camaro bodies and skid pad testing are among the featured discussions.