Alex Zanardi -
My Sweetest Victory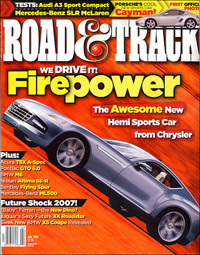 Road & Track ? July 2005
Review of Alex Zanardi - My Sweetest Victory from Road & Track - July 2005
"IN HIS VERY CANDID AND ENTERTAINING memoir, Alex Zanardi?My Sweetest Victory, the two-time CART champion invites us into his life to relive the good, the bad and the ugly. It covers the events leading up to his crash at Germany's Lausitzring in September 2001 and his miraculous recovery from that terrible day. But perhaps more important, it starts at the very beginning, painting a colorful picture of a driven, outspoken and courageous individual.
Along the way, it takes readers behind the scenes of first the cutthroat world of international karting and then the ruthless confines of European open-wheel racing. Zanardi tells it like it was while recounting the many on- and off-track experiences that helped shape him into a future champion. For race fans, it delivers an enlightening peek into the back-room (and backstabbing) machinations of the open-wheel elite.
My Sweetest Victory charts Zanardi's path from Formula I journeyman to Champ Car champion, a move that not only netted him a pair of titles, but made him one of the series' most popular drivers. It also sheds some much-needed light on his unsuccessful foray with the BMW-Williams Fl outfit and subsequent return to CART for that fateful 2001 season.
And finally, once comfortably familiar with the strength of Zanardi's character, he takes us through the accident in which he lost his legs and the aftermath. But by then, we know enough about the man that even his unbelievable recovery comes as little surprise. For race fans and laymen alike, Alex Zanardi's remarkable story educates, entertains and inspires."
?Kim Wolfkill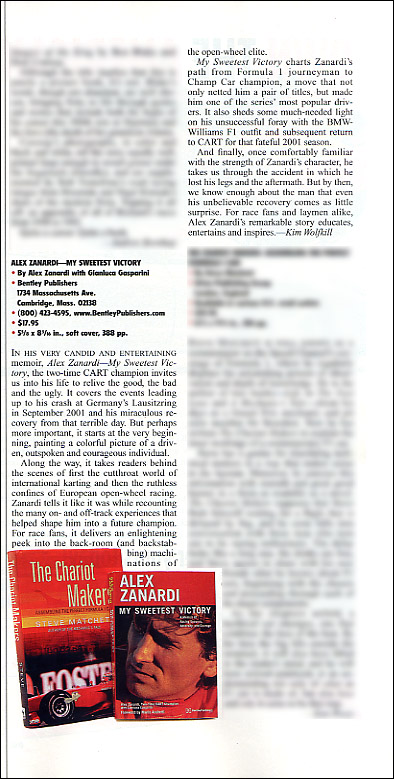 review of Alex Zanardi - My Sweetest Victory from Road & Track, July 2005