Alex Zanardi -
My Sweetest Victory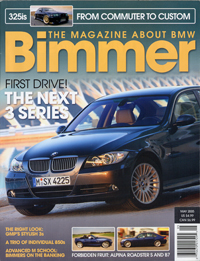 Bimmer - May 2005
An Interview with Alex Zanardi from Bimmer - May 2005
THE STORY OF ALEX ZANARDI'S return to racing after losing both his legs and nearly his life in a Champ-car crash is one of the most inspirational in sports history. This year, Zanardi is entering his second full season in the World Touring Car Championship, racing a specially-equipped BMW 320i for BMW Team Italy-Spain. We caught up with the former CART champ and Williams Fl driver during his visit to BMW of North America, where he promoted his new book and talked about racing, his challenges with two prosthetic legs and getting out of speeding tickets.
Bimmer: How does racing in touring cars compare to racing in CART and F1?
Zanardi: It"s very difficult, because the car doesn"t have any downforce. I"ve always driven single-seater cars in my career, so I"m always expecting the car to do something in high-speed turns that it"s not capable of doing. Very often I find myself in trouble from the first lap because I try too hard. The touring car has much less power, it"s much heavier, but nevertheless it"s a nice car to drive. I"m not as specialized on that type of car, so it"s taking some time to adapt completely. Whether I can win a race is still a question mark, but I"m sure going to try.
Bimmer: Did you make any adjustments to your 320i after the 2004 season, in preparation for 2005?
Zanardi: Yes, we are in the process of manufacturing a throttle that operates mechanically instead of electronically, so there is less delay. After comparing data to my teammate, I believe the delay was costing me time, so hopefully a mechanical throttle will be an improvement.
Bimmer: Can you describe how you use your legs when driving the racing car?
Zanardi: The knee joint that I currently have is a mechanical joint with a double center of rotation, so it can pivot. When I push forward vertically, the double center of rotation allows the knee to open and gives stability. I drive with one leg attached to the brake pedal and do my own braking. I could use the other leg for the throttle, but I really need it to stay on the dead pedal to keep my body stable.
Bimmer. What do you drive on the street?
Zanardi: I"m very fortunate that BMW provides me with a car and gives me a new one every 15,000 km. I have an X5 right now, and we like the snow and often go to the mountains, so that"s a nice model for me. The new 535d is really fantastic, and BMW offered me the M5, but I said it"s too much. They are really enforcing the driving laws in Italy now, and I would get caught with that car-there"s no way I could stay in the speed limit with that car.
Bimmer: Do you ever get away with speeding with the Italian police, since you"re a famous racing driver?
Zanardi: Sometimes I get away with it. The last time, it was funny. I was driving home late at night, coming home from the center in Bologna where I do my rehabilitation. When I go to the center, it"s the only time I take my wheelchair with me. I was driving really fast and all of a sudden I came out of this tunnel and saw a cop car sitting along the road. I slowed down really quickly, but he pulled out and followed me. They followed me for around 10 kilometers and I got pretty fed up, because there was a long line of cars behind us and nobody wanted to overtake a police car. All of a sudden, the police pulled alongside me and got on their microphone and said, "You"re Alex Zanardi! You"re Alex Zanardi!" They thought they recognized me but weren"t sure, and then they saw the wheelchair and thought it must be me. They pulled me over, but it was just to get a couple of autographs.
Bimmer: Did you just wake up one day and say, "My recovery is going so well, I think I"m going to try racing again, " or was that a goat you had from the beginning of your recovery?
Zanardi: It"s just a question of priority. You can have dreams, but you need to really focus on potential objectives that you can meet day by day. Of course, my priority after my accident was to learn to walk and get the best out of my prosthetic legs. Two months into my rehabilitation, I wasn"t thinking about racing, just getting my rehabilitation completed. But there was a time when I reached that point and started looking at doing other things, like skiing, taking my son in the snow or driving a racing car.
Bimmer. Now that you are racing again and skiing, are there other goals that you would like to accomplish?
Zanardi: Well, first of all, let me take your question not too seriously, because that would mean I would think too highly of what I am doing. For me, what I do is a game-I really love what I do. A lot of the things I would like to do are not available. In the future, if I have the time, I would like to help make the things that I work on now for my own personal need (such as the steering wheel controls for driving) available to other people.
Alex"s book, "My Sweetest Victory" is the story of his life, from his youth in Italy to his progression to Formula One and CART and his recovery from the accident at the Lausitzring in 2001. It"s a must-read for Zanardi fans, and it"s available for $17.95 from Bentley Publishers at bentleypublishers.com or 800-423-4595.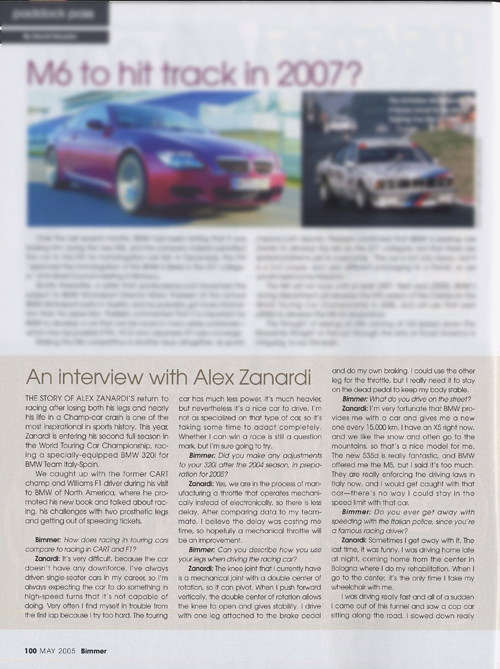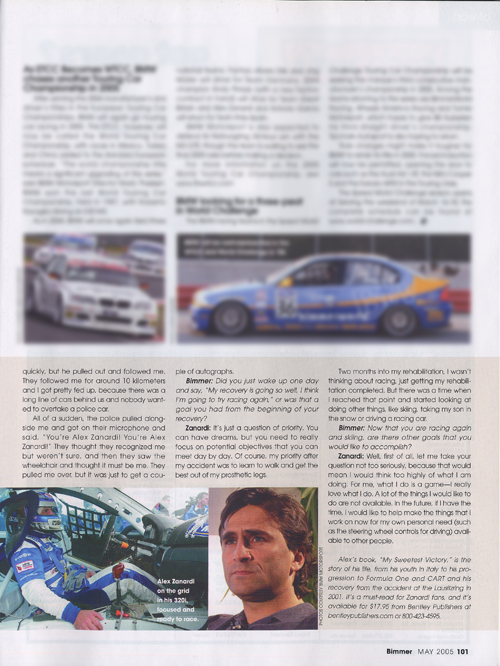 Interview with Alex Zanardi from Bimmer Magazine - May 2005