Alex Zanardi -
My Sweetest Victory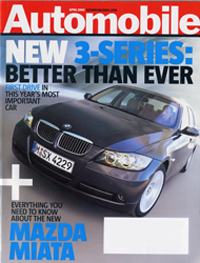 Automobile - April 2005
Review of Alex Zanardi: My Sweetest Victory by David E. Davis from Automobile - April 2005
My Heroes
What the heck, make it a dozen.
"I"m adding a new name to my list of personal heroes. I received a review copy of Alex Zanardi"s autobiography, My Sweetest Victory, which I cannot recommend highly enough. It is a book that every enthusiast should have on his shelves, as warm and likable as Zanardi himself but absolutely unsparing when it describes the awful 2001 crash at the Lausitzring, the loss of his legs, and the ordeal of recovery. The book deals with all of this, and there"ll be times when the reader will wonder if he can go on to the next page. I kept at it—having my own memories of loss and reconstruction—and it was well worth the empathetic discomfort. Zanardi is, not was, a hero. Buy his book. Buy a half dozen copies for friends. The world is a better place because of guys like him.
My heroes have tended to be racing drivers, writers, musicians, warriors, and the occasional politician. Thus, a number of fast guys are front and center in my pantheon: Luigi Chinetti, René Dreyfus, Juan Manuel Fangio, José Froilán González, Masten Gregory, Dan Gurney, Phil Hill, Stirling Moss, Tazio Nuvolari, Carroll Shelby, and Jackie Stewart. And now Zanardi makes it an even dozen. I was able to watch eight of my original eleven heroes race. Only Chinetti, Dreyfus, and Nuvolari ended their careers before I could see them at work. Chinetti and Dreyfus were personal friends, and I could study what I knew of them as men alongside their racing curricula vitae and make my judgment. In Nuvolari"s case, he burst from the pages of Ken Purdy"s The Kings of the Road a fully fledged hero, and I never had a second thought on the subject.
Sometimes I think that Purdy himself should be on my list (Writers" Division), but I disliked his writing about people as much as I liked his automotive work, and being his friend was like trying to tap-dance on a trampoline. He was unpredictable, and when he was drinking, he could be as ugly as a mud fence. Nonetheless, I recommend The Kings of the Road as a primer to every young person who asks me how he or she might become an automotive journalist.
Just before the opening of press week for the North American International Auto Show in Detroit, Edsel Ford II (son of Henry Ford II, grandson of the original Edsel Ford) threw a very elegant dinner party for three-time world champion Sir Jackie Stewart and his wife, Lady Helen. The occasion was a celebration of the forty-year relationship between Ford Motor Company and Stewart, which was drawing to a close. Stewart was suddenly and inexplicably sixty-five years old! During those forty years, he had acted as product-development consultant, test driver, and sometime spokesman for Ford.
I met Stewart in the autumn of 1965, when he first raced in North America. My office is graced by a black-and-white photograph of Jackie and me sprawled against the Armco at the Mexican Grand Prix before practice. I had just taken him to Sanborn"s in Mexico City for the cheeseburger and milk shake that were on his "things to do whilst in the States" agenda.
During that unconventional breakfast, I asked him if he"d patterned himself on Moss, inasmuch as Moss was perhaps the first truly modern commercial racing driver. He said, "No. I"m a great admirer of Stirling, but I really patterned myself after Bruce McLaren. Bruce is not the most successful driver in Formula 1, but he does awfully well. When he learned that he had won the prize that would enable him to go from New Zealand to Europe and race in Fl, he had a disability that caused him to limp, plus a speech impediment. He taught himself to walk in a way that concealed the limp, and he learned to speak around the impediment. Finally, he vowed that he would always make himself available to the fans and the sponsors, if it was humanly possible to do so. I intend to be like Bruce."
But, as it turns out, there"s nobody quite like Sir Jackie Stewart. When I was restoring, and subsequently running, the Juan Manuel Fangio "39 Chevy coupe around the country, I always traveled with an album of work-in progress photographs. When I showed it to Jackie, he lingered over a shot of Fangio with the car and said, "The greatest honor of my career was when I was asked to be a pallbearer for this man. Nothing else has ever been quite like that." Three world championships are impressive, but it was spontaneous statements like that one, and sheer character, that put Jackie Stewart on my heroes list."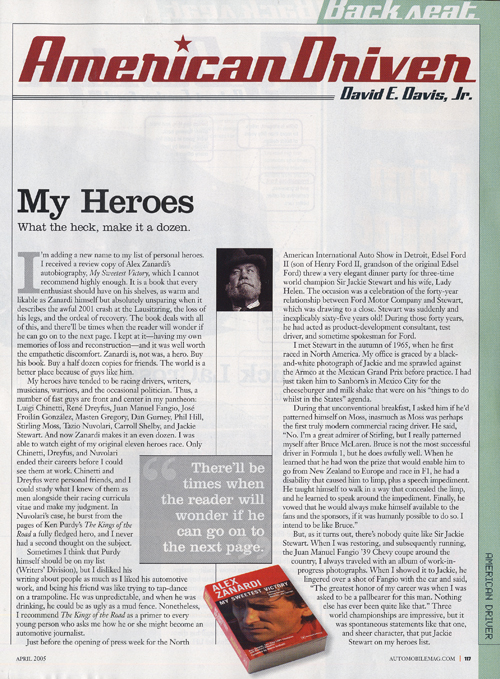 Review of Alex Zanardi: My Sweetest Victory from Automobile- April 2005