Alex Zanardi -
My Sweetest Victory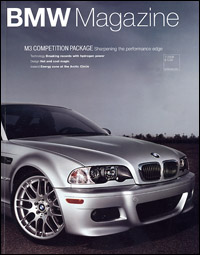 BMW Magazine - January 2005
Review of Alex Zanardi: My Sweetest Victory from BMW Magazine - January 2005
"My head is still the same"
On September 15, 2001 Formula One pilot Alessandro Zanardi lost both legs in a grueling racing accident. His heart had stopped and he almost bled to death. An unbelievably strong determination to live returned him to an active life that again includes racing. Zanardi recently visited BMW NA's headquarters in New Jersey while on tour to promote his new book, Alex Zanardi: My Sweetest Victory.
In it, he describes his childhood, karting days and entry into the highly competitive European Formula 3 and 3000 races. Zanardi shares an insider's experience of the politics, promises, deals, contract-making and goings-on behind the scenes of Formula 1 and CART. Zanardi's book also serves as testament to the dedication of his family, friends and medical rehabilitation team to his recovery. Only 18 months after the accident, Zanardi climbed into a modified CART racer to complete the last 13 laps at the Lausitzring. Then outfitted with a BMW 320i fitted with hand controls, he drove in the European Touring Car Championship, coming in seventh. This inspired him to plan a full season of racing in 2004, during which he generally placed in the middle ranks. "I'm very proud to be driving for BMW and I'm hoping for a win," he says. "I think I can do it."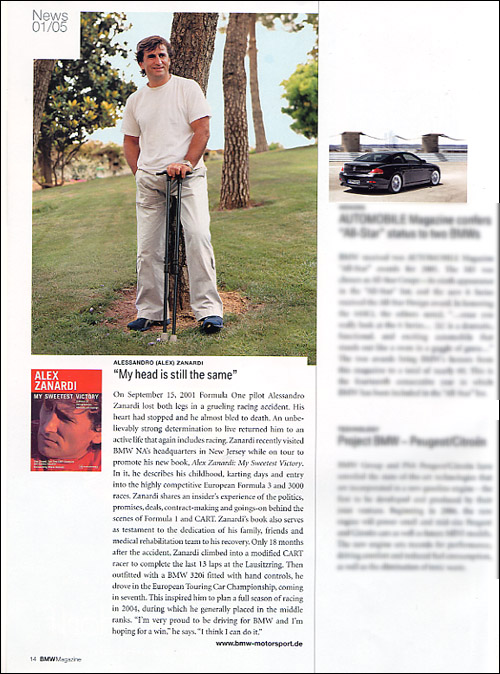 Review of Alex Zanardi: My Sweetest Victory from BMW Magazine - January 2005