Alex Zanardi -
My Sweetest Victory
Article about Alex Zanardi - My Sweetest Victory from the Miami Herald, December 25, 2004
ZANARDI'S HOPE NEVER DIMMED
BY CAMMY CLARK
cclark@herald.com
"After six days in a drug-induced coma, Alex Zanardi awoke in a hospital bed in Berlin, Germany, breathing through a tube. Doctors suggested that before he could make the horrific discovery on his own, his wife should tell him.
His legs were gone.
"I've often cried in my life, but never about losing my legs," the Italian said in his newly released English version of his book My Sweetest Victory.
The former Formula One driver and two-time CART champion was only 34 at the time of the accident in a CART race in 2001. He had a wife and a 2-year-old son he adored, and a passion for much more than racing.
He focused on the good news.
He had survived one of the most horrific crashes in auto racing history, coming so close to death that Father Phil De Rea gave him last rites with oil collected from the accident scene at the CART race at Eurospeedway in Lausitz, Germany.
Dr. Terry Trammel stopped him from bleeding to death, using his thumbs to put pressure on the main arteries when the tourniquets kept falling off the blood-soaked, severed limbs.
His heart stopped three times during the 55-minute helicopter flight to the hospital. Three times he was resuscitated, arriving at the hospital with just two pints of blood left in his body.
When he awoke nearly a week later, after several lifesaving surgeries, "They told me that I wasn't going to die, and that's all that mattered to me," Zanardi said.
"I told doctors, 'Well, that's good then.'"
The accident occurred on Sept. 15, 2001, just four days after the terrorist attacks in the United States. The German 500 nearly was called off, but was run with the name changed to the "American Memorial Race."
In the foreword of the book, American racing icon Mario Andretti wrote: "This is a crash course in rebuilding life."
STAYING POSITIVE
Zanardi, with his outgoing personality and charm, had always been popular with fellow drivers, as well as with fans and the media.
His outlook on life didn't change after the accident.
He knew he wouldn't be able to run six miles under 40 minutes again, so he focused on obtainable goals and his biggest desire: "to once again carry my son on my shoulders."
He would even race again, but not before enduring months of pain, strenuous rehabilitation and frustrations about ill-fitting prostheses. There were a couple of times when he wanted to cry, only to see a situation worse than his.
Zanardi came to the United States three weeks ago on a public relations tour of the book that included an appearance on Late Show with David Letterman and a photo shoot on his mono ski with Olympian Bode Miller.
During a conference call, Zanardi was ecstatic when asked if it required special effort simply to do the multi-state public relations tour.
"Often people get surprised with me and they say, 'Alex, I mean, you are so brave, you've gone back to racing, that is unbelievable.
"And how can you do that? How can you technically drive the race car so well without your legs?'"
Zanardi recently had completed a full season racing in the European Touring Car Championship for BMW Team Italy-Spain.
The year before that, Zanardi triumphantly returned to Lausitz to complete his unfinished 13 laps of the "American Memorial Race."
HORRIFIC CRASH
On Sept. 15, 2001, Zanardi was in the lead when he made his final pit stop for a splash of gas. In a difficult season, he thought he finally was going to get to Victory Lane.
But leaving the pit road, his car hit a wet patch and spun along the grass, finally stalling on the track. Patrick Carpentier was able to avoid him, but Alex Tagliani could not.
The nose of Tagliani's car ripped through Zanardi's car and legs at 190 mph.
"Part of the car stayed with me, and the other part left, with parts of me in it," Zanardi wrote in his book.
"I can't remember anything."
Zanardi, who never blamed anyone, said memories of portions of the accident have since come back to him when he returned to the site of the wreck.
STILL GOING
He had been planning to retire after the 2001 season, but after being able to drive at a competitive speed in a modified car using all hand controls for those "unfinished" 13 laps, he decided to try racing again.
"The fact that I'm racing, yes, is important. It's my passion, but it's not my life. Racing," he said. "Do you understand what I'm saying?"
He explained he did not push himself so hard during rehabilitation because he wanted to race again, but rather because he wanted to have the option to race again:
"So to answer your question, yes, that's the real victory, that is the sweetest victory?the fact that I'm able to jump up in the morning, put my legs on, drive my road car to the Venice [Italy] airport, park it there, unload the car, go and check in, jump on a plane, fly nine hours over to New York, and when I arrive here, unload bags from the belt because there is nobody there available to help, put it on a trolley, drive out, search for the limo that is supposed to pick me up and just find out that it's gone to the wrong terminal. So I have to walk somewhere else.
"Finally, check in at the hotel and meet with my friend, Massimo, and look at him and say, 'What do we do? Let's go to Starbucks for a good cup of Italian coffee,' and still have the energies to do that is the important thing?not to be forced to run to your room just to take your legs off because you can't tolerate them anymore."
AN INSPIRATION
Zanardi hopes his story will inspire others, especially those who also have lost limbs.
He is the first to say how fortunate he was to have incredible support, from those who were part of the "miracle" to save his life to his family, friends and fans.
He also said he was lucky to have the finances "to get my hands on the best technical solutions to get the attention of great doctors, great technicians, great physio therapists."
Zanardi plans to race again next season, but "hopefully with better results. I'll be driving the No. 4 BMW 320 in the World Car Championship. So stay tuned."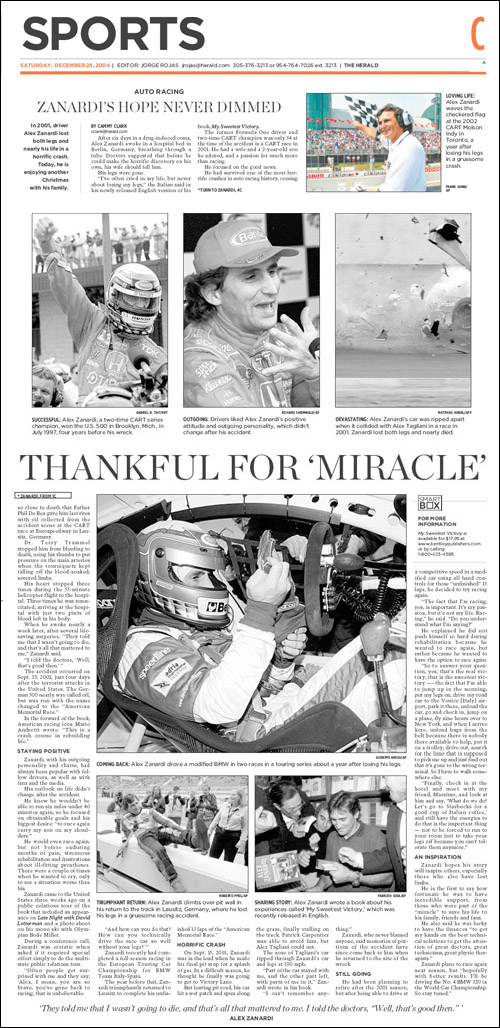 Review of Alex Zanardi - My Sweetest Victory from the Miami Herald, December 25, 2004