Alex Zanardi -
My Sweetest Victory
Notes from my Travel Diary
by Alex Zanardi
December 9, 2004
As I mentioned in the Author's Note of my book "Alex Zanardi - My Sweetest Victory" I decided to write my story after my friend and co-author Gianluca Gasparini persuaded me that my life experience could help people with similar problems. In fact, apart from what Doctors were telling me, I too gained strength and inspiration from people that went through my same difficulties.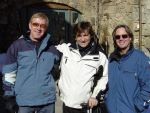 Alex with Dr. Steve Olvey (L) and Jimmy Vasser (R) Photo: MediabuyUSA.com
After a successful Italian edition the book rights were sold in Germany and in the UK, but not in the US where many chapters of my career were written. One day last June I called Gabriele Pedone, a good friend with who I also collaborate with on other projects, and asked him to look for an US editor because I really wanted the book to be available in North America. Gabriele, who works for Mediabuy USA - a sports and entertainment marketing firm, was able to take on Bentley Publishers, a well respected automotive publisher, but most of all a perfect fit for this project as I would later find out.
Thanks to an Herculean work done by Bentley and Mediabuy USA the book debuted on October 25th, a dream just 5 months earlier. The book launch has been a perfect excuse for me to travel to the US, a country that I still love very much. Once again I left to up to Mediabuy the organization of the entire trip, I was basically just a happy traveler and I enjoyed that role.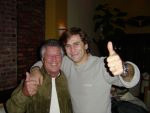 Alex and Mario Andretti Photo: MediabuyUSA.com
I arrived in New York City on November 28th after a comfortable trip across the pond. That same night I hooked up with Mario Andretti, part of his family, the Bentley crew, Massimo Dutto ? a Barilla rep. and Gabriele Pedone at the Churrascaria Plataforma, a great Brazilian restaurant owned by Joao, a good friend of Raul Boesel.
We had a wonderful evening, and I was very pleased to see Mario who was kind enough to write a touching foreword for my book. Being Italian I grew up with Mario as my racing hero, and funny enough when my dad was driving fast was always saying: "Hang on kids, I'm Mario Andretti!".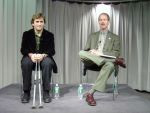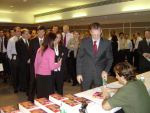 Alex at Q&A session and book signing at BMW NA Photo: MediabuyUSA.com
The next morning we traveled to BMW North America headquarters in New Jersey where I met with BMW's employees. After a questions and answers session I had the opportunity to sign books and exchange few words with many people.
A good lunch concluded the appearance and we traveled back to the City. We stopped for an hour at Exoticar Model Gallery on Park Avenue where an open book signing session was organized. It was nice to meet with fans and old friends that, at much of my surprise, took a special trip even from far away cities.
At 6:00 PM we arrived at the Ed Sullivan Theatre where I was guest at the Late Show with David Letterman. I think I had a good interview there, funny at times but also sober when needed. For sure I had a great time being there! That same night we traveled to Beaver Creek, Colorado where I was asked to attend a Barilla promotional event. Barilla also sponsors US skier Bode Miller and I was invited to make a ski run during the Alpine Ski World Cup event.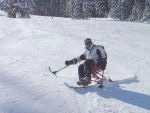 Alex skiing Photo: MediabuyUSA.com
Skiing has been my passion for a long time, and I was glad to be there having fun with a couple of special friends that came to visit: Dr. Steve Olvey and Jimiiii Vasser! It goes without saying that we had a great time together and for me it was a special treat to have them both there. We talked a lot about the 'golden days', exchanged some anecdotes and told some funny jokes over a good old glass of wine.
On the afternoon of December 1st after a full morning of ski runs Gabriele, Massimo and myself traveled back to NY. Because of the tight schedule we had a private plane that took us from and to the City where we touched down around 10:00 PM.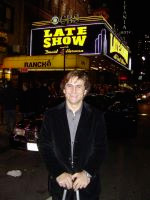 Alex was a guest of David Letterman on The Late Show Photo: MediabuyUSA.com
The following day was going to be my last day in the States, and I could feel some sadness in knowing I was already scheduled to leave. But thanks to a wellorganized schedule, the interviews kept me busy for the entire day and before I knew it was time to pack.
I had pleasure in talking to several media outlets, and meet some old CART journalists. I also had the pleasure to meet with Bryant Gumbel and his crew for a New York style lunch - that is good and quick. I had the opportunity to congratulate them in person for the Emmy Award they won earlier this year with my feature interview. Around 4:30 PM when I was ready to leave for the airport I received a call from Chip Ganassi that was in town for the NASCAR banquet, but unfortunately it was too late for us to meet. It was in fact time for me to return to Padova, the city where I now reside.
In conclusion let me thank Bentley Publishers, Barilla and Mediabuy USA, but most of all you my dear fans and friends for the constant appreciation you show me; you always make me feel at home, and in a sense at home I was.
Happy holidays everyone and all the best,
Alessandro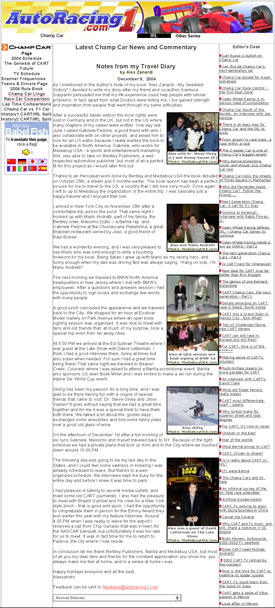 AutoRacing1.com